Ich bin ja ein totaler Weihnachtsfan! Ich mag dieses kuschelige, warme, glitzernde, glänzende, duftende. Ich mag Adventskränze und Punsch, Lebkuchen und Weihnachtsmärkte und ich mag es an Weihnachten was aufwendiges zu kochen. Und natürlich gehören in die Vorweihnachtszeit Plätzchen! Es gibt natürlich Klassiker, die immer gehen. Aber trotzdem muss jedes Jahr was neues ausprobiert werden. Dieses Jahr gibt es deshalb diese wunderbaren Chaikipferl!
Das Rezept durfte ich bereits am 2. Dezember beim Kuchenbäcker im Adventskalender verstecken und kurz vor dem 2. Advent gebe ich es auch auf dem Blog frei :)!
Noch mehr als Weihnachten liebe ich Chai! Diese Gewürzmischung ist ein alltime Favorit von mir. Jeden Morgen trinke ich meine Tasse Chaitee, erst dann bin ich startklar. Chai ist für mich ein Geschmack der ziemlich universal ist und daher zu fast allem passt! Und warum nicht für Plätzchen? Genau und deshalb habe ich für Euch Chaikipferl kreiert! Und nicht nur das, ihr könnt sogar Eure eigene Chai-Gewürzmischung machen und sie in alles reinwerfen was Euch einfällt! Mir fällt da so einiges ein ;). Hier geht es zur Gewürzmischung und dann ab in die Küche und Plätzchen backen!
Wer keine Gewürzmischung machen kann/will, der kann sie natürlich auch durch eine fertige Mischung ersetzen, wie z.B. Lebkuchengewürz von meinem Lieblings-Gewürzdealer oder Chai Küsschen von Sonnentor oder Ginger & Bread von Herbaria. Ich empfehle Euch aber natürlich dringend die Chaimischung selbst zu machen ;).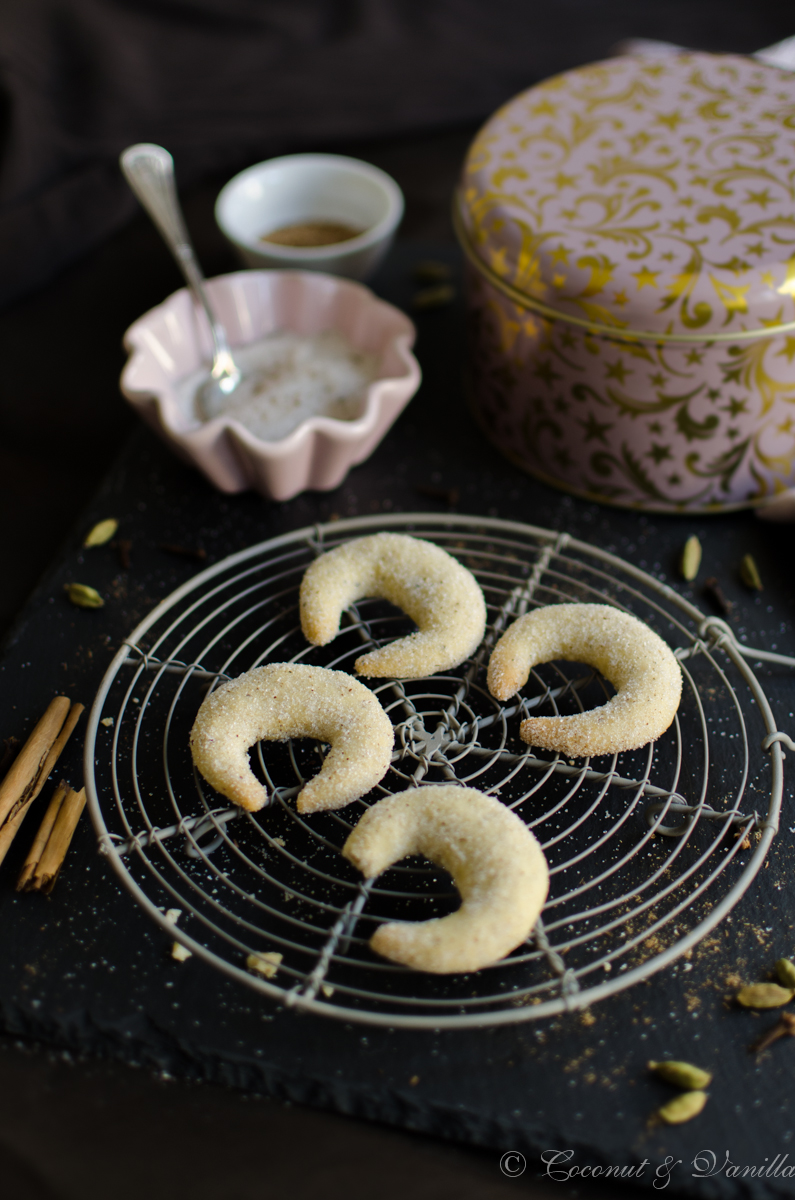 Vor zwei Jahren: Lebkuchen mit Schokoladenüberzug
Vor drei Jahren: Schokoladenkekse mit Fleur de Sel
Vor vier Jahren: Weihnachtsplätzchen (Schwarz-Weiß-Plätzchen, Nussplätzchen, Aprikosenplätzchen)
Chaikipferl
ergibt : ca. 40 Stück
Zutaten:
Butter und 100g Zucker hell und cremig schlagen. Die Eigelbe hinzufügen und weiterschlagen. Mehl und Mandeln unterrühren.
Den Teig auf Frischhaltefolie zu einer Rolle formen (Durchmesser etwa so groß wie ein 2 Euro Stück), einwickeln und für 1 Stunde kalt stellen.
Den Zucker mit dem Chaigewürz in einer flachen Schale oder einem tiefen Teller mischen.
2 Bleche mit Backpapier auslegen und den Ofen auf 160° C (Heißluft) vorheizen.
Von der Rollen 1-2 cm dicke Stücke abschneiden, je nachdem wie groß eure Kipferl werden sollen. Die Stücke zu Rollen rollen bei denen die Enden spitz zulaufen. Zu Kipferln biegen und auf die Bleche legen.
Die Kipferlbleche können bei Heißluft gleichzeitig gebacken werden (Ebene 2 und 4). Das dauert etwa 12-15 Minuten, bis die Spitzen anfange zu bräunen. Die Kipferl sollten recht hell bleiben.
Die Bleche auf Gitter legen und für 5 Minuten abkühlen lassen. Die noch warmen Kipferl mit der Oberseite in den Chaizucker legen, dann wieder zurück auf das Blech und auskühlen lassen.
Die ausgekühlten Chaikipferl in Blechdosen lagern.
I am a huge fan of Christmas! I love all the coziness, warmth, glitter, sparkle and the flavours. I like advents weaths and punch, gingerbread and Christmas markets. I love to cook something special on Christmas. And of course I like Christmas cookies! There are classics, which are always good, but nonetheless I want to try new stuff every year. This year I made these wonderful chai kipferl!
Even more than Christmas I love chai! This spice blend is an alltime favourite of mine. Every morning I drink a cup of chai tea, after that I'm ready. Chai is an universal spice and it goes with a lot of food. And perfectly with cookies!
So I created these chai kipferl! Also you can make your own chai spice blend and use it in everything you like! I'm thinking of a lot of stuff still ;). Find the spice blend here and then go baking!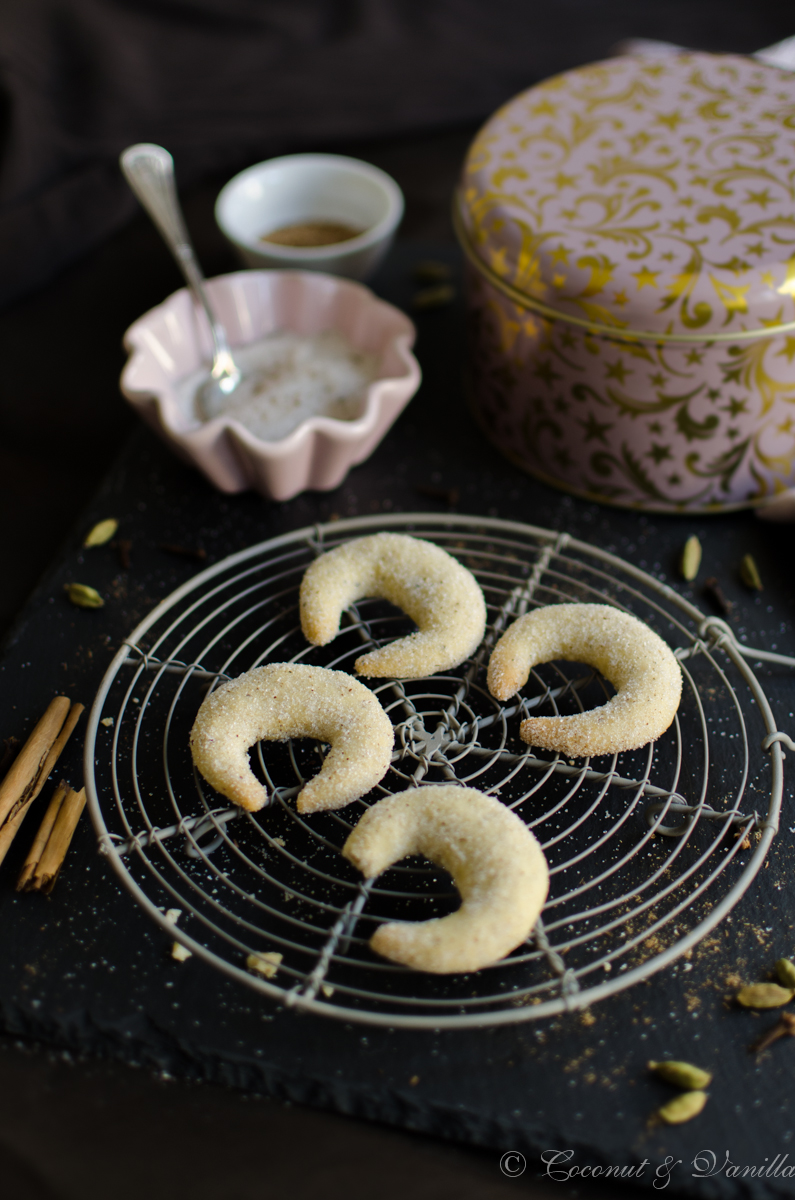 Two years ago: gingerbread with chocolate coating
Three years ago: chocolate cookies with fleur de sel
Four years ago: Christmas cookies (black and white cookies, nut cookies, apricot cookies)
Chaikipferl
yields: about 40 cookies
Ingredients:
150 g butter, at room temperature
100 g sugar
2 egg yolks
200 g wheat flour
100 g ground almonds, without skin
2 tsp chai spice blend (you could also use another spice blend to your taste, if you don't want to make your own)
100 g sugar
Whisk butter and 100 g sugar until light and fluffy. Add the egg yolks and continue whisking until incorporated. Stir in the flour and almonds.
Roll the dough into a log (diameter of an 2 euro coin) and wrap in plastic foil. Store in the fridge for 1 hour.
Mix the sugar and the chai spice in a shallow bowl or a deep dish.
Prepare to baking sheets with baking paper and preheat the oven to 160° C (hot air).
Cut the log into 1-2 cm thick discs, depending how large your cookies shall be in the end. Roll the dough into thin logs with tapering ends. Bend them so they are formed like in the pictures (it's called a kipferl in southern Germany). Place the cookies onto the baking sheets.
Bake the sheets at the same time at hot air (level 2 and 4) for 12-15 minutes, until the ends begin to brown. The kipferl should stay quite light in colour.
Place the sheets onto racks and let the cookies cool for 5 minutes. Place the cookies upside down in the chai spiced sugar, then back on the baking sheets (downside down).
Store the chaikipferl in cookie tins.