Thursday, 6th December 2012
These are not the first gingerbread cookies I made. But these are so very different to those. Those were more than a cookie, like the traditional famous Lebkuchen vom Nuremberg. This time they are like a lighter gingerbread cookie, but a mellow one. Probably there are cookies like this to buy, but I don't know there name (or from which brand). I just don't take notice of things like that in the supermarket.
But I doubt it, that you can buy such delicious gingerbread cookies. First I was a bit sceptical, since flat gingerbread cookies tend to be hard and dry. But not these! The chocolate coating is a must and makes the gingerbread even better. These cookies are one of my favourites this season.
The dough makes a lot of cookies, but I have no doubt, that they are eaten since Christmas.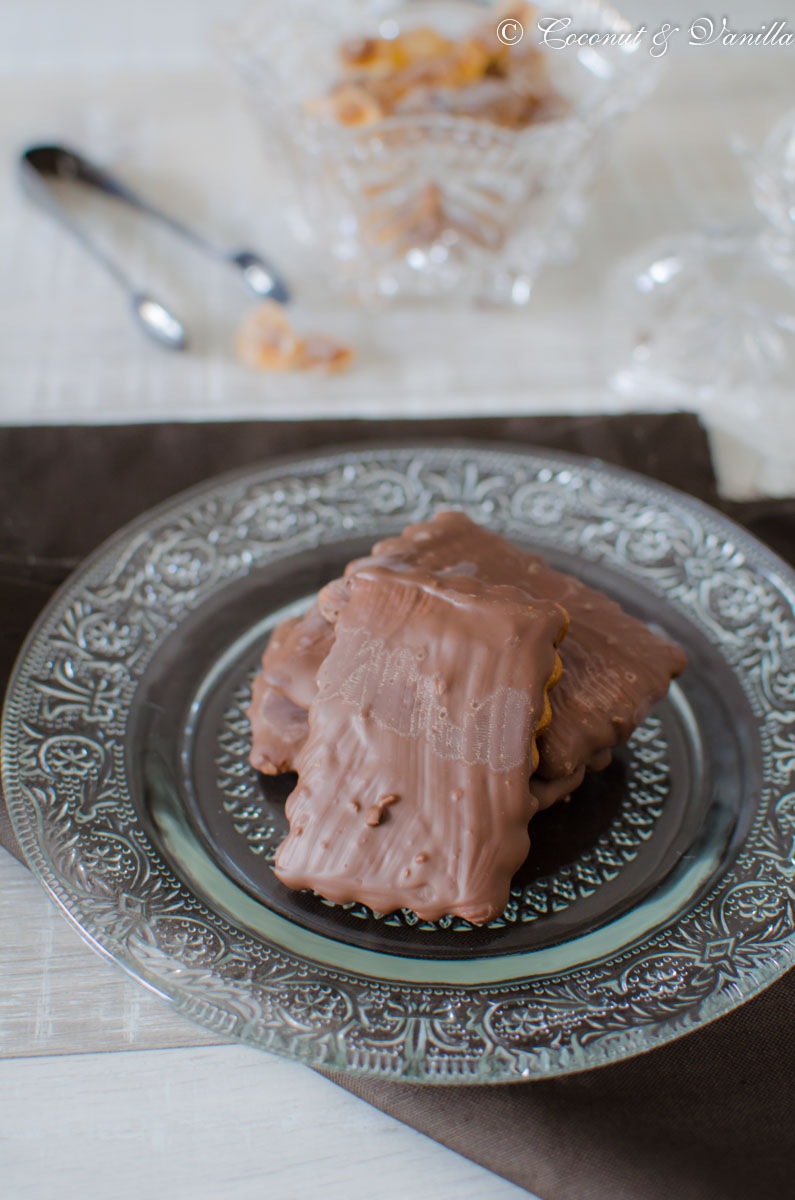 One year ago: chocolate cookies with fleur de sel
Two years ago: christmas cookies
Gingerbread with Chocolate Coating
adapted from Plaetzchen.org
Ingredients:
250 g honey
250 g brown sugar
100 g butter
1/2 tsp salt
15 g gingerbread spice
1 tsp lemon extract
500 g wheat flour
20 g cocoa
12 g potassium carbonate
2 eggs
1 Tbsp brown rum
200 g white or semisweet chocolate (or a mix of both)
Heat the honey with the sugar and butter in a saucepan and bring to the boil. Heat until the sugar has dissolved. Stir in the salt and the gingerbread spice. Let it cool. If you let it cool entirely it will get very hard, just heat it slightly again.
Mix the flour with the cocoa and the potassium carbonate. Add the sugar mixture, as well as the lemon extract, rum and the eggs and knead, until everything is incorporated. Store covered in a cool place overnight, better for one week (I stored in on our balcony for one week).
Preheat the oven to 180° C.
Knead the dough shortly before going on with the recipe. Roll it out 5 cm thick and cut out shapes with cookie cutters. Place on baking sheets lined with parchment paper. Bake for 10-15 minutes depending on the size of the cookies. Transfer to cooling racks.
Chop the chocolate and melt in a water bath.
Brush the cookies with the melted chocolate. When the chocolate is dry, store in tin cans.