Thursday, 25th April 2013
Finally you can see spring! And we do not only notice because of the better weather, but because there's rhubarb and wild garlic on the farmer's market. I've already spotted some German asparagus, but it's still really pricey, so I will wait.
But we bought the wild garlic and rhubarb, of course. I have already a lot of rhubarb recipes on my blog (here, here, here, here and here), but not a single recipe with wild garlic! What a shame! After a quick search I got caught on Julianes blog Schöner Tag noch!. Juliane has a huge collection of wild garlic recipes on her blog and I picked this one amongst others to cook.
A tart with wild garlic is quite something special and with the first tomatoes of the season it convinced me straight away. Very delicious and so perfect for spring!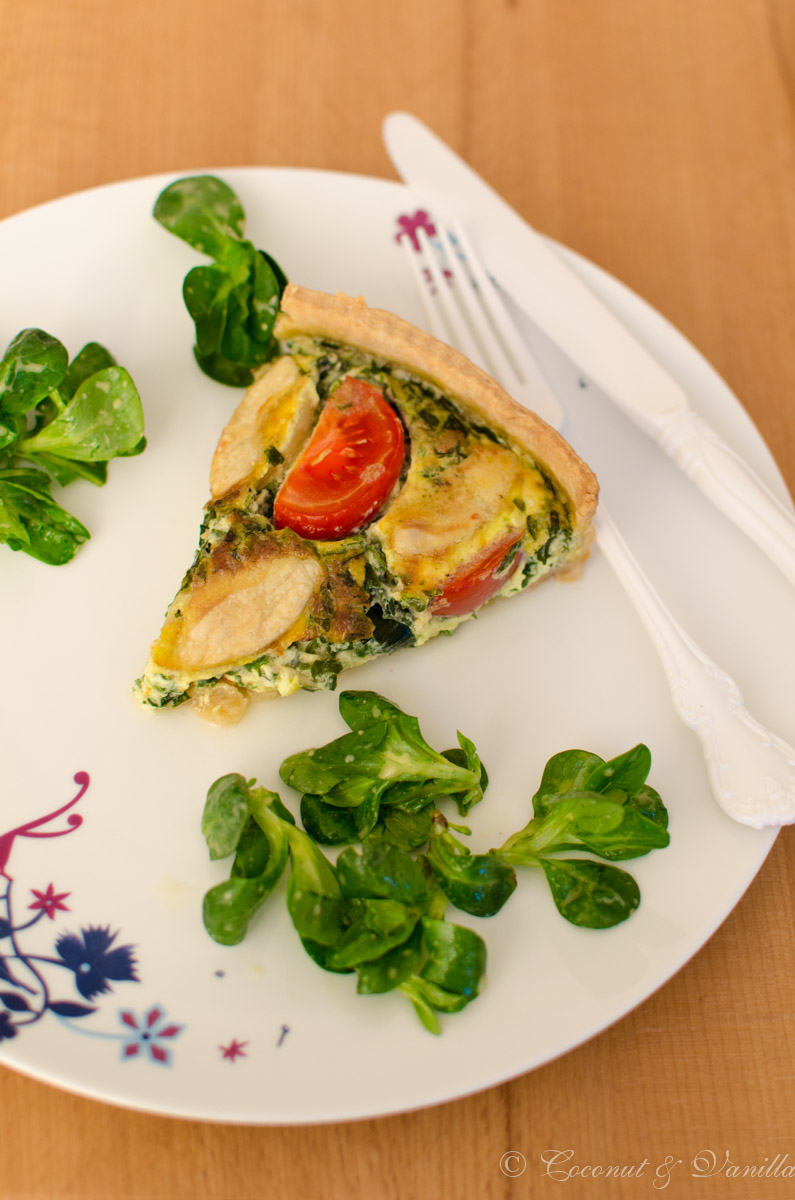 One year ago: orangettes
Two years ago: french toast
Three years ago: rhubarb streusel cake
Wild Garlic and Tomato Tarte
adapted from Schöner Tag noch!
Ingredients:
250 g spelt flour (Type 812)
125 g cold butter, diced
1 egg
salt, pepper
150 g wild garlic
250 ml milk
150 g crème fraîche
3 eggs
100 g parmesan, finely grated
nutmeg
2 tomatoes
butter for greasing the pan
Butter a tart pan with high rim or a spring pan (28 cm in diameter).
Add the butter, flour and 1/2 tsp of salt to a food processor and pulse until the butter has the size of small peas. Alternatively use your stand mixer and the paddle attachement. Add the egg and knead, until it all comes together. Add 1-2 Tbsp cold water, if the dough is too dry. If you don't own any of these electric machines, knead the dough by hand.
Roll out the dough and line your tart or springform pan with it and form a rim.
Place the pan for 30 minutes in the fridge.
Preheat the oven to 200° C.
Rinse the wild garlic and spin it dry. Chop it coarsely.
Whisk milk, crème fraîche and eggs together. Stir in the parmesan and the chopped wild garlic. Season generously with salt, pepper and nutmeg.
Rinse the tomatoes. Half them and remove the core. Quarter the halves.
Pour the wild garlic cream into the pan and place the tomato eights on the cream.
Bake for 40 minutes until golden.