Monday, 30th April 2012
Orangettes are candied orange peels, which are coated with dark chocolate.
I sent this sweet treat to Mia from the blog Küchenchaotin. We were partners for the great project Post aus meiner Küche (mail from my kitchen), in which blogger (300 altogether) are sending treats from their kitchen to other blogger. The first round was announced under the theme "chocolate". Who doesn't wind up with an idea for chocolate treats?!
We quite fit together. Mia had a whole chaos in her apartment, as she was cut off from water and electricity and the original recipe I wanted to make for her, didn't worked at all. I wanted to make fudge, which didn't set a bit. The mixture waits in the fridge to become ice cream. Too good to just discard it.
The chaos went on on the transport. Here in the south temperatures climbed up on Saturday. The delicious brittle truffle from Mia suffered under the heat. As it arrived I popped it the fridge immediately, it was almost melting away. Therefore my treats were mostly broken, as they arrived in Kiel. Besides the Orangettes I also prepared some spiced chocolate spoons, which were meant for drinking chocolate. All broken. But although some things went awry, the results taste still delicious. No, they taste even better, because they were made with love and send from us.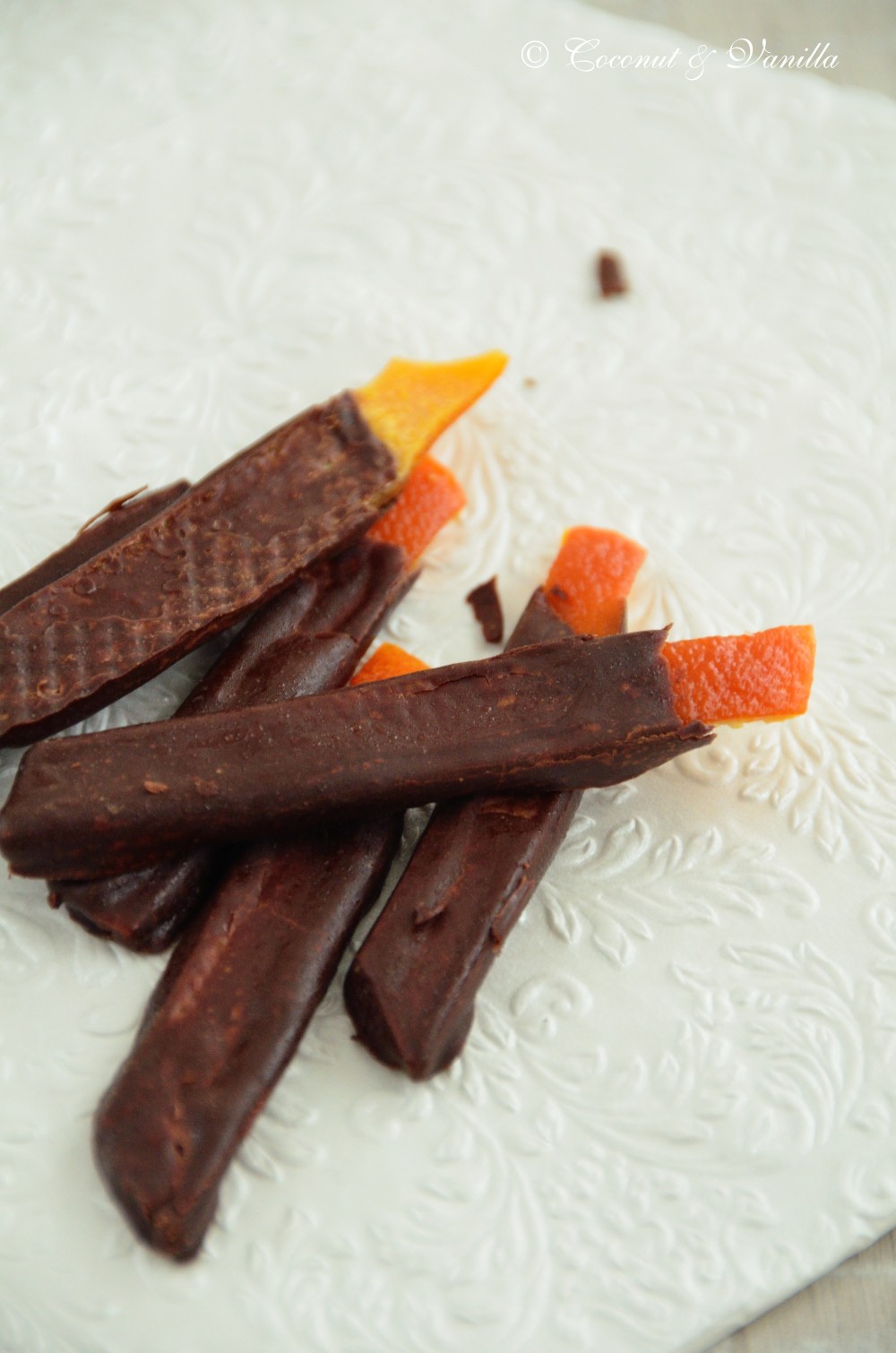 The Orangettes are an definite highlight, although they take some time. But you don't need invest a lot of time. It takes the most time to cover the candied orange sticks with chocolate.
The candied orange peels are melting in the mouth, they are creamy, but also refreshing. A perfect pair with the dark chocolate. Not dry in the slightest or chewy, as you know it from dried fruit (which we both don't like). I covered the peels  three quarters in chocolate, so you can hold them on one end and soak the rest. But the piece without chocolate became dryer and harder after a short time. So next time I will coat the whole peels.
You should use up the Orangettes quite quickly, as the chocolate begins to sweat for an undefined reason, so the chocolate also begins to peel off after some time. You get an idea of it in the pictures, since I totally forgot to take some pictures of my treats and the parcel. For that reason I did have to make some pics of the rests.
These Orangettes will change your lives, they are a real dream (and are much more beautiful in real, than in my awful pictures)!
One year ago: French Toast
Two years ago: Rhubarb Streusel Cake
Orangettes
from the book Rezepte aus dem Obstgarten by Valérie Lhomme
yields about 200 g
Ingredients:
3 organic oranges, preferably with a thick peel

100 ml orange juice, best freshly squeezed

250 g sugar

200 g bittersweet chocolate (at least 50 % chocolate), coarsely chopped
 Carve the oranges two times all around at regular intervals and peel the skin off in four pieces.
Boil water in a large pot. Blanch the peels for 1 minute. Remove the peels and let them drain.
Combine the orange juice, the sugar and 400 ml water in a medium pot and bring it to the boil. Add the orange peels and let it simmer for 1,5 hours covered with a lid. Remove the peels and let them drain and dry on a cooling rack for 1 hour.
If your peels have a lot of the inner white peel, called mesocarp, it's best to remove it now, because it's really bitter. It works quite well in that phase, because after candying the peels are very soft. You can just scrape the white parts off with a sharp knife.
Cut the peels in stripes.
Prepare a sheet of parchment paper.
Melt the chocolate in a double boiler. Cover the candied orange strips fully with chocolate. Using a chocolate dipping fork is helpful (otherwise use a normal fork). Place them on the parchment paper and let the chocolate dry.