[:de]
Overnight-Oats (also Haferflocken) sind ja bereits in aller Munde. Nun bin ich kein großer Freund von eingeweichten Haferflocken. Aber man kann nicht nur Haferflocken am Abend vorher einweichen um am nächsten Morgen ein nahrhaftes Frühstück zu haben. Bulgur funkioniert ganz hervorragend und schmeckt köstlich!
Den Bulgur kann man je nach Lust und Laune in einer Flüssigkeit der Wahl einweichen. Fruchtsaft habe ich bereits ausprobiert, aber das fand ich nicht so gut. Milch mag ich und Nussmilch stelle ich mir auch sehr lecker vor. Wer nichts davon daheim hat, kann auch einfach Wasser verwenden.
Ich verwende gerne tiefgefrorene Beeren, diese sind bis ich frühstücke auch aufgetaut. Ansonsten kann rein was das Herz begehrt. Ich hatte in diesem Fall Mango zu Hause, der Rest kam in meinen Lieblingssmoothie.
Für eine erhöhte Eisen- und Eiweißzufuhr geben ich gerne Leinsamen und Weizenkleie dazu. Leinsamen enthalten außerdem große Mengen der gesunden Omega-3-Fettsäuren. Rausschmecken tut man beides nicht. Oben drauf kommen dafür meine geliebten Kokoschips, die ich letzten bei Dr. Goerg entdeckt habe. Die sind soo gut!
Am nächsten Morgen schichte ich auf den Bulgur noch das Obst und den Joghurt, schraube das Glas zu und nehme es mit zur Arbeit. So einfach!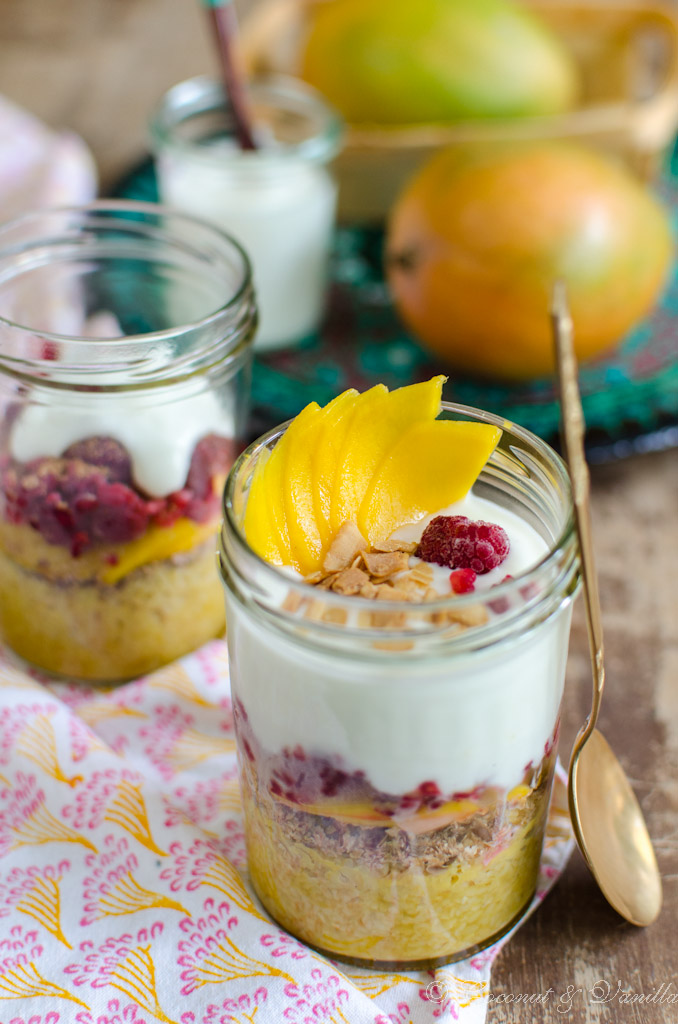 Vor einem Jahr: raw! Schokoladenbrownies
Vor zwei Jahren: Rhabarberkuchen upside down
Vor drei Jahren: Rum Alexander & Jamaican Hop
Vor vier Jahren: Rhabarbercrumble mit Pekannuss-Vanille-Eiscreme
Vor fünf Jahren: Rhabarber-Streusel-Tarte
Vor sechs Jahren: Rhabarber-Streusel-Kuchen
Overnight Bulgur mit Beeren und Joghurt
ergibt: 1 Glas
Zutaten:
40 g Bulgur
100 g Milch oder andere Flüssigkeit nach Belieben (z.B. Nussmilch)
1/2 EL Leinsamen
1/2 EL Weizenkleie
1/8 Mango oder anderes Obst der Saison, geschält und mundgerecht geschnitten
7 Himbeeren oder andere Beeren (frisch oder TK je nach Saison)
1/4 TL Kokosblütenzucker
100 g Vollmilchjoghurt
optional: süße Kokoschips (z.B. von Dr. Goerg)
Bulgur mit der Milch in das Glas geben und verrühren. Über Nacht in den Kühlschrank stellen.
Am nächsten Morgen hat der Bulgur die Milch fast vollständig aufgesogen. Nun die anderen Zutaten einschichten.
Zuerst Leinsamen und Weizenkleie. Dann das Obst und den Kokosblütenzucker. Darauf den Joghurt löffeln und mit Kokoschips toppen.
Das Glas gut verschließen und ihr seid ready to go!
[:en]
Overnight oats are on everyone's lips right now. But I am not a fan of soaked oatmeal. But there is more than oats to soak overnight! Because it is just great to have a nourishing breakfast on the next day I tried some stuff. So bulgur works perfectly and tastes delicious!
The bulgur can be soaked in a liquid of your joice. I tried fruit juice, but didn't like it much. I like milk, but I imagine nut milk to be blissful, too! If you don't have anything of the above at home, try water instead.
I like to use frozen berries, which are thawed until I eat. I choose the other ingredients depending on my mood and what I have at home. In this case I had some leftover mango, the rest was used for my favourite smoothie.
For an increased intake of iron and proteins I like to add flaxseeds and wheat bran. Moreover, flaxseeds contain large amounts of omega 3 fats, which are very healthy and rare. You do not taste, either the flaxseeds, nor the wheat bran, so win-win! On top I like to add my beloved coconut chips, which I just discovered from Dr. Goerg. They are just delish!
On the next morning I layer the fruit and yogurt on the bulgur, close the lid tight and run off to work! It can be that easy!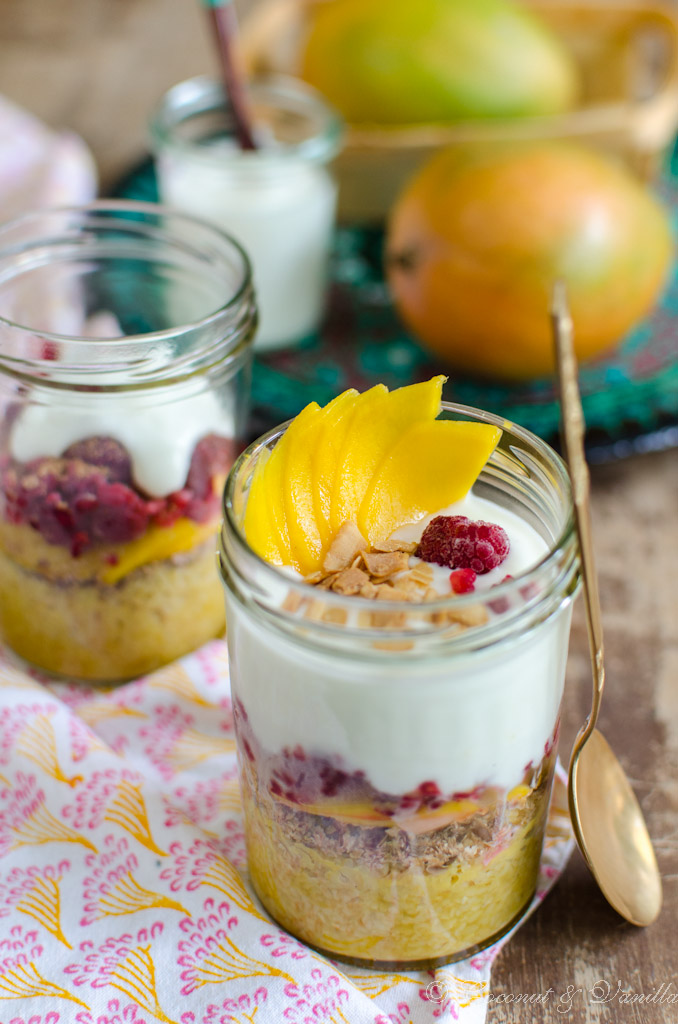 One year ago: raw! chocolate brownies
Two years ago: rhubarb cake upside down
Three years ago: rum alexander & jamaican hop
Four years ago: rhubarb crumble with pecan vanilla ice cream
Five years ago: rhubarb streusel tart
Six years ago: rhubarb streusel cake
Overnight Bulgur with Berries and Yogurt
yields: 1 jar
Ingredients:
40 g bulgur
100 g milk or other liquid of your choice (like nut milk)
1/2 Tbsp flax seeds
1/2 Tbspp wheat bran
1/8 mango or other fruit of the season, peeled and cut in bite-sized pieces
7 raspberries or other berries of your choice (fresh or frozen, depending of the season)
1/4 tsp coconut blossom sugar
100 g full-fat yogurt
optional: sweet coconut chips (such as Dr. Goerg)
Add bulgur and milk to the jar, mix and place in the fridge overnight.
On the next morning the milk is almost soaked up completely.
Layer the other ingredients: First flaxseeds and wheat bran, then the fruit and the sugar. Spoon the yogurt on top and sprinkle with coconut chips.
Close the jar tight and you are ready to go!
[:]