Sunday, 29th November 2015
Advent it is! Time to lighten the first candle and to bake the first Christmas cookies!
Time is running especially fast this year, although I already have so many plans what cookies to bake ;).
The first ones are these cashew balls. Wow, these are a bummer! The cashew shine so well in these, especially because I roasted them with the method of Heiko Antoniewicz, which I learned at the workshop of the Californian walnuts. Therefore the nuts are "fried" in oil for few minutes. Like this they are roasted entirely golden brown, in every nook and cranny. Their flavour is much more intensive than roasting the nuts in the pan or the oven. Dreamy!
And I made cookies with those flavourful nuts… it doesn't get any better!
You need a food processor* or something similar for grinding the nuts in this recipe. If the food processor is large enough you can even make the whole dough in it!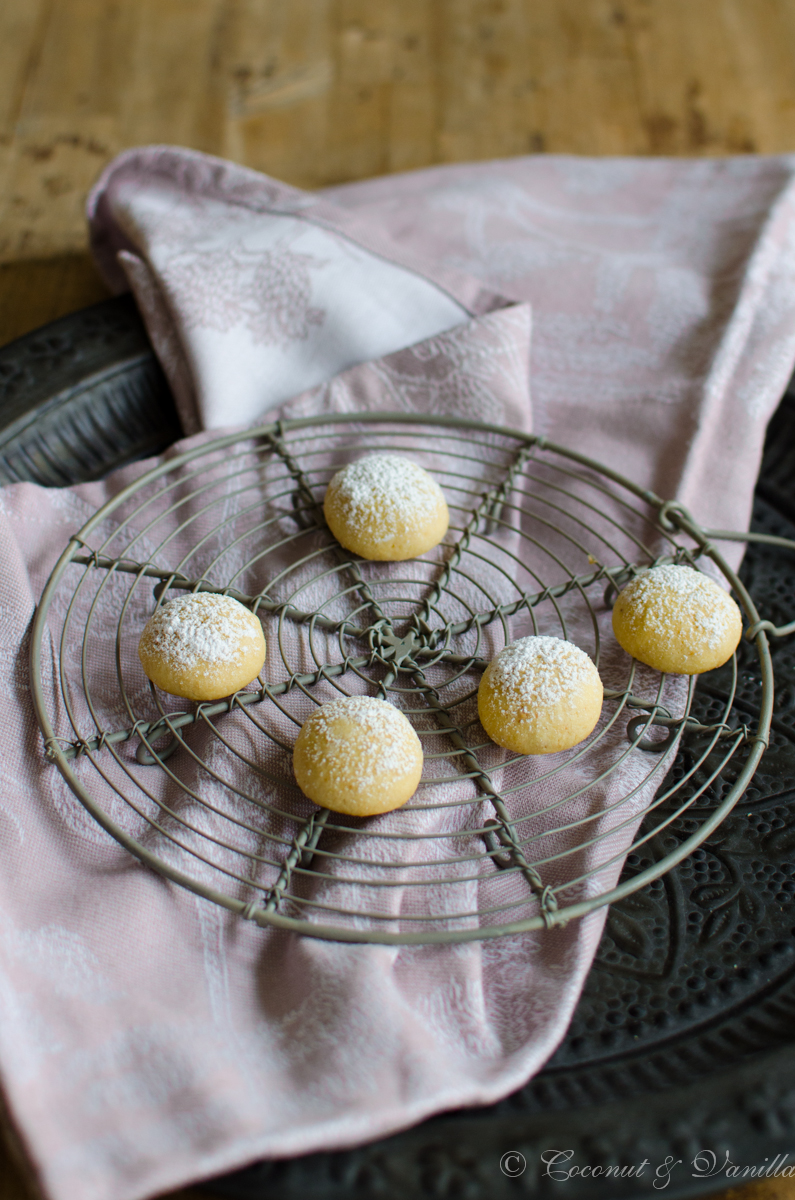 One year ago: peanut butter cups
Three years ago: smoked mackerel pâté
Four years ago: orange vanilla sticks
Six years ago: spiced crème brûlée
Cashew Balls
adapted from Smitten Kitchen
yields: 80 – 100 cookies
Ingredients:
150 g cashews
optional: neutral vegetable oil for roasting
250 g all-purpose flour
1/4 tsp fleur de sel
230 g butter, at room temperature
60 g powdered sugar
extra powdered sugar for dusting
Roast the cashews. Either in a pan or  with the ultimate flavour roasting method: in oil! Therefore, put the nuts in a saucepan and cover with neutral vegetable oil. "Fry" at medium heat until the nuts are golden. This only takes few minutes. Don't go away, nuts burn fast!
Let the nuts drain on a plate with paper towels. Let them cool completely.
The cooled oil can be filtered through a paper towel and  then used again for cooking and roasting.
When the nuts are cool, place them with half the flour in a food processor and grind finely. Add the rest of the flour and the salt and grind again. Add the butter and powdered sugar and pulse until you get a well mixed dough.
Wrap the dough in plastic foil and refridgerate for two hours.
Prepare three baking sheets with baking paper and preheat the oven to 160° C top and bottom heat.
Take a heaped teaspoon of dough and roll to a ball. Place with a bit of distance on the sheets and proceed with the rest of the dough.
Bake one sheet at a time until the cookies are slightly golden. This takes about 20 – 25 minutes.
Let the cookies cool, then dust with powdered sugar.
Keep the cashew balls in a metal tin.
* Amazon affiliate link (If you buy something after clicking on this link on amazon, I earn a small amount of money, which I reinvest in this blog. Thank you!)