[:de]
Advent, Advent, das erste Lichtlein brennt! Zeit also den Ofen anzuwerfen und Plätzchen zu backen.
Dieses Jahr rast die Zeit nur so, dabei will ich doch wieder so vieles ausprobieren ;).
Als erstes habe ich mich an diesen Cashewbällchen versucht.
Moah, sind die gut! Hier glänzen die Cashewnüsse besonders gut, vor allem weil ich sie nach der Methode von Heiko Antoniewicz geröstet habe, so wie ich es beim Workshop der kalifornischen Walnüsse gelernt habe. Dazu werden die Nüsse in Öl für ein paar Minuten "frittiert". Dadurch werden sie rundherum gleichmäßig gebräunt. Der Geschmack ist so viel intensiver als wenn man die Nüsse in der Pfanne oder im Backofen röstet! Ein Traum!
Daraus dann noch Plätzchen gemacht… ähm, geht nicht besser, oder?
Für dieses Rezept benötigt ihr einen Food Processor*, einen Universalzerkleinerer (z.B. als Aufsatz für den Pürierstab*) oder etwas ähnliches um die Nüsse zu mahlen. Wenn der Zerkleinerer groß genug ist könnt ihr sogar den ganzen Teig darin zubereiten!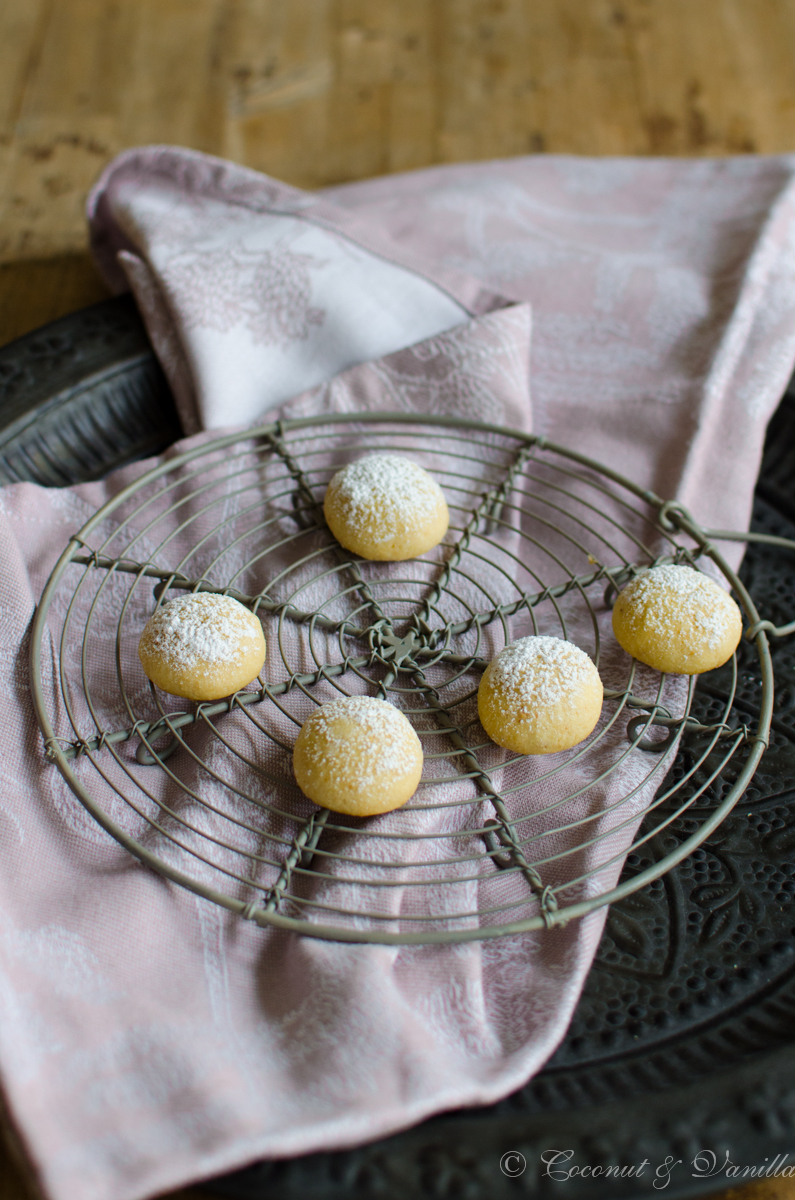 Vor einem Jahr: Peanut Butter Cups
Vor drei Jahren: Pâté von der Räuchermakrele
Vor vier Jahren: Orangen-Vanille-Stangen
Vor sechs Jahren: Crème brûlée mit Gewürzen
Cashewbällchen
inspiriert von Smitten Kitchen
ergibt: 80 – 100 Bällchen
Zutaten:
150 g Cashewkerne
optional: neutrales Pflanzenöl zum Rösten
250 g Weizenmehl Type 405
1/4 TL Fleur de Sel
230 g weiche Butter
60 g Puderzucker
extra Puderzucker zum Bestäuben
Die Cashewkerne rösten. Entweder in der Pfanne oder mit der ultimativen Geschmacksröstung: im Öl! Dazu die Nüsse in einen Topf geben und mit neutralem Pflanzenöl bedecken. Bei mittlerer Hitze "frittieren" bis die Nüsse goldbraun sind. Das dauert nur wenige Minuten. Nicht aus den Augen lassen, denn Nüsse verbrennen sehr schnell!
Die Nüsse auf einem Teller mit Küchenpapier abtropfen und auskühlen lassen.
Das abgekühlte Öl, könnt ihr durch ein Küchenpapier filtern und dann zum kochen und braten weiterverwenden.
Wenn die Nüsse abgekühlt sind mit der Hälfte des Mehls in den Food Processor/Universalzerkleinerer geben und fein mahlen. Das restliche Mehl und das Salz dazugeben und nochmals mahlen. Butter und Puderzucker dazugeben und zerkleinern bis sich ein homogener Teig ergibt.
Den Teig in Frischhaltefolie wickeln und für 2 Stunden in den Kühlschrank legen.
3 Bleche mit Backpapier belegen und den Ofen auf 160° C Ober-/Unterhitze vorheizen.
Von dem Teig die Menge eines gehäuften Teelöffels abnehmen und zu einer Kugel formen. Mit etwas Abstand auf die Bleche legen. Mit dem gesamten Teig so verfahren.
Die Bleche hintereinander backen bis sie Kekse leicht goldbraun sind. Das dauert 20 – 25 Minuten.
Die Kekse abkühlen lassen und mit Puderzucker bestreuen.
Die Kekse in Blechdosen aufbewahren.
*Werbung, Affiliatelink (sprich, wenn ihr über diesen Link etwas bei Amazon kauft verdiene ich dabei wieder eine kleine Provision, die ich in den Erhalt des Blogs stecke)
[:en]
Advent it is! Time to lighten the first candle and to bake the first Christmas cookies!
Time is running especially fast this year, although I already have so many plans what cookies to bake ;).
The first ones are these cashew balls. Wow, these are a bummer! The cashew shine so well in these, especially because I roasted them with the method of Heiko Antoniewicz, which I learned at the workshop of the Californian walnuts. Therefore the nuts are "fried" in oil for few minutes. Like this they are roasted entirely golden brown, in every nook and cranny. Their flavour is much more intensive than roasting the nuts in the pan or the oven. Dreamy!
And I made cookies with those flavourful nuts… it doesn't get any better!
You need a food processor* or something similar for grinding the nuts in this recipe. If the food processor is large enough you can even make the whole dough in it!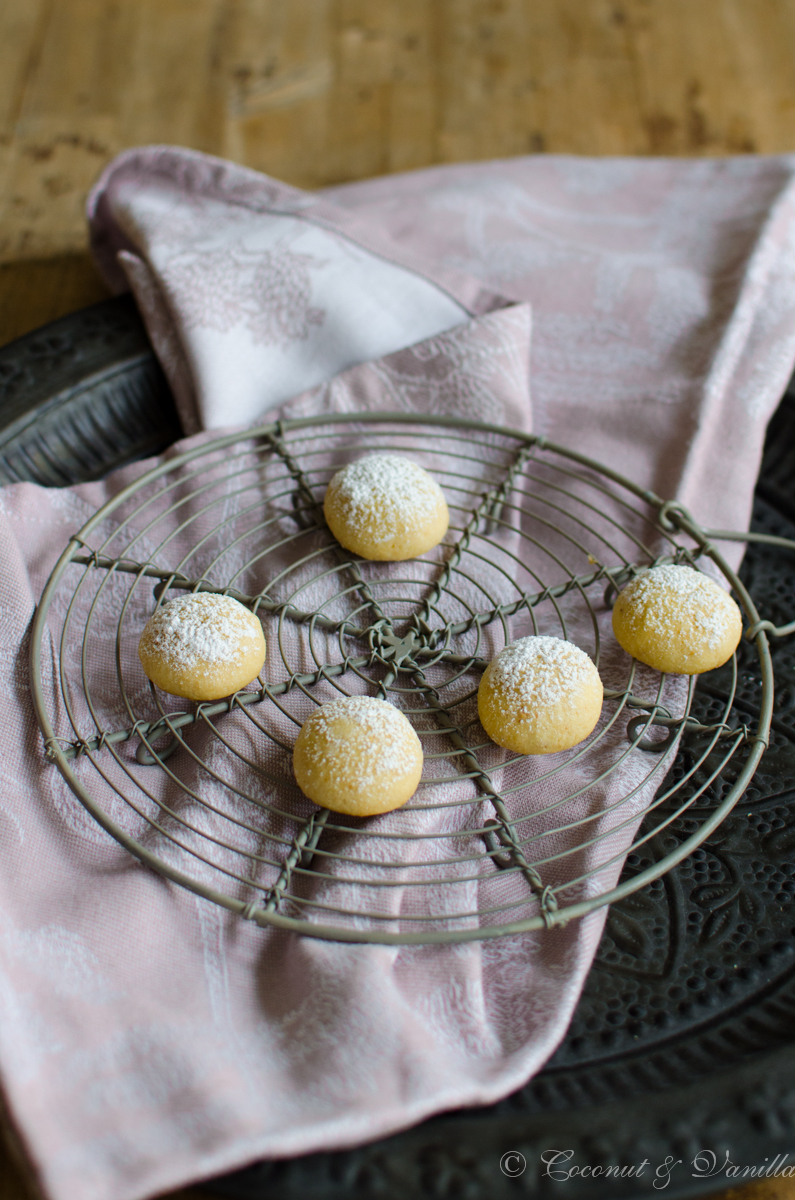 One year ago: peanut butter cups
Three years ago: smoked mackerel pâté
Four years ago: orange vanilla sticks
Six years ago: spiced crème brûlée
Cashew Balls
adapted from Smitten Kitchen
yields: 80 – 100 cookies
Ingredients:
150 g cashews
optional: neutral vegetable oil for roasting
250 g all-purpose flour
1/4 tsp fleur de sel
230 g butter, at room temperature
60 g powdered sugar
extra powdered sugar for dusting
Roast the cashews. Either in a pan or  with the ultimate flavour roasting method: in oil! Therefore, put the nuts in a saucepan and cover with neutral vegetable oil. "Fry" at medium heat until the nuts are golden. This only takes few minutes. Don't go away, nuts burn fast!
Let the nuts drain on a plate with paper towels. Let them cool completely.
The cooled oil can be filtered through a paper towel and  then used again for cooking and roasting.
When the nuts are cool, place them with half the flour in a food processor and grind finely. Add the rest of the flour and the salt and grind again. Add the butter and powdered sugar and pulse until you get a well mixed dough.
Wrap the dough in plastic foil and refridgerate for two hours.
Prepare three baking sheets with baking paper and preheat the oven to 160° C top and bottom heat.
Take a heaped teaspoon of dough and roll to a ball. Place with a bit of distance on the sheets and proceed with the rest of the dough.
Bake one sheet at a time until the cookies are slightly golden. This takes about 20 – 25 minutes.
Let the cookies cool, then dust with powdered sugar.
Keep the cashew balls in a metal tin.
* Amazon affiliate link (If you buy something after clicking on this link on amazon, I earn a small amount of money, which I reinvest in this blog. Thank you!)
[:]