Tuesday, 29th September 2015
To lift myself from my afternoon energy valley I need some snacks, so that I do not rely on cake, sweets and so on. I remembered that in my childhood there where these little energy balls (it was the whole grain era, my mother indulged in!). In my childrens cookbook from my childhood I found this genious recipe, which is made in a pinch and tastes splendid like hazelnuts!
1 or 2 of these balls are enough to rise my energy level again, but are healthy and deliver a lot of unsaturated fatty acids. But be aware that nuts also contains a lot of calories (because a lot of fat), so you shouldn't eat 30 balls in an instant ;). But I cannot imagine, this will happend, since they make quite full.
Actually I am searching for a recipe from my childhood, but unfortunately my mum doesn't has the recipe anymore. So I will go on experimenting with energy balls! Those balls are just handy and delicious.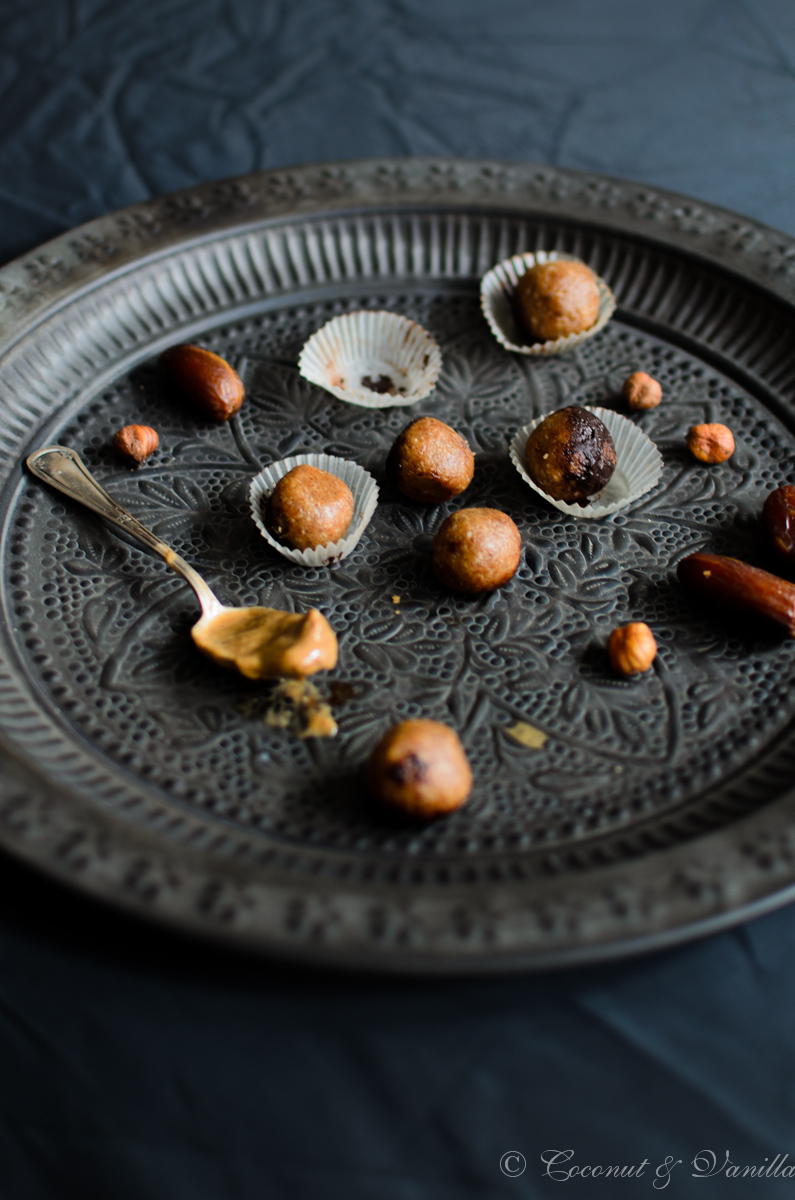 One year ago: chocolate tart with crème fraîche
Three years ago: homemade gravlax with orange, tarragon & vanilla
Four years ago: frozen yogurt with lemon
Five years ago: gluten-free sugar cookies
Six years ago: triple mousse
Hazelnut Energy Balls

yields: about 30
Ingredients:
50 g hazelnuts
50 g dried dates
100 g hazelnut butter (or other nut butter)
50 g grated coconut
optional: cocoa for rolling
Chop the nuts and dates in a food processor finely. Add the nut butter and coconut and chop until everything is quite fine. Roll the dough into small balls (about 3 cm in diameter) and put for at least 1 hour in the fridge. Roll the balls in cocoa if you like (best only one side, so you can grab the balls without making your fingers dirty).
Store the energy balls in a box in the fridge.