Thursday, 27th September 2012
Those of you following my facebook page, already know about this ominous salmon. I watered some of your mouths' and then there was "only" cake again. The torture has now an end, but this also means, you have to make this gravlax now (so you can enjoy it at the weekend).
You read more often now about gravlax on food blogs and in cookbooks, these days. But unfortunately most of the recipes are very similar, using typical spices and herbs for fish. But I didn't wanted it typical, I wanted something special! I never made gravlax before, but I wanted to paint the town red!
Again I was inspired by Nicole Stich and her book Geschenkideen aus der Küche ("gifts from the kitchen"), who provided the idea with the vanilla, as well as using citrus zest. And as vanilla and orange are a great pair and tarragon has this vanilla touch and harmonizes well with its anise aroma, I chose this combination.
I used 1 kg salmon, which was way too much, of course. Half of it was enough for 8 people on a brunch, especially if you serve a lot of other things, too. We ate the rest the following days and froze some. But I also read you can keep it in the fridge for up to 2 weeks, although I didn't tried it!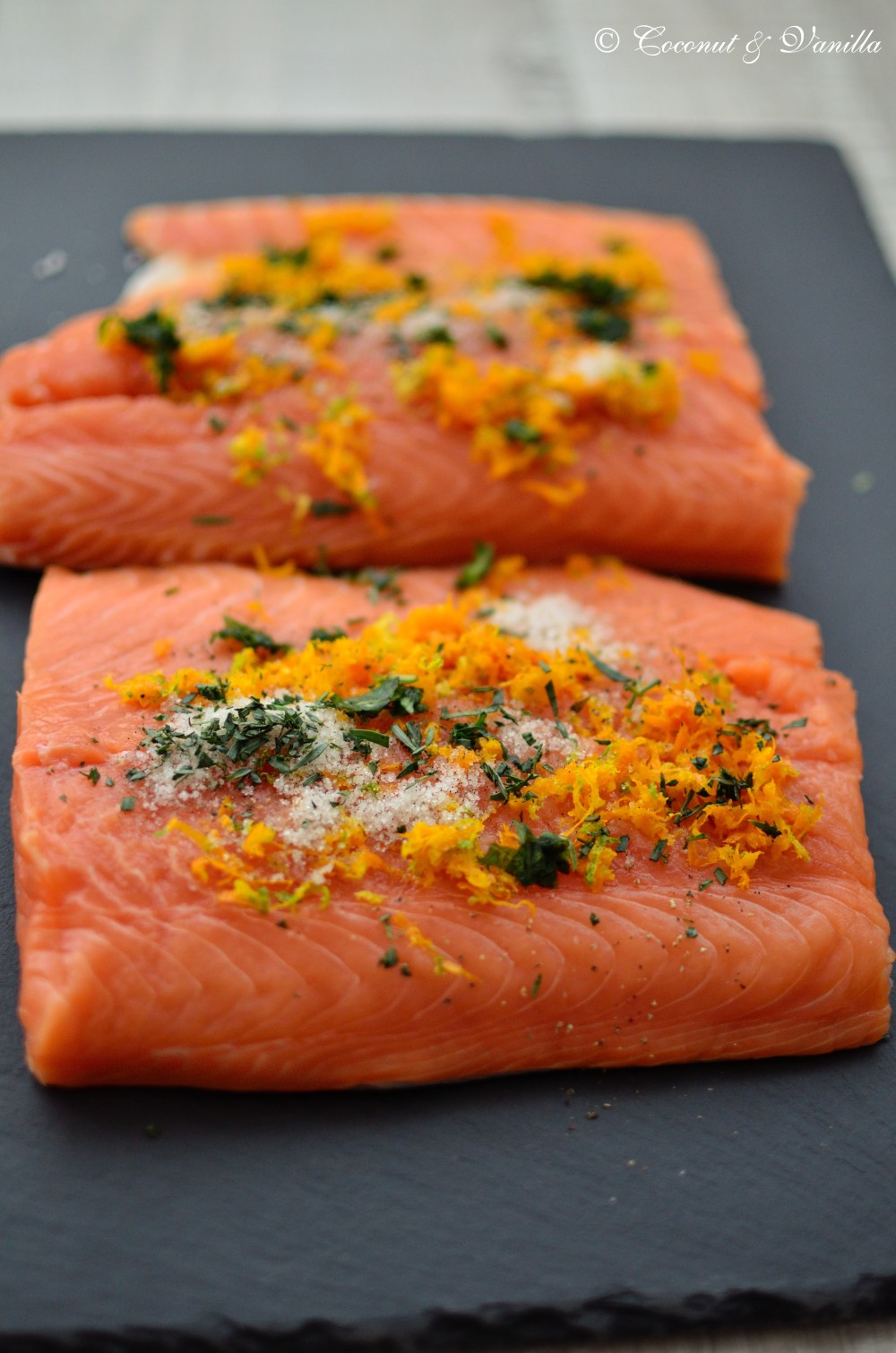 One year ago: Frozen Yogurt wit Lemon
Two years ago: gluten-free Sugar Cookies
Three years ago: Vol au Vents with Pear Compote
Homemade Gravlax with Orange, Tarragon & Vanille
adapted from Geschenkideen aus der Küche by Nicole Stich
yields: 1 kg, enough for 15-20 people for a brunch, we ( 2 people) ate about 200 g for dinner with waffles and herb quark
Ingredients:
1 kg salmon fillet, skin on

2 organic oranges

1 organic lime

1 organic lemon

6 Tbsp coarse sea salt, I used fleur de sel

6 Tbsp sugar

2 vanilla pods, seeds scraped out

1 small bunch tarragon, about 6 sprigs, about 3 Tbsp chopped

1 bunch basil (about 50 leaves), about 2 Tbsp chopped

splash of vodka

pepper
Rinse and dry the herbs, remove the leaves and chop them finely.
Grate the zest of the orange, lime and lemon and mix them. Use the fruits otherwise.
Mix the sugar, salt and the vanilla seeds, until the vanilla is evenly distributed.
Rinse the salmon and pad it dry. If necessary remove any leftover fish bones. Cut the fillet in two equal pieces. If you use less salmon and you think it's too small for cutting into two, just omit this step.
Place the two pieces next to each other onto plastic foil.
First spread the citrus zest on the salmon, then season it with pepper. Spread the sugar and salt on the salmon and top with the herbs. Add some splashes of vodka.
With the help of the foil fold the fillets up and wrap closely and tight with a lot of plastic foil. Due to osmoses the fish will loosen some of it's water, so place the wrapped up salmon in a bowl or a baking dish.
Place it in the fridge and encumber it with some weights. Therefore I placed a small cutting board on the fish following two litres of milk.
Let it rest for 1-2 days. Flip the wrapped salmon every 12 hours, if possible.
Before serving:
Rinse the salmon and pad it dry. Remove the skin. It's quite easy, if you loosen one corner of the skin with a knife, then just pull off the rest with your hands. Using a large sharp knife, slice the salmon thinly.
Store the leftovers wrapped in plastic foil in the fridge.