Wer meine Facebook-Seite verfolgt, hat von diesem ominösen Lachs bereits gehört. Dem ein oder anderen schon den Mund wässerig gemacht und dann gab es doch "nur" wieder Kuchen. Jetzt hat die Folter aber ein Ende, das bedeutet aber auch, dass dieser Lachs jetzt nachgemacht werden muss (dann könnt ihr ihn auch schon am Wochenende genießen)!
Gebeizten Lachs liest man ja immer häufiger in den Food Blogs, und auch in einigen Büchern habe ich Rezepte gefunden, nur leider sind die Rezepte immer sehr ähnlich und die Verwendung von fischtypischen Gewürzen und Kräutern ist meistens Standard. Aber ich wollte nicht Standard, ich wollte was anderes. Noch nie gebeizten Lachs gemacht, aber gleich mal auf die Pauke hauen!
Ich habe mich von Nicole Stich's Geschenkideen aus der Küche inspirieren lassen (mal wieder!; wie ihr habt das Buch immer noch nicht?), dort war der Tipp mit der Vanille gestanden. Auch die Verwendung von Zitrusschalen wurde dort empfohlen. Und da Vanille und Orange gut harmonieren und Estragon auch etwas vanilliges hat und mit seiner Anisnote gut mit beidem harmoniert, kam dann diese Kombination zustande.
Ich hatte 1 kg Lachs gebeizt, was am Ende natürlich viel zu viel war. Die Hälfte ist ausreichend für einen Brunch für 8 Personen, vor allem wenn man noch ein Haufen anderes Zeug serviert. Den Rest haben wir dann die Tage danach gegessen und auch einen Teil eingefroren. Ich habe aber auch gelesen, dass man ihn bis zu 2 Wochen im Kühlschrank aufbewahren kann, obwohl ich es nicht getestet habe.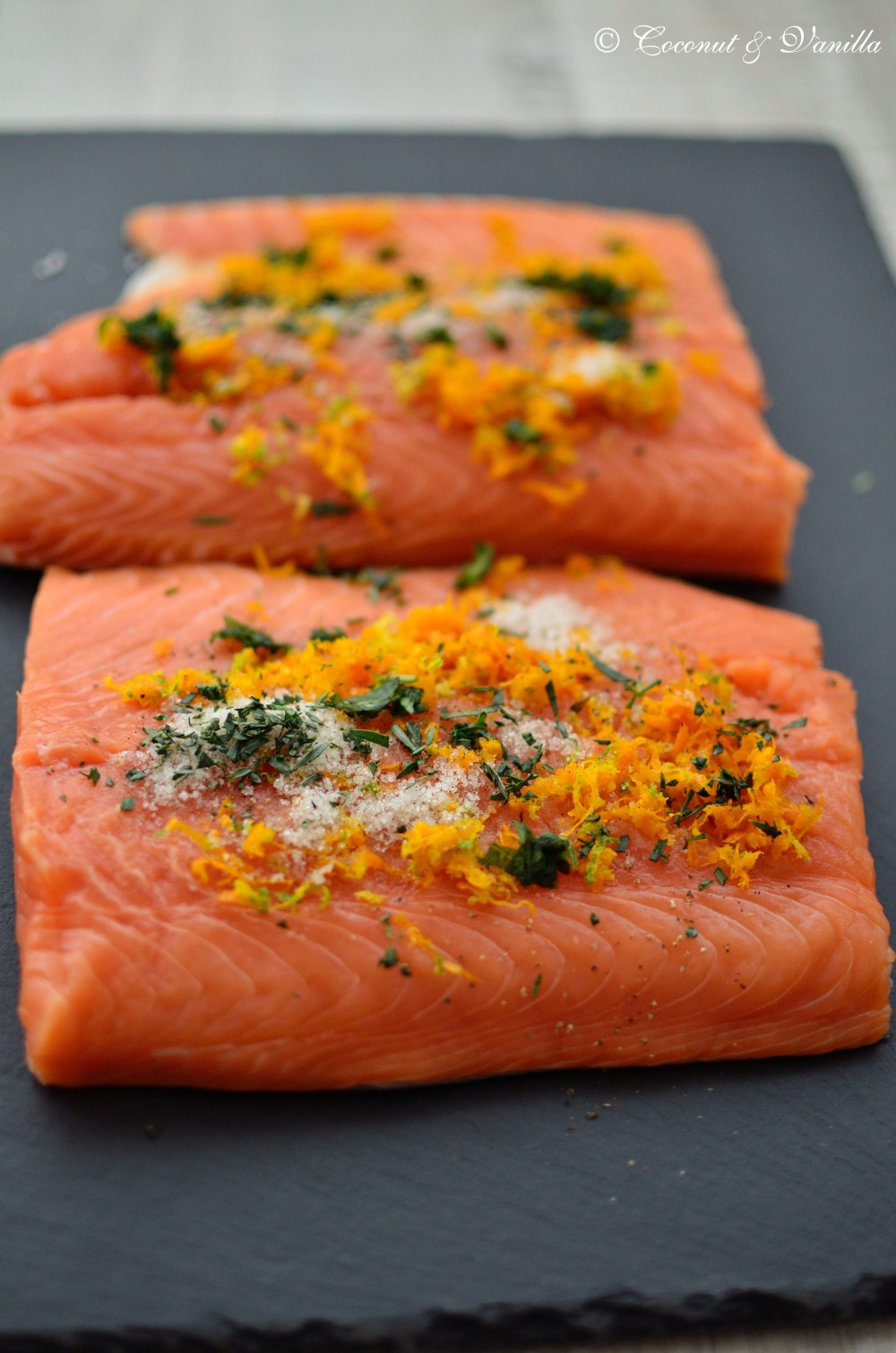 Vor einem Jahr: Frozen Joghurt mit Zitrone
Vor zwei Jahren: glutenfreie Butterkekse
Vor drei Jahren: Vol au Vents mit Birnenkompott
Gebeizter Lachs mit Orange, Estragon und Vanilla
nach einem Rezept aus Geschenkideen aus der Küche von Nicole Stich
ergibt: 1 kg, genug für 15-20 Personen zum Brunch, wir haben zu zweit etwa 200 g mit Waffeln und Kräuterquark zum Abendessen gegessen
Zutaten:
1 kg Lachsfilet mit Haut

2 Bio-Orangen

1 Bio-Limette

1 Bio-Zitrone

6 EL Fleur de Sel oder grobes Meersalz

6 EL Zucker

2 Vanilleschoten, ausgekratzt (nur die Samen werden verwendet)

1 kleiner Bund Estragon (etwa 6 Zweige), ca. 3 EL gehackt: passt auf, dass ihr aromatischen Estragon bekommt und nicht dieses Zeug, dass nach Gras schmeckt, aber mit Estragon nichts gemein hat, vorher probieren!

1 Bund Basilikum (etwa 50 Blätter), ca. 2 EL gehackt

Pfeffer

ein paar Spritzer Wodka
Die Kräuter abbrausen und trocken schütteln, die Blätter abzupfen und fein hacken.
Die Schale von den Zitrusfrüchten abreiben und mischen. Die Früchte werden nicht verwendet.
Salz, Zucker und Vanille mischen, bis die Vanille sich gleichmäßig verteilt hat.
Den Lachs abwaschen und falls nötig noch vorhandene Gräten entfernen. Das Lachsfilet in zwei gleichgroße Hälften teilen (quer, nicht längs). Ist das Stück zu klein zum Teilen bzw. wenn es sich nicht lohnt, einfach weglassen.
Die Filets nebeneinander auf Frischhaltefolie legen.
Erst die Zitrusschale auf den Filets verteilen, dann mit Pfeffer würzen. Salz und Zucker auf den Filets verteilen und zum Schluss mit den Kräutern belegen. Jetzt noch ein paar Spritzer Wodka auf den Fisch geben.
Die Filets mit Hilfe der Folie zusammenklappen, ohne dass die ganzen Zutaten wieder runterfallen. Mit reichlich Folie fest einwickeln. Da die Folie nicht dicht macht, den Fisch in eine flache Auflaufform legen oder in einen tiefen Teller. Durch osmotischen Druck wird jetzt nämlich das Wasser aus dem Lachs gezogen und es bildet sich eine einiges an Flüssigkeit.
Die Form mit dem Fisch in den Kühlschrank stellen und beschweren. Ich habe dazu ein kleines Küchenbrett auf den Lachs gelegt und darauf nochmal zwei Packungen Milch.
Den Fisch nach Möglichkeit alle 12 Stunden wenden und insgesamt 1-2 Tage beizen.
Vor dem Servieren den Fisch abspülen und trocken tupfen. Die Haut abziehen. Das geht jetzt recht einfach, wenn man die Haut an einer Ecke löst. Den Fisch mit einem scharfen großen Messer in dünne Scheiben schneiden.
Übrigen Fisch in Folie gewickelt im Kühlschrank aufheben.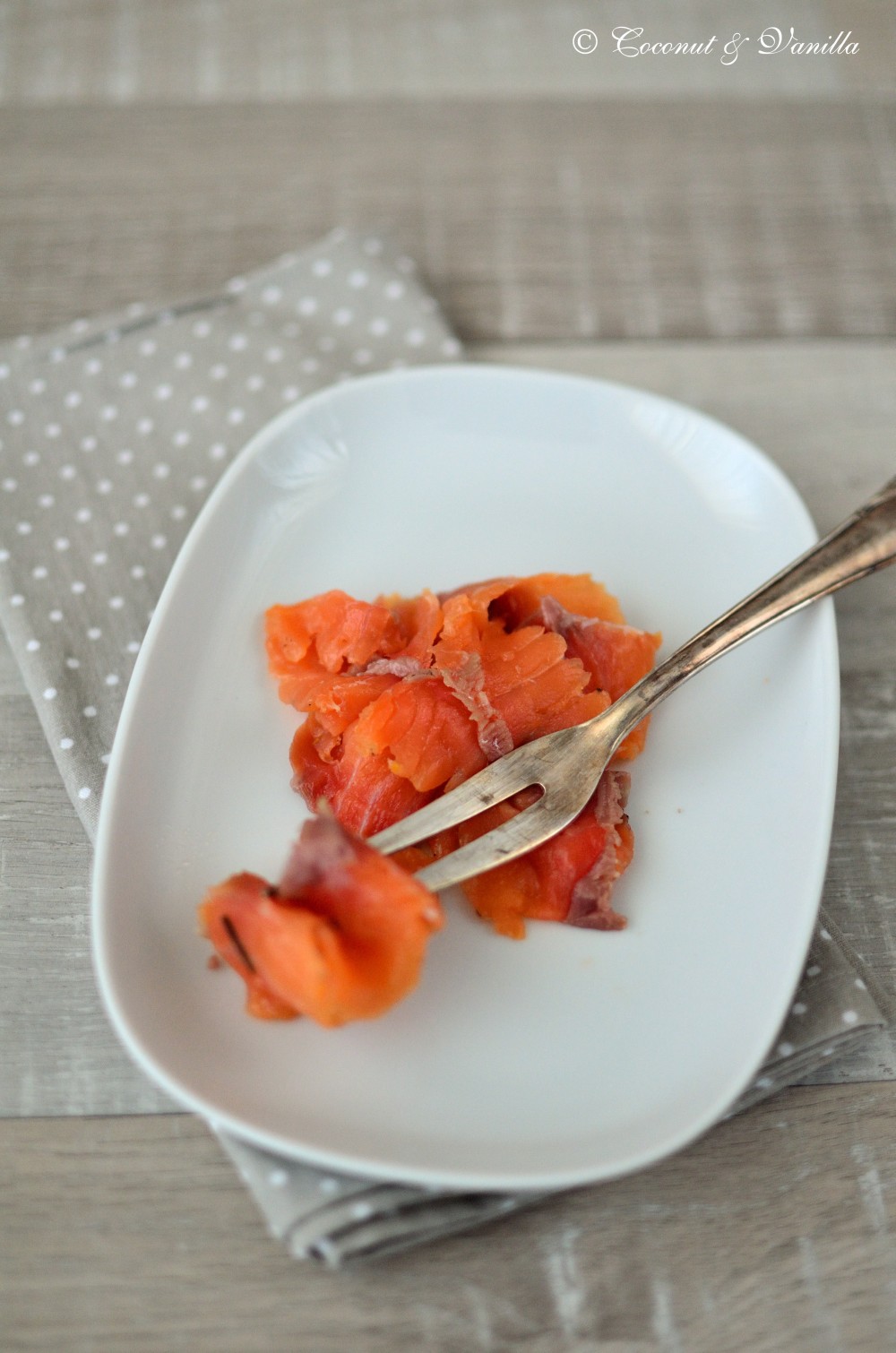 Those of you following my facebook page, already know about this ominous salmon. I watered some of your mouths' and then there was "only" cake again. The torture has now an end, but this also means, you have to make this gravlax now (so you can enjoy it at the weekend).
You read more often now about gravlax on food blogs and in cookbooks, these days. But unfortunately most of the recipes are very similar, using typical spices and herbs for fish. But I didn't wanted it typical, I wanted something special! I never made gravlax before, but I wanted to paint the town red!
Again I was inspired by Nicole Stich and her book Geschenkideen aus der Küche ("gifts from the kitchen"), who provided the idea with the vanilla, as well as using citrus zest. And as vanilla and orange are a great pair and tarragon has this vanilla touch and harmonizes well with its anise aroma, I chose this combination.
I used 1 kg salmon, which was way too much, of course. Half of it was enough for 8 people on a brunch, especially if you serve a lot of other things, too. We ate the rest the following days and froze some. But I also read you can keep it in the fridge for up to 2 weeks, although I didn't tried it!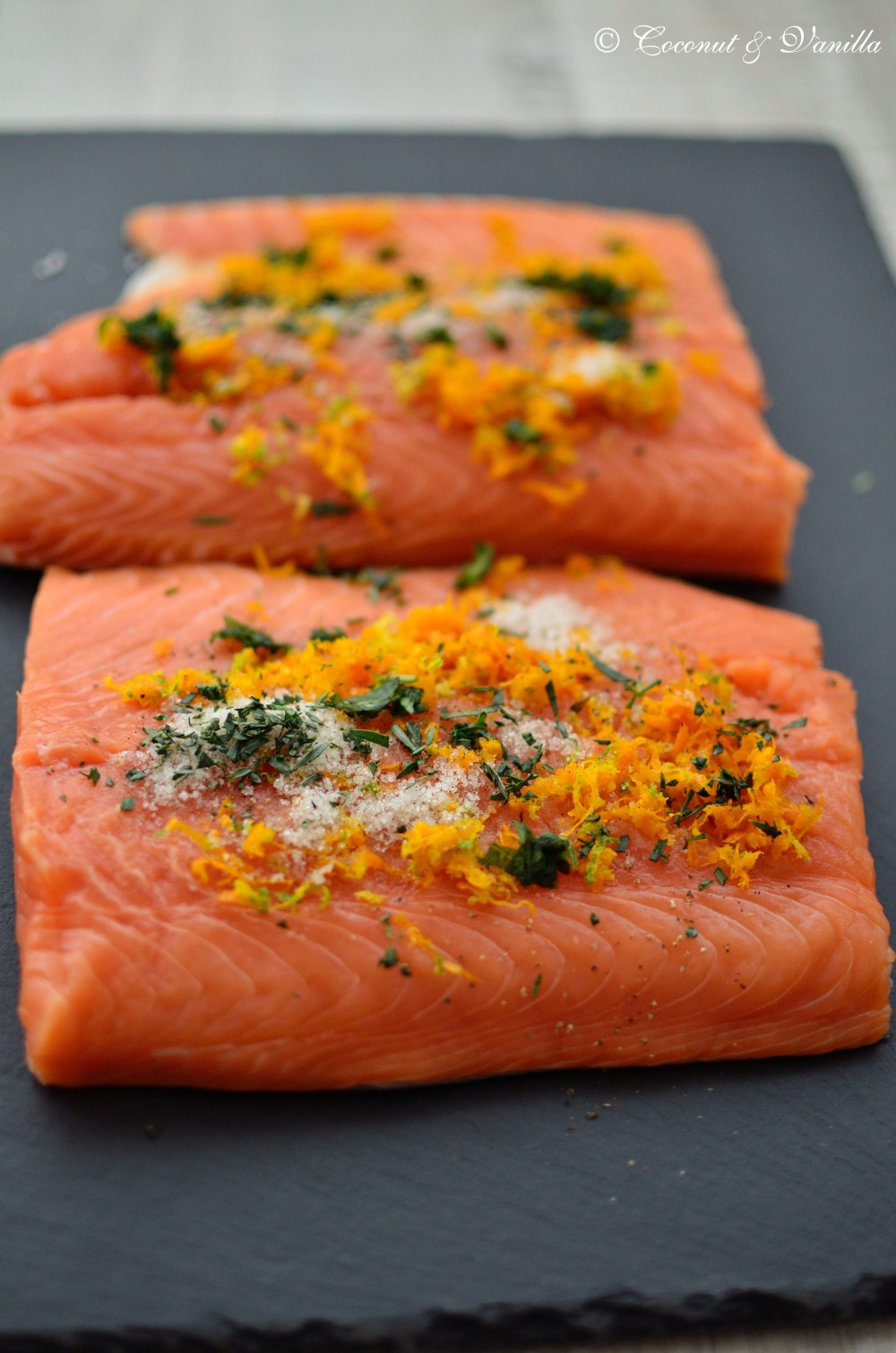 One year ago: Frozen Yogurt wit Lemon
Two years ago: gluten-free Sugar Cookies
Three years ago: Vol au Vents with Pear Compote
Homemade Gravlax with Orange, Tarragon & Vanille
adapted from Geschenkideen aus der Küche by Nicole Stich
yields: 1 kg, enough for 15-20 people for a brunch, we ( 2 people) ate about 200 g for dinner with waffles and herb quark
Ingredients:
1 kg salmon fillet, skin on

2 organic oranges

1 organic lime

1 organic lemon

6 Tbsp coarse sea salt, I used fleur de sel

6 Tbsp sugar

2 vanilla pods, seeds scraped out

1 small bunch tarragon, about 6 sprigs, about 3 Tbsp chopped

1 bunch basil (about 50 leaves), about 2 Tbsp chopped

splash of vodka

pepper
Rinse and dry the herbs, remove the leaves and chop them finely.
Grate the zest of the orange, lime and lemon and mix them. Use the fruits otherwise.
Mix the sugar, salt and the vanilla seeds, until the vanilla is evenly distributed.
Rinse the salmon and pad it dry. If necessary remove any leftover fish bones. Cut the fillet in two equal pieces. If you use less salmon and you think it's too small for cutting into two, just omit this step.
Place the two pieces next to each other onto plastic foil.
First spread the citrus zest on the salmon, then season it with pepper. Spread the sugar and salt on the salmon and top with the herbs. Add some splashes of vodka.
With the help of the foil fold the fillets up and wrap closely and tight with a lot of plastic foil. Due to osmoses the fish will loosen some of it's water, so place the wrapped up salmon in a bowl or a baking dish.
Place it in the fridge and encumber it with some weights. Therefore I placed a small cutting board on the fish following two litres of milk.
Let it rest for 1-2 days. Flip the wrapped salmon every 12 hours, if possible.
Before serving:
Rinse the salmon and pad it dry. Remove the skin. It's quite easy, if you loosen one corner of the skin with a knife, then just pull off the rest with your hands. Using a large sharp knife, slice the salmon thinly.
Store the leftovers wrapped in plastic foil in the fridge.