[:de]Um mich auf der Arbeit aus meinem Nachmittagstief zu reißen brauche ich immer ein paar Snacks, damit ich nicht immer auf Kuchen, Schokolade und Co zurückgreife. Ich erinnerte mich, dass es früher diese Energiebällchen gab. In einem Kindervollwertkochbuch aus meiner Kindheit fand ich dieses geniale Rezept, das schnell zusammengerührt ist und wahnsinnig gut nach Haselnüssen schmeckt!
1 oder 2 dieser Bällchen reichen um mein Nachmittagstief zu überbrücken, dabei sind sie gesund und liefern eine Menge ungesättigter Fettsäuren. Deshalb aber auch aufpassen, denn Nüsse enthalten sehr viele Kalorien (weil viel Fett), man sollte also nicht gleich 30 Nussbällchen in sich reinschaufeln ;). Ich kann mir aber auch nicht vorstellen, dass das geht, die Bällchen sind auch sättigend.
Eigentlich bin ich auf der Suche nach einem Rezept aus meiner Kindheit, leider hat meine Mutter dieses nicht mehr. Ich werde also weiter mit Energiebällchen experimentieren! Die Bällchen sind einfach praktisch und lecker.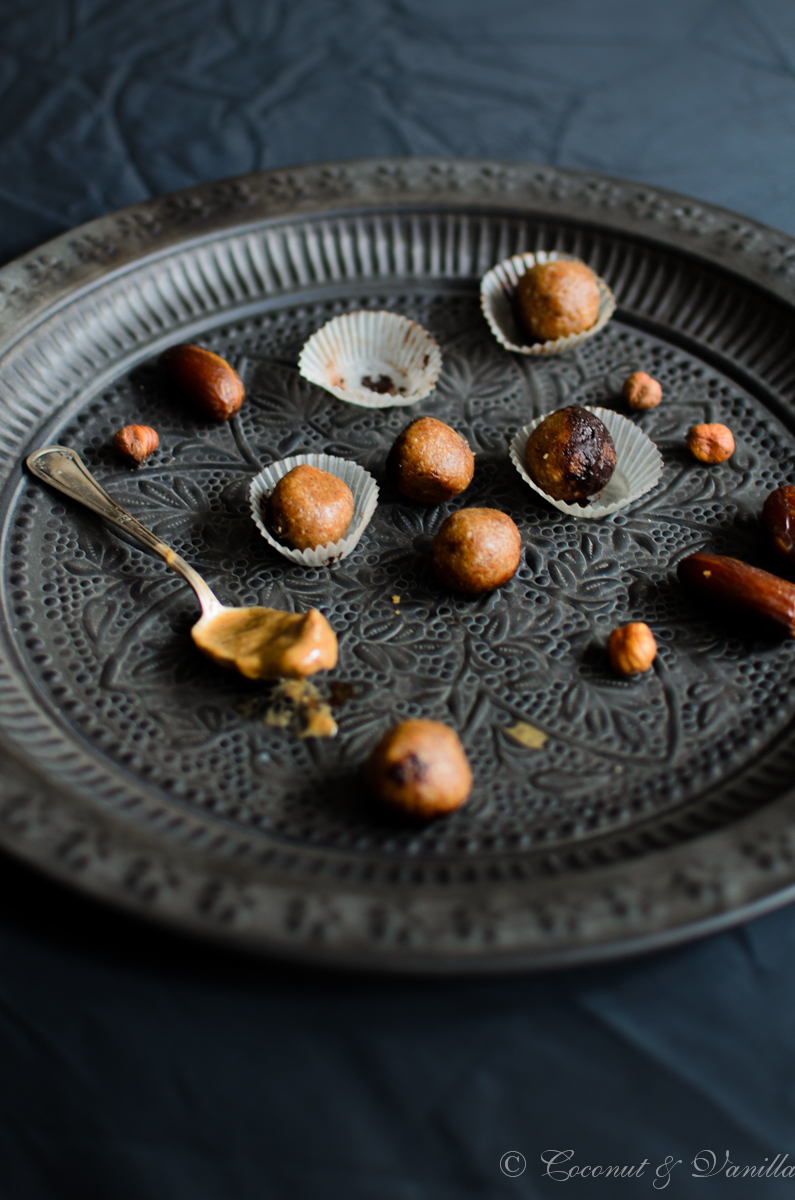 Vor einem Jahr: Schokoladentarte mit Crème fraîche
Vor drei Jahren: Gebeizter Lachs mit Orange, Estragon und Vanille
Vor vier Jahren: Frozen Yogurt mit Zitrone
Vor fünf Jahren: glutenfreie Butterkekse
Vor sechs Jahren: Triple Mousse
Haselnuss-Energiebällchen
ergibt: etwa 30 Stück
Zutaten:
50 g Haselnüsse
50 g Datteln
100 g Haselnussmus (oder anderes Nussmus)
50 g Kokosflocken
optional: Kakao zum Wälzen
Nüsse und Datteln im Mixer fein hacken. Nussmus und Kokosflocken dazu und weiterhacken bis alles relativ fein ist. Die Masse zu Kugeln rollen (etwa 3 cm Durchmesser) und mindestens 1 Stunde kalt stellen. Die Kugeln in Kakao wälzen (am besten nur eine Seite, damit man sie auf der anderen Seite noch anfassen kann ohne sich einzusauen).
Die Kugeln in einer Dose im Kühlschrank aufbewahren.
[:en]
To lift myself from my afternoon energy valley I need some snacks, so that I do not rely on cake, sweets and so on. I remembered that in my childhood there where these little energy balls (it was the whole grain era, my mother indulged in!). In my childrens cookbook from my childhood I found this genious recipe, which is made in a pinch and tastes splendid like hazelnuts!
1 or 2 of these balls are enough to rise my energy level again, but are healthy and deliver a lot of unsaturated fatty acids. But be aware that nuts also contains a lot of calories (because a lot of fat), so you shouldn't eat 30 balls in an instant ;). But I cannot imagine, this will happend, since they make quite full.
Actually I am searching for a recipe from my childhood, but unfortunately my mum doesn't has the recipe anymore. So I will go on experimenting with energy balls! Those balls are just handy and delicious.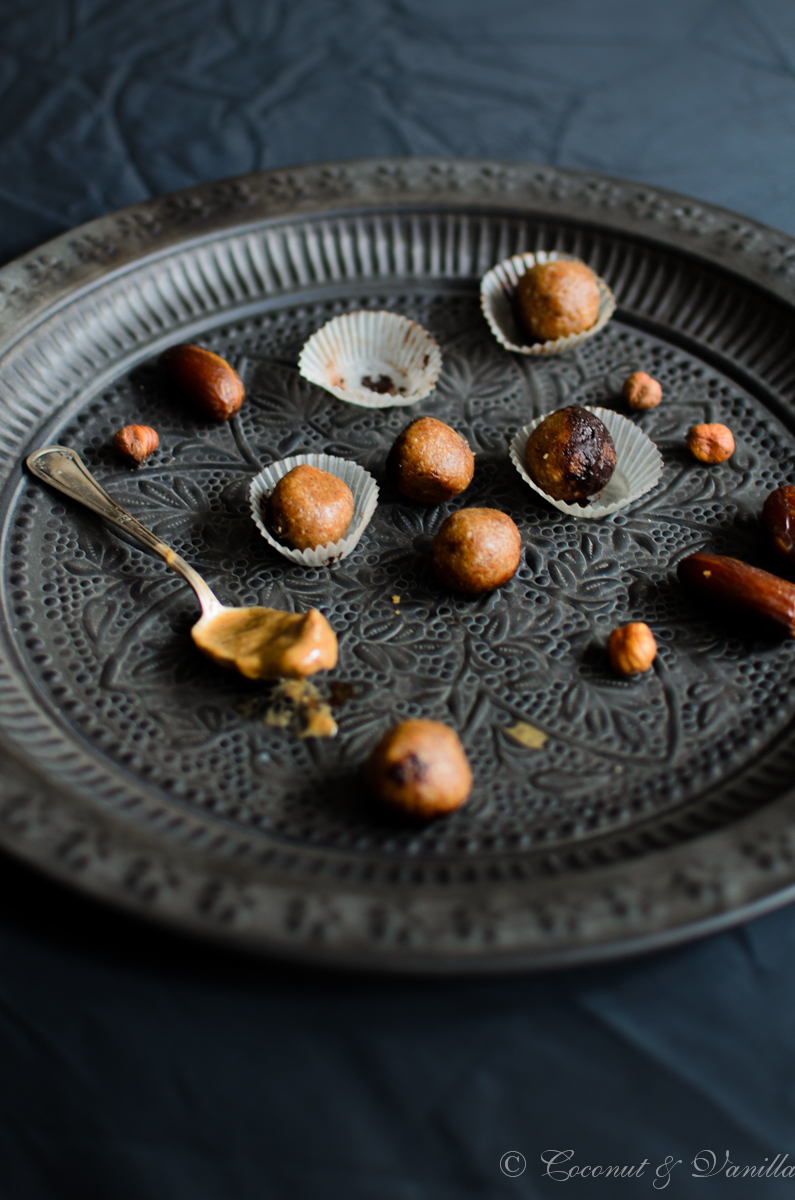 One year ago: chocolate tart with crème fraîche
Three years ago: homemade gravlax with orange, tarragon & vanilla
Four years ago: frozen yogurt with lemon
Five years ago: gluten-free sugar cookies
Six years ago: triple mousse
Hazelnut Energy Balls

yields: about 30
Ingredients:
50 g hazelnuts
50 g dried dates
100 g hazelnut butter (or other nut butter)
50 g grated coconut
optional: cocoa for rolling
Chop the nuts and dates in a food processor finely. Add the nut butter and coconut and chop until everything is quite fine. Roll the dough into small balls (about 3 cm in diameter) and put for at least 1 hour in the fridge. Roll the balls in cocoa if you like (best only one side, so you can grab the balls without making your fingers dirty).
Store the energy balls in a box in the fridge.
[:]