Friday, 11th April 2014
Finally it's time again for quiche! It's a potato quiche with wild garlic, to be precise with wild garlic pesto. I've already seen and baked this quiche last year, but I blogged not 1,2, but 3 rcipes with wild garlic, then the season was over! And so I blog about it today!
I can always enjoy some quiche, they are so delightful: crispy dough filled with delicious vegetables and topped with some cream. Cheese on top is mostly not a bad idea either ;).
Juliane made this as a roasted potato quiche as a mini version, but I'm more tending to normal version and no roasted potatos. It's only important, that the potato slices are roasted until they are done, since the baking won't help with that and a quiche with half raw potatoes isn't no fun.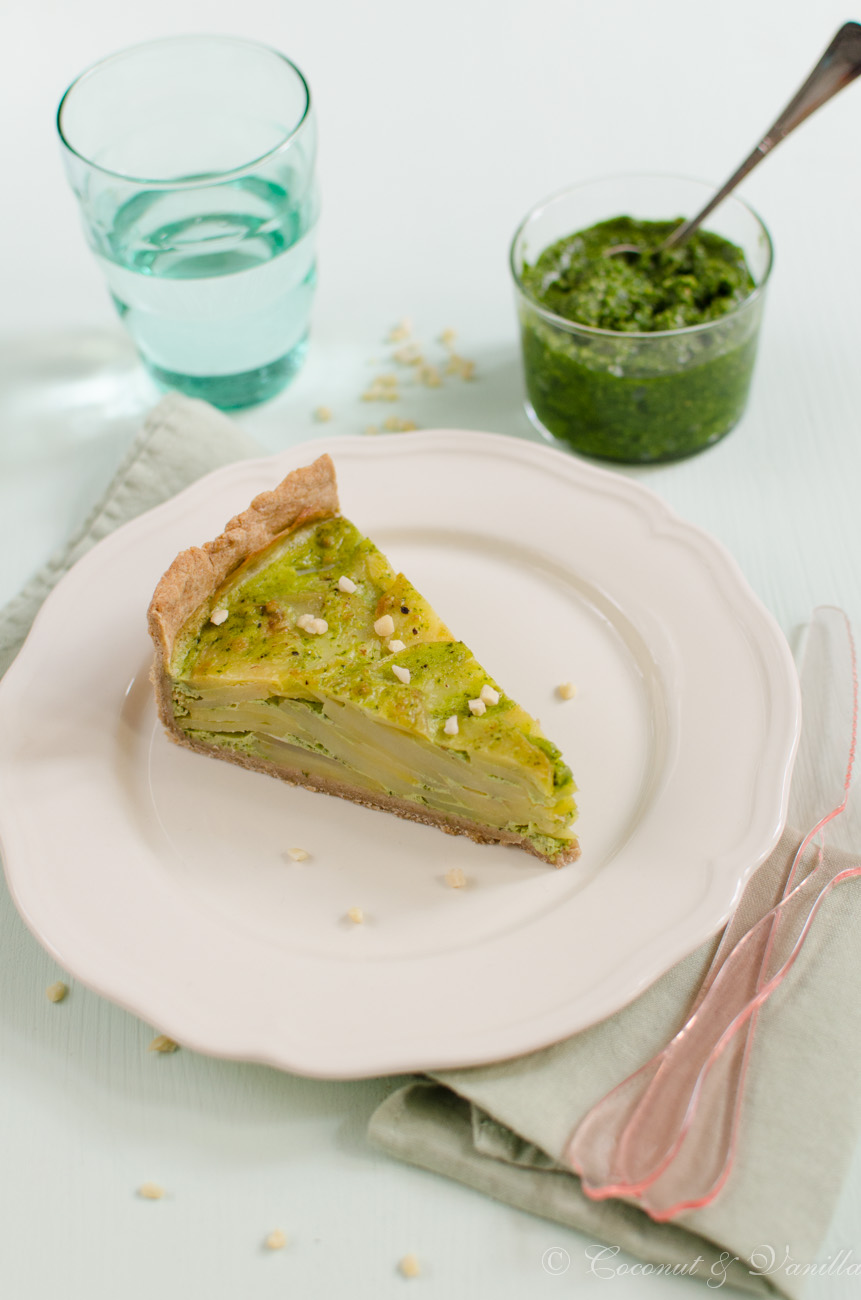 One year ago: coffee liquor
Two years ago: orange pasta with prosciutto
Three years ago: rhubarb muffins 
Potato Quiche with Wild Garlic
adapted from Schöner Tag noch!
yields: one 26 cm spring pan
Ingredients:
250 g spelt flour Type 1050 (or 50% whole spelt flour und 50% wheat flour 405)
100 g cold butter, cubed
1/2 tsp salt
1 egg
1 kg waxy potatoes
olive oil or clarified butter
200 g crème fraîche
80 g wild garlic pesto
2 eggs
pepper, freshly ground
1 tsp salt
nutmeg, freshly grated
Knead together flour, butter and salt, add the egg and if necessary a bit of cold water so everything comes together in a smooth dough, Form it into a ball and press it flat. Put it the fridge for 30 minutes. 
In the meantime peel the potatoes and cut them thin. Heat oil or clarified butter in a large skillet and roast at medium heat until the potatoes are done. 
Whisk crème fraîche, wild garlic pesto and eggs and season with salt, pepper and nutmeg. Don't be afraid of the amount of salt, the potatoes can handle that bravely!
Roll out the dough so it fits into a 26 cm spring pan with a rim. Place the dough into the pan and form a rim. Put some parchment paper on it and some legumes. Bake the dough blind for 15 minutes at 180° C at top bottom heat. Remove the legumes and the paper. 
Distribute the potato slices on the shell and spread the wild garlic cream on it.
Bake the quiche for 35 minutes at top bottom heat at 180° C.