[:de]
Dieses Rosenkohlpüree ist eine Offenbarung! Und bevor der Winter bald vorbei ist (hoffentlich!) zeige ich euch noch was ihr wunderbares mit den kleinen hübschen Röschen anstellen könnt!
Das Püree ist unglaublich köstlich und erinnert dabei so gar nicht an den typischen Rosenkohlgeschmack. Wer also beim Anblick von Rosenkohl davonrennt, der sollte diesem Püree eine Chance geben. Auch Kinder könnte man Rosenkohl so unterjubeln. Ich würde dabei einfach erstmal verschweigen, dass es sich um Rosenkohl handelt ;).
Dieses Püree ist auch noch so simpel, denn man benötigt nur drei Zutaten und einen Pürierstab (den Topf zum Kochen unterschlage ich jetzt mal einfach)!
Trotzdem macht das Rosenkohlpüree so viel her, dass ich es sogar zu einem schönen Menü servieren würde, sogar an Weihnachten.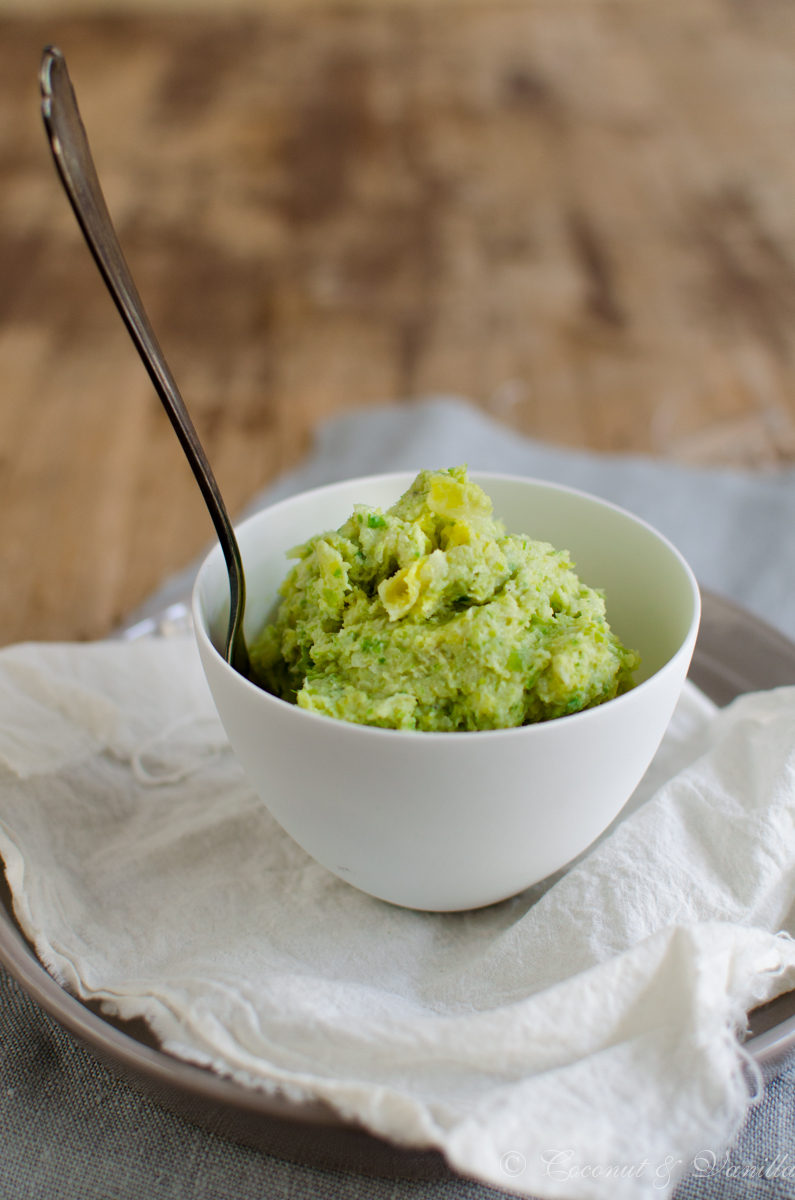 Vor einem Jahr: Pasta mit Radicchio und Speck
Vor zwei Jahren: Amaranthporridge mit karamellisierten Bananen und Pekannüssen
Vor drei Jahren: Brokkoli-Avocado-Salat
Vor vier Jahren: glutenfreier Orangen-Polentakuchen
Vor fünf Jahren: Hackbraten à la Jamie
Vor sechs Jahren: Überbackene Tofunocken mit Tomatensauce
Rosenkohlpüree mit Parmesan
nach Nigel Slaters Gemüse
Zutaten:
500 g Rosenkohl
1 Becher Sahne (200 g)
100 g Parmesan, fein gerieben
optional: etwas frisch geriebene Muskatnuss, frisch gemahlener Pfeffer, Meersalz
Den Rosenkohl putzen (die äußeren Blätter entfernen und den Strunk abschneiden). In kochendem Salzwasser garen bis er weich ist, aber noch Biss hat. Der Rosenkohl hat dabei noch eine schöne kräftige Farbe und sieht nicht aus wie naja übergarter Rosenkohl eben. Abgießen und mit dem Pürierstab grob pürieren. Es sollen nur kleine Stückchen bzw. Blättchen zu sehen sein (die Konsistenz kann natürlich jeder seinem Gusto anpassen, ich finde es aber so genial gut). Die Sahne und den Parmesan unterrühren. Eventuell würzen. Vorsicht mit dem Salz, durch den Parmesan enthält das Püree schon reichlich Salz!
Das Püree in einer vorgewärmten Schüssel oder Tellern sofort servieren!
[:en]
This brussel sprout purée is a revelation! And before winter is over (hopefully for good!) I show you what you can do with those little beauties!
The purée is unbelievable delicious and doesn't remind at all at brussel sprouts. So if you normally run away when you see sprouts, give that purée a chance! Could be also a good way to sneak sprouts into a childrens diet. Just don't tell it's sprouts ;).
The purée is also so simpel you only need three ingredients and an immersion blender (I say a pot for cooking is given)!
Nonetheless this brussel sprout purée is so elegant I would even serve at a nice dinner, even for Christmas.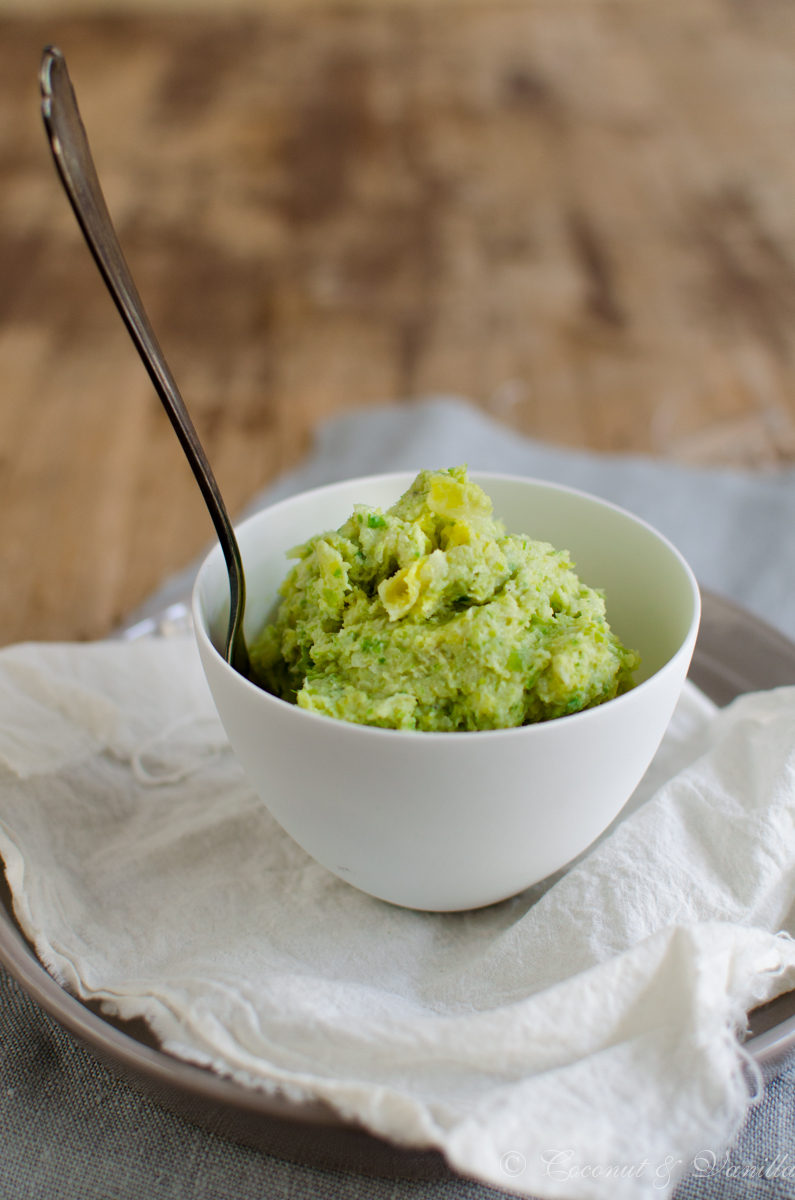 One year ago: pasta with radicchio and bacon
Two years ago: amaranth porridge with caramelized banans and pecans
Three years ago: broccoli avocado salad
Four years ago: gluten-free orange polenta cake
Five years ago: meat loaf à la Jamie
Six years ago: tofu balls with tomato sauce
Brussel Sprout Purée with Parmesan
adapted from Nigel Slaters Tender
Ingredients:
500 g brussel sprouts
200 g cream
100 g parmesan, finely grated
optional: freshly grated nutmeg, freshly ground black pepper, sea salt
Trim and wash the brussel sprouts. Cook in boiling salted water until tender, but the sprouts should still be a bit firm. The sprouts do still have a bright colour, when they start to switch them to more yellowish green it's time to get them out! Don't wait until they look like … well overcooked brussel sprouts. Drain and purée them coarsely. You want to have some pieces and leaves in there (although you can adjust the texture to you liking, I think that's how they are genius!). Stir in the cream and parmesan. Season, if you want, but be careful with the salt, the parmesan is already very salty!
Serve the purée in a prewarmed bowl or plates immediately!
[:]