[:de]
Ich melde mich offiziell zurück aus der Blogpause und führe euch heute wieder nach Thailand, diesmal abseits von Bangkok in die Natur!
Wir machen einen Abstecher in den Westen Thailands und besuchen die siebenstufigen Erawan-Wasserfälle im Erawan Nationalpark.
Das besondere an den Wasserfällen ist, dass man sie nicht nur hochwandern kann, sondern auch in den Becken baden! Das Wasser ist oft wunderhübsch türkis und gerne bevölkert von Fischen, die an euren Füßen knabbern. Der Anblick der Wasserfälle lohnt sich, aber nur wenn ihr euch aufraffen könnt früh aufzustehen und bei Öffnung den Wasserfall erklimmt. Ansonsten werdet ihr leider mit Thais belohnt, die den Wasserfall als ihr kostenloses Freibad benutzen inklusive Schwimmreifen und allem pipapo. Eine Masse an halbnackten Menschen auf den Bildern ist leider ziemlich abtörnend und die Belohnung für's Ausschlafen. Hmpf.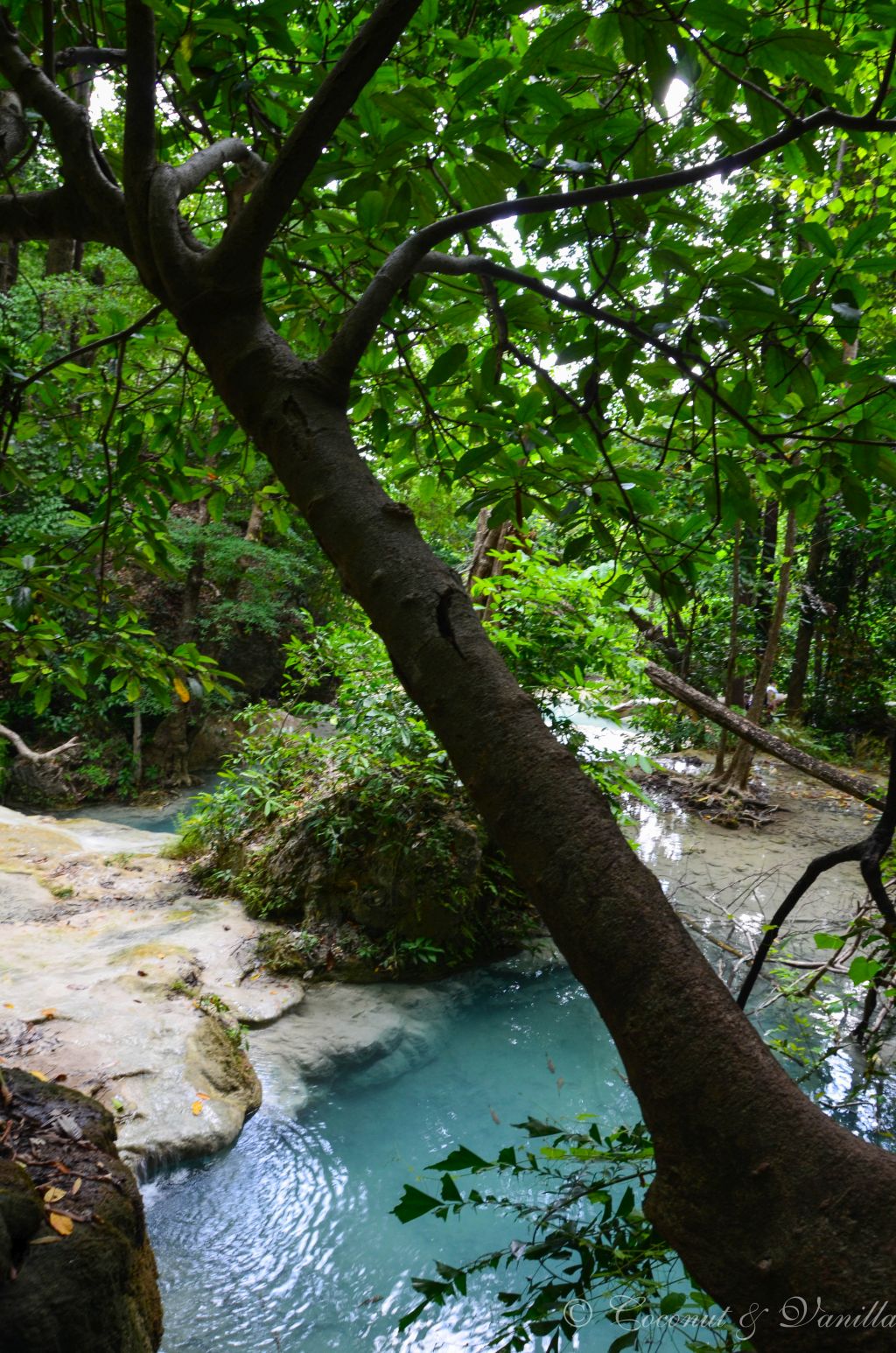 Wir hatten unheimliche Probleme die Übernachtungsmöglichkeiten im Park zu finden. Die Parkwächter sprechen alle kein Englisch, niemand konnte uns weiterhelfen. Wir hatten "glücklicherweise" nichts gebucht dort, wobei es natürlich unheimlich praktisch ist gleich vor Ort zu sein.
Am Ende übernachteten wir außerhalb in einem Resort das nur für Thais war, denn es sprach natürlich auch keiner Englisch ;). Aber hier konnten wir uns mit Händen und Füßen verständigen und haben in einem netten Cottage übernachtet. Vorsicht vor dem Erawan Resort, das in der Nähe des Parkeingangs ist! Nur schön von außen, aber innen total heruntergekommen, Kakerlaken und unfreundliche Besitzerin! Unbedingt Abstand nehmen! Es gibt kaum Essensmöglichkeiten, aber links neben dem 7 Eleven (wenn man auf den 7 Eleven schaut) ist ein familiengeführtes Restaurant mit gutem günstigen Essen und sehr freundlichen Menschen!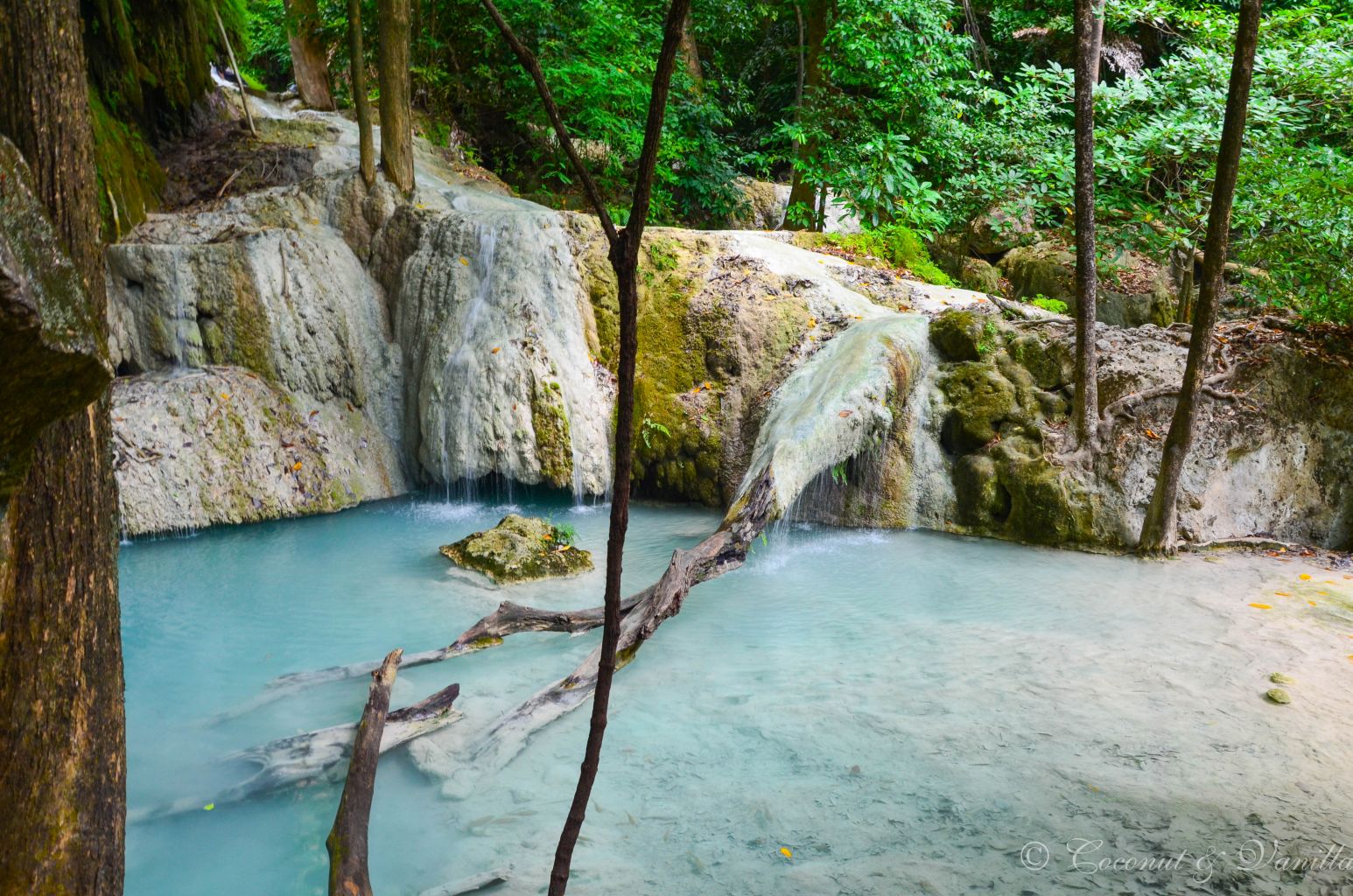 Nach dem schweißtreibenden Auf- und Abstieg (festes Schuhwerk empfehlenswert, keine Flip Flops!) sind wir fertig und entschließen uns in Kanchanaburi hübsch einzulogieren. Eigentlich wollten wir im Oriental Kwai übernachten, das von Holländern geführt wird und wirklich toll sein muss, leider renovierten sie zu dieser Zeit. Ein paar Tipps später haben wir ein großes sauberes Zimmer im Good Times Resort bekommen. Das war der Beginn unserer Pool-Leidenschaft auf dieser Reise, diesen wollten wir dann nicht mehr missen!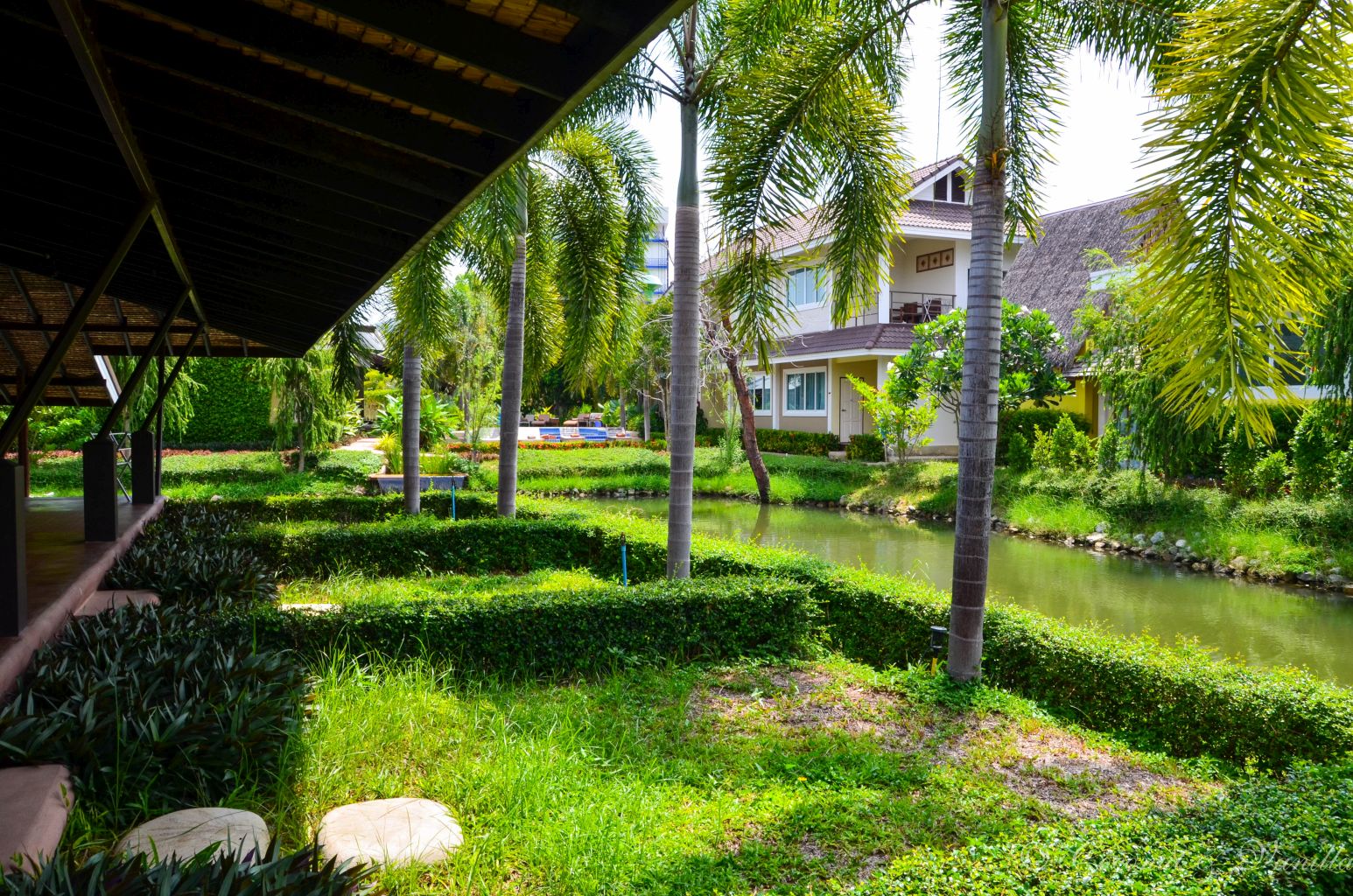 Kanchanaburi ist hauptsächlich bekannt wegen der Brücke über den River Kwai. Diese Brücke gibt es natürlich nicht mehr, wurde sie doch im Krieg zerstört. Es wurde eine neue Eisenbrücke gebaut, die nun als Fotomotiv taugt. Kanchanaburi ist nicht der Rede wert, unser Hotel dafür aber neu in einer schönen Gartenanlage, mit kleinem Pool, der uns den restlichen Tag entspannen lässt. Auch das Abendessen dort war gut und die Leute sehr nett. Empfehlung!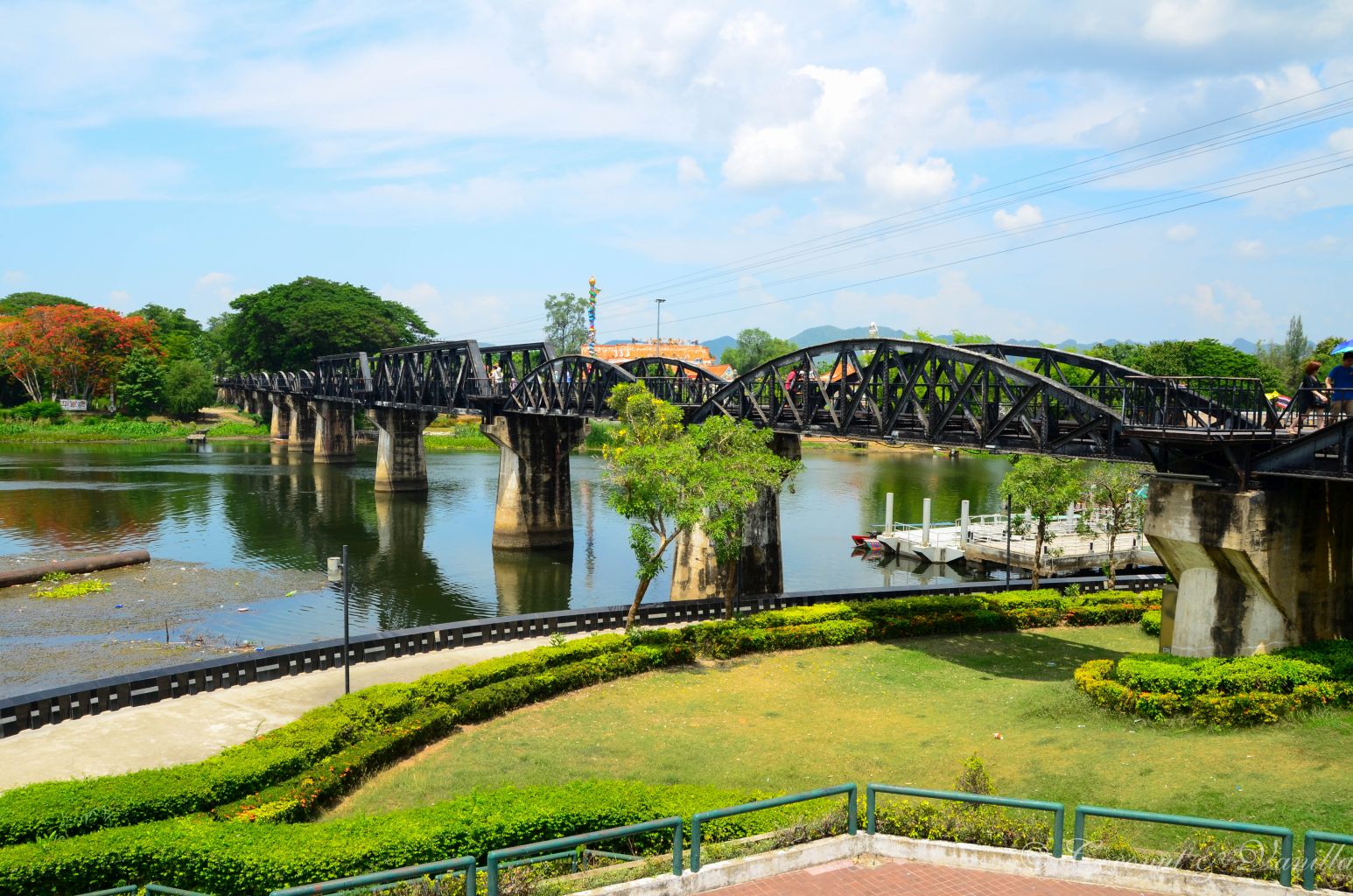 Am nächsten Tag fahren wir weiter und sind positiv überrascht, als wir einen Tempel mit Aufgang in Drachenform vorfinden. Wir laufen durch das Maul den Hang hoch und finden uns am Ende in einem Höhlentempel wieder. Von oben hat man auch einen schönen Blick über die Gegend.
Der Tempel ist total toll von außen, heißt Wat Ban Tham und ist nicht weit von Kanchanaburi entfernt!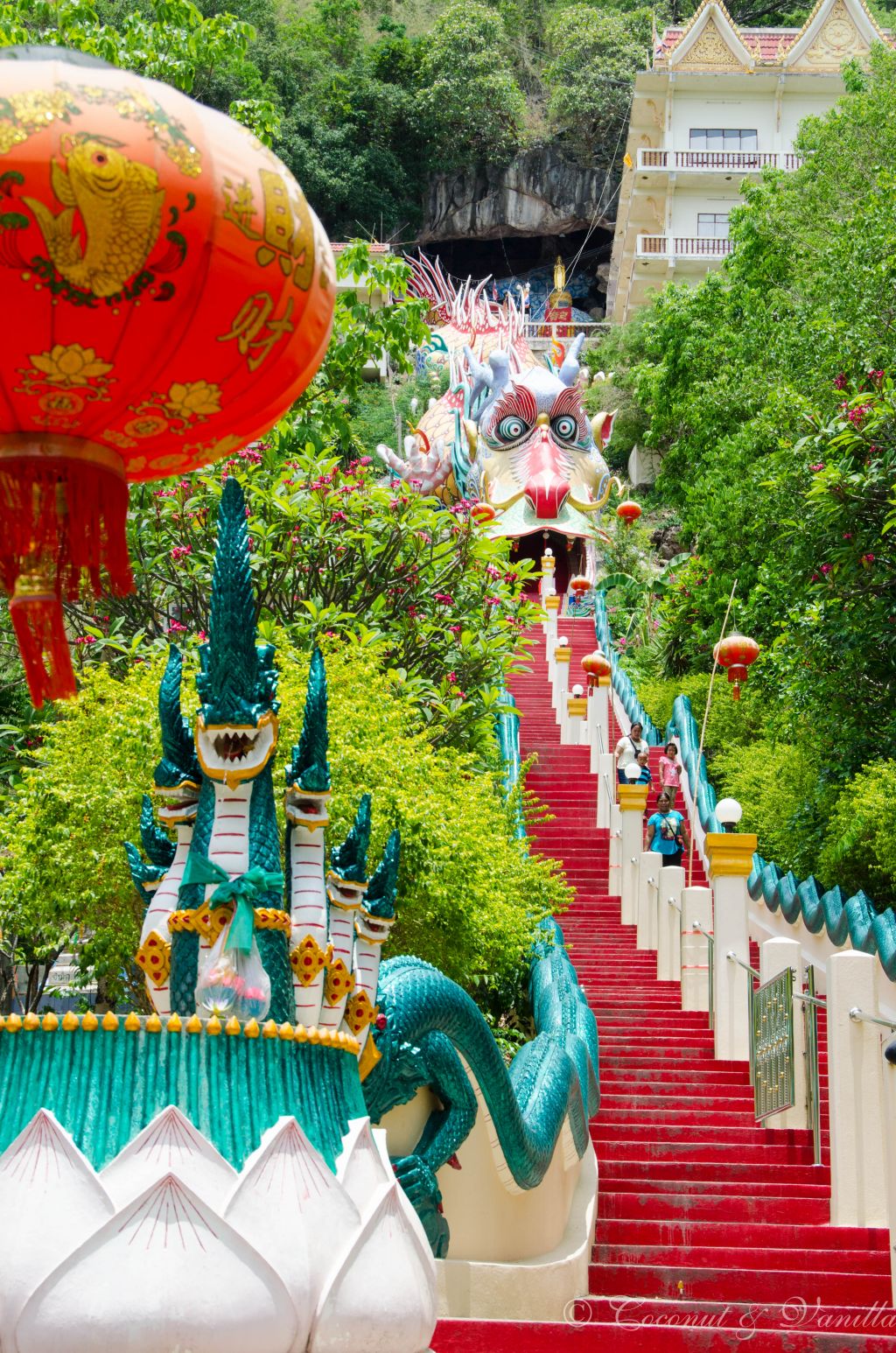 Der weitere Aufstieg vom Höhlentempel über eine schmale Treppe zu den Stupas bzw. dem Kloster auf dem Berg lohnt meiner Meinung nach nicht und ist sehr anstrengend und eng.
Landschaftlich lohnt sich dieser Abstecher in den Westen auf jeden Fall!
Nur für weitere Aktiviäten im Nationalpark (oder sonst wo) ist es einfach zu heiß und feucht. Das Klima macht mich fertig. Leider bin ich auch ein Angsthase was jegliche Insekten betrifft, was natürlich unpraktisch in solchen Gegenden ist :D.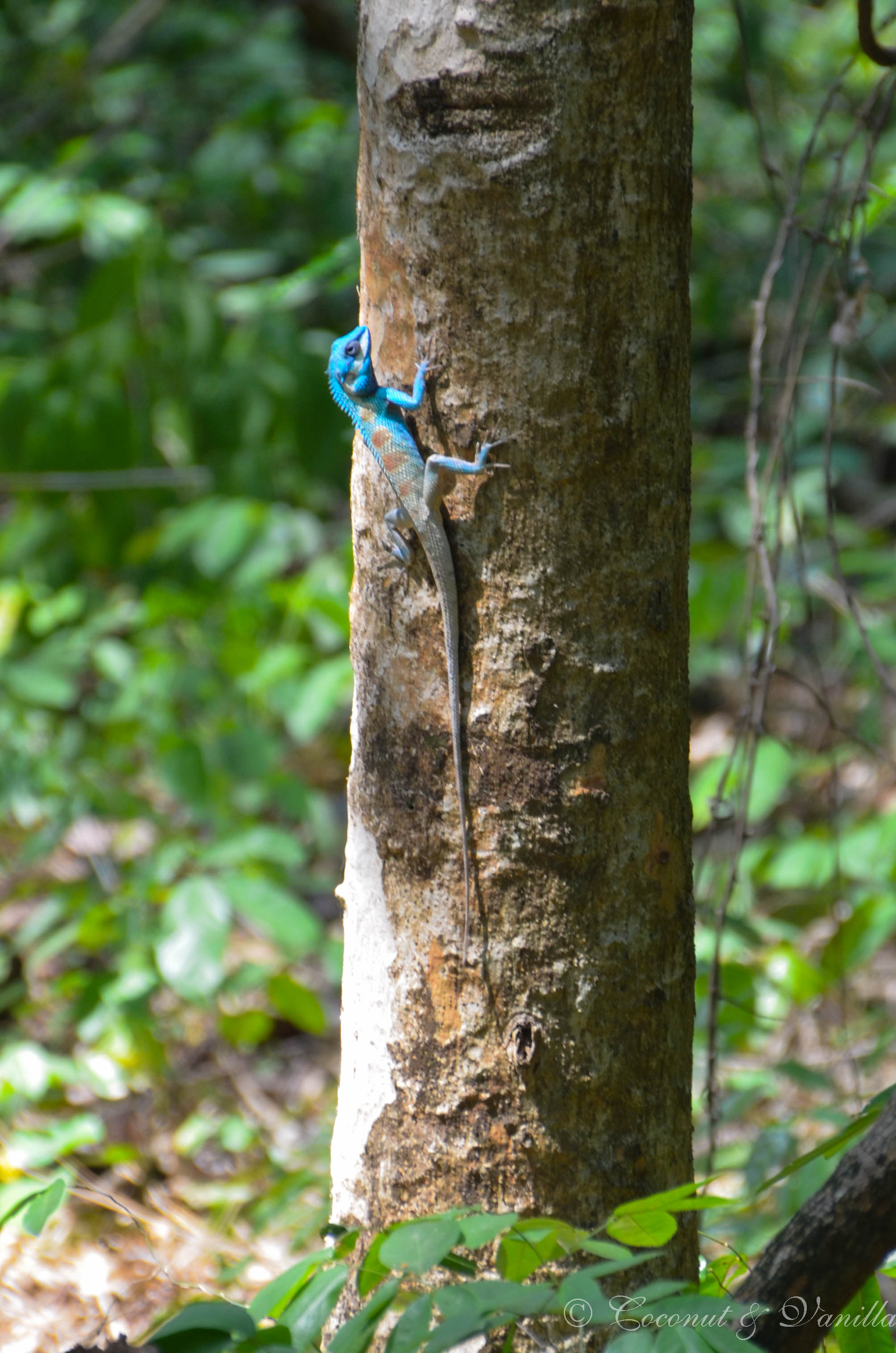 [:en]
We make a detour in the west of Thailand and visit the seven-step waterfall of Erawan in the Erawan national park.
The waterfalls are that special, because you can not only wander up to the top, but you can also bathe in basins! The water is beautifully turquoise and filled with fish, which nibble on your feet. The sight of the waterfalls is rewarding, if you manage to get up early and start climbing the waterfalls, when it opens. Otherwise you we be rewarded with thai people, who use the basins as their free swimming pool with floating tires and all the trimmings. A crowd of half-naked people on pictures is quite the turn-off and the reward for sleeping in. Hmpf.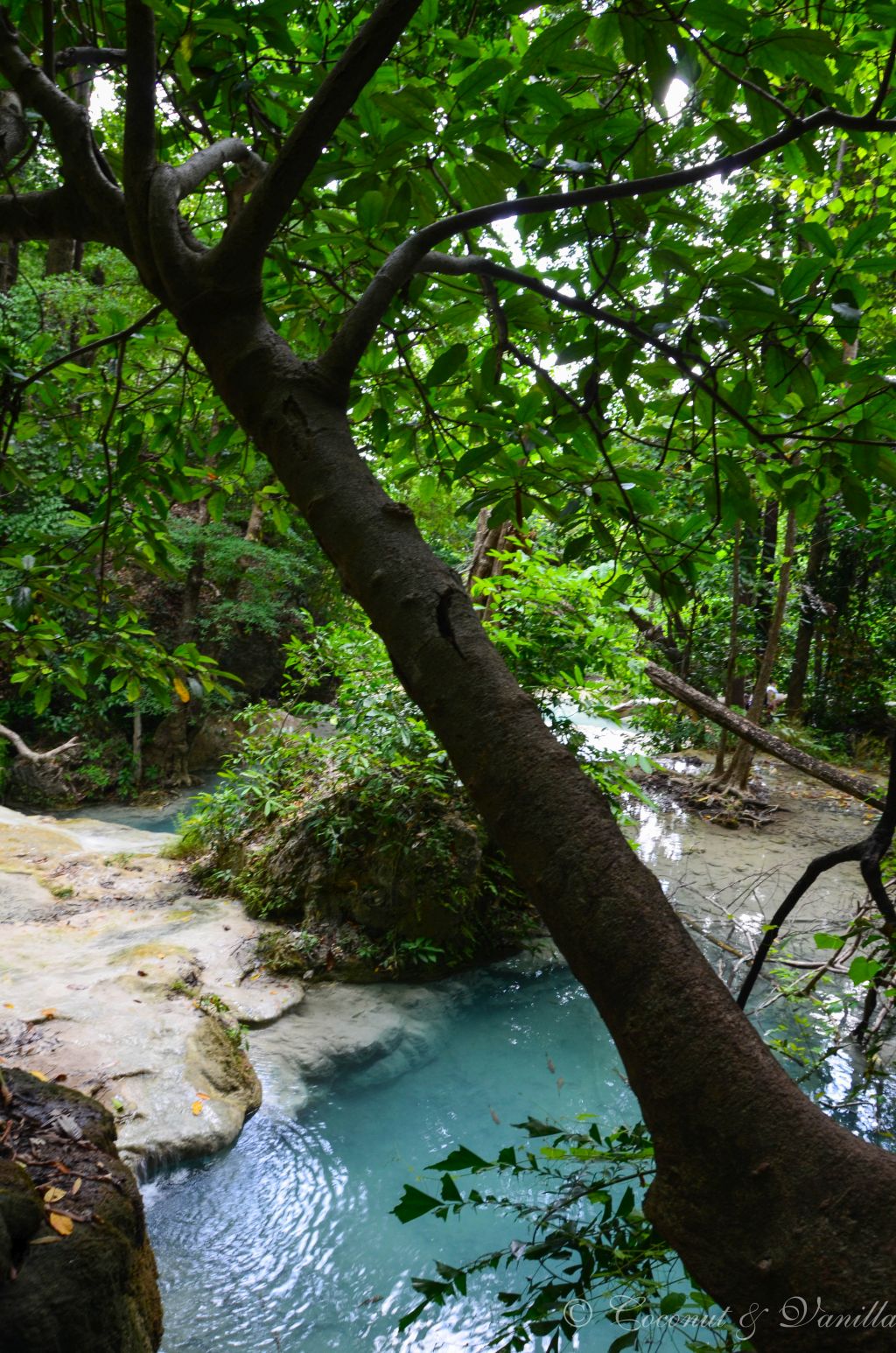 We had enourmous problems to find a possibility to stay overnight in the park. The rangers didn't speak any English at all and weren't of any help. "Fortunately" we hadn't booked something there, although it would have been super convenient to be already there in the morning.
In the end we stayed in a resort, which was only meant for thai, because nobody spoke English there either ;). But we handled the situation bravely with hands and feet (and google translator) and stayed in a nice cottage. Beware of the "Erawan Resort", which is near the entrance of the park! It looks nice from the outside, but inside it is totally rundown with cockroaches and an unfriendly landlady! Do not go there at all costs! There are almost no restaurants, but left side of the 7 Eleven (when looking at the 7 Eleven) is a family-run restaurant with very cheap food and very friendly people!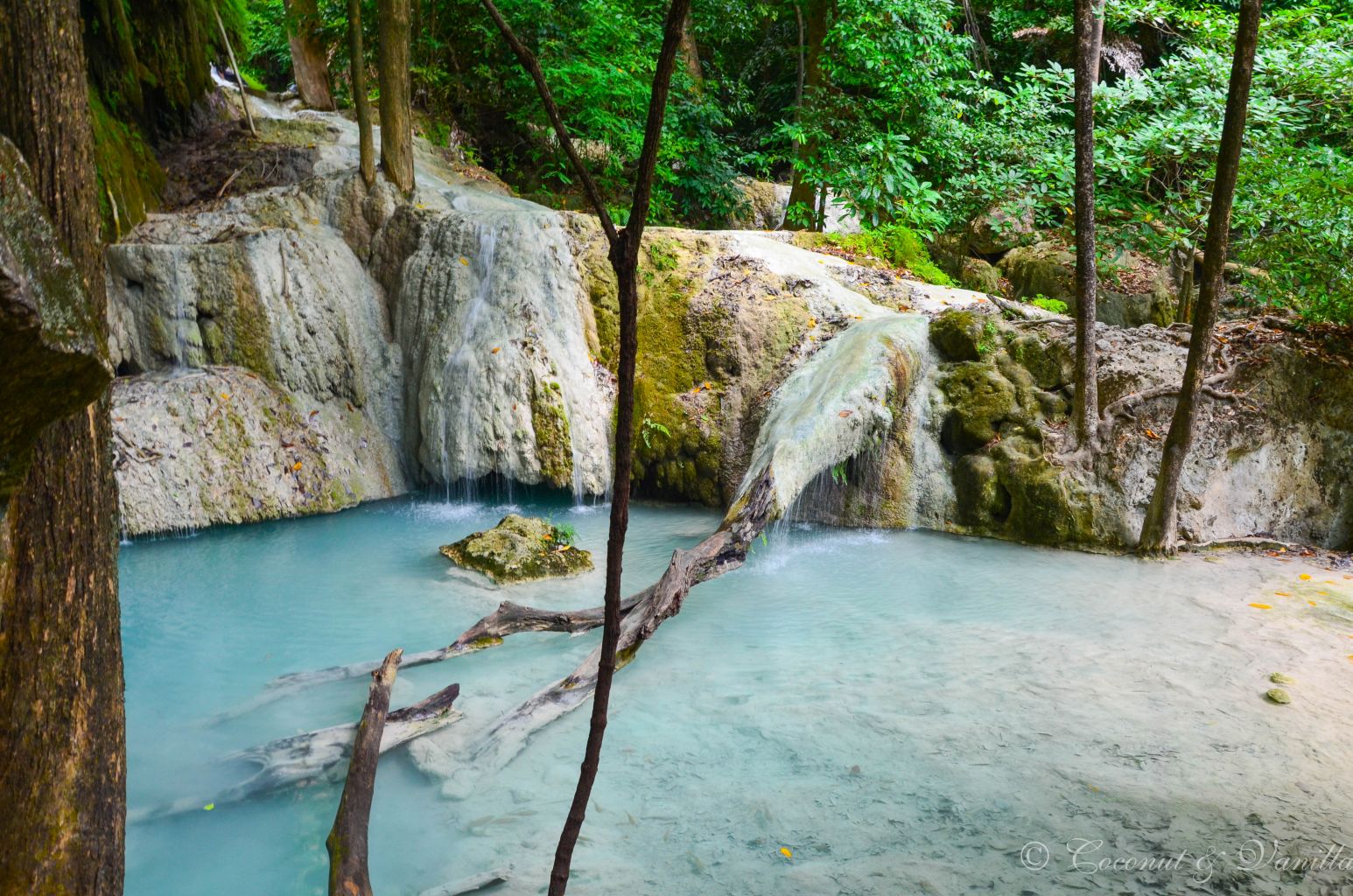 After the ardous climbing (sturdy shoes, no flip flops!) we were done and decided to find a nice accomodation in Kanchanaburi. Originally we wanted so stay at Oriental Kwai, which is run by Dutch and seems to be great, but they renovated at the time. Some tips later we got a large clean room at the Good Times Resort. This is the point were it started that we didn't wanted to miss a pool on this journey! It makes all the difference!
Kanchanaburi is mainly known for its bridge spanning the river Kwai. The original bridge is not existent, anymore, it was destroyed in the war. The build a new train bridge, which is now used as a photo motif. Kanchanaburi is not worth mentioning actually. But our hotel was new, situated in a beautiful garden with a small pool, where we relaxed the rest of the day. The dinner in the hotel was also good and the staff very friendly overall. Recommendation!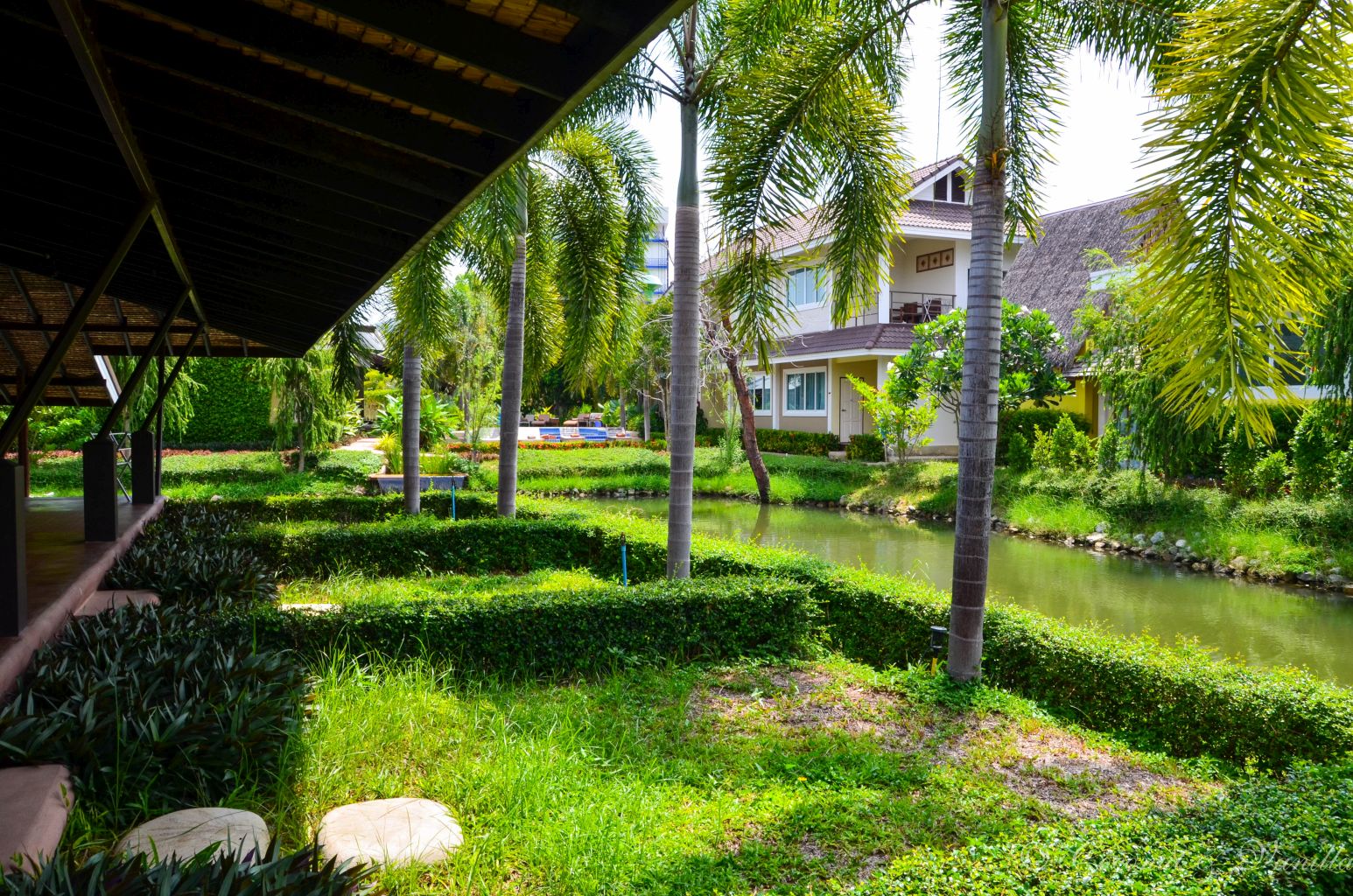 On the next day we were on the road again and were positiv suprised as we found a temple with an entry shaped as a dragon. We walk through its jaw up the hill and find ourselves in the cave temple. From up there you have a beautiful view of the area.
The temple is terrific from the outside, called Wat Ban Tham and just a few minutes away from Kanchanaburi!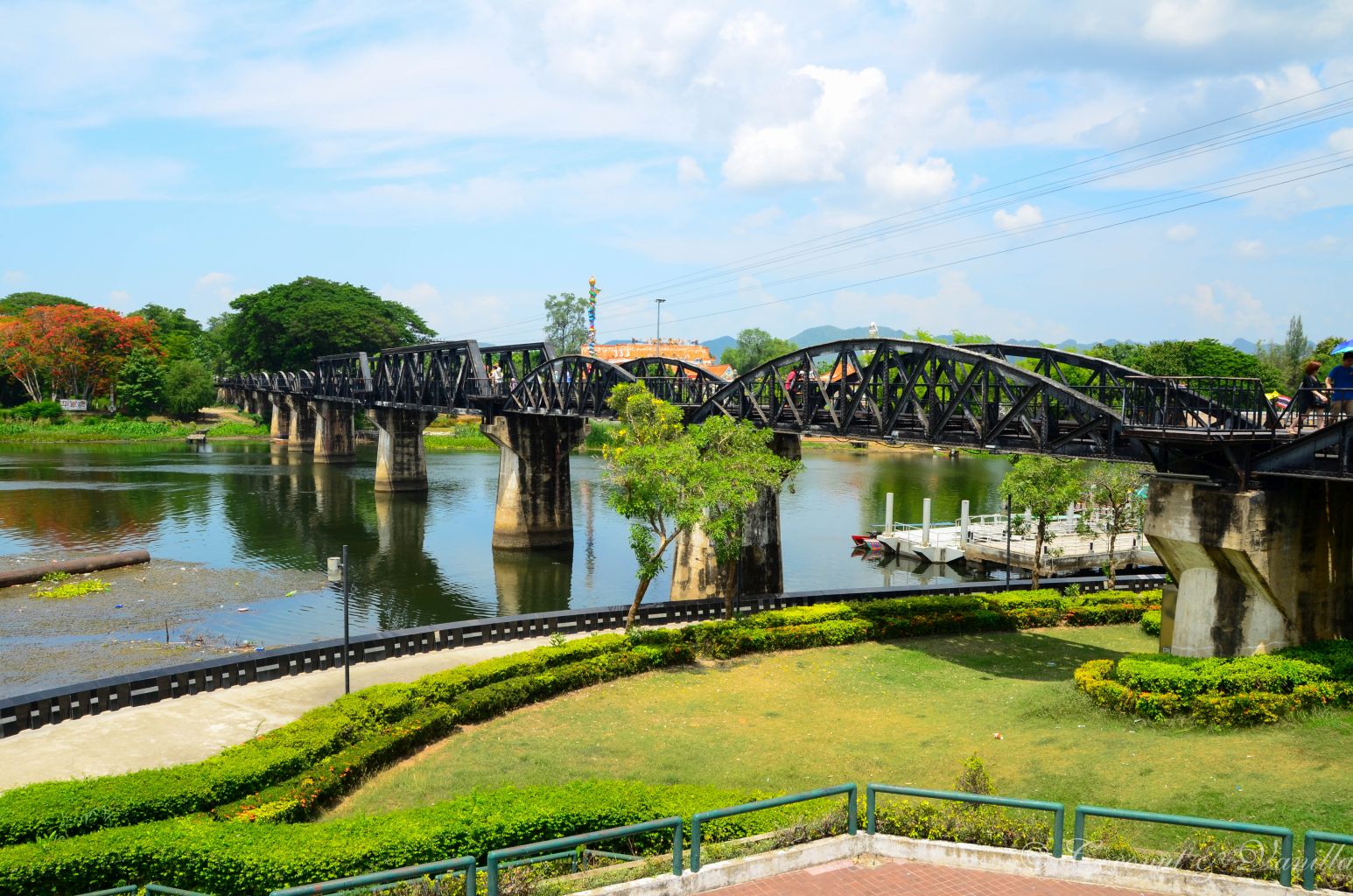 The ongoing ascent via narrow stairs up to the stupas and the monastery on the hill isn't worth the effort and very exhausting and narrow.
If you want see some different landscape (again) in Thailand this detour in the West is worth it!
Only for other activites in the national park (or anywhere else) it was just too hot and moist (it was May, then). The climate killed me. Unfortunately I am also chicken when it comes to every kind of insects, which is very inconvenient is areas like these :D.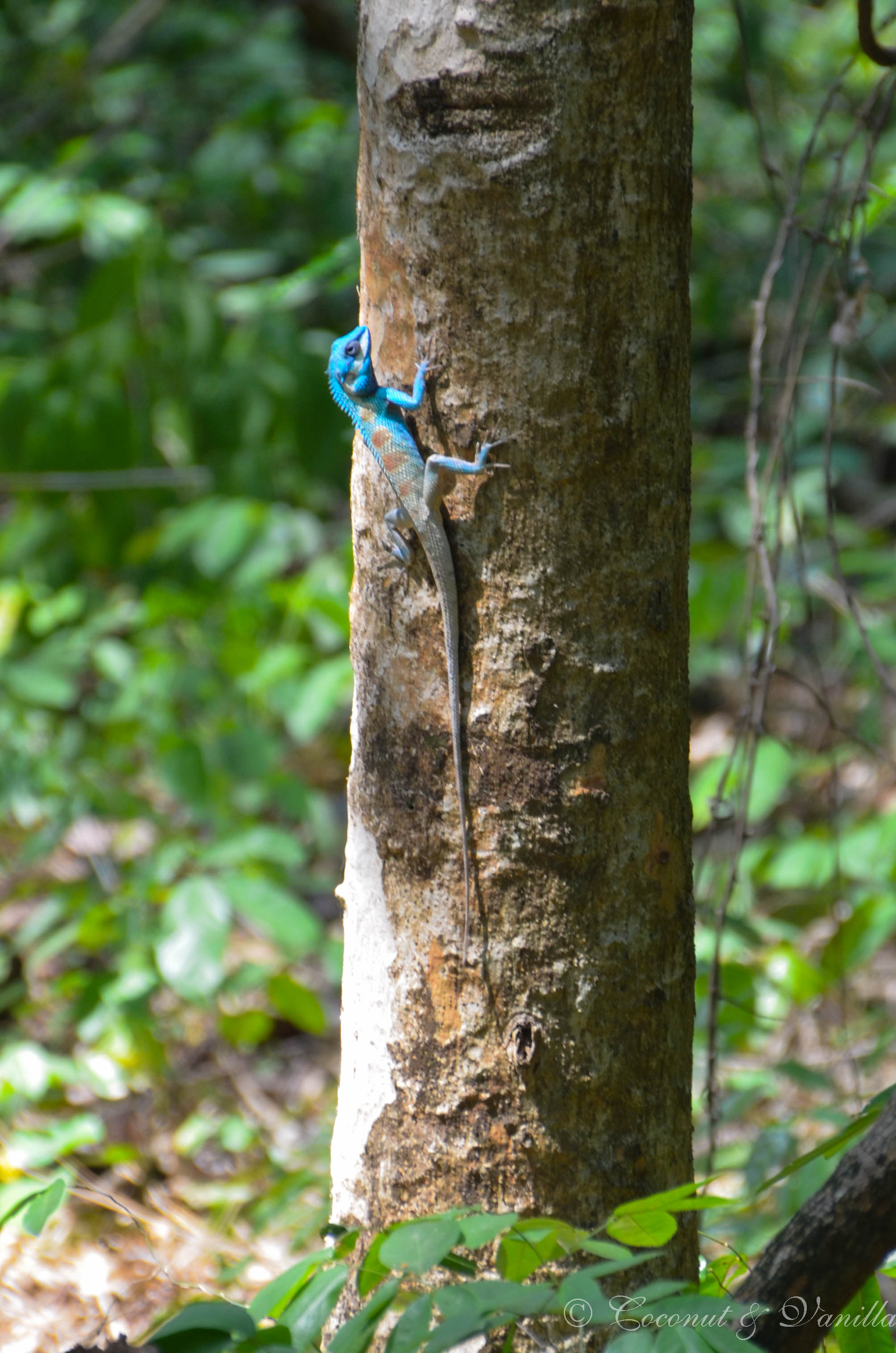 [:]