Wednesday, 7th March 2012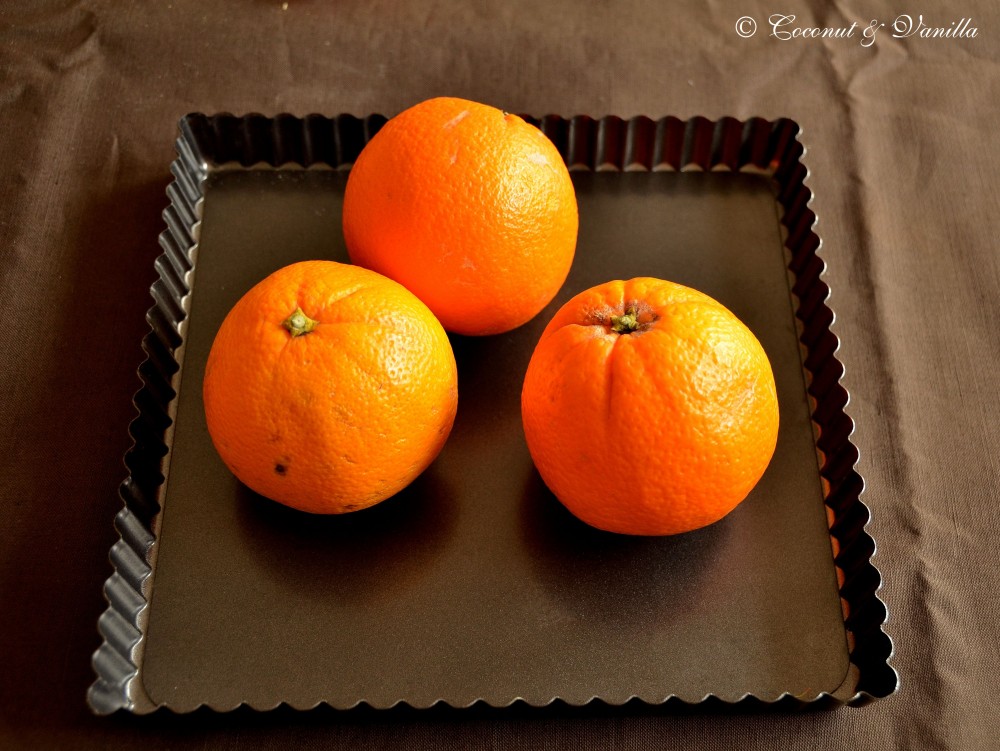 Thanks to my favourite aunt, who gifted me a voucher for Christmas, I was able to buy a bunch of cookbooks last week. And in between that bunch was that little gem: Red Velvet Chocolate Heartache by Harry Eastwood. I read a review about this book and I was immediately hooked. Great thing about the book is that the author (who is a woman indeed) substitutes butter, flour and sugar completely or in parts with grounded nuts and grated vegetables. It's for sure that vegetables naturally contain sugar and so it's easy to omit some of it. And as you know from making carrot or zucchini cake/bread it's always very luscious and that even after days! But Harry even uses red beets or parsnips. And that sounds amazing to me! As flour is substituted with grounded nuts or as in this case polenta, the recipes are also suitable for everyone living gluten-free. But the cool things is, that's nothing special. That's just the way the recipes are. And if you are not aware of that, you won't even notice, because it's not mentioned.
The layout of the book is like fresh from an English tea party. Classic, but frisky. Not every recipe comes with a picture, but every recipe comes with a sweet introduction of the sweet bites. So with that and your fantasy you can easily imagine every recipe without a picture. The book is bound solidly and has catchy thick sites, which I love. I overly recommend that book, if you want to try something totally new.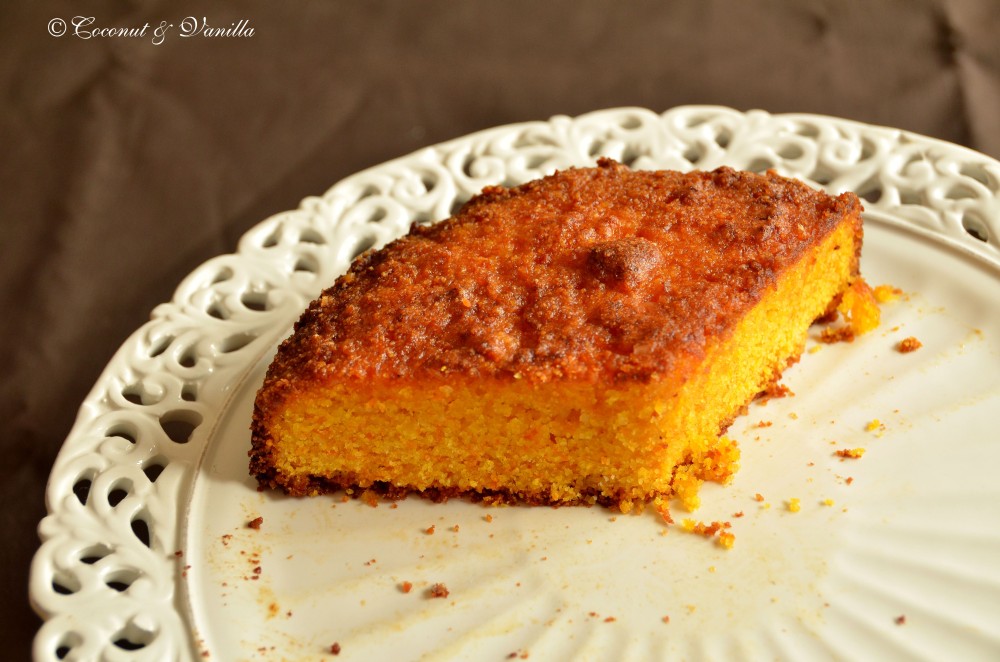 The cake is an orange dream. Infusing it with an orange syrup after baking helps, of course, but that doesn't mean it's a sticky cake. It's not. In this cake grated carrots are used, so this is a real beginner cake, speaking of the choice of vegetables. This cake is saturating, without being heavy. So it's recommended to use a 24 cm spring form or as stated in the original recipe a 22 cm square tin. By the way it would be presumptuous to say that the texture or the taste of the cake would imply that it's gluten-free. You would never notice.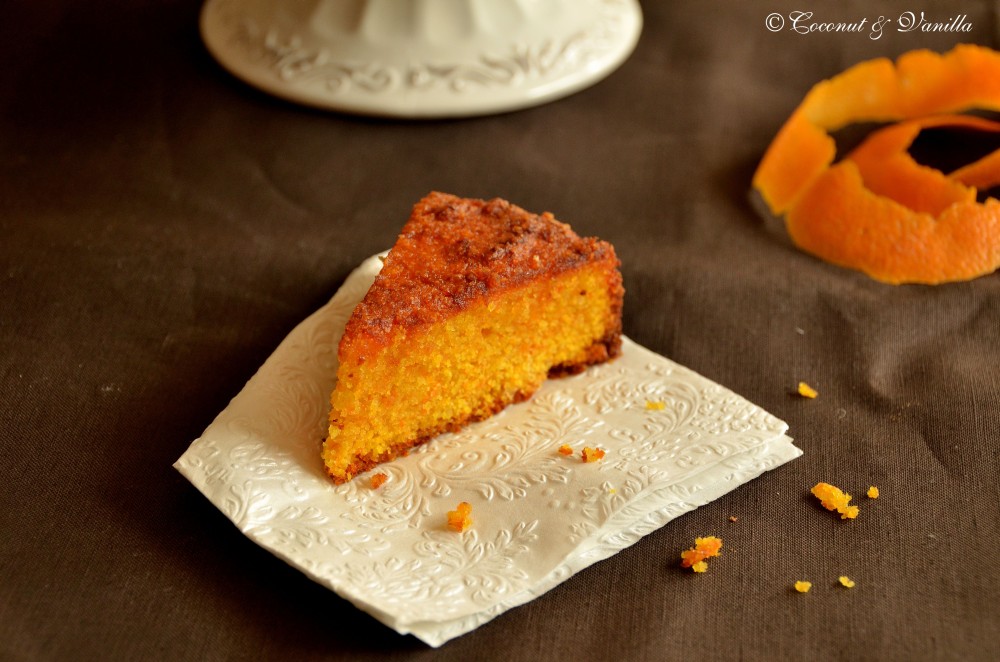 One year ago: Meatloaf á la Jamie
Two years ago: Tofuballs with Tomato Sauce

Orange-Polenta-Cake (gluten-free)
adapted from Red Velvet Chocolate Heartache by Harry Eastwood
yields a 22 cm-square tin or a 24 cm spring form
Ingredients:
160 g sugar
2 eggs
100 g ground almonds
200 g fine-ground polenta (I used normal one and if you are like a bit of crunch that's fine, otherwise use instant polenta)
2 tsp baking powder
1/4 tsp salt
1 tsp xanthan (optional)
a couple of generous pinches of saffron strands or powder
zest of 2 organic oranges
200 g topped, tailed, peeled and finely grated carrot
for the syrup:
juice of 2 oranges
150 g honey
small pinch of saffron strands (I omit these)
Preheat the oven to 180° C (350° F) Lightly grease the tin or spring form (I used the spring form) with butter.
Beat the sugar with the eggs until pale and fluffy (about 3 minutes). Add the almonds, polenta, baking powder, salt, xanthan (optional), saffron, orange zest and grated carrot and mix until combined.
Pour the mixture into the tin. Cover the fin with foil and bake for 1h 15 minutes on a rack near the bottom of the oven (I baked everything for about 40 minutes and just covered the tin, as the cake began to brown. But my polenta wasn't cooked thoroughly, so maybe the longer baking time wouldn't be a bad idea, if you are not using instant polenta ).
For the syrup: Combine the honey, orange juice and the saffron (optional) in a saucepan. Bring to the boil, then take off the heat. Infuse for 10 minutes.
When the cake is ready, run a knife around the sides to loosen it. Prick the cake with a skewer very often. Pour the syrup little by little evenly over the surface. I just waited some seconds in between, until the cake soaked up the syrup, then I poured more syrup on it. Let it stand for at least 15 minutes in the tin. Remove from the tin and serve.
Harry says her cake crumbles and is rather delicate (which she likes). I wanted to prevent this, so I added the teaspoon of xanthan. I turned out great, and didn't crumble at all. But I also didn't tried it without xanthan.