[:de]
Schon lange wollte ich euch meine "kitchen essentials" vorstellen. Also Lebensmittel die ich standardmäßig auf Vorrat habe. Dabei meine ich nicht einfach nur Salz. Nein, ich möchte ich verraten welches Salz ich kaufe und im besten Falle auch warum.
Da ich nicht alles in einen Post zusammenfassen möchte, da das ausufern würde, habe ich mich entschlossen eine neue Themenreihe ins Leben zu rufen!
Heute geht es los mit dem Thema Würzen! Das ist natürlich ein sehr umfassender Bereich und in diesem Fall beziehe ich mich auf alles was mit dem Würzen auf dem Herd und dem Tisch zu tun hat. Ich gehe nicht auf die Fülle meines Gewürzschrankes ein. Hier geht es darum die Basics zu verraten wie man ein Gericht runder macht und Geschmack ran bringt abseits von Salz und Pfeffer.
Gewürze sind doch sehr subjektiv und mein Gewürzschrank ist sicherlich nicht repräsentativ. Ich habe selbst Gewürze gekauft, die ich bisher nicht verwendet habe. Aber sicher ist sicher, ich könnte sie ja bald brauchen ;).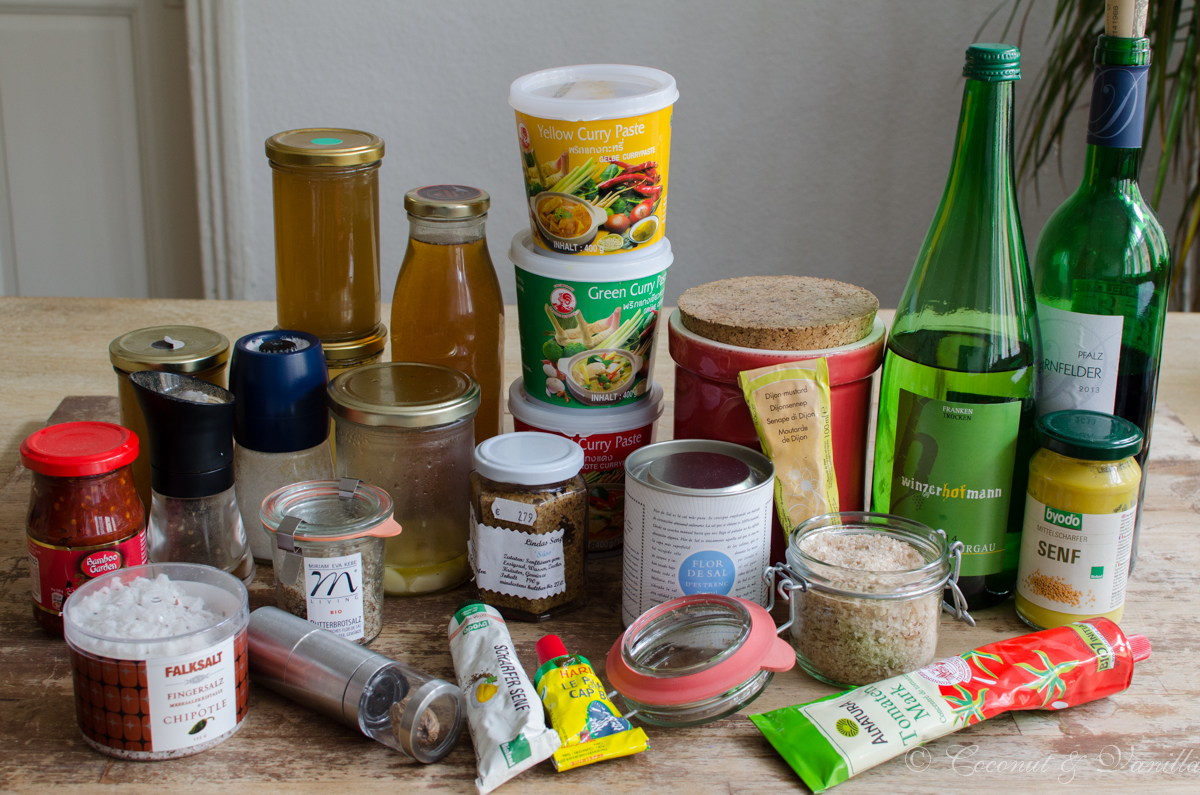 Meersalz
Ich kaufe ausschließlich Meersalz ohne jegliche Zusatzstoffe. Ich empfehle es industrielles Salz zu vermeiden, da kein Mensch (und kein Salz) Rieselhilfen, Fluor und Jod benötigt. Es ist nicht so, dass ich das Jod im Salz nicht vielleicht gebrauchen könnte, der nächste Gast möchte es aber lieber aus gesundheitlichen Gründen vermeiden und schon hat man das Dilemma. Menschen die von der Jodzugabe im Salz profitieren würden, nehmen sowieso zusätzlich Jod in Form von Tabletten. Ich sehe also keinen Sinn hier auch noch nachzuhelfen (ich kann das aus eigener Erfahrung sehr gut selbst beurteilen).
Salz ist für mich prinzipiell rein und kommt aus dem Meer. Vorzugsweise aus Europa, mann muss es ja nicht um die halbe Welt schiffen.
Ich bewahre immer genügend in einer großen Dose neben dem Herd auf. Das benutze ich für das Kochwasser und zum Salzen der Speisen während des Garens. Ich kaufe das Meersalz am liebsten von der Eigenmarke von Alnatura.
grobes Meersalz
Das benutze ich für die Salzmühle für den Tisch und wenn ich große Mengen benötige (z.B. für viele Liter Fond). Ich mag das Salz aus der Guerande, das grobe ist auch nicht teuer. Und ein Beutel hält sehr lange.
Fleur de Sel
Ich liebe Fleur de Sel und finde es sollte in keinem Haushalt fehlen.
Man muss allerdings schon ein Bewusstsein dafür haben. Es bringt niemandem was, wenn man diese kostbaren Salzblumen ins Nudelwasser wirft, ein zu sparsamer Umgang ist aber auch nicht von Nöten (die Dose muss keine 10 Jahre halten).
Fleur de Sel (oder Fior de Sal oder ähnliche Namen, je nach Ursprungsland) sind die Salzblumen die sich auf dem Salz bilden und die von Hand geerntet werden. Daraus resultiert auch der höhere Preis.
Fleur de Sel hat ein viel feineres Aroma. Ich verwende es gerne auf Gemüsesalaten, Broten/Tartines und zum abschließenden Verfeinern von Gerichten.
Ich verwende gerne das bekannte Fleur de Sel aus Mallorca, das resultiert aber auch daraus, das ich es immer geschenkt bekommen habe. Es gibt auch gute günstigere, einfach mal ausprobieren!
Geräuchertes Meersalz
Fleur de Sel gibt es auch geräuchert (smoked sea salt, z.B. von cornish sea salt) und das ist auch etwas ganz Feines! Gerade für Vegetarier ist es perfekt, denn es bringt das Aroma von Geräuchterm (Speck!) auch in vegetarische Gerichte und rundet sie somit perfekt ab. Auch ganz toll auf Eiergerichte! Ich habe auch noch grobes geräuchertes Salz (vom Wurzelsepp), das lässt sich in etwas größeren Mengen sehr gut verwenden.
Pyramidensalz
Ich habe kürzlich einige Salz von Falksalt gewonnen. Diese schwedische Firma stellt ausschließlich Pyramidensalze aus Zypern her. Dieses Salz entsteht auf natürliche Weise und es bilden sich größere pyramidenförmige Salzkristalle! Wunderschön! Dieses Salz gibt es auch in unterschiedlichen Sorten, neben Naturell, z.B. Chipotle, was ich sehr spannend finde (Chipotles sind geräucherte Jalapeño-Chilis). Das Salz ist sicherlich kein Muss und eher etwas für fortgeschrittene Salzliebhaber, trotzdem finde ich es erwähnenswert.
Butterbrotsalz
Ja, jetzt wird es speziell.
Das Butterbrotsalz von Miriam Eva Kebe Living ist bereits mit Kräutern (Zwiebeln, Majoran, Petersilie, Pfeffer, Thymian, Koriander, Lorbeer) versehen und ist das beste auf Eier! Und natürlich auf Butterbrot! Wer also gerne hartgekochte Eier (oder Eier auf Brot) und Butterbrot isst, der sollte sich dieses Gewürzsalz zulegen!
frischer Pfeffer
1. Finger weg von gemahlenem Pfeffer! Dieser verliert sein Aroma sehr schnell und schmeckt auch mehr als fragwürdig!
2. Nichts geht über selber mahlen!
Ich kaufe gerne den schwarzen Tellicherry-Pfeffer beim Gewürzdealer meines Vertrauens.
Ich dachte lange, dass jeglicher schwarzer Pfeffer gleich schmeckt. Im gewürzten Gericht merkt man den Unterschied dann auch nicht mehr. Auf einem Gemüsesalat (z.B. Tomate-Mozzarella) oder Brot ist der Unterschied aber wohl merkbar. Bei einer Rohverkostung habe ich festgestellt, dass der Tellicherry-Pfeffer feiner und fruchtiger ist.
Manchmal kaufe ich aber auch den Malabar-Pfeffer, wie mir gerade danach ist.
Ich habe außerdem noch langen Pfeffer, weißen Pfeffer, Szechuanpfeffer (kein Pfeffer) und rosa Beeren (auch kein Pfeffer!) daheim. Alles natürlich als ganze Körner. Jedoch verwende ich alle gleichmäßig selten.
Muskatnuss
Ich verwende nur frische Muskatnuss und habe dafür eine extra "Mühle*", weil ich das Fingerkuppenaroma beim Reiben nicht so mag.
Wein
Ich habe immer eine Flasche Weißwein und Rotwein neben dem Herd stehen, dieser wird ausschließlich zum Kochen verwendet. Beide Sorten sollten trocken sein, denn man will ja nur Geschmack ans Essen bringen keine Süße. Gerade einen Schluck Weißwein verwende ich zum Ablöschen für Saucen sehr gerne. Hier verwende ich günstige (aber nicht billige) einheimische Sorten. Wer einen Winzer um's Eck hat, wird vielleicht auch da schon fündig für 3 – 4 Euro pro Flasche. Ansonsten behelfe ich mich auch gerne mal bei Aldi.
Zitronensaft
Ein kleines Schlückchen Zitronensaft kann vielen Gerichten eine Dimension mehr geben, gerade wenn man meint, dass etwas fehlt.
Ich habe immer eine Flasche im Kühlschrank, da ich für einen Spritzer nicht immer eine ganze Zitrone anschneiden möchte.
Prinzipiell empfehle ich es bei Zitrussaft auf Bio-Ware zurückzugreifen. Die Früchte werden eben maschinell ausgedrückt und dabei gehen bei behandelten Früchten auch Wachs und Spritzmittel die sich auf der Schale befunden haben in den Saft über. Die Säure des Saftes ist dabei besonders hilfreich. Nachher hat man all das im Saft. Bei Früchten kaufe ich auch nur Bio-Ware, so dass ich auch immer die Schale verwenden kann. Denkt mal dran, wenn ihr Caipirinha selber macht (Keine Bio-Ware, Spritzmittel/ Wachs auf der Schale und ihr drückt darauf rum! Wohl bekommt's!)
Tomatenmark
Für dunkle Saucen, Eintöpfe und alles was mit Tomaten gekocht wird unverzichtbar. Da die preisliche Differenz zu Bio eher gering ist, empfehle ich auch hier bio zu kaufen.
Harissa
Harissa habe ich immer da, da ich auch gerne orientalisch koche. Außerdem kann man damit eine angenehme Schärfe gut dosieren. Ich bevorzuge die Paste aus der Tube, die bekommt man in türkischen/orientalischen Geschäften.
Sambal Oelek
Aus dem gleichen Grund wie Harissa habe ich auch Sambal Oelek daheim. Ab und zu benötige ich es, wenn ich indonesische oder asiatische Gerichte koche.
Currypasten (grün, gelb, rot, Massamann, etc)
Ja, habe ich alle da ;). Ich koche gerne asiatisch bzw. thai und dafür sind sie unerlässlich. Ich habe diese typische Marke, die auch ohne seltsame Zusatzstoffe auskommt. Selbst ohne Aufbewahrung im Kühlschrank halten die Pasten ewig.
Unersetzlich für Vinaigrettes und alles was nicht mehr gegart wird. Der pentrante Knoblauchatem entfällt und trotzdem hat man ein schönes Knoblaucharoma.
Senf
Senf nehme ich hier mal mit auf, da man ihn ab und zu in Sauce verwendet und sehr häufig für Vinaigrettes.
Ich habe scharfen, mittelscharfen, süßen und Dijonsenf im Kühlschrank.
Nachdem ich mir die Zutatenliste von konventionellen Senfsorten angeschaut habe und ich erschrocken war was da alles drin ist, kaufe ich bevorzugt bio. Ich kaufe gerne die Produkte von Byodo oder auch Bio-Eigenmarken im Supermarkt. Wenn ich nicht so viel brauche, dann den Senf in der Tube. Was mehr weg geht im Glas.
Fonds und Brühen
Gemüse-, Hühner-, Rinder– und Wildfond mache ich selbst in 250 ml und 500 ml Gläser ein. Da ich kaum Fischgerichte mache und Fisch hier im Süden kaum ein Thema ist, habe ich den hier auch noch nicht vermisst.
*Werbung, Affiliatelink (sprich, wenn ihr über diesen Link etwas bei Amazon kauft verdiene ich dabei wieder eine kleine Provision, die ich in den Erhalt des Blogs stecke)
[:en]
For a very long time I wanted to show you my "kitchen essentials". My groceries, which I always have on hand. I do not only mean salt. I also tell you which kind of salt I prefer and why.
This would be way too much information for one post, therefore I decided on a new series!
I start today with the topic of seasoning. This is a very broad topic, but I refer to seasoning on the stove and table here. I do not refer to the abundance of my spice drawers. I tell you the basics of making a dish well-rounded and to reveal you my tips apart from salt and pepper.
Spices are quite subjective and my spice cupboard is not very representative for sure. I bought some spices myself, which I've never used to this day. But safe is safe, I could need them some day soon ;).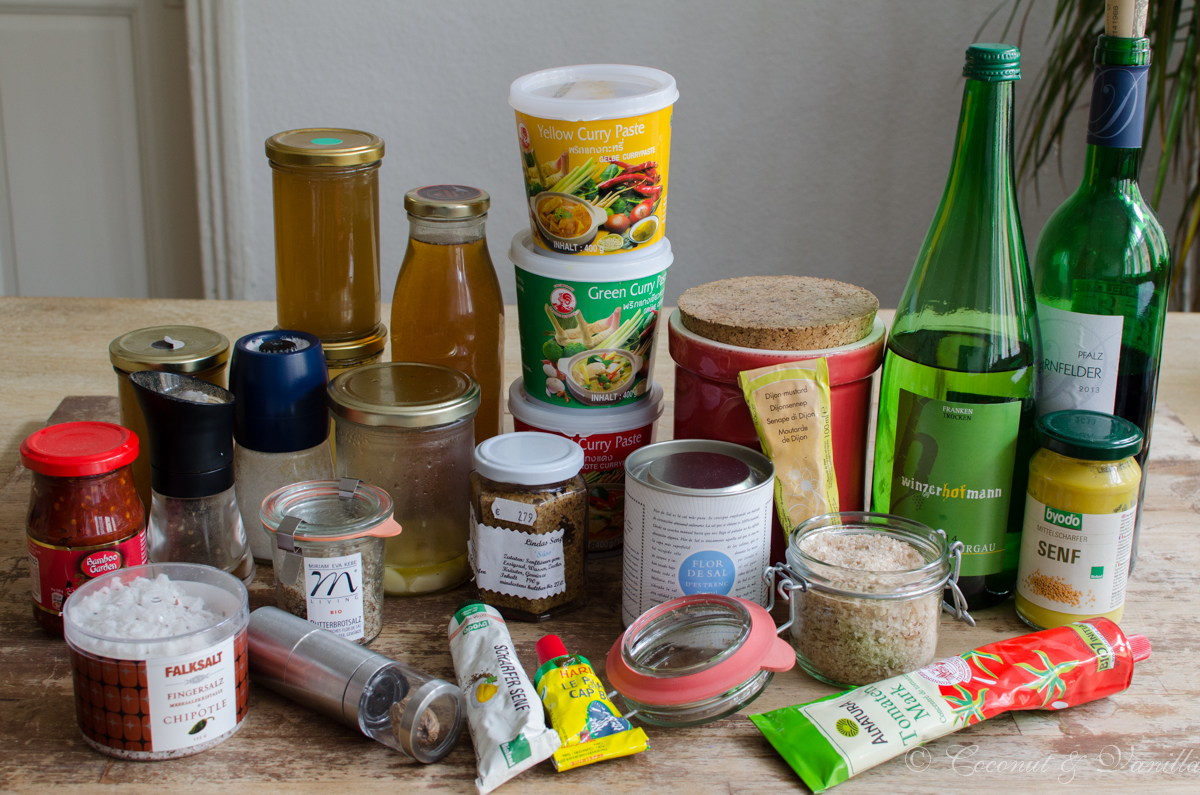 sea salt

I only buy sea salt without any additives. I recommend to avoid industrial salt, because no one (and no salt) needs anticaking agents, fluorine and iodine. Even if some people might need the iodine, others don't want it because of health issues and there comes the predicament. People you would profit from the iodine in salt are taking iodine pills, anyway, so there is no need to help them (I can judge from own experience).
Salt is basically pure and comes from the sea. I prefer salt from Europe, no need to ship it across the whole globe.
I store it in a large jar beneath the stove. It's used for pasta water and seasoning the food while cooking. I buy the home brand of Alnatura.
coarse sea salt

Used for the salt mill on the table and if I need larger amounts (for stocks or preserving). I like the salt of the Guerande in  France. The coarse salt is quite cheap, too and a bag keeps a long time.
fleur de sel
I love fleur de sel, it should be in every kitchen. But you need to be aware of its distinctivness. There is no benefit of throwing a lot of it in pasta water, but a frugal use is also not necessary (the box doesn't need to last ages!). Fleur de sel (or fior de sal or similar names, depending from which country it comes) are the flowers that grow on the salt and are harvested by hand. This results in a higher price.
Fleur de sel has a more delicate flavour. I like to use it in vegetable salads, breads/tartines and to finish off dishes. I like to use the famous fleur de sel from Mallorca, but that's because I get this as a gift. There are also cheaper ones on the market, just give it a try!
smoked sea salt
Fleur de sel is also smoked available (i.e. from cornish sea salt) and is extra delicate! It's perfect for vegetarians as it adds a touch of smokiness (bacon!) to vegetarian dishes and balances them. Also wonderful for egg dishes! I also have a coarse smoked sea salt, which is great if I need larger amounts.
pyramid salt

I won some salts by Falksalt. The swedish company sells only pyramid salt from Cyprus. This salt grows naturally in pyramid-shaped salz crystals. Stunning! This salt is available in different types. I like the chipotle one. The salt is not a must of course and more for the advances salt lover (anyone here?), but it's worth mentioning.
butter bread salt

Yes, this is very special.
This salt by Eva Miriam Kebe Living is refined with herbs (onion, marjoram, parsley, pepper, thyme, coriander, bay leaf) and I use it a lot on egg dishes and buttered bread.
fresh black pepper

1.Hands off of grounded pepper! Grounded pepper looses its flavour very quickly and tastes also very strange!
2. Get a pepper mill and ground your peppercorns yourself freshly!
I like to buy tellicherry pepper at my spice dealer. I thought for a long time that every black pepper tastes the sime and in a seasoned dish you won't notice the difference. But on vegetable salads (like caprese) or bread the difference is noticeable. In a raw pepper tasting at home I noticed that the tellicherry pepper is more delicate and fruity.
But sometimes I also buy malabar pepper
Moreover I own long pepper, white pepper, szechuan pepper (not a real pepper) and pink peppercorns (also not real pepper), all whole peppercorns, but I use them all very seldomly.
nutmeg
I only use fresh whole nutmeg and own a dedicated "mill*" for that, because I rather not have finger tips in my food.
wine
I always have a bottle of white and red wine beneath the stove, which is only used for cooking. Both are dry, because I like add the taste to the dish not extra sweetness. I favour the taste of white wine in food a lot, so a sip here and there is just fine. I use reasonable (but not cheap) and local wine. If you have a winery nearby you can grab a bottle for 3 – 4 Euro. Otherwise Aldi has some reasonable wines that do the deed.
lemon juice

A dash of lemon juice can be vital for a lot of dishes, especially when you think the dish is a bit flat. It gives the food dimension. Give it a try!
I always have a bottle in the fridge, because I don't want to use a whole lemon for a little splash of juice. I recommend buying organic, because the lemons are squeezed by machines and pesticides and wax from the skin will migrate in the juice. The acid of the lemon helps this job, too. Afterwards you have all this in the juice. I only buy organic citrus fruits, so I can use the skin without worrying.
Think about this, when making capirinha the next time (no organic fruits, pesticides/wax on the skin and you are pesting them! Ugh!)!
tomato paste

For dark sauces, stews and everything cooked with tomatoes. As organic is only a bit more expensive, I like to buy organic tomato paste.
harissa
I always have harissa on hand, as I like to cook oriental. The spicyness can also be very good adjusted with te paste. I like the paste from the tube, which is availabe in turkish/oriental delis.
sambal oelek
For the same reason as harissa I like to have sambal oelek on hand, which is necessary for some asian and indonesian dishes.
curry paste (red, yellow, green, massaman, …)

Yes, I own them all ;). I love to cook asian resp. thai food and therefore these curry pastes are a must. I have the typical brand, which works without any additives. Even without storing them in the fridges these pastes are good for forever.
Indispensable for vinaigrettes and everything that isn't cooked, but is spiced with garlic. The pungent garlic odour is omitted, but you are gifted with a nice garlic flavour.
mustard
I use mustard sometimes for sauces and a lot for vinaigrettes.
I have spicy, medium spicy, sweet and dijon mustard in the fridge. After studying the ingredient lists of mustards I was quite shocked and decided for organic since then. I prefer the products of Byodo or home brands of some supermarkets. When I use more I choose the mustards in jars, otherwise tubes.
stocks and fonds

I preserve vegetable, chicken, beef and game stock in 250 ml and 500 ml jars. As fresh fish isn't very common in South Germany I never missed fish stock.
* Amazon affiliate link (If you buy something after clicking on this link on amazon, I earn a small amount of money, which I reinvest in this blog. Thank you!)
[:]