[:de]
Diese Kartoffelwaffeln mache ich jetzt schon viele Jahre immer wieder und ich freue mich jedes Mal wieder darauf! Am liebsten mag ich sie mit Lachs und einem leichten Joghurtdip mit Dill. Quasi: Oldie, but goldie!
Während ich diese Worte schreibe läuft mir schon wieder das Wasser im Mund danach zusammen. Die Waffeln sind ein super leckeres Abendessen. Oder auch Frühstück. Oder Mittagessen. Sie sind einfach immer lecker!
Durch die Kartoffeln sind diese Waffeln besonders saftig, aber nicht schwer. Ein leckeres leichtes Essen, das man das ganze Jahr hindurch essen kann!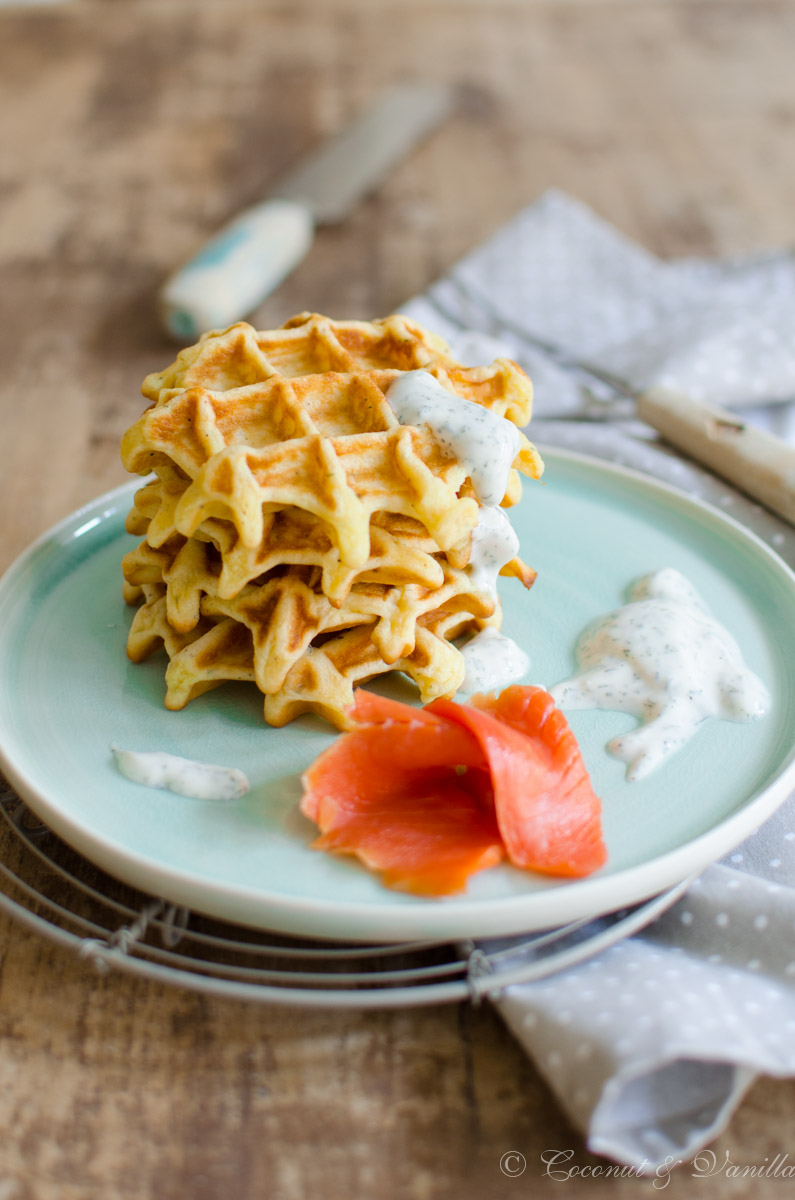 Vor vier Jahren: Apfel & Vanille Madeleines mit brauner Butter
Vor fünf Jahren: Churros
Vor sechs Jahren: Zimt und Anis Macarons
Kartoffelwaffeln mit geräuchertem Lachs und Dilldip
nach einem Rezept von Kleiner Kuriositätenladen
ergibt: 3-4 Portionen
Zutaten:
400 g gekochte Kartoffeln, abgegekühlt
130 g weiche Butter
5 Eier
1 TL Meersalz
1/2 TL Pfeffer, frisch gemahlen
200 g Mehl
3/4 TL Backpulver
200 g Crème fraîche, saure Sahne oder Joghurt (nicht fettarm!)
200 g griechischen Joghurt
200g Naturjoghurt
1/2 Bund frischer Dill, fein gehackt oder 2 EL Dill, tiefgefroren
Meersalz
Pfeffer, frisch gemahlen
300 g geräucherten Lachs in Scheiben
Die Kartoffeln durch eine Kartoffelpresse drücken oder mit einer Gabel zerquetschen. Mit der Butter und den Eiern verrühren. Salz, Pfeffer, Mehl und Backpulver unterrühren. Die Crème fraîche dazugeben und alles gleichmäßig verrühren.
Griechischen Joghurt, Naturjoghurt und Dill verrühren. Mit Salz und Pfeffer würzen.
Den Ofen auf 80° C Heißluft vorheizen.
Das Waffeleisen vorheizen und die Waffeln nacheinander herausbacken. Die Menge des Teiges je nach Waffeleisen anpassen. Für mein Brüsseler Waffeleisen benötige ich etwa 3 EL Teig für 2 Waffeln.
Die Waffeln im Ofen warmhalten bis alle Waffeln herausgebacken sind.
Die Waffeln mit dem Joghurtdip und Lachs genießen!
 [:en]
Oldie, but goldie!
I'm baking these waffles for many years now and every time I'm so happy when I make them!
Even while writing these words my mouth is watering. The waffles are super delicious for dinner. Yes, I make waffles for dinner! Of course, you can also eat them for breakfast. And lunch! They are perfect every time of day.
Due to the potatoes the waffles are very luscious, but not on the heavy side. This is such a delicious treat, which can be eaten all year long!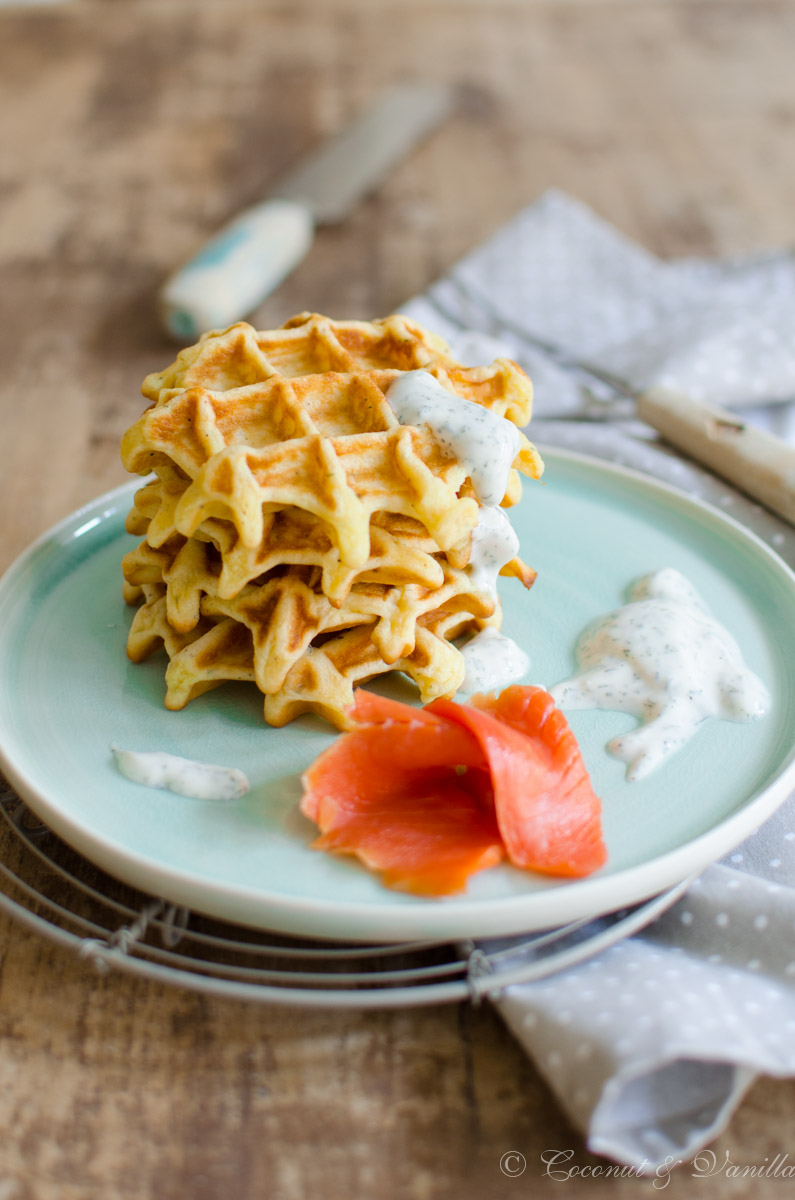 Four years ago: apple & vanilla madeleines with brown butter
Five years ago: churros
Six years ago: cinnamon and anise macarons
Potato Waffles with smoked salmon and dill dip

adapted from Kleiner Kuriositätenladen
yields: 3 – 4 portions
Ingredients:
400 g boiled potatoes, cooled
130 g butter, at room temperature
5 eggs
1 tsp sea salt
1/2 tsp black pepper, freshly ground
200 g flour
3/4 tsp baking powder
200 g crème fraîche, sour cream or yogurt (no low fat!)
200 g greek yogurt
200g plain yogurt
1/2 bunch fresh dill, finely chopped or 2 tbsp dill, frozen
sea salt
black pepper, freshly ground
300 g smoked salmon, in slices
Press the potatoes through a potato ricer or squash them with a fork. Stir in the butter and eggs evenly. Stir in the salt, pepper, flour and baking powder. Add the crème fraîche and stir evenly.
Whisk together the greek and plain yogurt with the dill. Season with salt and pepper.
Preheat the oven to 80° C
Preheat the waffle iron and bake the waffles one after another. Adjust the amount of waffle dough to your waffle iron. I need about 3 tbsp dough for 2 Belgian waffles.
Keep the waffles warm in the oven until you baked all of them.
Enjoy with the yogurt dip and smoked salmon!
[:]