Monday, 3rd June 2013
For a long time I wanted to show how I make my stocks and broths. I don't buy granulated broths anymore. I make vegetable, chicken, beef and game stock myself. So I avoid all these additives, which I don't want in my food. The best thing about homemade broths is, that you can make delicious sauces and gravies and dishes taste so much better. The first risotto I used homemade chicken broth was a revelation! 
I preserve the fond in jars. I already tried freezing it, but I didn't liked it at all. Things that speak against freezing broths: you need a lot of space in the freezer, you need a lot of plastic containers suitable for freezing or plastic bags (waste!) and it takes much more time to defrost the broth than to open a jar.
I use 250 ml jars and 500 ml bottles, which is the amount you need mostly for recipes, so it's very convenient. Leftovers can easily be stored in the fridge for a while and I use them for one of our next meals. I ordered my jars and bottles from Gläser und Flaschen, because they have just the right sizes and it works perfectly every time.
I don't use labels for my jars, anymore, since it's too elaborate for me to print, glue and especially dissolve them again. I bought coloured dot stickers and mark the lids with it: green for vegetable broth, yellow for chicken and black for beef.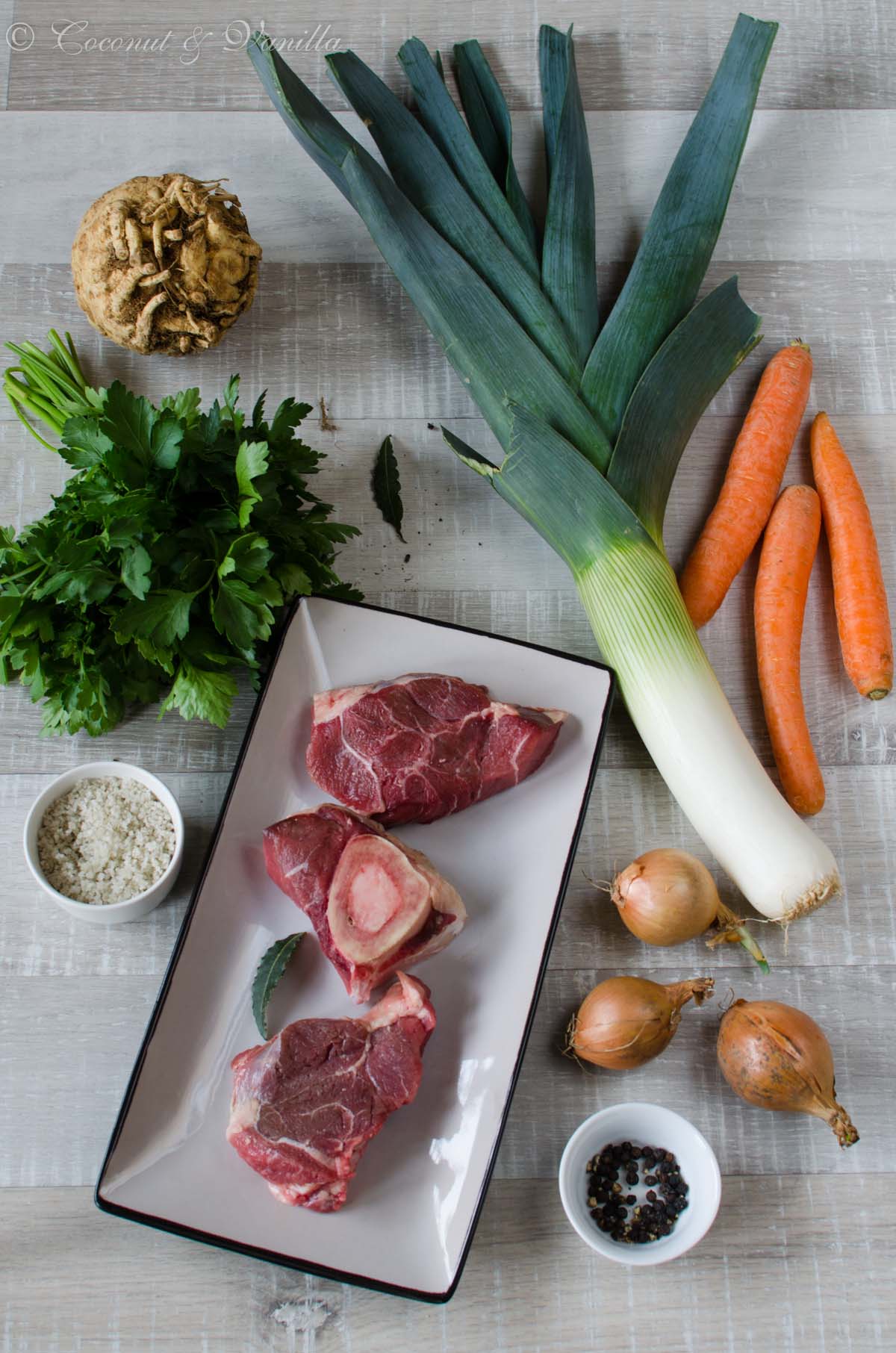 I start with beef broth today (although game stock is already present on the blog), because I have shot the pictures for it already ;). Mostly they are already in the pot before I think about taking some pics. And liquid in jars isn't that illuminating.
Making stock is really easy and after doing so, you are prepared for weeks or even months. Which is such a great feeling!
There isn't a definite recipe, by the way! You can vary with the ingredients and the cooking time. Don't be afraid!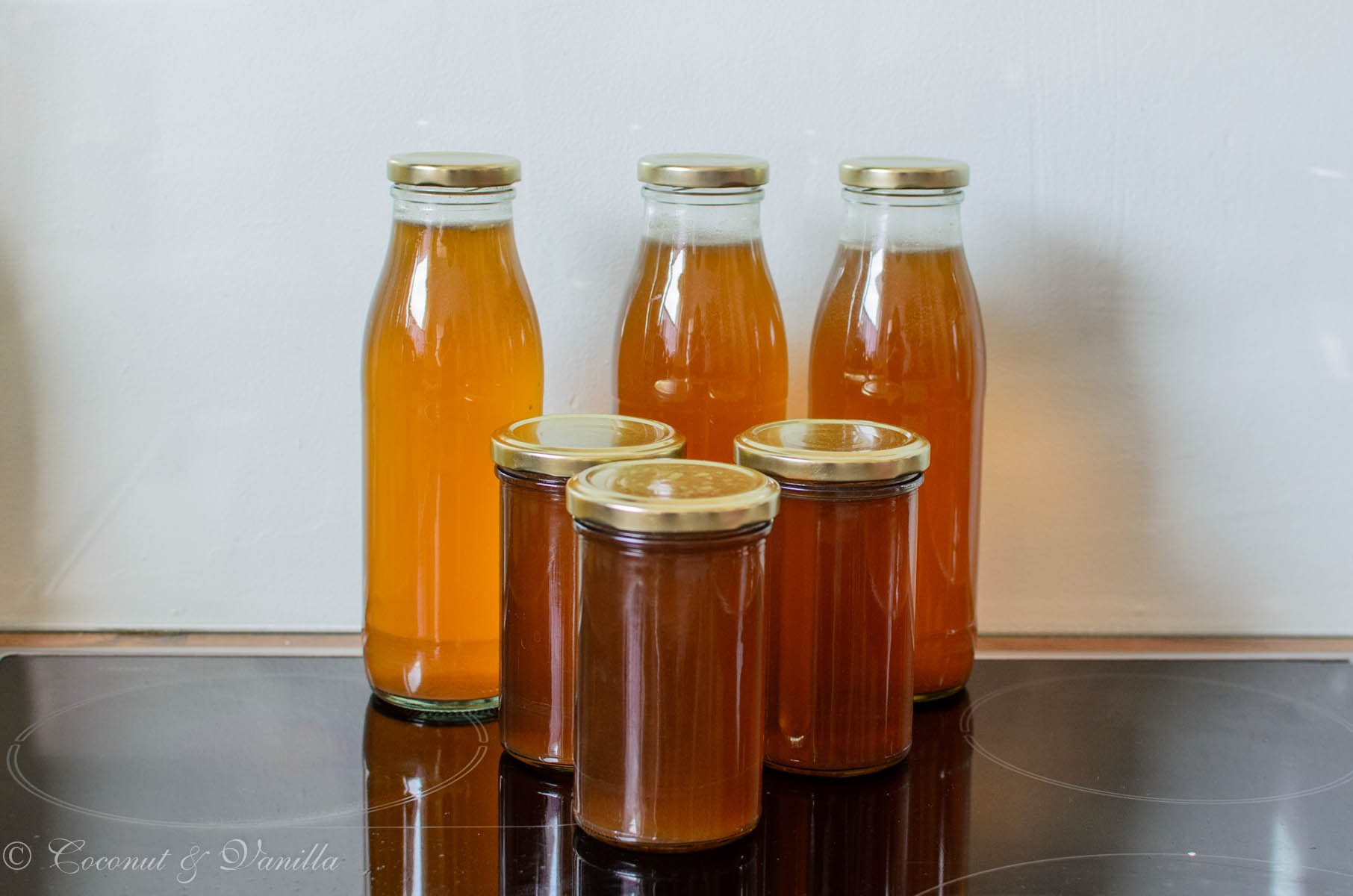 One year ago: elderflower jelly
Two years ago: strawberry liquor, basil olive oil & elderflower vinegar
Three years ago: lemon rosemary cookies
Beef Stock

yields: 4 – 5 litres
Ingredients:
clarified butter or sunflower oil
2 very large beef shanks (1,2 – 1,5 kg), let your butcher cut it into smaller pieces so you have more surface for browning and it fits easier in the pot
1 leek
3 carrots
4 onions
1 small celeriac
1 bunch parsley, stems only
1 bay leaf
1 tsp black peppercorns
2-3 sprigs of thyme or rosemary (optional)
0,75 l dry red wine
sea salt
Rinse the vegetables and peel the carrots (there's no need to peel if you are sure where your vegetables come from, like your garden) and celeriac. Dice the celeriac and slice the carrots. Halve the leek and slice, too. No need to peel the onions, just rinse and halve them.
Take a large pot (mine's a 8 litre pot) and melt the clarified butter on high heat. Sear the meat on all sides, remove it and place the onions in the leftover butter (if there's no leftover butter add more) with the cut surface down and sear, too. Add the vegetables and brown. Add the meat and 250 ml wine. Let it cook down, then add another 250 ml, repeat for another time.
Add the parsley stems, herbs and spices (not the salt) and fill up with water. That are 5 – 6 litres for me. Bring to a boil, then turn down the heat and let the stock simmer for 6 hours.
Let the stock cool out a bit, pour through a mesh strainer. I use to remove large chunks of vegetables and meat with tongs or a slotted spoon beforehand, so it doesn't splatter that much. Rinse the pot, place the mesh strainer lined with a cheese cloth over it and strain again. Cool the stock completely (I prefer to do it over night). When cooled remove the fat from the surface.
Rewarm the stock and season generously with salt. Fill sterilized jars with the stock and place them in a deep baking tray in the oven. Add 1 – 2 cm water (cold water for cold stock, warm for warm, hot for hot) and heat the oven to 180° C. When the stock starts fizzing in the jars, turn off the oven, but do not open it! Keep the jars for 30 minutes in the hot oven. Remove the jars with tongs and place them on dish towels. Let them cool.
Check the cooled jars and bottles for vacuums, the lids should be concave. Jars without vacuum seals should be stored in the fridge and used in the next 2 weeks.
The preserved stock is best before 12 months.