Diese dicken Bohnen (im englischen "fava beans") bewundere ich häufiger in englischen Foodblogs oder Kochbüchern, aber gesehen habe ich die bei uns noch nie! Letztes Jahr musste ich dann auf unserem Acker selbst welche anpflanzen um meine Neugier zu befriedigen. Und ich fand die ganz toll und witzig zudem! Lustigerweise bin ich letzte Woche auf den Wochenmarkt in Rothenburg gegangen und habe dort bei dem einzigen Gemüsestand dicke Bohnen entdeckt! Ich hab mich gleich eingedeckt und abends hab ich daraus dann dieses Pastagericht gezaubert. Die Bohnen können sich so richtig gemütlich in die Orecchiette kuscheln, deshalb passen die einfach perfekt! Mit Kräutern, Zitrone, Parmesan, Olivenöl und etwas Knoblauch ist es ein leichtes und schnelles Sommergericht.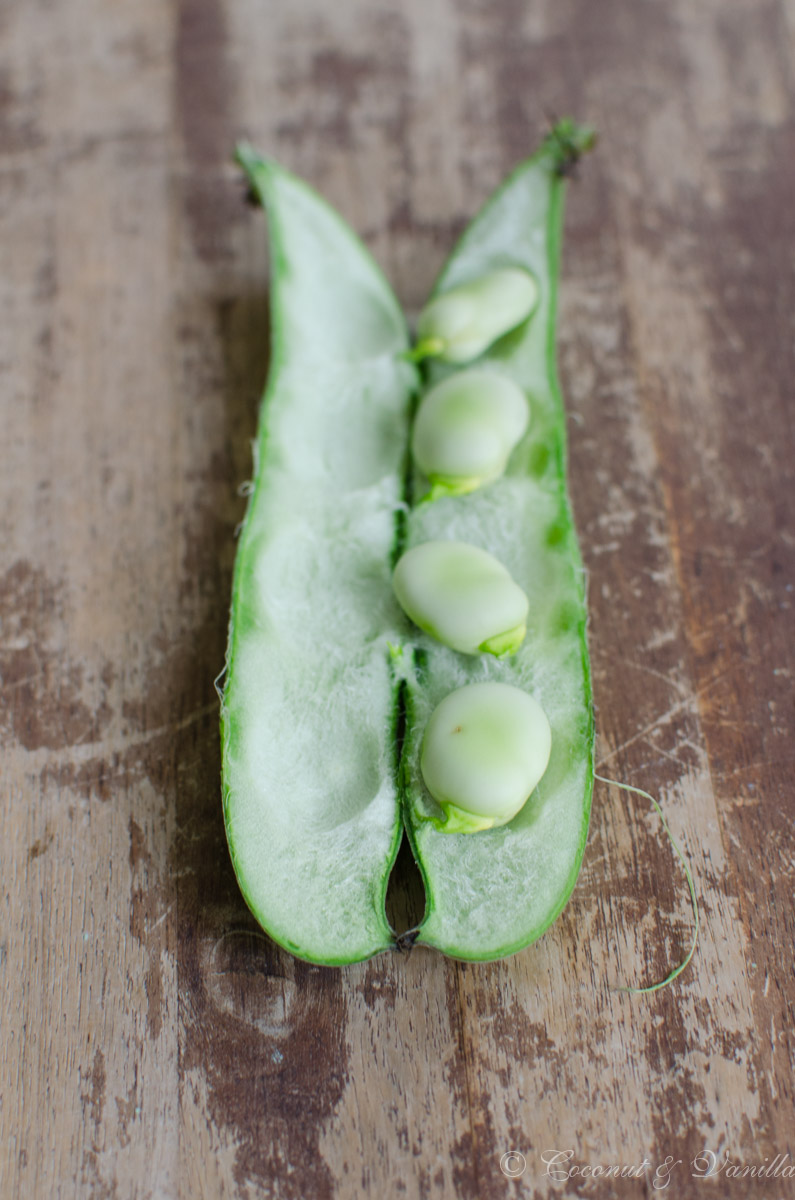 Jetzt hoffe ich nur für Euch, dass ihr auch an die dicken Bohnen rankommt oder einen Garten habt, den ihr entsprechend bepflanzt habt ;).
Dieses wundervolle Pastagericht hab ich übrigens erst kürzlich bei Yushka vorgestellt. Habt ihr dort schon vorbeigeschaut?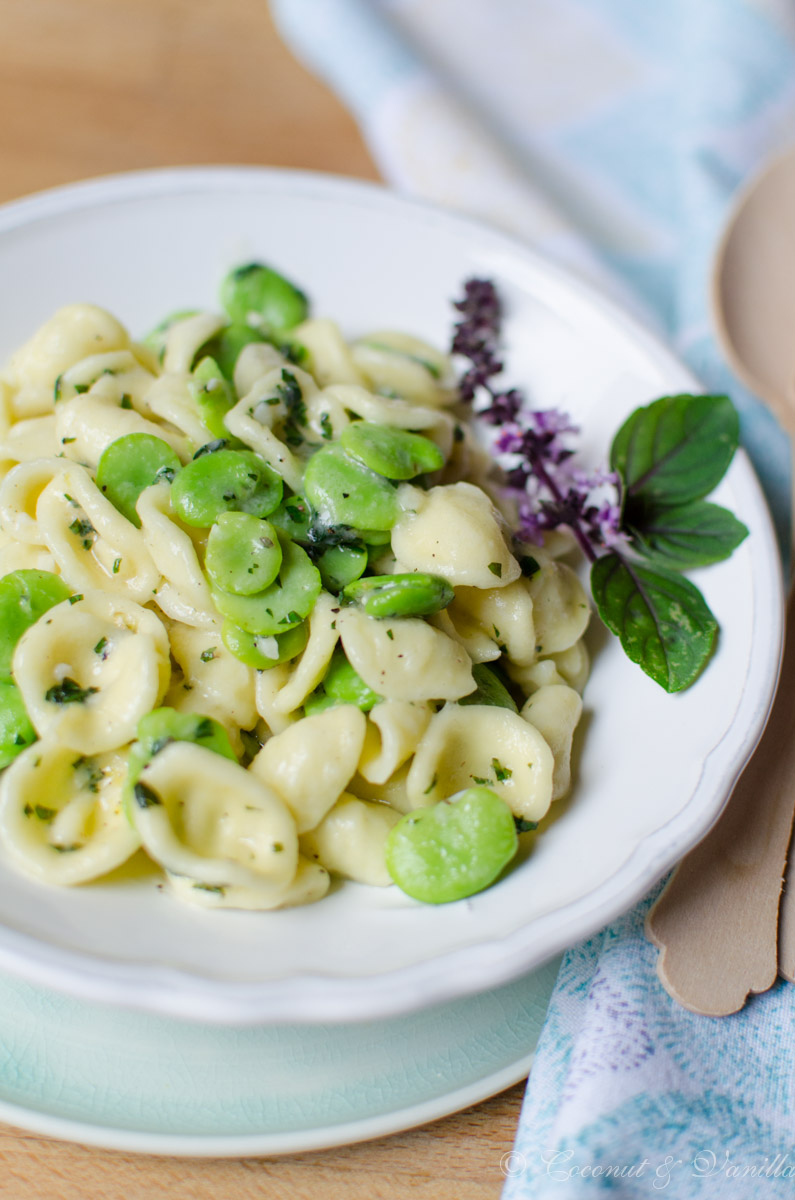 Vor einem Jahr: Pizza mit Nektarinen, Mozzarella & Balsamicocreme
Vor zwei Jahren: Pfirsich-Rosmarin-Granita
Vor drei Jahren: lila Milchreis
Vor vier Jahren: Pflaumen Galettes
Vor fünf Jahren: Wachteln, kalt und warm
Orecchiette mit dicken Bohnen und Kräutern
ergibt 2 Portionen
Zutaten:
1 kg dicke Bohnenschoten
10 g Kräuter nach Wahl, ich habe Basilium und Minze gemischt (aber auch Thymian, Petersilie, Oregano oder einen Hauch Salbei stelle ich mir super vor)
1 Knoblauchzehe
Olivenöl
1 Bio-Zitrone, Schale und Saft
50 ml Weißwein oder Gemüsebrühe
15 g Parmesan, fein gerieben
Salz und Pfeffer
300 g Orecchiette
Die Bohnen aus den Schoten lösen. Einen Topf mit Wasser zum Kochen bringen (am besten den gleich nachher für die Pasta verwenden) und die Bohnen darin 2 Minuten blanchieren. Die Bohnen abgießen und kalt abbrausen. Die grünen Bohnen aus der gelben Schale lösen, das geht jetzt ganz leicht. 
Die Kräuter und den Knoblauch hacken.
In dem Topf wieder Wasser zum Kochen bringen, salzen und die Orecchiette al dente garen. Abgießen und etwas Kochwasser dabei auffangen.
Den Topf wieder auf den Herd stellen und etwas Olivenöl bei mittlerer Hitze erwärmen. Den Knoblauch andünsten. Sobald er Farbe annimmt, die Zitronenschale und die Bohnenkerne dazugeben. Kurz andünsten. Mit Weißwein oder Gemüsebrühe ablöschen. Den Parmesan, die Kräuter und etwas Zitronensaft dazugeben, mit Salz und Pfeffer würzen. 
Die Nudeln unterheben und mit Zitronensaft, Salz und Pfeffer abschmecken. Eventuell mit etwas Nudelwasser verdünnen.
I'm admiring fava beans in a lot of english food blogs or cookbooks, but I've never seen them here in Germany! So last year I gave it a try and grew them on our field to satisfy my curiosity. I liked them very much and found them funny, too! It's funny, that I discovered them last week in Rothenburg on the farmer's market at the only vegetables stall there! I bought a lot in an instant and in the evening I cooked this pasta dish. The beans are cuddling in the orecchiette and are a perfect fit! With herbs, lemon, parmesan, olive oil and some garlic it's a light and quick summer dish.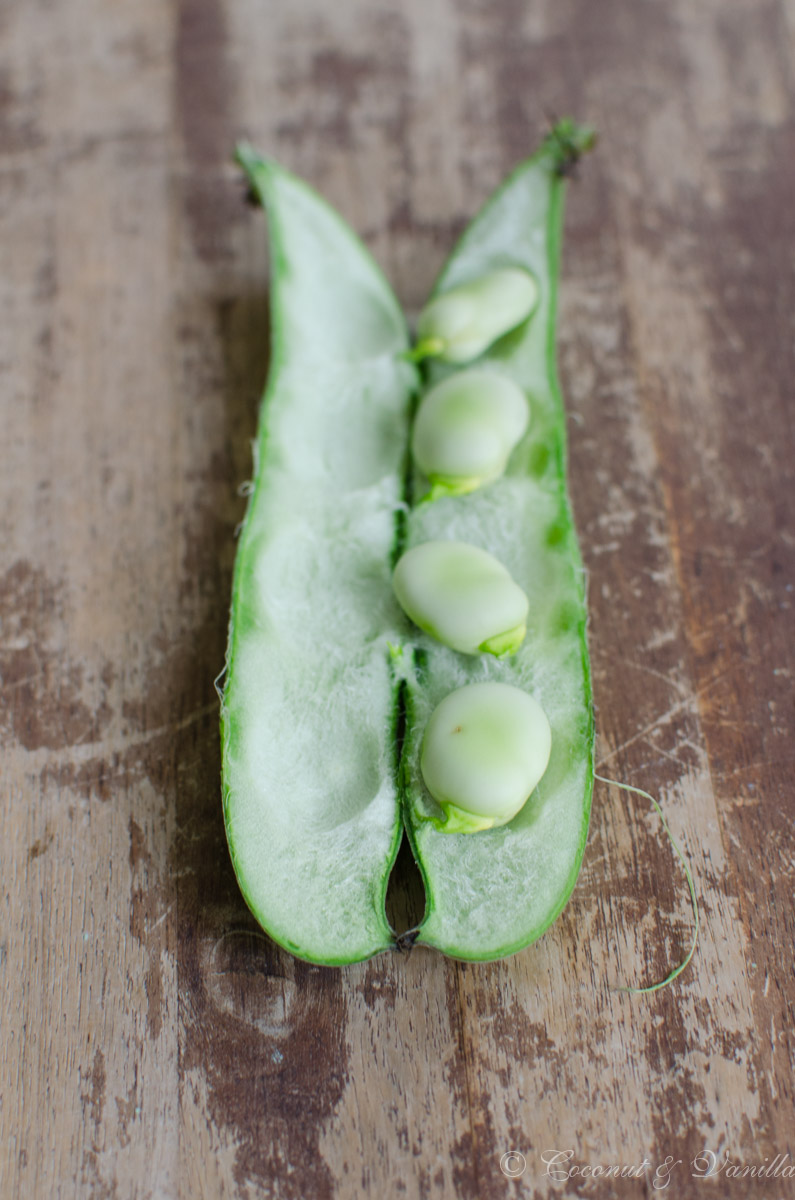 I'm only hoping you have access to fava beans or a garden which is equipped with fava bean plants ;).
I just introduced this wonderful pasta dish at Yushkas blog recently. Did you already visit her blog?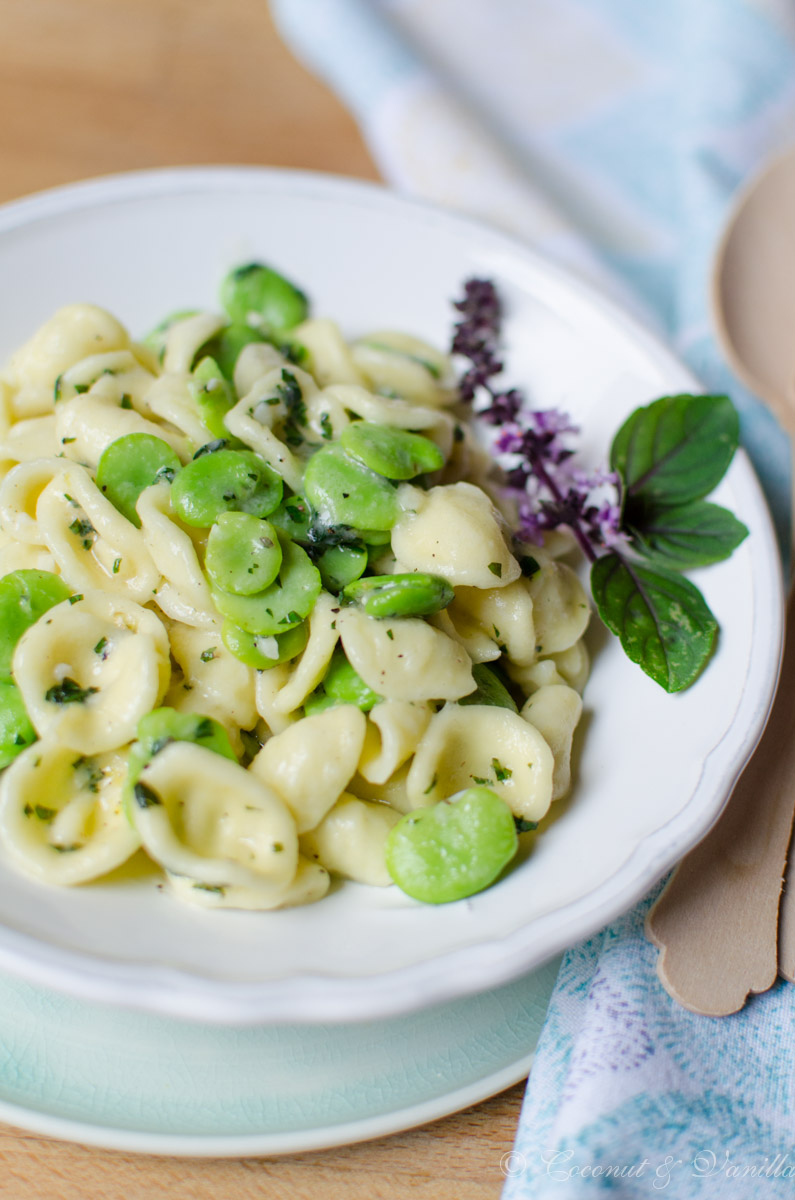 One year ago: pizza with nectarines, mozzarella & reduced balsamico
Two years ago: peach rosemary granita
Three years ago: purple rice pudding
Four years ago: rustic plum galettes
Five years ago: quails, warm and cold
Orecchiette with fava beans and herbs
yields: 2 portions
Ingredients:
1 kg fava beans
10 g herbs of your choice, I used basil and mint (but also thyme, parsley, oregano or a bit of sage would be good)
1 clove of garlic
olive oil
1 organic lemon, juice and peel (finely grated)
50 ml white wine or vegetable broth
15 g parmesan, finely grated
salt and pepper
300 g orecchiette
Shell the beans. Blanche the beans in boiling water for 2 minutes. Drain and rinse with cold water. Peel the outer yellow skin from the beans. This should be very easy now.
Finely chop the herbs and the garlic.
Bring again water to the boil, salt and cook the orecchiette until al dente. Drain and reserve some cooking water.
Place the pot back on the stove and heat some olive oil at middle heat. Sautße the garlic lightly. As it turns golden brown add the lemon peel and the fava beans. Braise lightly. Add the white wine or vegetable broth and cook for a bit. Add the parmesan, herbs and some lemon juice to your taste. Season with salt and pepper.
Fold in the pasta and season with again. If you like thin the sauce out with some pasta water.