Wie ihr vielleicht aus den vergangenen Jahren bemerkt habt trinke ich sehr gerne Cocktails! Dieses Jahr hab ich das Gefühl der Trend geht zum Bourbon und Gin hin (oder bleibt da) und für mich ist der Cocktail des Jahres der Julep! Julep ist ja nicht gleich Julep. Und es soll doch schon was besonderes sein und deshalb habe ich einen Ananas-Julep mit Minzzucker kreiiert! So köstlich!
Ananas ist für mich sowieso der perfekte Saft für Cocktails und Minze ein tolles Kraut, das auf meinem Balkon wächst wie Unkraut. Nur Bourbon war mir bisher fremd. Aber ausprobieren wollte ich ihn schon immer mal. Allein das Wort Bourbon gefällt mir schon ;). 
Kennt ihr überhaupt den Julep? Ein Julep ist wie ein Mojito nur mit Bourbon Whiskey anstatt mit Rum ;). Minze, Zucker, Bourbon Whiskey und Eis. Eventuell noch etwas Mineralwasser. Aber das finde ich dann doch etwas fade. Da fehlt ein wenig Pfiff. Und deshalb gibt es hier die aufgefrischte Version mit Ananassaft und leckerem Minzzucker.
Und wenn der Sommer schon nicht mehr zu uns kommen will, dann bring ich ihn eben in Gläsern zu Euch!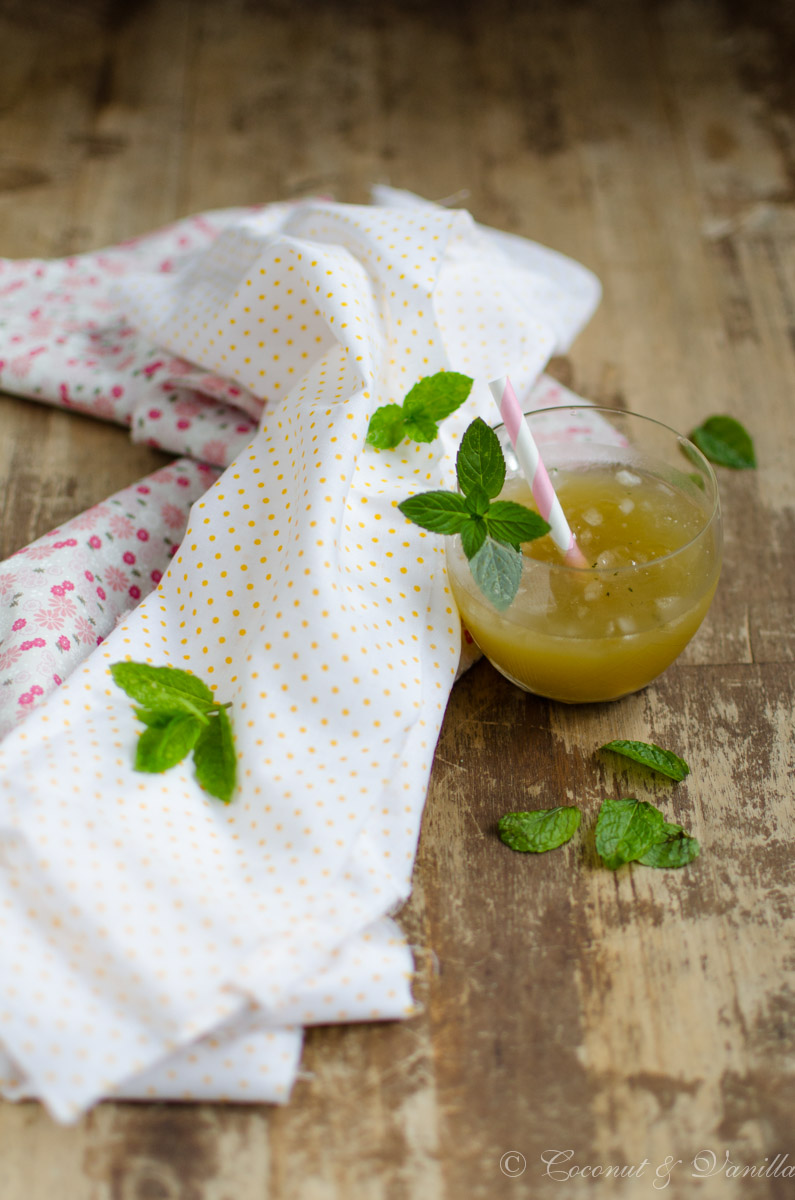 Vor einem Jahr: Pizza mit Nektarinen, Mozzarella und Balsamicocreme
Vor zwei Jahren: Salade niçoise
Vor drei Jahren: lila Milchreis
Vor vier Jahren: Couscous-Avocado-Salat
Ananas-Julep mit Minzzucker
Zutaten:
1 TL Minzzucker (Rezept siehe unten)
4 cl Bourbon Whiskey (ich habe Bulleit Bourbon verwendet)
6 cl Ananassaft
4 EL crushed ice
Mineralwasser nach Geschmack
Den Minzzucker in ein Glas geben und mit Whiskey und Ananassaft auffüllen. Umrühren bis sich der Zucker aufgelöst hat. Das Eis dazugeben und genießen!
Wer mag kann noch einen Schluck Mineralwasser zum Verdünnen und für etwas Spritz dazugeben.
Minzzucker
1 Bund frische Minze
75 g Zucker
Die Minze waschen und trocken schleudern. Die Blätter von den Stengeln zupfen.
In einem Blitzhacker oder Food Processor  die Minzblätter mit dem Zucker zerkleinern, bis die Minze sehr klein ist und sich ein homogener grüner Minzzucker ergibt.
Diser Post ist durch Unterstützung von Alexander & James entstanden, die mir den Bourbon zum Kosten zur Verfügung gestellt haben. Vielen Dank dafür!
As you might noticed before I like cocktails. In my opinion this years trend is bourbon and gin and for me the cocktail of the year is the julep! A julep isn't a just a julep. It should be something extraordinary, too, so I created this pineapple julep with mint sugar! So delicious!
I think pineapple is just the perfect juice for cocktails and mint is such a great herb, which is growing like weed on my balcony. Only the bourbon was unfamiliar for me. But I always wanted to try it, I already like the word itself ;).
Do you know the julep, anyway? A julep is like a mojito, but with bourbon instead of rum ;). Mint, sugar, bourbon and ice, maybe some soda. But that's a bit boring for me. The zing is missing. And so I created this freshed up version with pineapple juice and mint sugar.
 So if the summer isn't coming to us, I'll bring the summer to you!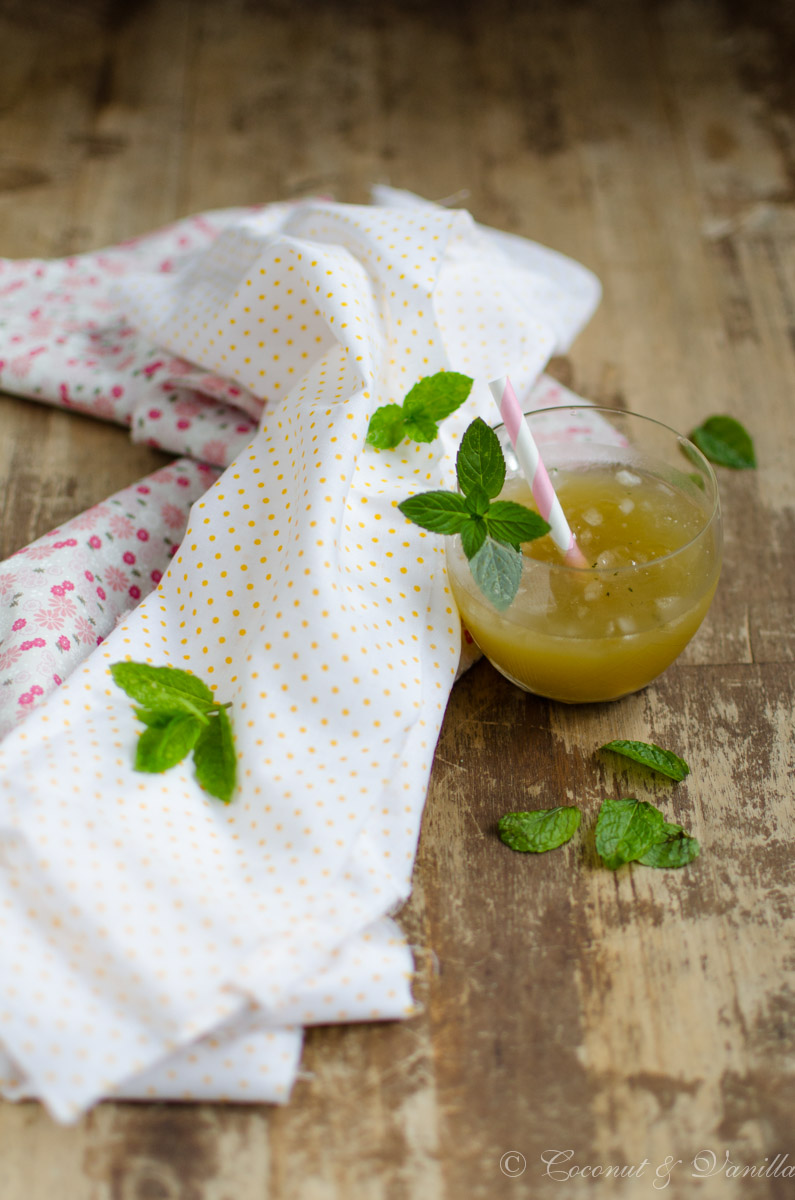 One year ago: pizza with nectarines, mozzarella & reduced balsamico
Two years ago: salade niçoise
Three years ago: purple rice pudding
Four years ago: couscous avocado salad
Pineapple Julep with Mint Sugar
Ingredients:
1 tsp mint sugar (recipe below)
4 cl bourbon whiskey
6 cl pineapple juice
4 Tbsp crushed ice
soda, to your taste
Add the mint sugar to a tumbler, add whiskey and pineapple juice. Stir until the sugar has dissolved. Add the crushed ice and enjoy!
If you want add a splash of soda water to thin the julep down and add a bit of spritz.
Mint Sugar

1 bunch fresh mint
75 g sugar
Rinse the mint and spin it dry. Pluck the leaves from the stems.
Using a food processor to grind the sugar with the mint leaves, until the mint is chopped very very small and you have a green uniform mint sugar.