Unser Feld gibt uns weiterhin reichlich Gemüse. Vor allem Mangold und grüne Bohnen sind bisher der Renner gewesen, aber seit kurzem gibt es natürlich auch wieder reichlich Zucchini! Die ersten gelben Tomaten durfte ich die Tage auch ernten!
Mangold ist eigentlich ein sehr vielseitiges Gemüse und lässt sich zu vielen tollen Gerichten verarbeiten! Zwei Gerichte habe ich Euch bereits vorgestellt, da aber Mangold immer weiter wächst und weiter geerntet werden kann, sofern man fleißig von außen nach innen erntet bzw. immer die größten und dicksten Stängel erntet, ist immer reichlich Mangoldgemüse da.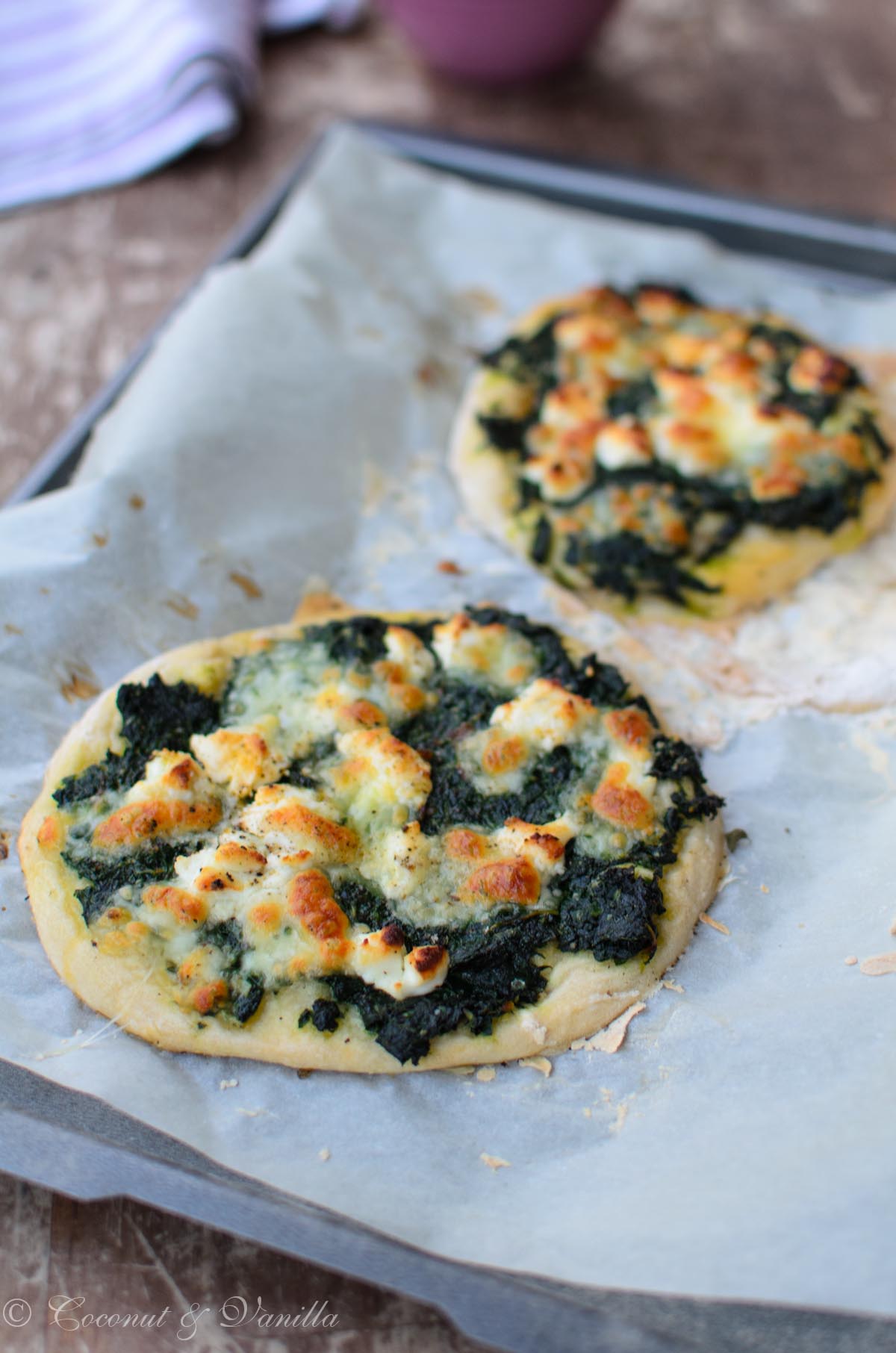 Vor einem Jahr: Orangen-Honig-Dressing
Vor zwei Jahren: Erdbeertörtchen mit Joghurt-Limetten-Mousse
Vor drei Jahren: Pfirsich Tartelettes
Pizza Bianca mit Mangold und Ziegenkäse
nach einem Rezept von Love and Olive Oil
ergibt: 4 kleine Pizzen
Zutaten:
250 g Weizenmehl Type 550
150 – 175 ml Wasser, lauwarm
1/2 TL Meersalz
1 Prise brauner Zucker
1 TL Trockenhefe
300 g Mangoldblätter (die Rippen für etwas anderes verwenden, im Zweifelsfall geschnitten einfrieren)
2 EL Olivenöl
1 Knoblauchzehe, geschält und fein gehackt
Meersalz, Pfeffer
Butter zum Einfetten der Bleche
125 g Mozzarella, gewürfelt oder die kleinen Kugeln verwenden
60 g fester Ziegenfrischkäse
optional: etwas Chiliöl
Salz, Zucker und Hefe in 150 ml lauwarmen Wasser auflösen, zum Mehl geben und verkneten. Nach Bedarf etwas mehr Wasser zugeben. Der Teig sollte glatt sein und nicht an der Schüssel kleben. Mit Folie abdecken (oder mit diesen genialen wiederverwendbaren Hauben, oder mit einem leicht angefeuchteten Küchentuch) und 1 Stunde gehen lassen.
In der Zwischenzeit die Mangoldblätter waschen und grob zerschneiden, wenn sie sehr groß sind. In kochendem Salzwasser 2 Minuten blanchieren, abschrecken und abtropfen lassen. Mit den Händen die restliche Feuchtigkeit ausdrücken. Den Mangold hacken.
Olivenöl in einer Pfanne erhitzen und den Knoblauch hineingeben. Kurz anschwitzen, dann den Mangold dazugeben und 1-2 Minuten anbraten. Mit Salz und Pfeffer würzen.
Dem Ofen auf 220° C vorheizen. 2 Backblecke mit Butter einfetten.
Den Teig in 4 Teile teilen und dünn ausrollen. Jeweils 2 Fladen auf ein Blech legen.
Das Mangoldgemüse auf den Pizzen verteilen. Kleine Mozzarellakugeln in zwei Hälften reißen (oder gewürfelten verwenden) und auf dem Gemüse verteilen. Den Ziegenkäse mit den Händen in Stücke rupfen und ebenfalls verteilen.
Wer hat und mag kann die Pizzen noch mit etwas Chiliöl beträufeln.
Den Ofen runterdrehen auf 200° C (Umluft) und die Pizzen ca. 15 Minuten backen. Für 2 Personen backe ich die Bleche hintereinander, da man ja eh nicht mehr als eine Pizza zur gleichen Zeit essen kann ;). Bei einem Umluftherd ist es aber auch möglich beide Bleche gleichzeitig zu backen, eventuell muss ein Blech 2 Minuten länger drin bleiben.
Our field produces a lot of veggies these days. Especially Swiss chard and green beans are big hits and since recently we also have a lot of zucchini, of course! A few days ago I was also able to harvest the first yellow tomatoes!
Swiss chard ist very versatile and can be turned in a lot of great dishes! I already introduced you to two dishes including Swiss chard, but as our Swiss chard keeps constantly growing, if you go on harvesting from the outer to the inner or harvest the larger and thickest ribs, you always have Swiss chard in abundance.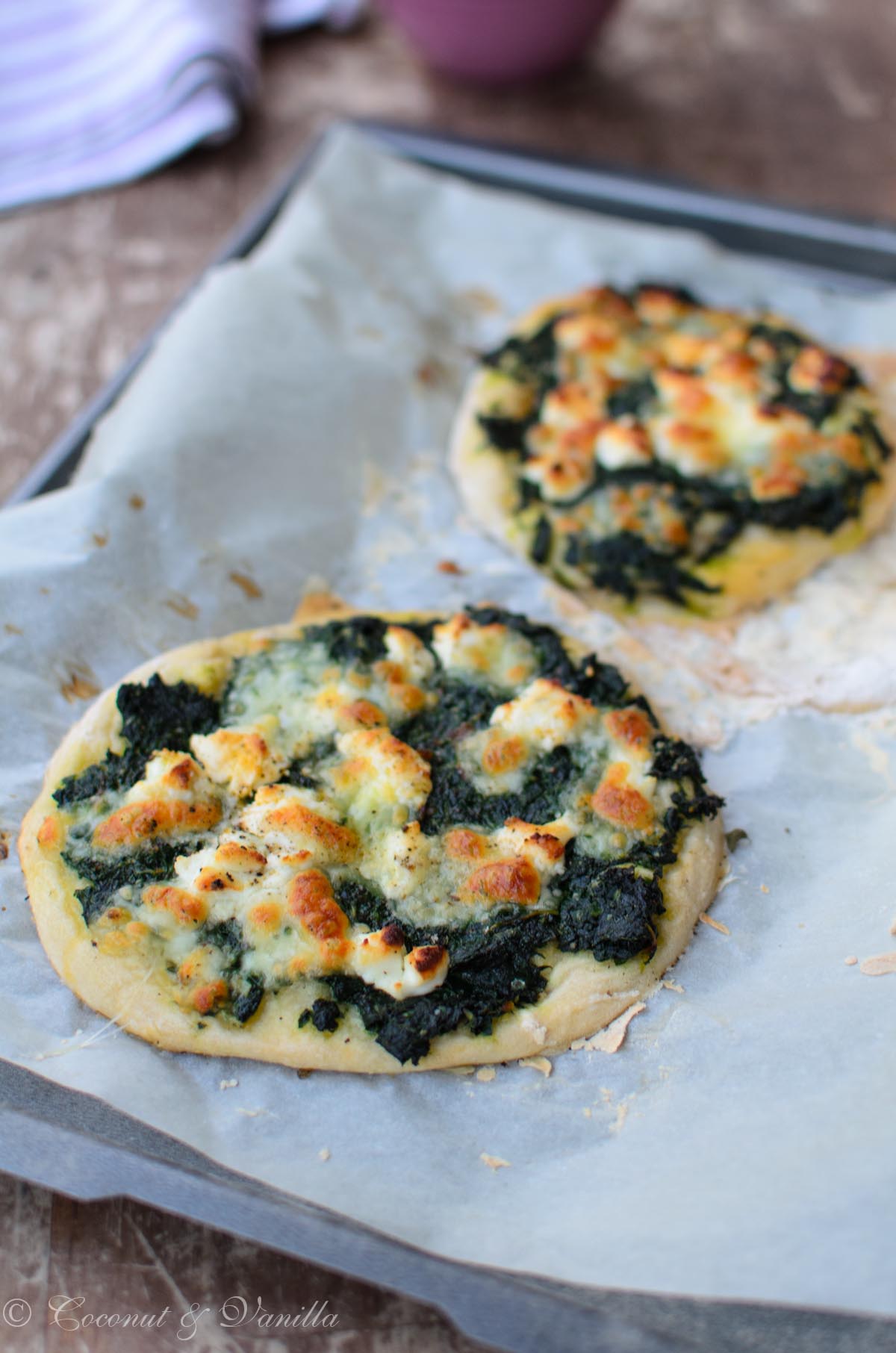 One year ago: orange honey dressing
Two years ago: strawberry tartlets with yogurt lime mousse
Three years ago: peach tartelettes
Pizza Bianca with Swiss Chard and Goats Cheese
adapted from love and olive oil
yields: 4 small pizzas
Ingredients:
250 g wheat flour (type 550)
150 – 175 ml water, lukewarm
1/2 tsp sea salt
1 pinch of brown sugar
1 tsp dry yeast
300 g Swiss chard leaves (use the ribs for something else, you can also freeze them chopped)
2 Tbsp olive oil
1 garlic clove, peeled and finely chopped
sea salt, pepper
butter for the the baking sheets
125 g mozzarella, diced or use the small balls
60 g fresh goats cheese
optional: some chili oil
Dissolve salt, sugar and yeast in 150 ml lukewarm water, add to the flour and knead until you have a smooth dough that doesn't stick to the bowl anymore. Eventually add some more water. Cover with foil and proof for 1 hour.
In the meantime rinse the Swiss chard leaves and cut them coarsely, if they are very large. Cook in boiling salted water for 2 minutes, drain and rinse under cold water. Squeeze the leaves dry with your hands and chop the chard.
Heat the olive oil in a skillet and add the garlic. Sauté for 30 seconds, then add the Swiss chard and sauté for another 1-2 minutes. Season with salt and pepper.
Preheat the oven to 220° C. Butter to baking sheets.
Divide the dough into 4 pieces and roll out thinly. Place 2 pieces on every sheet.
Distribute the chard amongst the pizzas. Rip the small mozzarella balls apart (or use the diced mozzarella) and scatter over the chard. Pluck the goats cheese into pieces and scatter, too.
Sprinkle with some chili oil, if you like.
Turn the oven down to 200° C (convection) and bake the pizzas for about 15 minutes. For 2 persons I bake the sheets one after the other, as you can't eat more than one at the same time ;). With a convection oven it's possible to bake both sheets at a time, but one sheet may be kept 2 minutes longer in the oven to brown evenly.