Ich liebe, liebe, liebe, liebe dieses Eis mit kräftiger Erdnussnote und knackigen Schokostücken! Und ich liebe das Buch aus dem das Rezept ist, nämlich Das beste Eis der Welt von Jeni Britton Bauer.
Ich habe es Euch schon Ende letzten Jahres ans Herz gelegt und jetzt, am Höhepunkt der Eissaison möchte ich es Euch nochmal dringendst empfehlen!
Für meine ausführliche Rezension schaut doch mal bei Steph im Kuriositätenladen vorbei, da bin ich ich nämlich heute Gastbloggerin!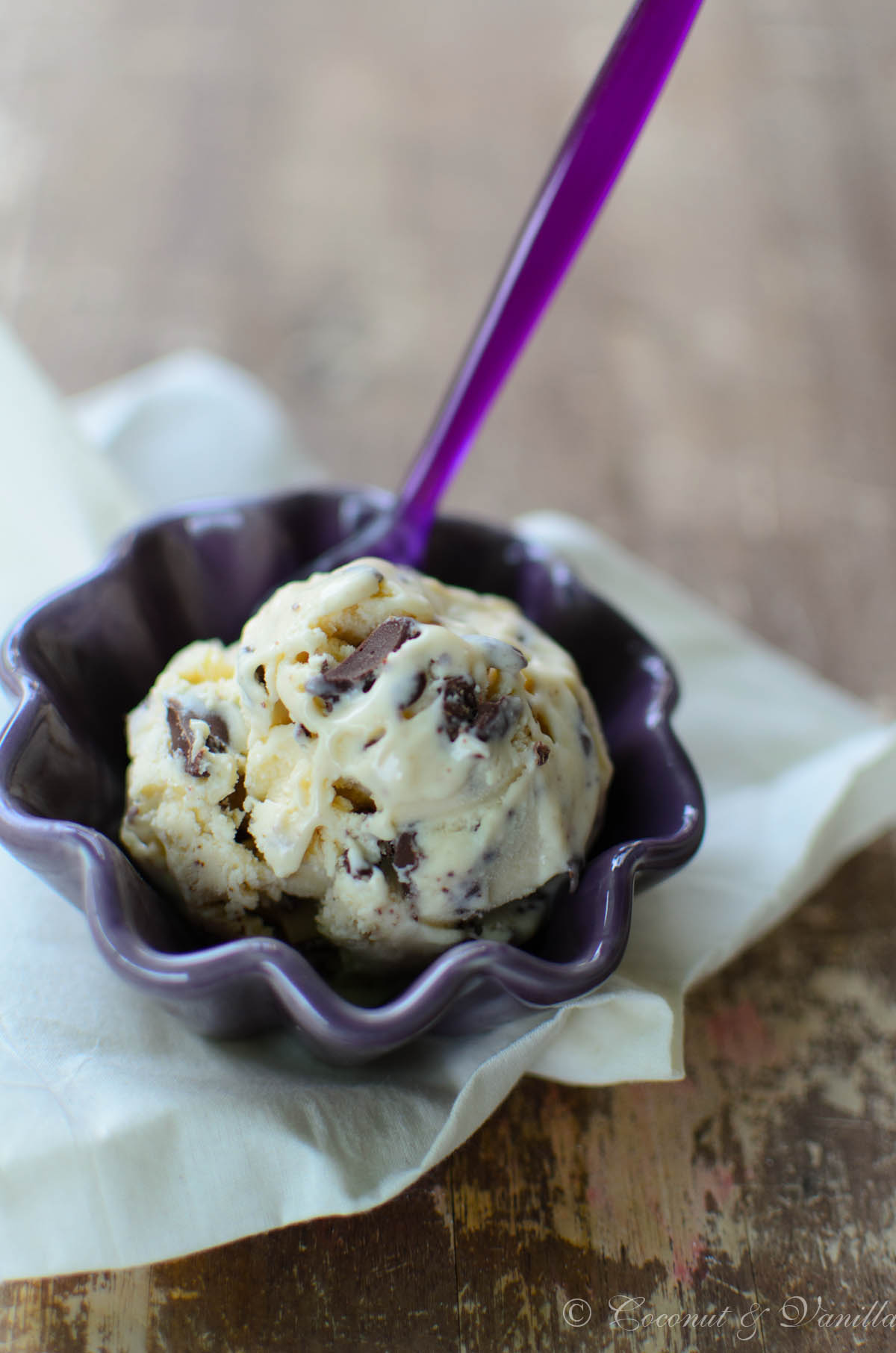 Vor einem Jahr: Eiskaffeeeis
Vor zwei Jahren: Heidelbeer-Zitronen-Tarte
Vor drei Jahren: Meloneneis
Erdnussbuttereis mit Schokostückchen
aus Das beste Eis der Welt von Jeni Britton Bauer
Zutaten:
450 ml Vollmilch
2 EL Speisestärke
40 g Frischkäse (alternativ habe ich auch schon Quark – mind. 40% Fett! – oder Crème fraîche verwendet)
180 g cremige Erdnussbutter (am besten ohne Salz, ansonsten das zusätzliche Salz weglassen)
1 gute Prise Meersalz
300 g Sahne
150 g Zucker
2 EL Glukosesirup
2 EL Honig
110 g Bitterschokolade (mind. 55 % Kakaogehalt), gehackt
In einer kleinen Schüssel etwas Milch mit der Speisestärke glatt rühren.
In einer großen Schüssel den Frischkäse mit der Erdnussbutter und dem Salz verrühren.
Die restliche Milch, Sahne, Zucker, Glukosesirup und Honig in einem mittelgroßen Topf aufkochen und 4 Minuten sprudeln kochen lassen. Vom Herd nehmen und die Stärkemischung einrühren. Wieder aufkochen und etwa 1 Minute kochen lassen, die Masse dickt etwas ein.
Die Milch-Sahne-Mischung nach und nach zur Erdnussbutter geben und glatt rühren.
Die Eismasse im Kühlschrank erkalten lassen. Anschließend in der Eismaschine nach den Herstellerangaben gefrieren lassen. In der Zwischenzeit die Schokolade über dem Wasserbad schmelzen, dann abkühlen lassen. Die Schokolade sollte natürlich trotzdem noch flüssig sein ;). Wenn das Eis fast fertig ist, sprich schon recht fest ist, die Schokolade in einem dünnen Strahl einträufeln. Die Schokolade wird im Eis fest und zerbricht in unterschiedlich große Stücke.
Das Eis in eine Box füllen, fest verschließen und im Gefrierschrank aufbewahren. 5 Minuten vor dem Verzehr aus dem Eisfach nehmen.
I love love love this ice cream with peanutbutter and crunchy chocolate chips! And I love the book from which the recipe is, which is Jeni's Splendid Ice Cream at Home by Jeni Britton Bauer.
I already recommended you this book last year and now at the peak of ice cream season I'm recommending it again strongly!
For a more detailed review of the book hop over to the Kuriositätenladen, where I'm guest blogging today!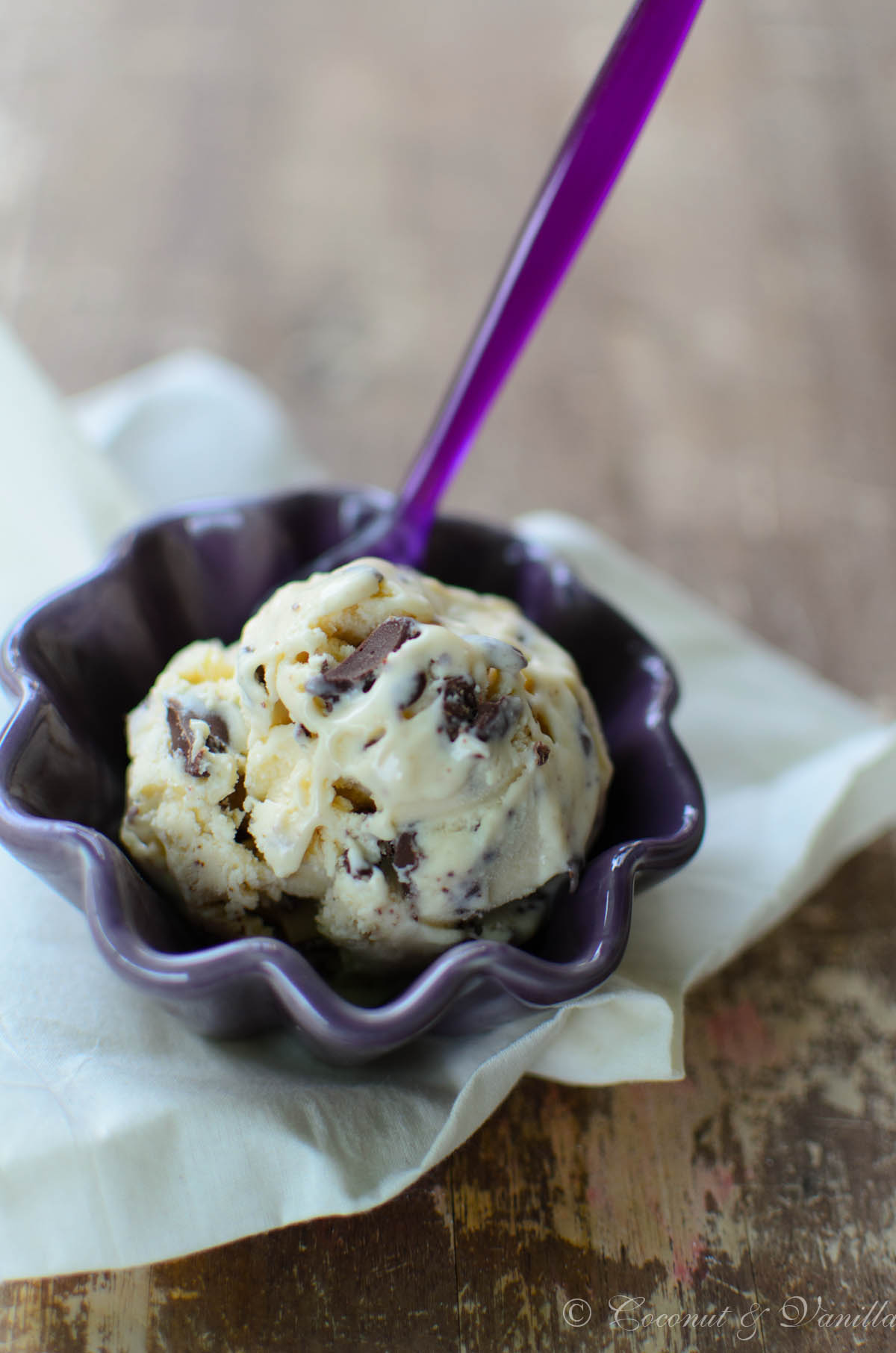 One year ago: iced coffee ice cream
Two years ago: blueberry lemon tart
Three years ago: melon ice cream
Honeyed Peanut Ice Cream with dark Chocolate Chips
from Jeni's Splendid Ice Cream at Home by Jeni Britton Bauer
Ingredients:
450 ml whole milk
2 Tbsp corn starch
40 g cream cheese
180 g creamy peanut butter (without salt, otherwise omit the additionally salt)
1 pinch of sea salt
300 g whipping cream
150 g sugar
2 Tbsp glucose syrup (or corn syrup)
2 Tbsp honey
110 g dark chocolate (at least 55 % cocoa), chopped
In a small bowl mix together a few Tbsp milk and the starch.
In a large bowl stir together the cream cheese with the peanut butter and salt.
In a medium sized saucepan add the rest of the milk, cream, sugar, glucose syrup and honey and bring it to the boil. Let it cook for 4 minutes. Remove from the heat and stir in the starch mixure. Bring again to the boil and cook for another minute, until the mixure thickens.
Slowly pour the milk mixure into the large bowl with the peanut butter and stir until smooth.
Let the mixture cool down in the fridge.
Freeze the ice cream mixure in your ice cream machine according to the manufacturer's instructions. In the meantime melt the chocolate in a waterbath, let cool (the chocolate should still be molten, of course). If the ice cream is already done, add the chocolate in a thin stream. The chocolate hardens in the cold ice cream and breaks into different sized pieces.
Fill the ice cream in a box and keep in the freezer. Remove 5 minutes before you want to eat it.