Ich mag keinen Kaffee. Ich trinke nie Kaffee. Eine Ausnahme: Eiskaffee. Und dann ist es auch noch dieses Pulver aus der Dose! Aber mir schmeckt es und irgendein Fertigproduktlaster muss schließlich auch ich haben. Wahrscheinlich schmeckt es mir deshalb so gut, weil es mit Kaffee besonders wenig gemein hat.
Vor kurzem durfte bei uns dieses Schätzchen einziehen. Endlich eine Eismaschine mit Kompressor, nachdem mir der Einsatz für die Küchenmaschine den letzten Nerv raubte, da darin keine Eismasse zu Eis wurde, sondern im flüssigen Aggregatzustand verblieb. Bisher sind wir sehr zufrieden und ich würde das gute Stück keinesfalls wieder hergeben.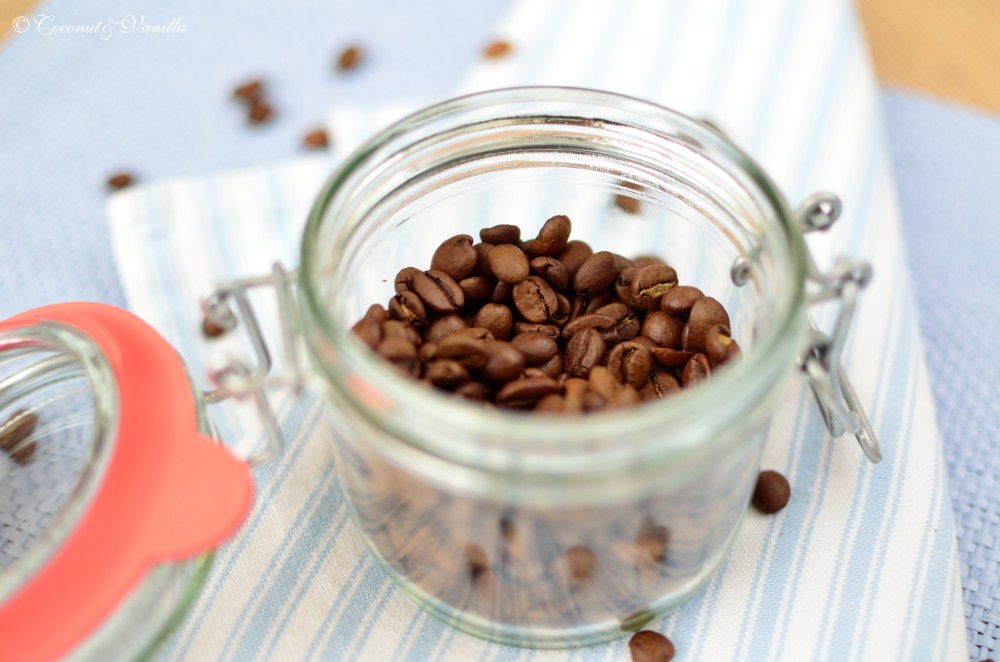 Zu der Eismaschine zog gleichzeitig auch ein neues Eisbuch ein: Das beste Eis der Welt von Jeni Britton Bauer. Ein vielversprechender Titel. Schon beim Durchblättern in der Buchhandlung lief mir das Wasser im Munde zusammen. Die Sorten waren außergewöhnlich, klangen aber durchweg lecker und machbar. Die Eiscreme in diesem Buch kommen ganz ohne Eier aus und wird stattdessen mit einem Klacks Frischkäse und Glukosesirup zubereitet. Der Glukosesirup sorgt dafür, dass der Zucker nicht auskristallisiert und das Eis schön cremig bleibt. Ich hatte glücklicherweise mal Glukosesirup aus Schottland mitgebracht und nun konnte ich ihn endlich nutzen. Hier in Deutschland wird man wohl nur über's Internet fündig. Wofür hingegen der Frischkäse gut ist, ist mir nicht klar, vor allem da nur 40 g verwendet werden.
Die Maschine zog ein, das Buch mit und ein Eis musste her. Ich hatte Lust auf Eiskaffee und Eis, also Eiskaffeeeis! In Jeni's Buch gibt es ein Rezept für Kaffeeeis. Da das Rezept aber vorsieht, dass man den Kaffee nur in der Sahne ziehen lässt und nicht der gebrühte Kaffee in das Eis wandert, sah ich schon die Assoziationen zu Eiskaffee. Nach dem Probieren der fertigen Eiscreme war klar: das schmeckt wie zu Eiscreme gewordener Eiskaffee! Deshalb habe ich das Eis auch umbenannt, da es den Nagel auf den Kopf trifft.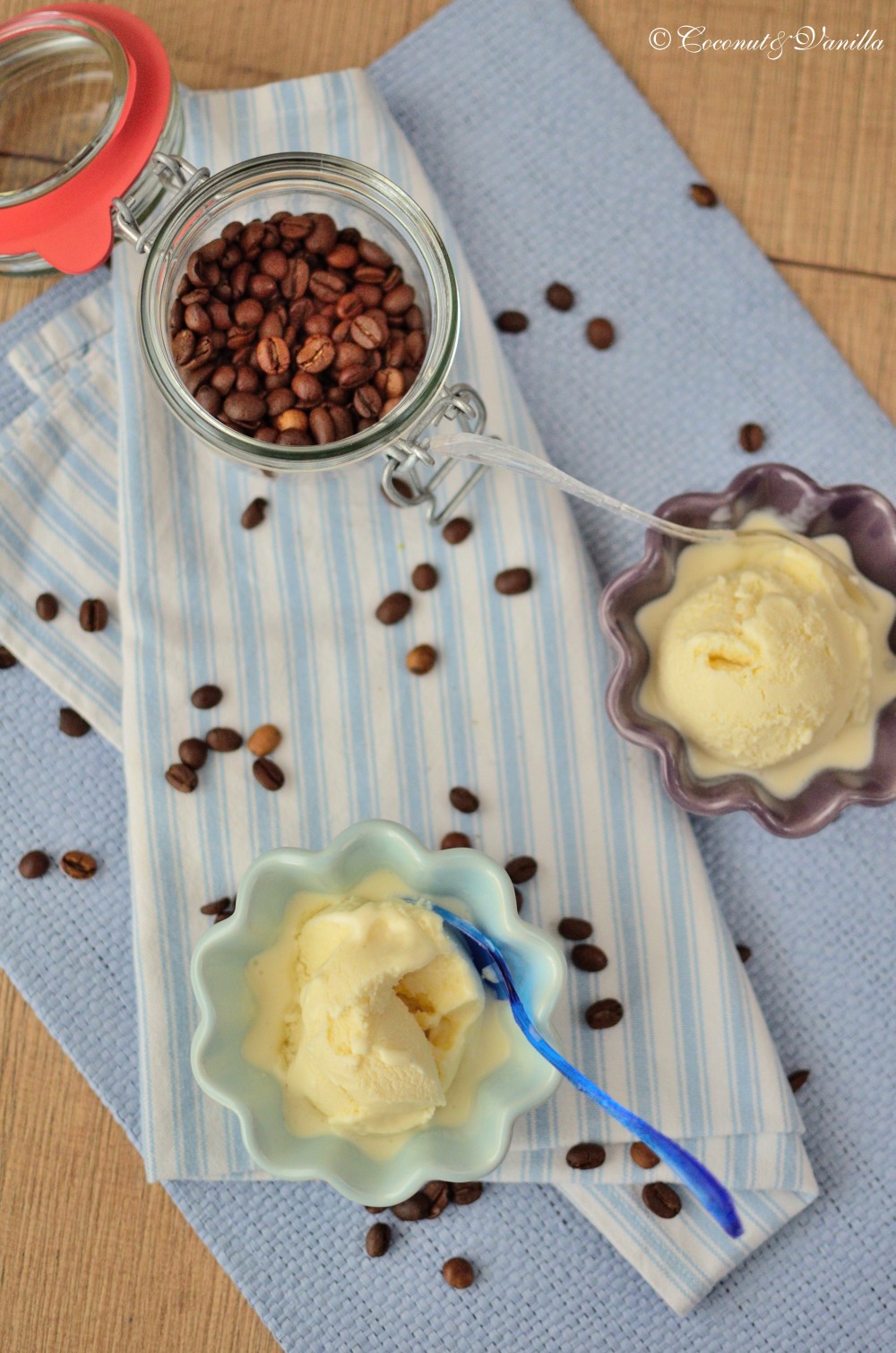 Wenn ihr sehen wollt, was für eine Flut von köstlichen Rezepten sich in diesem Buch noch verbirgt, schaut doch mal beim Rezepte-Index vorbei.
Der Rezepte-Index ist eine neue Datenbank, in der eine Hand voll Foodblogger – darunter ich – angefangen haben Kochbücher mit ihren Rezepten zu katalogisieren.
Warum? Wenn man viele Kochbücher besitzt, erinnert man sich manchmal nicht mehr richtig, wo dieses oder jenes Rezept stand oder erinnert sich nur noch bruchstückhaft an den Titel. Damit ist jetzt Schluss, der Rezepte-Index verschafft Abhilfe! Auch eine Suche nach Schlagwörtern und Zutaten ist in Planung und erleichtert bald die Suche nach allen Rezepten mit Rote Bete zum Beispiel. Tina und Thomas haben die Seite ins Leben gerufen und sind die schlauen Köpfe dahinter. Wir und hoffentlich auch bald du liefern den Input! Wir freuen uns auf deinen Besuch!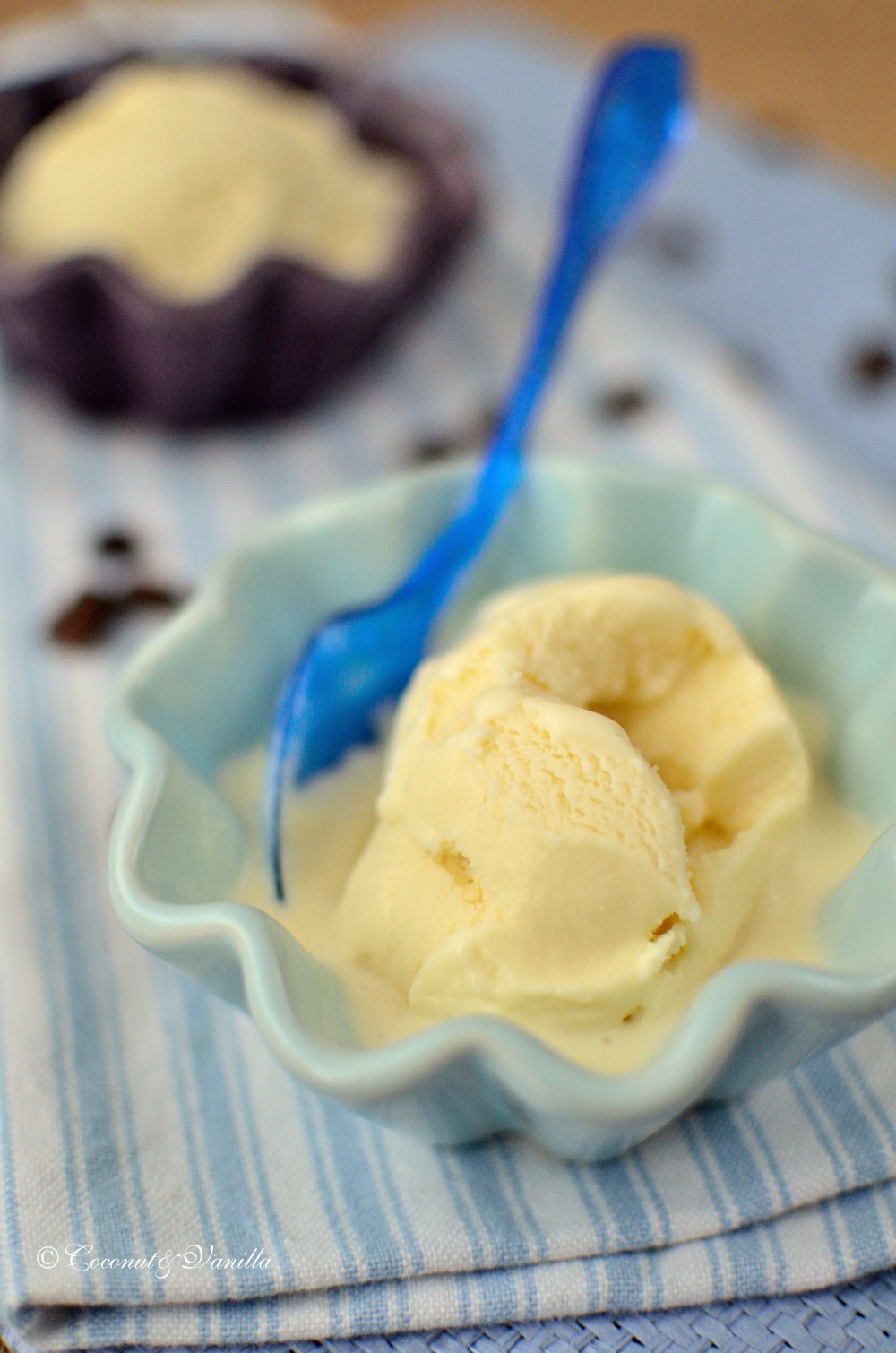 Vor einem Jahr: Heidelbeer-Zitronen-Tarte
Vor zwei Jahren: Erdbeer-Melonen-Süppchen
Eiskaffeeeis
angepasst aus Das beste Eis der Welt von Jeni Britton Bauer
ergibt: etwa 1,1 l
Zutaten:
580 ml Vollmilch

1 EL + 2 TL Speisestärke

40 g Frischkäse (ich hab Sahnequark genommen)

1/8 TL feines Meersalz

350 g Sahne

150 g Zucker

3 EL Glukosesirup

25 g geröstete Kaffeebohnen, grob gemahlen oder 6 gehäufte TL fein gemahlenes Kaffeepulver (ich hab fein gemahlenes Kaffeepulver verwendet, da ich nur das hatte)
In einer kleinen Schüssel 5 EL der Milch mit der Speisestärke verrühren.
In einer kleinen Schüssel den Frischkäse mit dem Salz verrühren.
In einer großen Schüssel ein Eisbad vorbereiten (kaltes Wasser + Eiswürfel).
Die restliche Sahne, mit Sahne, Zucker und Glukosesirup in einem Topf bei mittlerer Hitze aufkochen. Vom Herd nehmen und den Kaffee dazugeben. Es empfiehlt sich den Kaffee in einen Teebeutel zu tun, so lässt er sich nachher leicht entfernen. 5 Minuten ziehen lassen. Hat man keinen Teebeutel verwendet, muss man die Kaffeemilch durch ein mit einem dünnen Tuch ausgelegtes Sieb schütten.
Die Stärkemischung einrühren und nochmal aufkochen. Mit einem Spatel etwa 1 Minute rühren bis die Mischung andickt.
Den Frischkäse unterrühren.
Die Eiscremebasis in einen großen Gefrierbeutel – Ziplock oder normal, Hauptsache er ist dicht verschlossen – füllen, verschießen und ins Eisbad legen. Für 30 Minuten abkühlen lassen. Ich hab dazwischen das Wasser gewechselt und Eis nachgefüllt.
Die Basis in die Eismaschine füllen und Eis machen!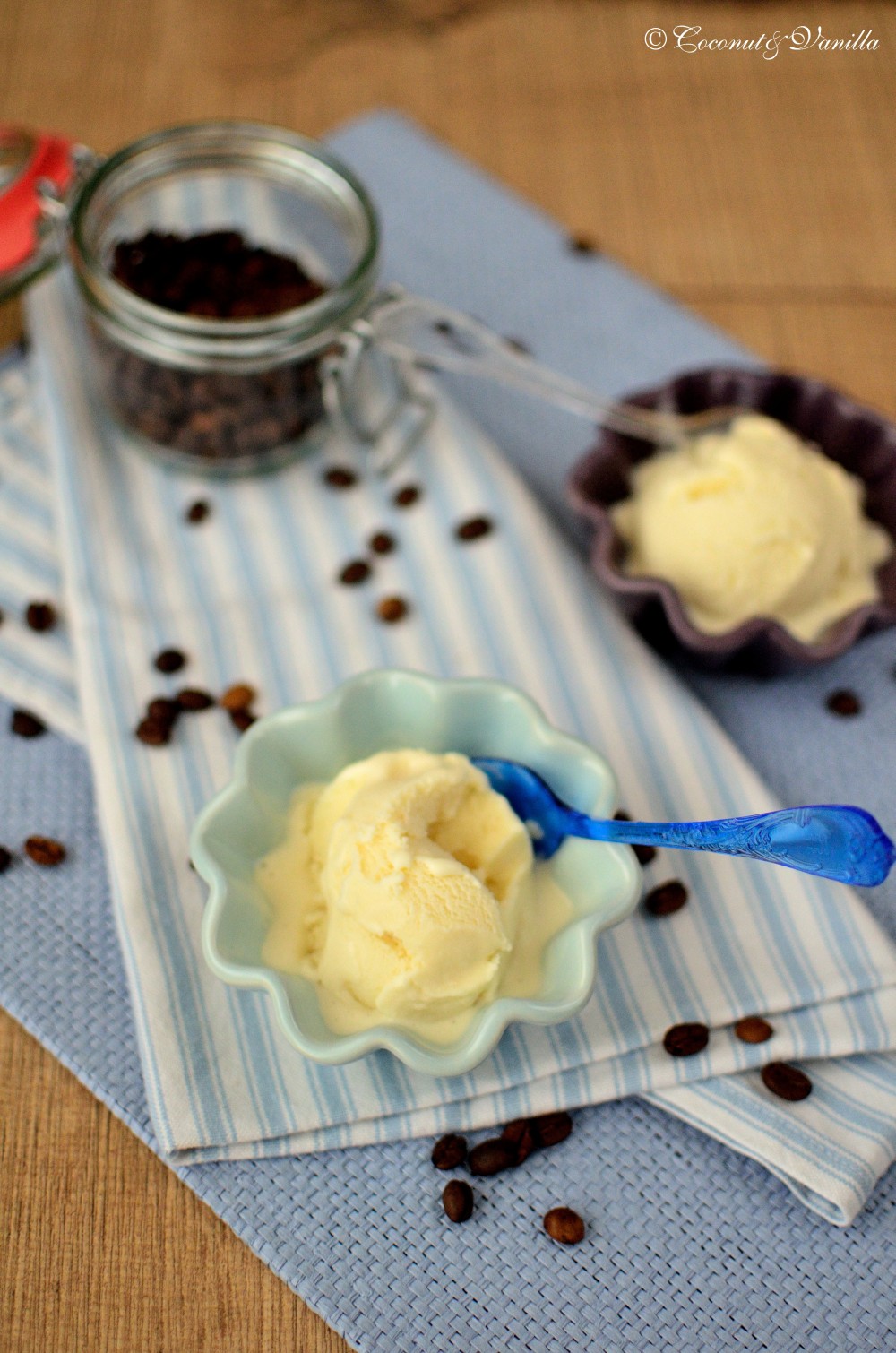 I don't like coffee. I don't drink any coffee. But there is one exception: Iced coffee. That powdered stuff from a can. But I like it and everyone has to have a guilty pleasure in a convenience product. Iced coffee is mine. Probably I like it so much, because it doesn't has much in common with real coffee.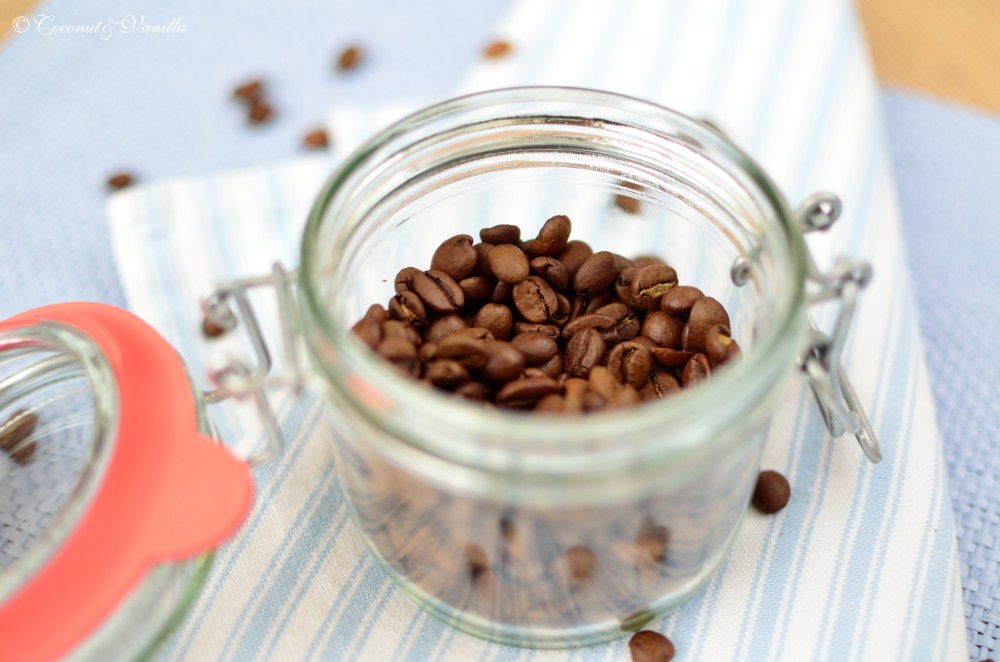 Recently a ice cream maker with compressor  moved in. Finally! After the attachment for the Kitchenaid nearly drove me nuts, because the ice cream didn't wanted to become ice cream. In any case. So far we are happy with our new machine and I wouldn't give it back.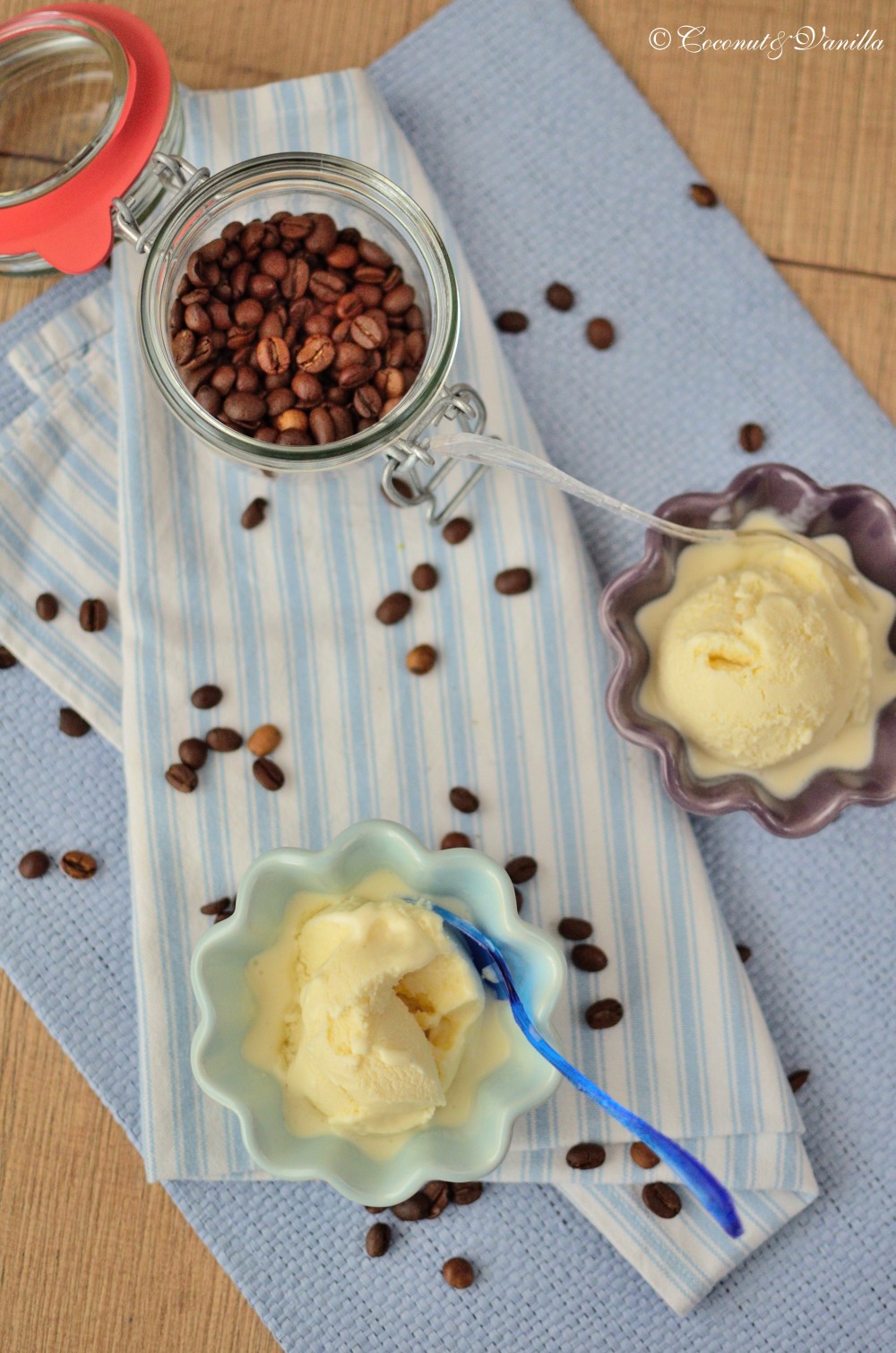 With the ice cream maker we also purchased a new book on ice creams, of course: Jeni's Splendid Ice Cream at Home by Jeni Britton Bauer (which is now available in German). A promising title. Already by flipping through the book in the book store, my mouth watered. The varieties were extraordinary, but sounded delicious and doable. Jeni uses no eggs in her ice creams, but a dollop of cream cheese and glucose syrup instead. The glucose syrup provides a creamy ice cream and makes sure the sugar doesn't crystallize. For what reason she uses the cream cheese questions me, since she only uses 40 g of that.
The machine moved in, the book too and so a ice cream had to be made! I was in the mood for iced coffee und ice cream, so iced coffee ice cream was born! And in Jeni's book there is a recipe for coffee ice cream. But the recipe suggests only to infuse the cream with some coffee beans, which were removed later and not to add any freshly brewed coffee. I associated it immediately with iced coffee. After the first spoon of the freshly churned ice cream, I was convinced of it's exceptional iced coffee taste. So I gave it another name.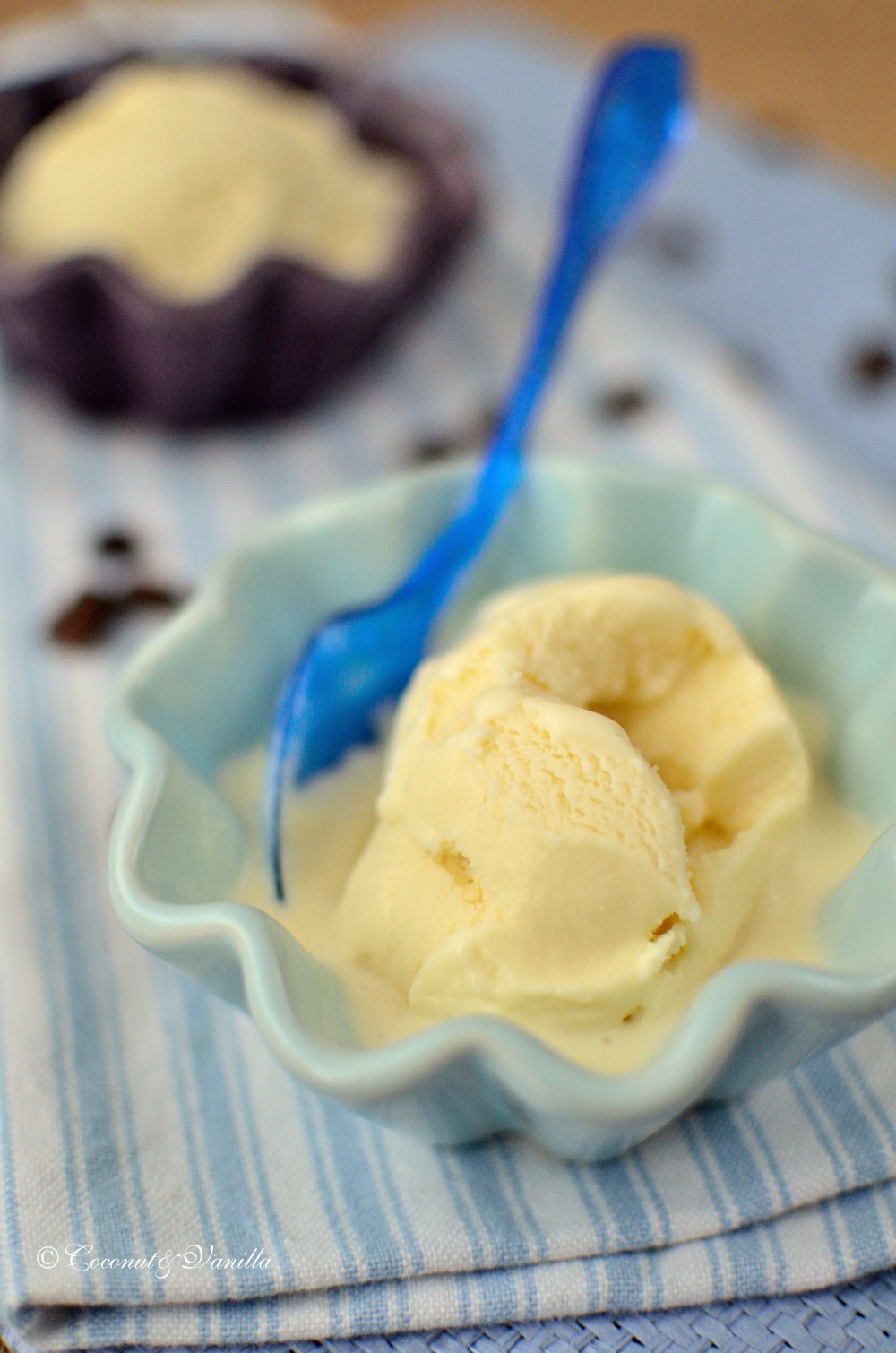 One year ago: Blueberry-Lemon-Tart
Two years ago: Strawberry-Melon-Soup
Iced Coffee Ice Cream
adapted from Jeni's Splendid Ice Cream at Home by Jeni Britton Bauer
yields: about 1,1 l
Ingredients:
580 ml whole milk

1 Tbsp + 2 tsp corn starch

40 g cream cheese

1/8 tsp fine sea salt

350 g whipping cream

150 g sugar

3 Tbsp glucose syrup

25 g roasted coffee beans, coarsely ground (I used 6 heaped tsp finely ground coffee instead, because that's just what I had. Put it in a muslin/tea bag, sealed with kitchen yarn and use that for infusing the cream)
Mix 5 Tbsp of the milk with the corn starch in a small bowl.
Mix the cream cheese with the salt in another small bowl.
Prepare a large bowl with cold water and ice cubes.
Heat the milk with the cream, sugar and the glucose syrup in a pot on middle heat until it boils. Remove from the heat and add the coffee beans (ground finely or coarsely). In both ways it's better to put the coffee into a muslin/tea bag, so you don't have to run everything through a fine mesh strainer lined with muslin. Let the milk infuse for 5 minutes. Remove the coffee or give through a muslin lined mesh strainer. Press out the liquid.
Whisk in the corn starch mixture and bring to the boil again. Stir with a heatproof spatula for about 1 minute, until the mixture thickens. Remove from the heat.
Stir in the cream cheese.
Fill the ice cream mixture into a large freezer bag, ziplock or not, just make sure they are well sealed. Close and place in the ice bath. Let it cool down for 30 minutes. I changed the water in between and added new ice cubes.
Fill the mixture in your ice cream maker and make ice cream according to manufacturer's instructions of your machine.