Tuesday, 27th March 2012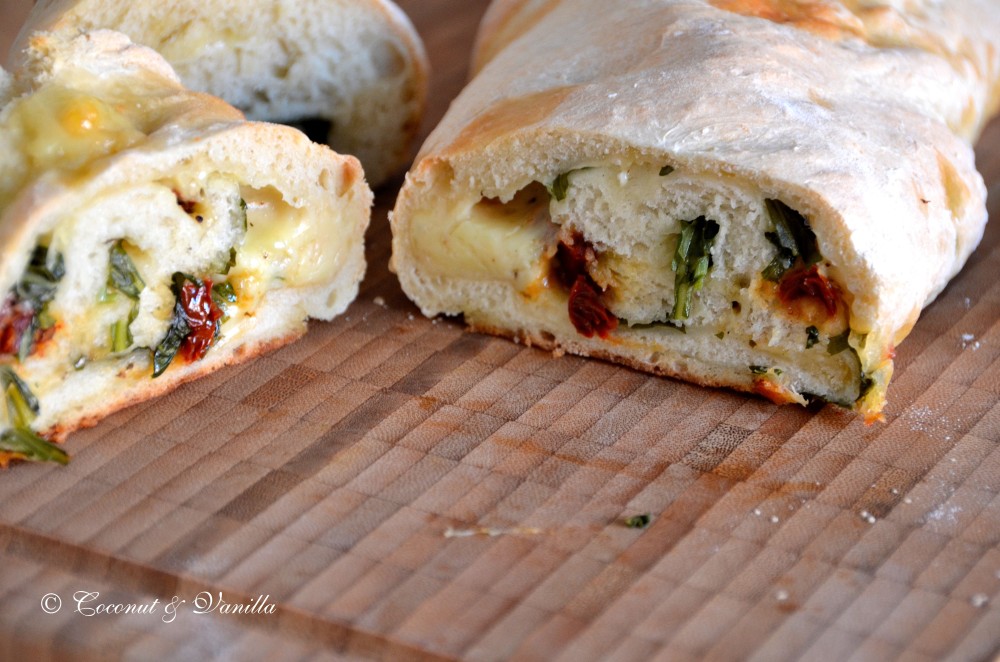 I promised to blog this recipe this week, yet, as the picture itself evoked already excitement on Facebook.
But it was awesome! The recipe is from Jamie Oliver. Of course I altered the recipe here and there. I served the bread as a side dish for the first barbecue this season. And actually it was quite the best food that evening ;).
The bread dough is delicious, although I didn't had high expectations, because of the short proof. It surprised us positively!
I made one long snail, which almost didn't fit on the baking sheet. So I recommend to halve the dough after rolling it out and to make two snails, which then will fit perfectly onto one baking sheet. And for two people half the recipe is totally enough (and I already halved the recipe; how many people does Jamie feed?!).
One year ago: Yeasted Meringue Coffee Cake
Two years ago: Chocolate Macarons with Raspberry Filling
Rolled Focaccia with Cheese, Arugula & Dried Tomatoes
adapted from Happy Days with the Naked Chef from Jamie Oliver
feeds 4
Ingredients:
For the dough:
500 g flour

330 ml lukewarm water

1 sachet instant dry yeast

1 Tbsp brown sugar

1 Tbsp fine sea salt
For the filling:
olive oil

150 g mountain cheese (or Gruyere, Fontina, sharp Cheddar), grated

50 g Parmesan, finely grated

1/2 bunch of arugula

6 dried tomatoes

salt

pepper
Mix flour, sugar and salt. Dissolve the yeast in the lukewarm water. Add the yeast-water to the flour gradually, while kneading in the stand mixer. Knead 3-5 minutes. The dough should be smooth and silky and not stick to the bowl in the end. Maybe it's necessary to add a bit more water.
Cover with plastic foil and let it rest for 30 minutes. The size of the dough should be doubled then.
Cut off the stems of the arugula and discard them, wash the leaves and cut them into pieces. Pat the oil off the tomatoes and cut them first into thin stripes, then into cubes.
Preheat the oven to 180° C.
On a generously floured surface roll out the dough into a rectangle about 30 x 50 cm. Cut it into two halves vertically. Splash some olive oil on the dough and use a brush for spreading. Spread the grated cheese, the arugula and the dried tomatoes. Leave a rim. Season with salt and pepper.
Roll the two pieces of dough up like a snail, beginning with the side pointing next to you.Seal it on the sides and the seams. The seams should show up. Transfer the focaccias to a baking sheet lined with parchment paper. Two will fit on one sheet.
Bake for 25 minutes, until it's lightly golden brown. Remove from the oven.
Let the focaccia bread rest for 25 minutes.
Cut into pieces and enjoy!