Thursday, 11th June 2015
Paneer is an indian cheese, which can be used in indian dishes instead of meat. I've never seen it for sale anywhere, but now it is so very easy to make it yourself!
The cheese is perfectly firm and doesn't fall apart whilst cooking. It's wonderful in indian dishes and when I'll find the perfect dish with paneer I'll definitely let you know!
Until then try familiar indian dishes and substitute the meat with paneer! I imagine that the paneer would also fit very good in indian almond chicken (without the chicken of course). But then I would't cook it as long, since the cheese doesn't need that much of a cooking time, of course.
It is helpful to have a cheese mould with holes, so the cheese can drain. Of course you could also use a mesh strainer, but the cheese will be very flat then. You could also use an old yogurt pot (500 g) and drill very small holes in the sides and the bottom.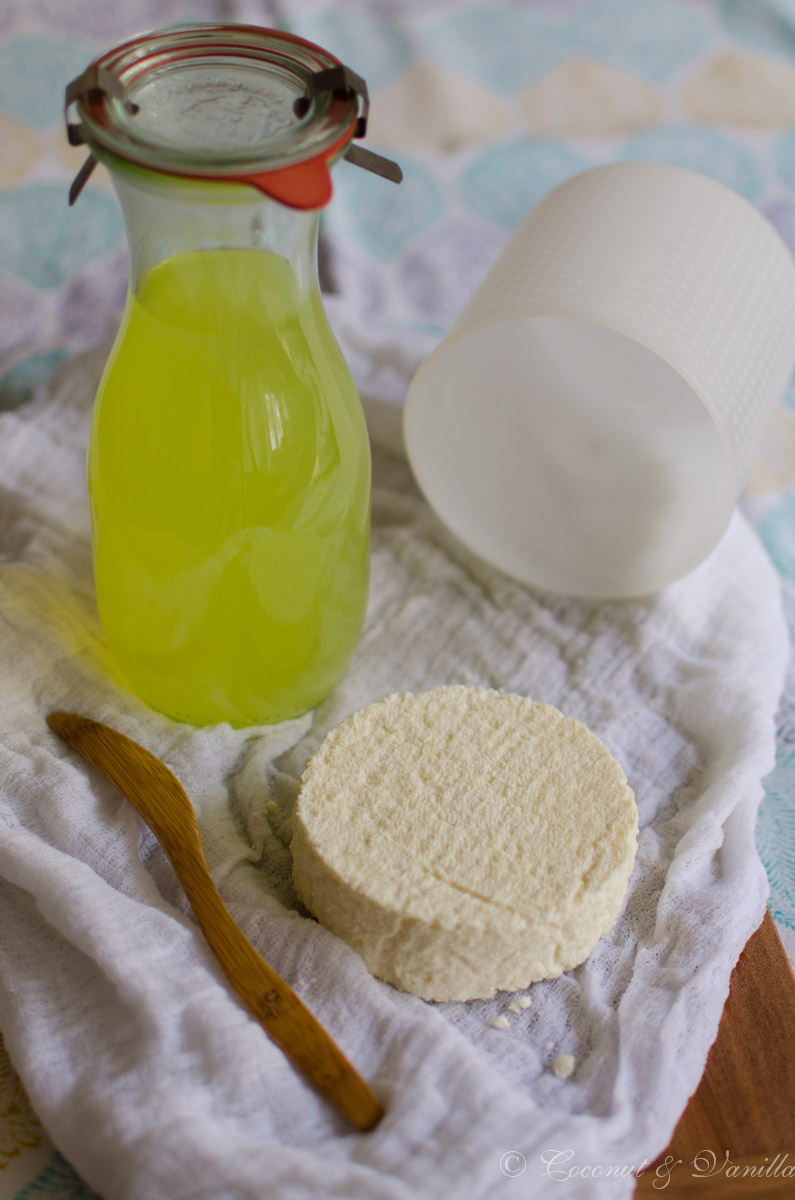 One year ago: pasta with asparagus and fresh goats cheese
Two years ago: beef stock
Three years ago: elderflower jelly
Four years ago: strawberry liquor, basil olive oil and elderflower vinegar
Five years ago: lemon rosemary cookies
Paneer
adapted from  Gutes Essen – Lebensmittel selber machen* by Bettina Snowdon and Martin Lagoda
yields: enough paneer for two persons
Ingredients:
2 l whole milk
2 tbsp lemon juice
Add the milk to a large saucepan and bring it to a boil. Stir in the lemon juice and let it simmer until the whey sets off. Whey is the yellow-greenish liquid.
Line a cheese mould (or a small strainer) with a wet cheese cloth and pour in the cheese curds. Close the cheese cloth and encumber it with something heavy (cans, pots i.e.). The surface should be even, since it is pressed into the cheese, which can look strange. Let it drain for several hours, the cheese mould should not stand in the whey.
The paneer is ready to use when its desired texture is reached. The cheese can then be cut and roasted or cooked. Delicious!
The paneer is at least best for 2-3 days in a container in the fridge.
* Amazon affiliate link (If you buy something after clicking on this link on amazon, I earn a small amount of money, which I reinvest in this blog. Thank you!)