Tuesday, 6th January 2015
Originally I wanted to post this between Christmas and New Years Eve. But the blog didn't want to. First there was an error and after installing wordpress new nothing worked anymore. As I'm anything than an expert in stuff like this it took a few days to get things to normal. Now the blog works again, although I'm having some troubles with some mixed up English and German versions (mostly because the plugin I use for this is no longer supported). But basically the blog works again and I can show you my latest recipes!
Today I'm starting with this delicious trout terrine in savoy cabbage, which I made for Christmas. Since a few years back I'm making fish terrine for Christmas and I don't want to break with this tradition anymore, since fish terrines are so delicious! And indeed they are not very elaborate and you can prepare them one day ahead!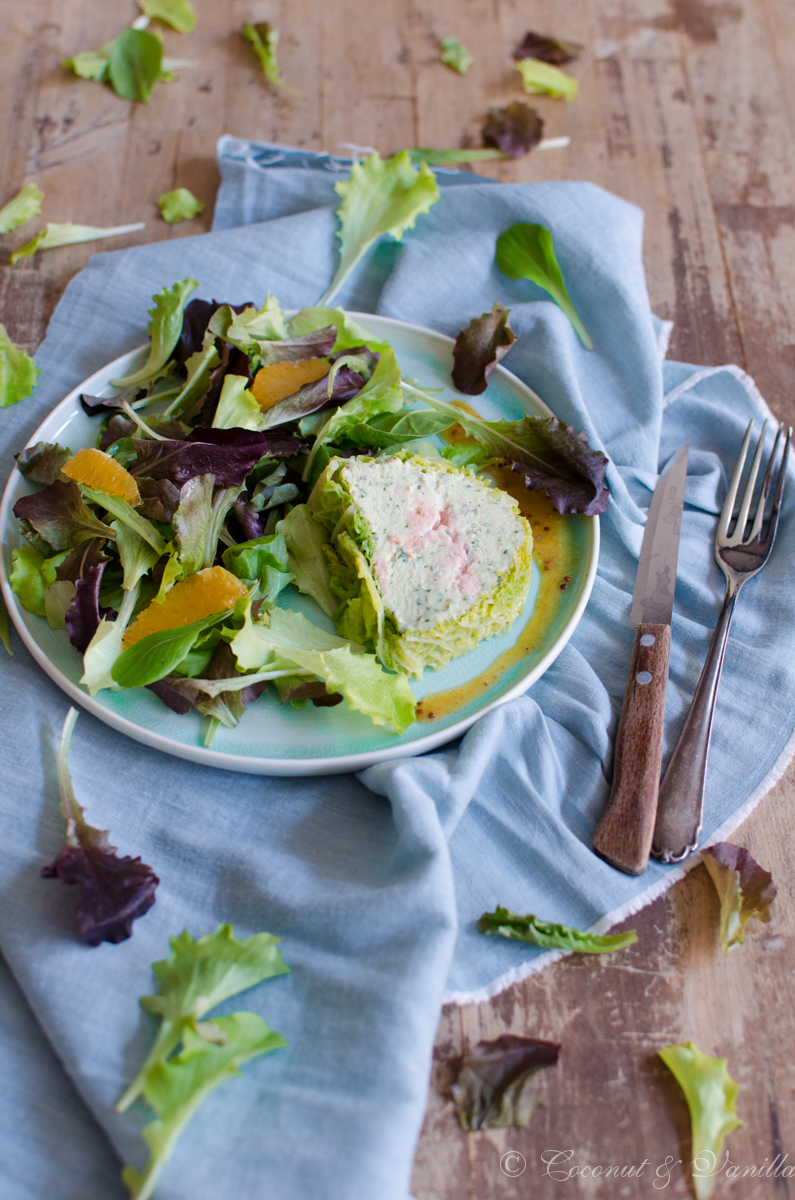 This terrine is also quite light, because it is almost only fish and crème fraîche. The stuffing (or farce) is mostly smoked trout and in the centre also salmon fillet. Both can be obtained easily and everywhere. The terrine is wrapped with savoy cabbage leaves, which is very handy since it's very easy to remove from the pan afterwards. I already spend some time removing terrines from the pan with a knife in the past. No fun!
I cooked the terrine in a combi-steamer, by the way, instead of using a water bath, which worked out great! So if you have such an awesome appliance at home, it's now the time to use it again ;)! I will introduce you more dishes that can be cooked in such an appliance in the future, because it is so very simple! I have a new category for that, which you'll find underneath this post. 
For Christmas I served the terrine simply with mesclun salad and orange fillets. The leftovers can be perfectly eaten on sliced bread the days after!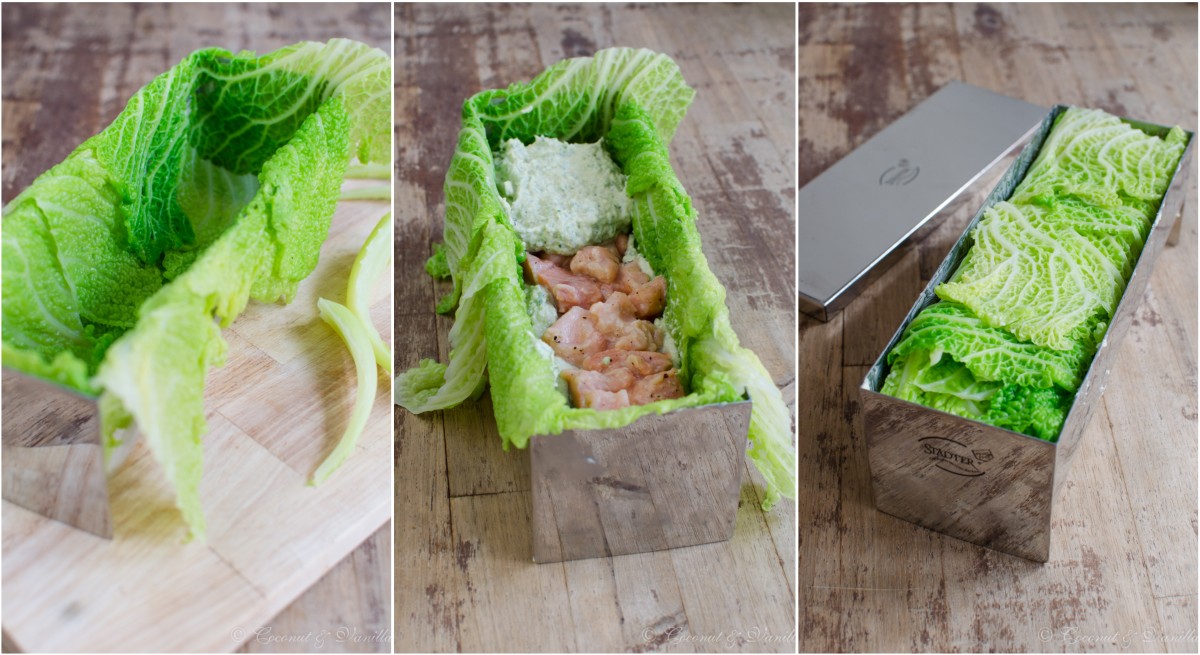 Two years ago: panini with caramelized onions and goats cheese
Four years ago: quiche with peas, bacon and mozzarella
Five years ago: homemade granola
Trout Terrine in Savoy Cabbage
adapted from Alles hausgemacht
yields: 8 – 10 portions, for a terrine mold of 1000 ml (like this one by Städter)
4 – 5 large savoy cabbage leaves
sea salt, freshly ground black pepper
200 g salmon fillet (let defrost in advance, if frozen)
2Tbsp lemon juice
3 Tbsp white wine
1 bunch parsley
1/2 bunch dill
450 g smoked trout fillet
1 large egg
200 g crème fraîche
butter for the mold
Grease the mold with butter. 
Use intact cabbage leaves. Prepare an ice bath. Bring a large pot of water to the boil. Salt it and blanch the cabbage leaves for 1 minute. Quench the leaves in the ice bath. Drain them. 
Pad the leaves dry with a dish towel. Line the mold with the cabbage leaves so they hang over. You want to cover the terrine later with them. Store in the fridge.
Cut the salmon into cubes and marinate with lemon juice, white wine, salt and pepper for 1 hour in the fridge.
Remove the parsley and dill leaves from the stems, discard the stems. Remove any fishbones from the trout fillets, if necessary. Cut into pieces. Use a food processor to chop the trout fillets finely. Add crème fraîche, herbs, egg, salt and pepper and purée until you have a fine farce. Don't purée for too long, otherwise the farce could get slimy. Spread half of the farce in the mold. Place the salmon cubes (without marinade) on the farce, then spread the other half of the farce on the salmon. Bump the terrine once or twice on the working surface, so air bubbles can escape. Cover the farce with the overhanging cabbage leaves. Place the lid on the mold.
Cook the terrine for 50 Minutes at 180° C in a waterbath. I used a combi-steamer at 90° C for 45 minutes at 50% steam. This worked like a charm!
Let the terrine cool completely. Then store it in the fridge for another day. Remove the lid and turn the terrine upside down on a large plate to remove it. Use a sharp knife to slice it! 
The terrine keeps well for another 3  – 4 days in the fridge afterwards.