[:de]
Für Blogger interessant: Mel stellt eine kostenlose Vorlage für ein Media Kit zur Verfügung.
Ghost Town Detroit und könnte es ein neues Berlin/NY werden?
Wer weiß denn, dass die Zahlen auf dem Thermostat einer Temperatur entsprechen? Deshalb: Was Sie schon immer über ihre Heizung wissen wollten. Und: Richtig Lüften bei Schimmel und gegen Schimmel.
Wenn Euch Geburtsberichte und ähnliches zu intim sind, dann jetzt aufhlören zu lesen! Ansonsten ist dies wahrscheinlich die schönste Geburt über die ich seit langem gelesen habe und freue mich mit der Frau, dass sie die Geburt so zu Hause erleben durfte und nicht nochmal in einem sterilen Krankenhaus mit unverständlichen Ärzten.
Ich lese den Hebammenblog schon sehr lange und finde dieses Thema mega interessant und spannend, einfach weil ich auch mal Kinder selbstbestimmt mit Hebamme auf die Welt bringen möchte und ganz sicher nicht in so einem Krankenhaus, das total verklemmt ist und einem alles vorschreibt, eine Schwangere zu einer Kranken macht und einem nur zu einer Nummer am Fließband macht. Jana vom Hebammenblog ist selbst langjährige Hebamme und Mutter und klärt wunderbar auf.
Deswegen bitte ich auch darum, dass ihr Euch für den Erhalt der Hebammen in Deutschland einsetzt! Denn wenn es so weiter geht wie bisher, müssen immer mehr (freiberufliche) Hebammen ihren Beruf aufgeben, weil die Versicherung unbezahlbar wird bzw. ab Sommer 2016 gibt es keine Hfatpflichversicherung für Hebammen mehr. Das bedeutet dann auch, dass es keine Hebammen mehr geben wird! Es kann doch nicht sein, dass dieser wichtige und uralte Beruf einfach ausstirbt! Genauso wenig Verständnis habe ich für die gerine Bezahlung der Hebammen, sie haben schließlich einen lebenswichtigen Job! Dazu kommt noch die Vor- und Nachbetreuung. Hier könnt ihr Euch informieren, hier gibt es eine Facebookseite die Euch auf dem Laufenden hält und hier gibt es eine Petition von change.org.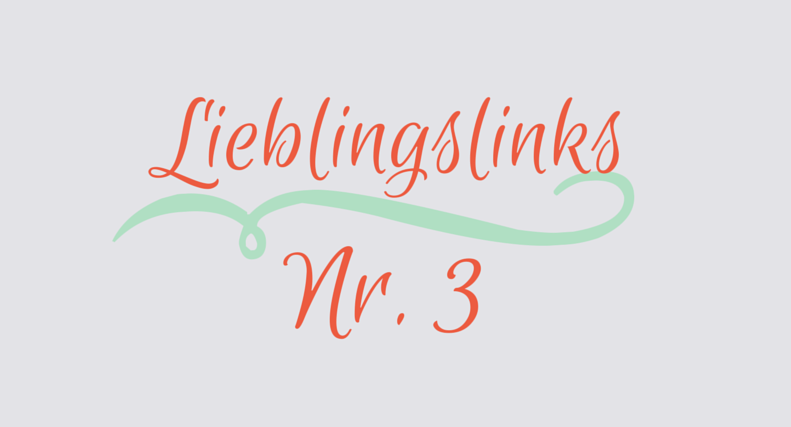 Eine Mutter schreibt über ihre Probleme der geschlechtsneutralen Erziehung. Vor allem über das Problem, dass andere Menschen diese so überzeugt ignorieren. Tatsächlich erschrecken sie, wenn man etwas entgegen der "gängigen Praxis" macht (Verkäuferin möchte Mutter mit Sohn keine rosa Glitzerschuhe anbieten, obwohl das Kind welche möchte). Vorurteile und Kategorisierungen die wie selbstverständlich weiter aufgebaut und von sich gegeben werden (von Kindergartenleiterin: "Frauen und Technik, lacht"). Sehr krass, erschreckend. Nicht weil ich es nicht auch so erlebe, sondern weil den Menschen selten Verständnis entgegen kommt, wenn man Kinder nicht rosa oder blau erziehen möchte. Man sollte sich doch selbst mal fragen, warum es einem denn komisch vorkommt, wenn ein Junge mit rosa Kleid und Glitzerhaarspangen in den Kindergarten geht. Und warum können wir das "jeder nach seiner Façon" nicht auch schon bei Kindern leben (lassen)? Der vorhergehende Artikel dazu ist auch interessant. Noch interessanter die Kommentare darunter, mit weiteren Erlebnissen anderer Leute.
The Bitten Word stellt die 15 besten Gerichte vor, die sie 2014 aus Kochzeitschriften nachgekocht haben! Und da sind so leckere Sachen dabei! Ich möchte mich sofort in die Lammburger gegrillt in Pitabrote legen! Danach noch bitte die überbackenen mashed potatoes mit Ziegenkäse!
Wer hätte gedacht, dass man einen ganzen Truthahn auch frittieren kann?! Hammergeil! Natürlich braucht man dafür noch extra Turker-Fryer Equipment. Klar!
[:en]
I'm sorrry, my lovely links are only available in German.
Can I cheer you up with some drinks instead?
[:]