Eigentlich hätte ich Euch diesen Part schon gerne zwischen Weihnachten und Silvester zeigen wollen. Leider wollte das der Blog nicht. Es gab erst eine Fehlermeldung und anschließend ging nach Neuaufsetzen von WordPress gar nix mehr. Da ich auch alles andere als ein Experte in solchen Dingen bin, hat es ein paar Tage gedauert bis der Blog wieder gelaufen ist. Nun ist zwar nicht wieder alles beim alten (einige Verwechslungen der deutschen und der englischen Version machen mir das Leben schwer (u.a. auch weil das unterstützende Plugin nicht mehr weiterentwickelt wird). Aber der Blog läuft wieder und ich kann Euch wieder viele tolle neue Rezepte zeigen.
Den Anfang macht heute diese köstliche Forellenterrine im Wirsingmantel, die ich zu Weihnachten gemacht habe. Bisher gab es jedes Jahr zu Weihnachten eine Fischterrine von mir und ich mag mit dieser Tradition gar nicht mehr brechen, da Fischterrinen so lecker sind! Tatsächlich sind sie auch nicht so aufwendig und man kann sie wunderbar einen Tag im voraus zubereiten!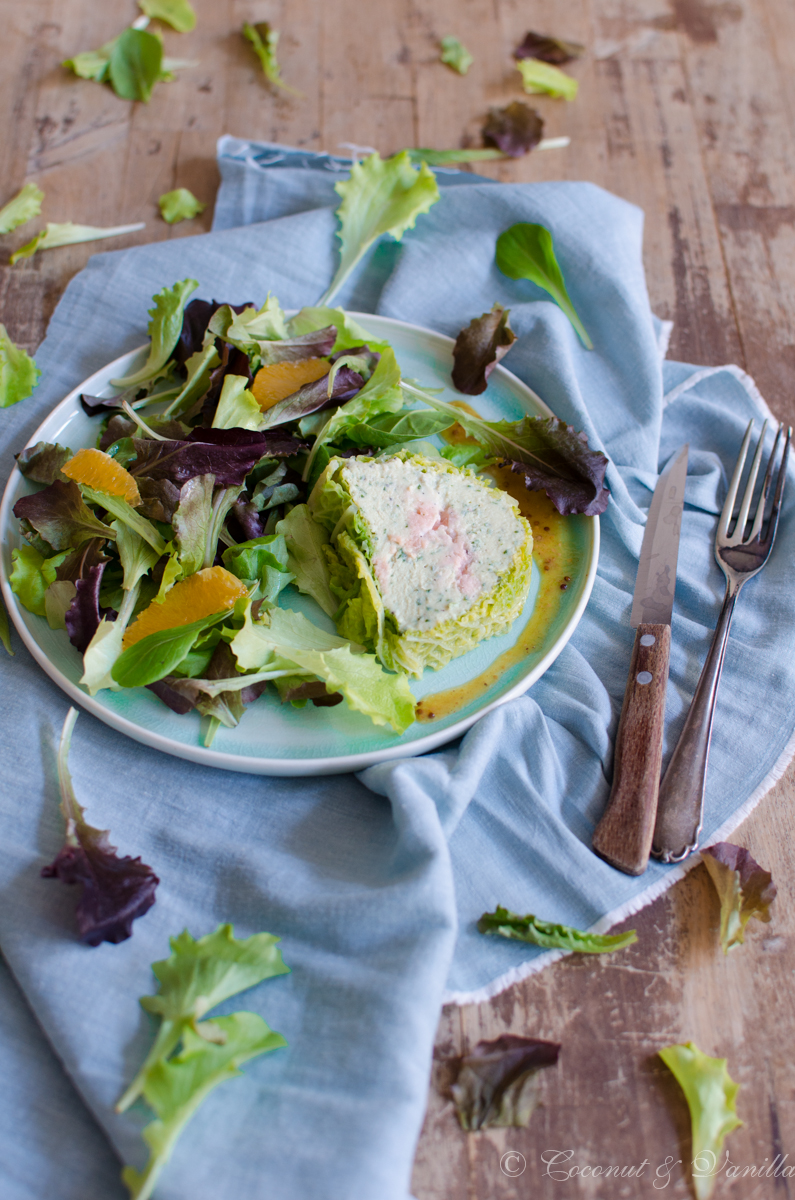 Diese Terrine ist auch leicht, da sie fast nur aus Fisch und etwas Crème fraîche besteht. Die Farce besteht aus geräucherter Forelle und in der Mitte liegt nochmal Lachsfilet. Beides ist also auch überall problemlos zu bekommen. Gehüllt wird alles in blanchierte Wirsingblätter, was unheimlich praktisch ist, wenn man die Terrine nachher aus der Form löst: dann flutscht sie nur so heraus. Ich habe auch bereits die ein oder andere Terrine schon mit dem Messer aus der Form gepopelt… echt kein Spaß!
Übrigens habe ich die Terrine im Kombi-Dampfgarer statt im Wasserbad gegart, was ganz wunderbar funktioniert! Wer also auch so ein tolles Gerät daheim hat, kann es nun endlich mal verwenden ;). Ich werde in Zukunft häufiger Gerichte vorstellen, die ich darin zubereite, da es so einfach ist! Dafür gibt es auch eine neue Kategorie, die ihr unter diesem Post seht.
Zu Weihnachten gab es die Terrine einfach mit etwas Pflücksalat und Orangenfilets. Die Reste der Terrine kann man die Tage danach noch wunderbar auf's Brot essen!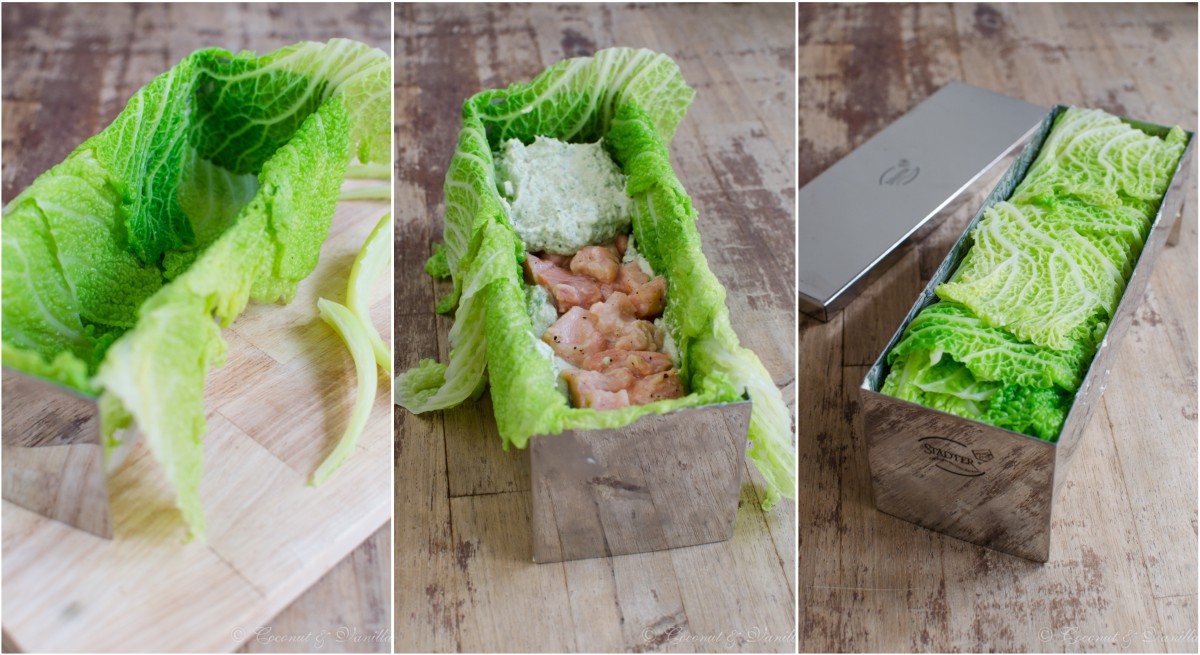 Vor zwei Jahren: Panini mit karamellisierten Zwiebeln und Ziegenkäse
Vor vier Jahren: Quiche mit Erbsen, Speck und Mozzarella
Vor fünf Jahren: selbstgemachtes Müsli
Forellenterrine im Wirsingmantel
nach einem Rezept aus Alles hausgemacht
ergibt: 8 – 10 Portionen, für eine Terrinenform von 1000 ml (z.B. diese von Städter)
4 – 5 große Wirsingblätter
Meersalz, frisch gemahlener schwarzer Pfeffer
200 g Lachsfilet (wenn tiefgefrorener verwendet wird, vorher auftauen lassen)
2 EL Zitronensaft
3 EL Weißwein
1 Bund glatte Petersilie
1/2 Bund Dill
450 g geräuchertes Forellenfilet
1 großes Ei
200 g Crème fraîche
Butter für die Form
Die Terrinenform mit Butter ausfetten.
Die Wirsingblätter sollten möglichst unbeschädigt sein. In einem großen Topf Wasser zum Kochen bringen und salzen. Die Wirsingblätter darin 1 Minute blanchieren. Dann in eine Schüssel mit kaltem Eiswasser geben und abschrecken. Abtropfen lassen.
Die Wirsingblätter mit einem Geschirrtuch trocken tupfen. Die Form mit den Wirsingblättern auskleiden, so dass sie großzügig über den Rand hängen, die Terrine soll damit nachher zugedeckt werden. Kalt stellen.
Das Lachsfilet in Würfel schneiden und in einer Schüssel mit dem Zitronensaft, Weißwein, Salz und Pfeffer 1 Stunde im Kühlschrank marinieren.
Die Blätter von der Petersilie zupfen und die Stiele vom Dill abschneiden. Die Forellenfilets von eventuellen Gräten befreien und in Stücke schneiden. In der Küchenmaschine oder im Blitzhacker zerkleinern. Die Crème fraîche, die Kräuterblätter, Ei, Salz und Pfeffer zu der Forelle geben und zerkleinern bis eine gleichmäßige feine Farce entstanden ist. Nicht zu lange pürieren, sonst kann die Masse schleimig werden. Die Hälfte der Fischfarce in der Form verteilen. Die Lachswürfel (ohne die Marinade) auf der Farce verteilen und mit der restlichen Forellenfarce bedecken. Die Form ein- oder zweimal auf die Arbeitsplatte stoßen, damit Luftbläschen entweichen können. Die Farce mit den überhängenden Wirsingblättern bedecken. Den Deckel auf die Form legen.
Die Terrine im Wasserbad bei 180° C für 50 Minuten garen. Ich habe sie im Kombi-Dampfgarer bei 90° C für 45 Minuten bei 50% Dampf gegart, das hat wunderbar funktioniert.
Die Terrine abkühlen lassen und einen Tag im Kühlschrank durchziehen lassen. Den Deckel abnehmen und die Terrine auf eine Platte (z.B. Kuchenplatte) stürzen. Mit einem scharfen Messer in Scheiben schneiden.
Die Terrine hält sich auch nach dem Anschneiden 3 – 4 Tage im Kühlschrank.
Originally I wanted to post this between Christmas and New Years Eve. But the blog didn't want to. First there was an error and after installing wordpress new nothing worked anymore. As I'm anything than an expert in stuff like this it took a few days to get things to normal. Now the blog works again, although I'm having some troubles with some mixed up English and German versions (mostly because the plugin I use for this is no longer supported). But basically the blog works again and I can show you my latest recipes!
Today I'm starting with this delicious trout terrine in savoy cabbage, which I made for Christmas. Since a few years back I'm making fish terrine for Christmas and I don't want to break with this tradition anymore, since fish terrines are so delicious! And indeed they are not very elaborate and you can prepare them one day ahead!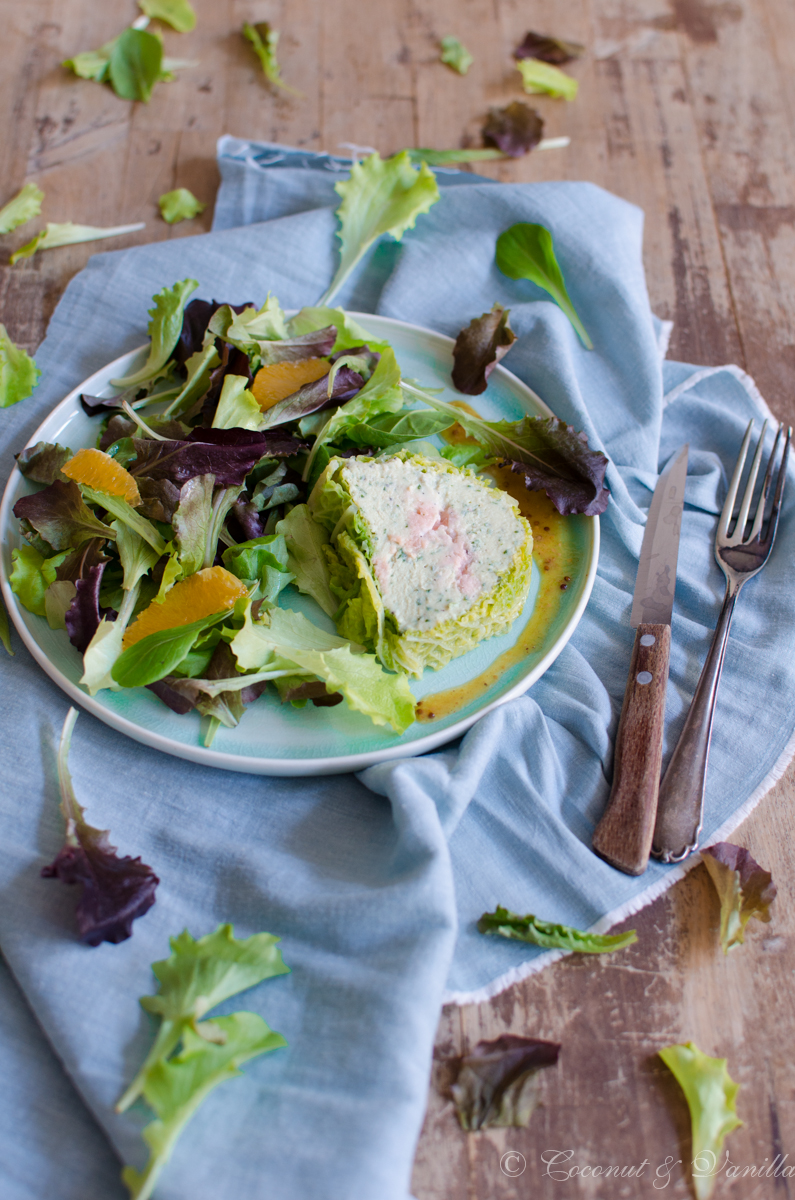 This terrine is also quite light, because it is almost only fish and crème fraîche. The stuffing (or farce) is mostly smoked trout and in the centre also salmon fillet. Both can be obtained easily and everywhere. The terrine is wrapped with savoy cabbage leaves, which is very handy since it's very easy to remove from the pan afterwards. I already spend some time removing terrines from the pan with a knife in the past. No fun!
I cooked the terrine in a combi-steamer, by the way, instead of using a water bath, which worked out great! So if you have such an awesome appliance at home, it's now the time to use it again ;)! I will introduce you more dishes that can be cooked in such an appliance in the future, because it is so very simple! I have a new category for that, which you'll find underneath this post. 
For Christmas I served the terrine simply with mesclun salad and orange fillets. The leftovers can be perfectly eaten on sliced bread the days after!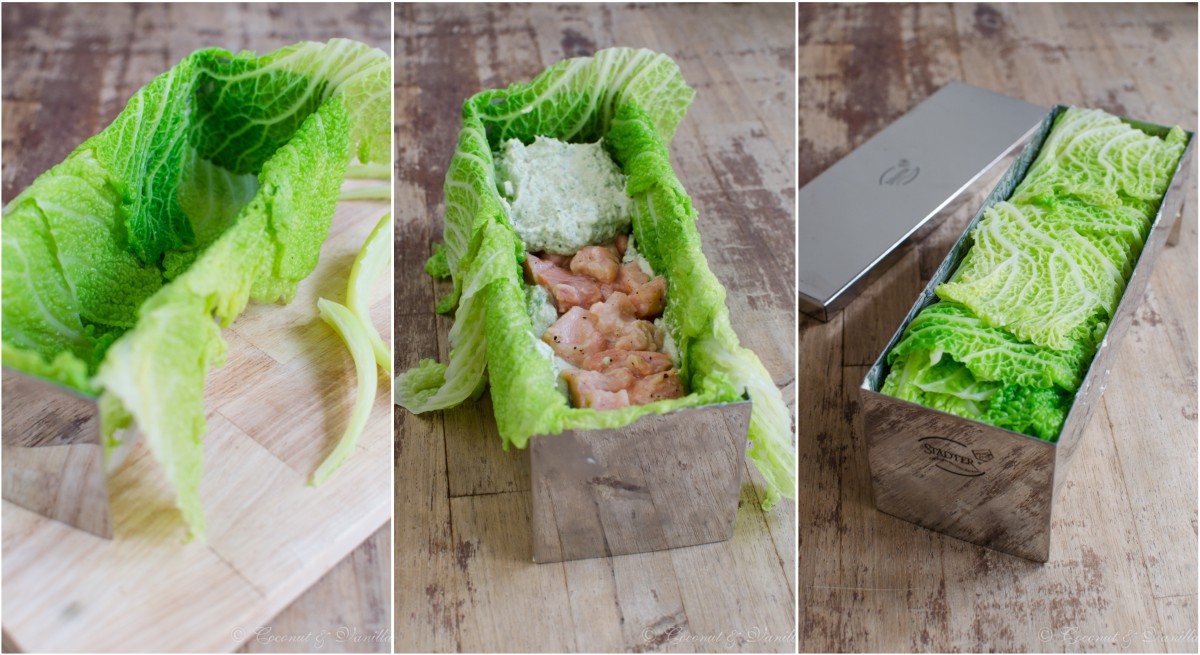 Two years ago: panini with caramelized onions and goats cheese
Four years ago: quiche with peas, bacon and mozzarella
Five years ago: homemade granola
Trout Terrine in Savoy Cabbage
adapted from Alles hausgemacht
yields: 8 – 10 portions, for a terrine mold of 1000 ml (like this one by Städter)
4 – 5 large savoy cabbage leaves
sea salt, freshly ground black pepper
200 g salmon fillet (let defrost in advance, if frozen)
2Tbsp lemon juice
3 Tbsp white wine
1 bunch parsley
1/2 bunch dill
450 g smoked trout fillet
1 large egg
200 g crème fraîche
butter for the mold
Grease the mold with butter. 
Use intact cabbage leaves. Prepare an ice bath. Bring a large pot of water to the boil. Salt it and blanch the cabbage leaves for 1 minute. Quench the leaves in the ice bath. Drain them. 
Pad the leaves dry with a dish towel. Line the mold with the cabbage leaves so they hang over. You want to cover the terrine later with them. Store in the fridge.
Cut the salmon into cubes and marinate with lemon juice, white wine, salt and pepper for 1 hour in the fridge.
Remove the parsley and dill leaves from the stems, discard the stems. Remove any fishbones from the trout fillets, if necessary. Cut into pieces. Use a food processor to chop the trout fillets finely. Add crème fraîche, herbs, egg, salt and pepper and purée until you have a fine farce. Don't purée for too long, otherwise the farce could get slimy. Spread half of the farce in the mold. Place the salmon cubes (without marinade) on the farce, then spread the other half of the farce on the salmon. Bump the terrine once or twice on the working surface, so air bubbles can escape. Cover the farce with the overhanging cabbage leaves. Place the lid on the mold.
Cook the terrine for 50 Minutes at 180° C in a waterbath. I used a combi-steamer at 90° C for 45 minutes at 50% steam. This worked like a charm!
Let the terrine cool completely. Then store it in the fridge for another day. Remove the lid and turn the terrine upside down on a large plate to remove it. Use a sharp knife to slice it! 
The terrine keeps well for another 3  – 4 days in the fridge afterwards.