Monday, 17th June 2013
Actually I wanted to blog more asparagus recipe this season, but I just didn't manage to do it! Soon the asparagus season will be over again, but maybe this year it will be delayed a bit, because it was so cold and rainy? I would love that, since it was more difficult to get green asparagus this year.
This recipe is amongst our favourite ones with green asparagus. It's from the magazine kreativ küche (now Lust auf Genuss). It's quite different from other asparagus recipes, combining delicious flavours and textures.
Taleggio is a wonderful soft italian cheese, which cannot be compared to any other cheese. Go try it! Even I like it, although normally I do not like soft cheese.
Thanks to the cheese, the nuts and a whole bunch of asparagus, this is more a main dish than a side dish. Huge eaters may manage to eat a small steak or a small grilled cheese (for vegetarians) with it.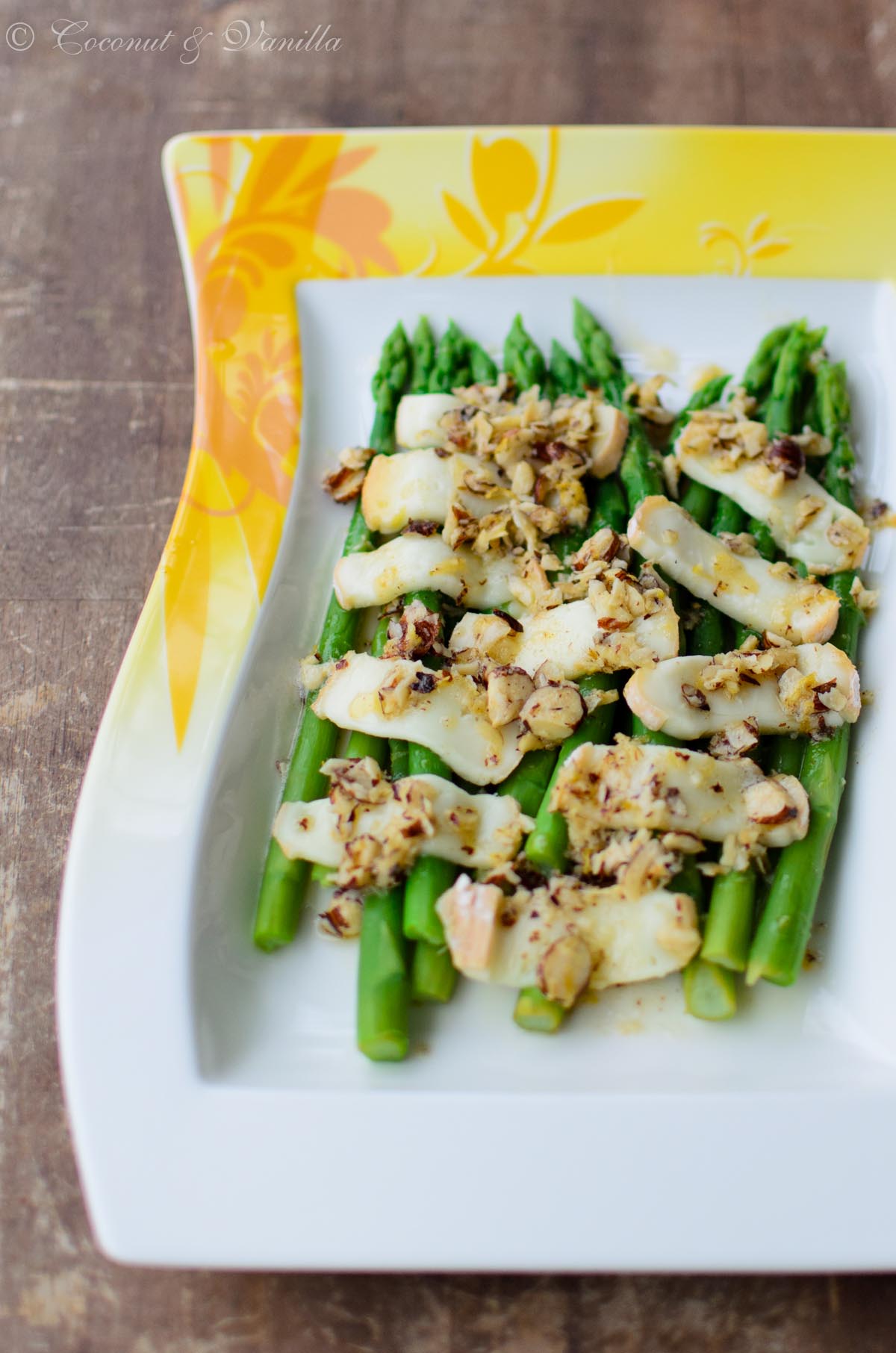 One year ago: cannelloni filled with ricotta and spinach
Two years ago: strawberry liquor, basil olive oil & elderflower vinegar
Three years ago: arroz con leche
Asparagus with Taleggio and Hazelnut Butter
adapted from kreativ küche 6/2008
yields: 2 servings
500 g asparagus
olive oil
sea salt
pepper
125 g

taleggio

, sliced thinly
1/2 organic lemon, juice and zest
100 g butter
30 g sliced hazelnuts
1 tsp honey
Cut off the asparagus ends.
Warm your dishes in a 50° C warm oven.
Heat a large pan on medium-high and add some olive oil. Add the asparagus and sauté gently without major browning. It should still be firm to the bite, but done (5-7 minutes). Season with salt, pepper and some lemon juice.
In the meanwhile slightly roast the hazelnuts in another pan, until they begin to smell. Add the butter and melt it. When the butter begins to brown, remove the pan from the heat and add the lemon zest and honey.
Put the asparagus on the warm dishes, place the sliced taleggio on it and drizzle with hazelnut butter (best directly onto the cheese so it melts nicely).
Serve instantly!