Eigentlich wollte ich diese Saison viel mehr Spargelgerichte bloggen, aber bisher hab ich es nicht geschafft! Bald ist die Spargelsaison ja wieder vorbei, vielleicht ist sie dieses Jahr aber ein wenig nach hinten verschoben, weil es ja so kalt und regnerisch war? Käme mir sehr entgegen, da es dieses Jahr doch schwierig war an grünen Spargel zu kommen.
Dieses ist seit Jahren eines unserer Lieblingsrezepte mit grünem Spargel. Ich habe es aus einer kreativ küche (heute Lust auf Genuss). Es ist mal was ganz anderes und verbindet so viele köstliche Aromen und Texturen mit einander.
Taleggio ist ein wunderbarer italienischer Weichkäse, den man nicht mit irgendeinem anderen Käse vergleichen kann. Probiert ihn einfach mal aus! Selbst ich mag ihn, obwohl ich gar kein Fan von Weichkäse bin.
Dank des Käses, der Nüsse und einer reichlichen Menge Spargel ist dies keine Beilage, sondern eher ein Hauptgang. Große Esser schaffen eventuell noch ein kleines Steak dazu oder vegetarisch gesehen einen kleinen Grillkäse.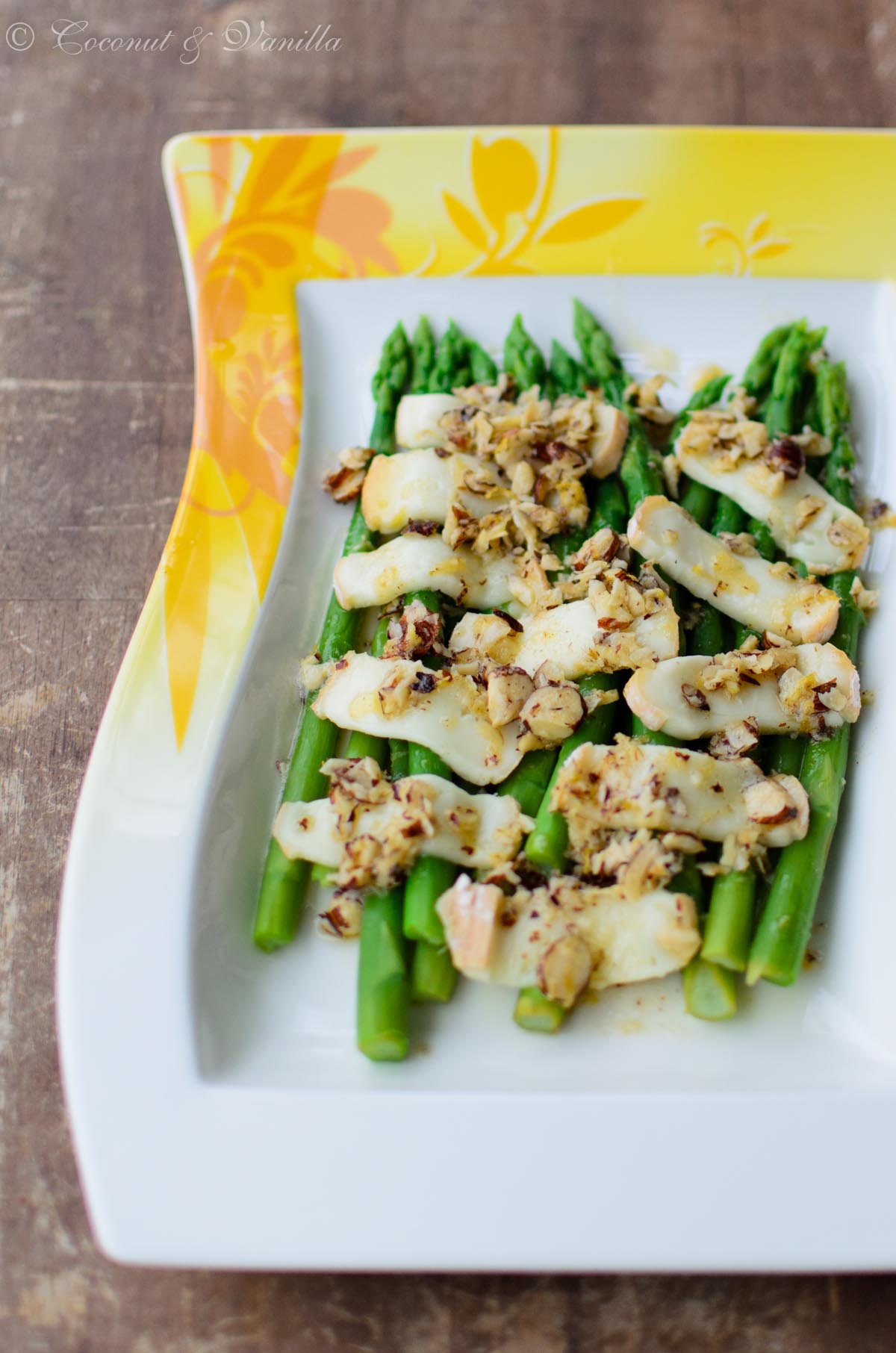 Vor einem Jahr: Cannelloni mit Ricotta-Spinat-Füllung
Vor zwei Jahren: Erdbeerlikör, Basilikum-Olivenöl & Holunderblütenessig
Vor drei Jahren: Arroz con leche (spanischer Milchreis)
grüner Spargel mit Taleggio und Haselnussbutter
nach einem Rezept aus kreativ küche 6/2008
für 2 Personen
500 g grüner Spargel
Olivenöl
Meersalz
Pfeffer
125 g Taleggio, in dünne Scheiben geschnitten
1/2 Bio-Zitrone, Schale und Saft
100 g Butter
30 g Haselnussblättchen (bekommt ihr keine Blättchen gehen auch gehackte Haselnüsse, aber die Blättchen sind besser)
1 TL Honig
Die Enden des Spargels abschneiden oder einfach abbrechen.
Die Teller im Ofen warmhalten (50° C).
In einer großen Pfanne den Spargel in wenig Olivenöl anbraten, dabei darauf achten, dass er mehr gart und weniger brät (sprich nicht zu braun wird). Braten bis der Spargel noch knackig und bissfest ist, aber durch (ca. 5-7 Minuten). Mit Salz und Pfeffer würzen und mit etwas Zitronensaft beträufeln.
Gleichzeitig die Haselnüsse in einer anderen Pfanne leicht anrösten, bis sie anfangen zu duften. Dann die Butter zugeben und zerlassen. Wenn die Butter braun wird die Zitronenschale und den Honig unterrühren und die Pfanne vom Herd ziehen.
Den Spargel auf den Tellern verteilen, mit den Taleggioscheiben belegen und mit der warmen Haselnussbutter beträufeln (am besten über den Käse geben, damit der schön zerläuft).
Sofort servieren!
Actually I wanted to blog more asparagus recipe this season, but I just didn't manage to do it! Soon the asparagus season will be over again, but maybe this year it will be delayed a bit, because it was so cold and rainy? I would love that, since it was more difficult to get green asparagus this year.
This recipe is amongst our favourite ones with green asparagus. It's from the magazine kreativ küche (now Lust auf Genuss). It's quite different from other asparagus recipes, combining delicious flavours and textures.
Taleggio is a wonderful soft italian cheese, which cannot be compared to any other cheese. Go try it! Even I like it, although normally I do not like soft cheese.
Thanks to the cheese, the nuts and a whole bunch of asparagus, this is more a main dish than a side dish. Huge eaters may manage to eat a small steak or a small grilled cheese (for vegetarians) with it.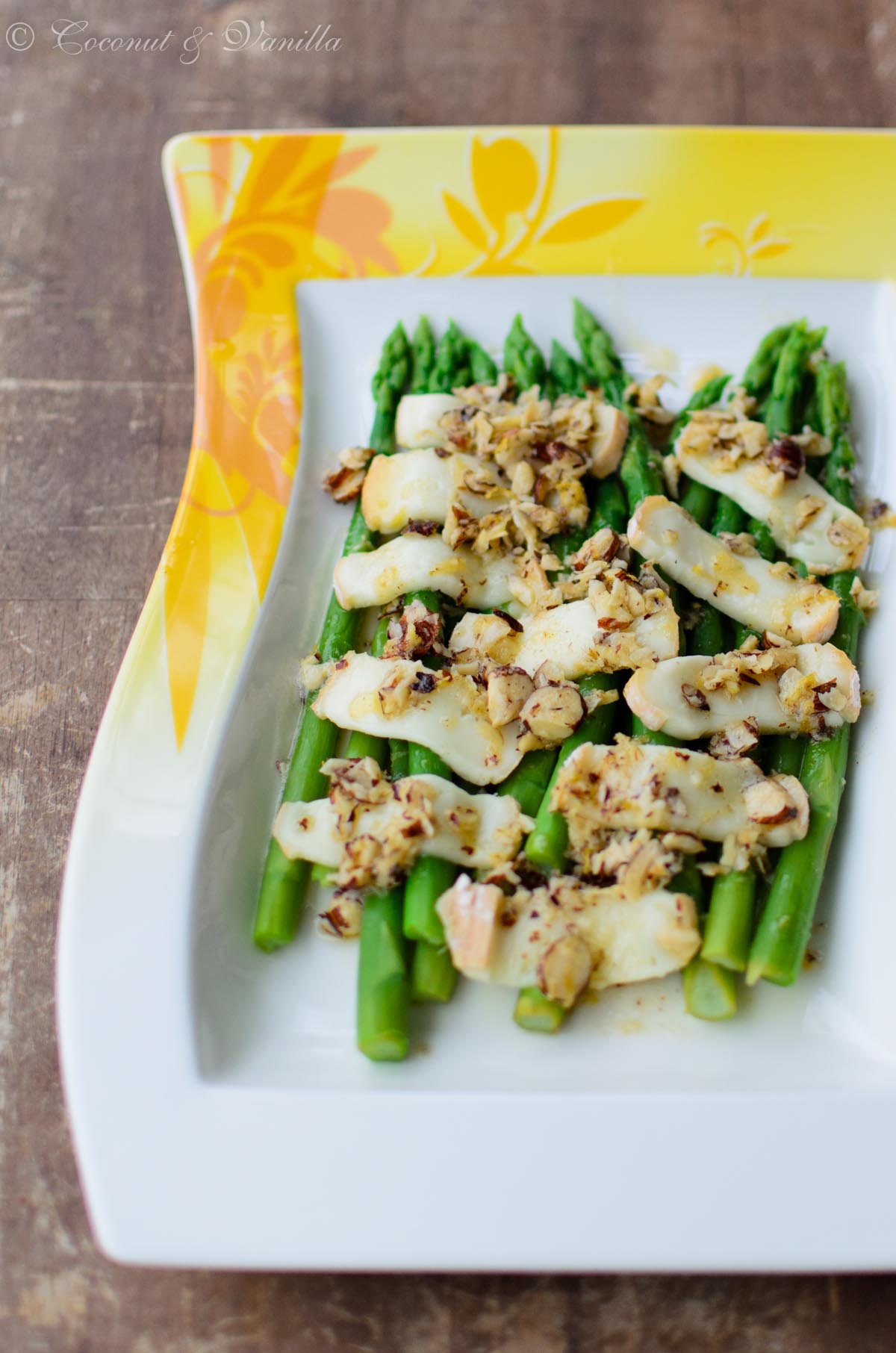 One year ago: cannelloni filled with ricotta and spinach
Two years ago: strawberry liquor, basil olive oil & elderflower vinegar
Three years ago: arroz con leche
Asparagus with Taleggio and Hazelnut Butter
adapted from kreativ küche 6/2008
yields: 2 servings
500 g asparagus
olive oil
sea salt
pepper
125 g

taleggio

, sliced thinly
1/2 organic lemon, juice and zest
100 g butter
30 g sliced hazelnuts
1 tsp honey
Cut off the asparagus ends.
Warm your dishes in a 50° C warm oven.
Heat a large pan on medium-high and add some olive oil. Add the asparagus and sauté gently without major browning. It should still be firm to the bite, but done (5-7 minutes). Season with salt, pepper and some lemon juice.
In the meanwhile slightly roast the hazelnuts in another pan, until they begin to smell. Add the butter and melt it. When the butter begins to brown, remove the pan from the heat and add the lemon zest and honey.
Put the asparagus on the warm dishes, place the sliced taleggio on it and drizzle with hazelnut butter (best directly onto the cheese so it melts nicely).
Serve instantly!