Tuesday, 19th June 2012
Until recently we also had spinach on our field. Well, spinach. We like you, but we don't know what to do with you really. Just as a side dish, that's not our thing. Something has to happen with the spinach. First thing that comes to my mind are cannelloni with the famous spinach-ricotta-filling. Theoretically it's possible to cook without a recipe, but I like to have some approximate quantities at least. And what for a sauce as a topping! No tomato sauce, that's for sure! That would be boring and it would conceal the taste of the filling.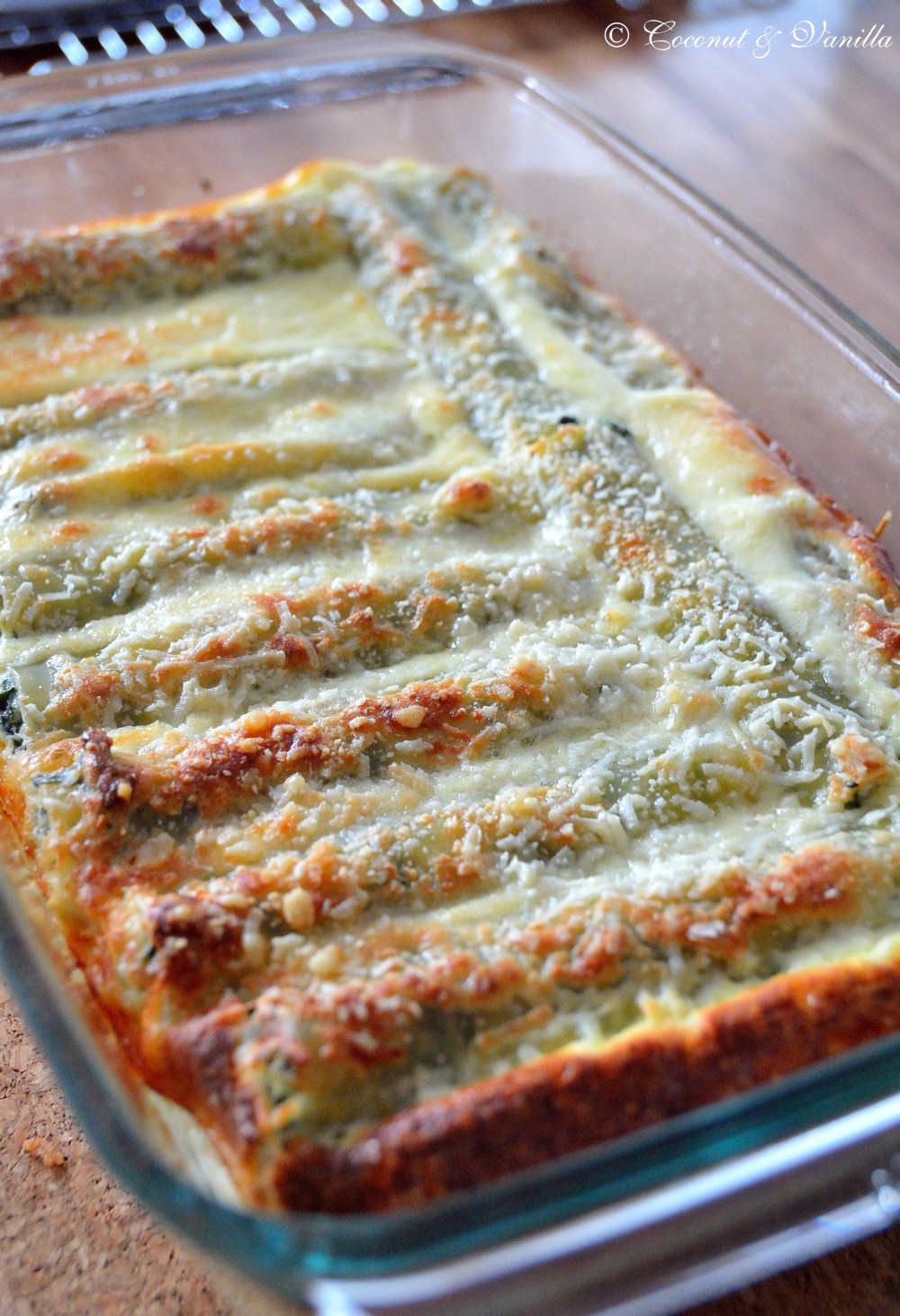 So rummaging books, rummaging the internet. Thousands of recipes, but all of them were strange. Weird ratios of quantities: way too much spinach or ricotta (1kg!), too less spinach (400g?), pre-packed sauces ( yuck ) and even more curiosities. So after all I had to assemble everything on my own.
After 2 attempts I present you the best recipe for cannelloni with spinach and ricotta filling! Like that two thirds of our spinach production were consumed, too. Perfect!
If you have some fresh thyme or oregano at home, feel free to add it to the filling. Like that the cannelloni will be even more special.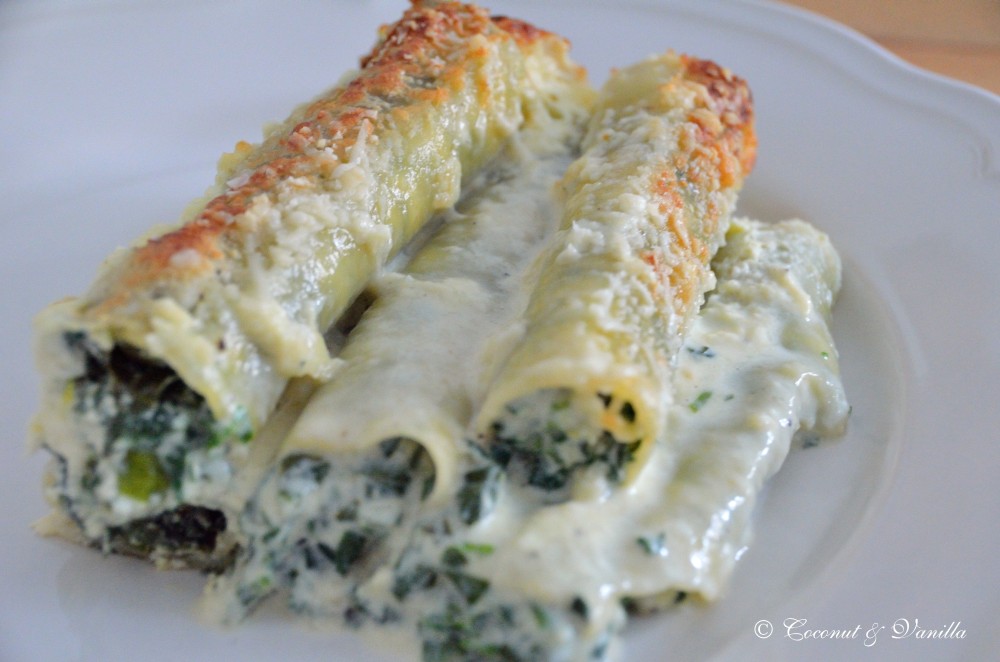 Two years ago: Arroz con leche
Cannelloni filled with Spinach and Ricotta
serves 4
Ingredients:
For the filling:
700 g fresh leaf spinach

2 onions, finely diced

4-6 garlic cloves (depending on the size and taste), finely diced

olive oil

lemon juice

250 g ricotta

70 g cream

75 g parmesan, finely grated

fresh thyme, oregano, finely chopped (optional)
For the sauce:
300 g cream

100 ml milk

3 eggs

3 Tbsp butter, melted

70 g parmesan, finely grated
Additionally:
250 g cannelloni

butter for the pan
Wash the spinach and spin it dry. Spinning it dry is important, as you don't want the filling to be too thin afterwards! Cut off the long and thick stems. Cut the spinach into large pieces.
Heat a small blob of olive oil in a large pan and sauté the spinach in portions on middle heat, until the spinach just wilted. Not any longer! Give the spinach in a large bowl for fast cooling.
In another blob of olive oil sauté the onions and garlic, until golden and soft. Let it cool.
When the spinach has cooled down (so you can touch it easily), chop in portions until fine. Place the chopped spinach in a large bowl and mix with a splash of lemon juice. Add the onion and garlic, mix. Add the ricotta, cream and parmesan, mix and season with pepper and maybe salt. Do not skimp on the seasoning! Add chopped herbs as oregano or thyme (optional).
Whisk all the ingredients for the sauce together and season with pepper.
Butter your pan. Mine is about 26 cm x 14 cm.
Preheat the oven to 200° C.
The question is now, if to precook the cannelloni or not. Some producers demand it, others not. Why some are doing so and others different, I don't know. Sure is: the uncooked ones need to be baked longer in the oven (15-20 min.), but they are easier to fill, the precooked ones are more likely to rip. I cannot give you a recommendation here, since both have there advantages and disadvantages. But just in case, that your package says, that the uncooked ones are ready in 20 min, that's totally wrong! Guess, why I know that …
Use a icing bag without a tip or a plain round tip to fill the cannelloni with the filling. The uncooked ones are best to fill from above, when placed upright on a plate or something else. The precooked ones should be filled, while held horizontally.
They should be filled really dense. Eventually fill the cannelloni from the other side, too. Whilst doing that, close the other side with your finger. Place the filled cannelloni side by side in your pan.
Pour the sauce over the cannelloni. Everything should be at least slightly covered with the sauce.
Bake the precooked cannelloni for 20-25 minutes.
Bake the uncooked cannelloni for 35-40 minutes.
They should be beautifully golden brown.