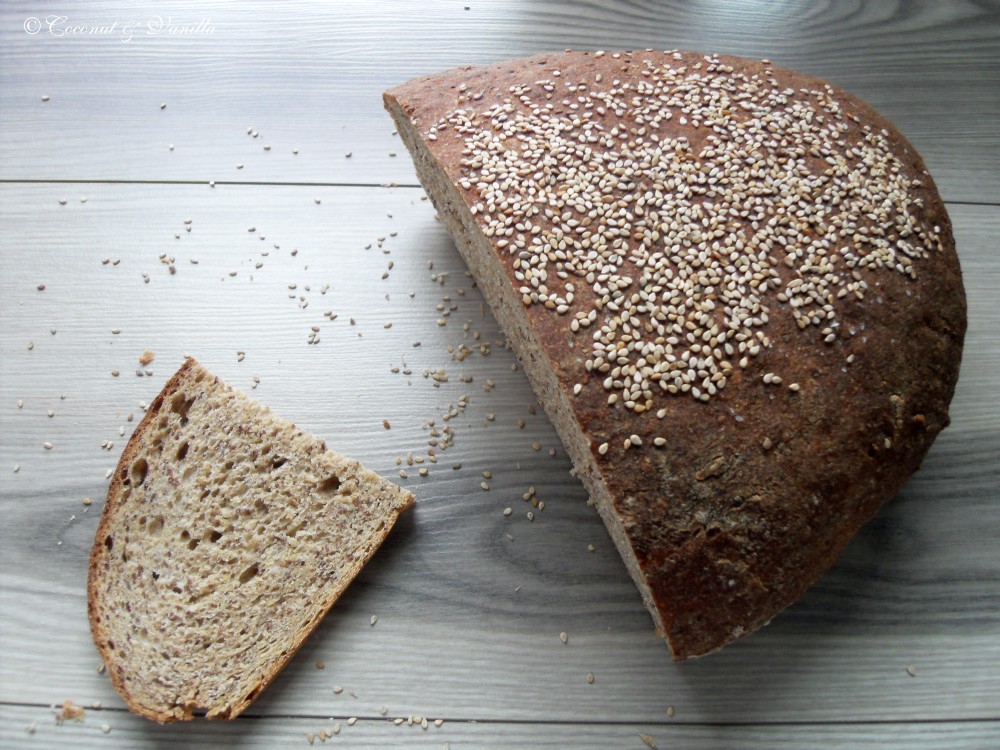 Mein erster richtiger Blogpost in deutsch. Brot ist doch auch sowas deutsches. Eigentlich. Wenn ich mir aber immer so anschaue, was in Deutschland so verkauft wird an "Brot", wird es mir schlecht. Von Brot kann da keine Rede mehr sein. Was läge da näher, als selber Brot zu backen? Richtiges Brot mit Sauerteig. Mann, war das ein langer Weg oder auch doch nicht. Ein langer Weg der Entscheidung, jetzt endlich die Sache anzugehen, ein Buch auszusuchen und loszulegen. Aber beim Buch ging's ja schon los. Deutschland will wohl nicht, dass hier gutes Sauerteigbrot gebacken wird. Ein richtig gutes Buch gibt es nämlich einfach nicht. Hauptsächlich oberflächliche Bücher, die dann auch noch in die Süßwarenabteilung abdriften. Nee, danke. Also doch ein englisches Buch. Schon traurig, dass einem ein Amerikaner das Brotbacken erklären muss, oder? Uns der Brotnation!
Und Respekt, Hamelman, ich mag dein Buch! Englischkenntnisse vorausgesetzt. Für den Anfänger alles sehr gut und einleuchtend erklärt. Und Sauerteig ansetzen war auch gleich ein voller Erfolg. Viele Brote habe ich nun in den letzten zwei Monaten gebacken. Und wir sind immer wieder begeistert, wie lecker es ist und auch wie lange sich die Brote halten, ohne hart zu werden oder zu schimmeln.
Nun schiele ich natürlich schon auf Brotzubehör, das ich bald mein eigen nennen möchte, wie z.B. einen Pizzastein (und das ist noch das Harmloseste).
Wer also schon einen Sauerteig in der Familie hat, kann hier in Zukunft vorbeischauen, wenn ich unsere neuen Brote verblogge. Dieses Leinsamenbrot, ist ein gutes einfaches Brot, mit verhältnismäßig weicher Krume und Kruste. Ist nicht mein Favorit, aber vielleicht bin ich einfach kein Leinsamentyp. Aber ausprobieren musste ich es natürlich mal. Und verstecken muss es sich auch nicht. Und wer noch keinen Sauerteig hat und sich mit dem Gedanken schlägt: auf, kauft Euch ein Buch und legt los! Es lohnt sich.
Und findet ihr es gut, wenn ich auch auf deutsch schreibe?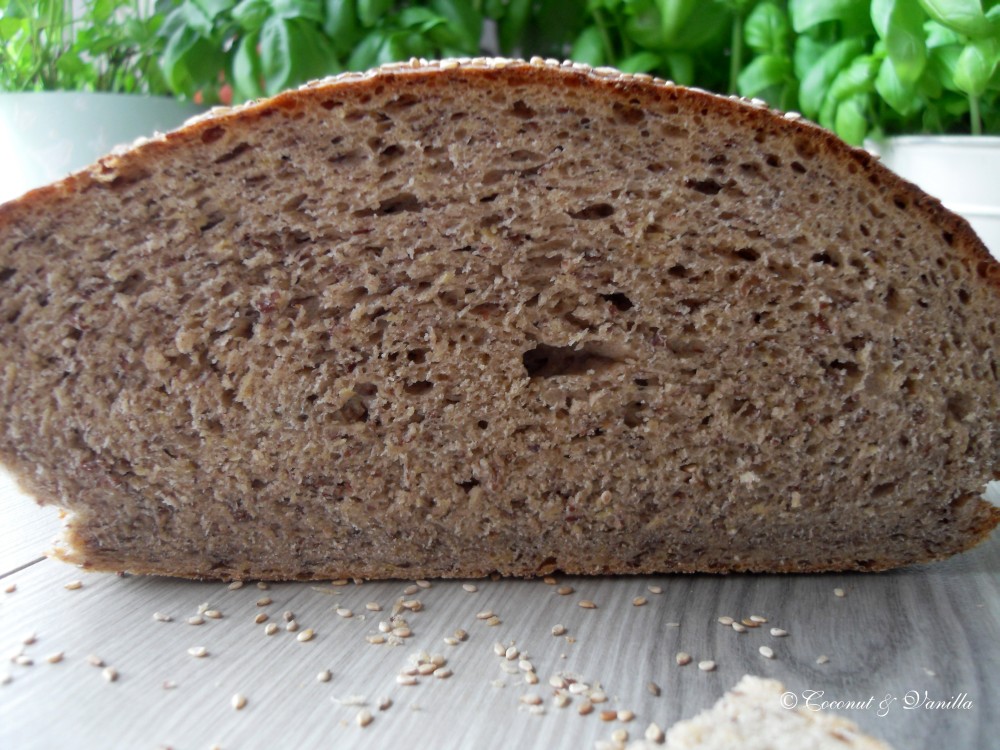 Vor einem Jahr: Kokos Panna Cotta
Vor zwei Jahren: Death by Chocolate
Leinsamenbrot
aus Bread: A Baker's Book of Techniques and Recipes von Jeffrey Hamelman
Sauerteig
360 g Roggenmehl (Type 997, 1150, ich hab glaub ich sogar 815 verwendet)

285 g Wasser

2 gehäufte EL reife Sauerteigkultur
Quellstück
90 g Leinsamen

270 g Wasser
Die Zutaten für den Sauerteig vermischen und bei Raumtemperatur 14 bis 16 Stunden gehen lassen (über Nacht). Mit Frischhaltefolie abdecken.
Gleichzeitig die Leinsamen in einer kleinen Schüssel mit dem Wasser übergießen. Mit Folie abdecken.
Kompletter Teig
180 g Roggenmehl (dieselbe Sorte wie oben)

360 g 550 Weizenmehl

120 g Wasser

1 gestrichener EL Meersalz

1,5 TL Trockenhefe

das ganze Quellstück

Sauerteig von oben, minus 2 gehäufte EL
Am nächsten Tag:
Alle Zutaten in die Rührschüssel geben. Nicht vergessen die 2 EL Sauerteig für das nächste Brot zu entfernen!
3 Minuten auf erster Stufe kneten, 3 Minuten auf zweiter Stufe kneten.
Mit Frischhaltefolie bedecken und 45 Minuten gehen lassen.
Den Teig in 2 kleine Laibe oder einen großen Laib teilen (ich hab einen großen gemacht) und rund oder länglich wirken. Da ich keinen Pizzastein habe und mir das Transportieren nach dem zweiten Fermentieren zu kompliziert ist, lege ich den/die Laib/e auf eine Silikonmatte, die ich nachher auf das heiße Blech ziehe.
Weitere 60 Minuten gehen lassen.
In der Zwischenzeit schon mal den Ofen vorheizen. Hamelman empfiehlt hier 235° C. Wenn ich meinen Ofen so heiß mache, verbrennt mir schnell die Kruste. Mir reichen deshalb 200° C voll und ganz. Das ist aber ein kleines Experiment, das man für sich selber, das Brot und vor allem den eigenen Ofen herausfinden muss. So hab ich's auch gemacht.
Das Backblech mit vorheizen, außer ihr habt einen Pizzastein. Dann natürlich den mit heizen. Und wenn ihr keinen Backofen mit Schwadenzugabe habt (Traum!), dann stellt schon mal eine kleine ofenfeste Form auf den Ofenboden.
Wenn der Ofen die gewünschte Temperatur erreicht hat, etwas Wasser im Wasserkocher kochen und in die Form im Ofen schütten. Jetzt habt ihr auch Schwaden. Ich benutze noch eine Sprühflasche, mit der ich noch mehr Wasser in den Ofen sprühe, bevor und nachdem ich das Brot eingeschoben habe.
Jetzt entweder das Brot auf der Silikonmatte auf das heiße Blech ziehen oder mit einem Brotschieber auf das Blech oder den Pizzastein schieben.
Einen großen Laib 40 bis 45 Minuten, zwei kleine Laibe 30 bis 35 Minuten backen.
Auf einem Kuchengitter auskühlen lassen.
PS: Für meine Brotbackversuche benutze ich gefiltertes Leitungswasser und eine Kitchen Aid. Nur falls es jemanden interessieren sollte ;).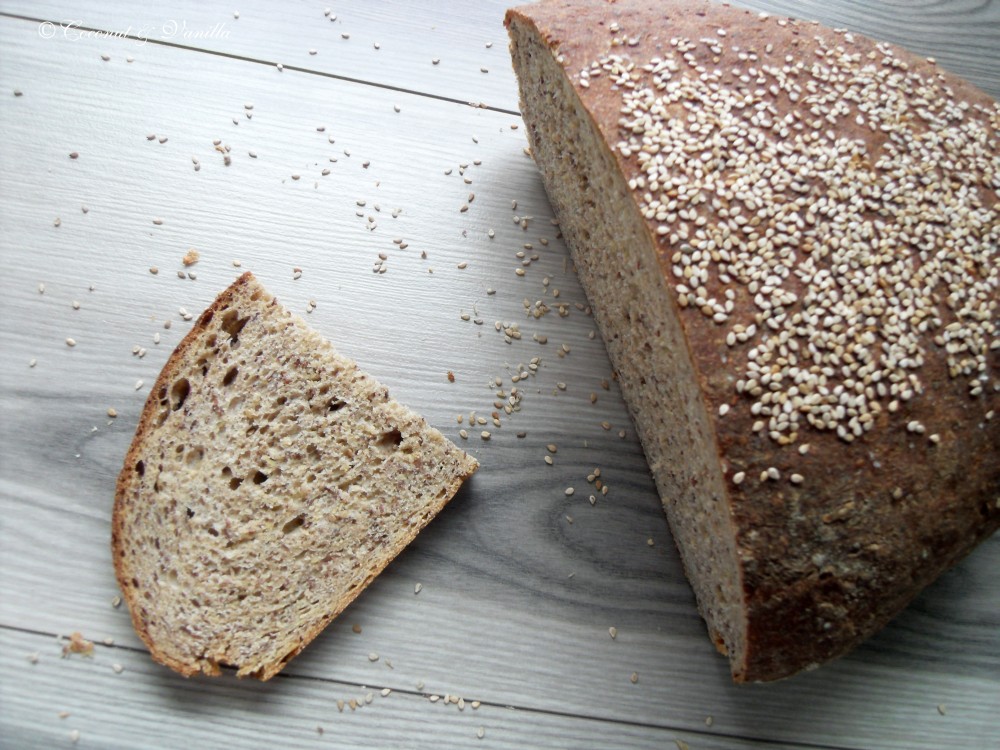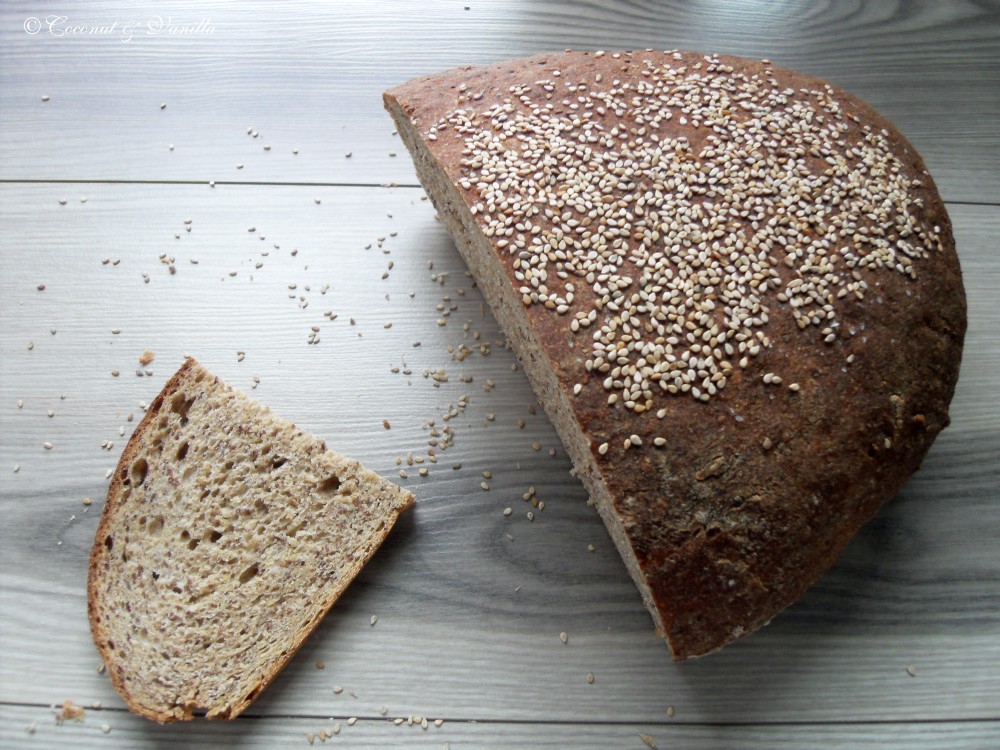 Bread is such a German thing. We could be proud of our "bread roots", but instead, almost all bread that is sold here, doesn't deserve that name. Don't get me wrong. The variety is huge, but the taste and shelf life are lacking and the number of ingredients is rising.
Baking my own bread was going around in my head since months. Lots of food bloggers, blogged about making their own sourdough. I was hooked. But it took me a long time to get myself to this point.
It didn't rely on the blog posts on the internet. What do I have to do, when having the sourdough? Most bloggers stopped here. Maybe one bread recipe followed, but that was it. But the afterwards is the most interesting part. Making bread. Time and again. What I needed was a book. Various recommendations later I chose Bread: A Baker's Book of Techniques and Recipes by Jeffrey Hamelman. It was the right choice. Hamelman leads you step by step to the world of bread baking, with everything you need to know, including the making of your own sourdough.
So if you are a total newbie to bread baking, I recommend you a good book. If you already have a sourdough waiting for the next dough, I recommend you: bake a bread! For instance this flaxseed bread. It's a good solid bread with a softer crumb and crust (for a sourdough bread) .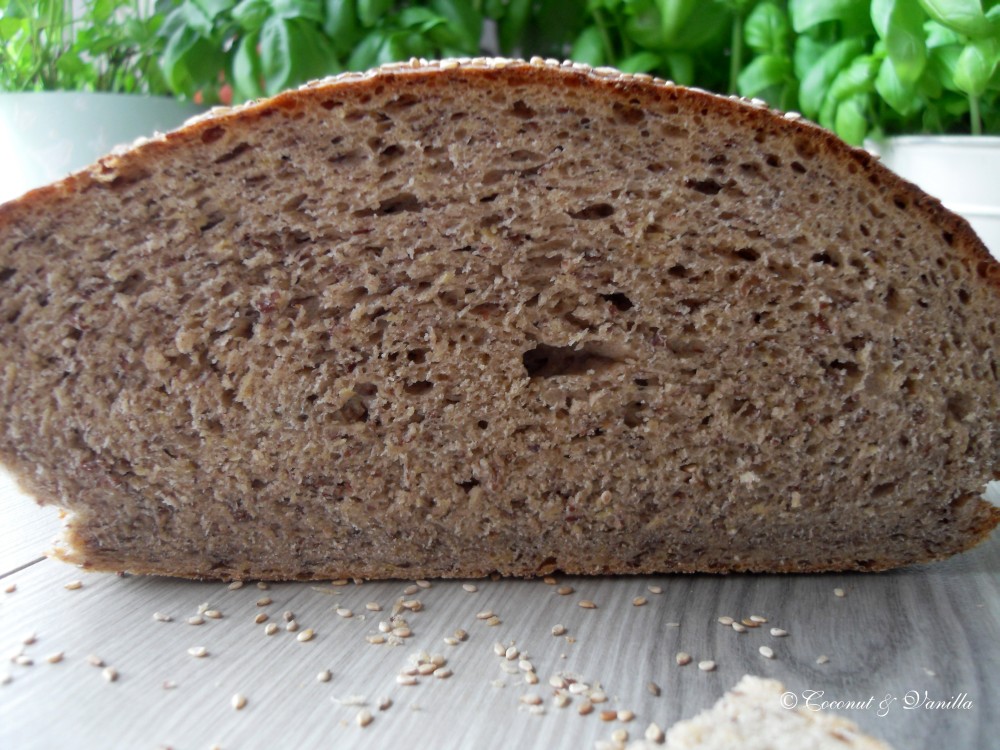 One year ago: Coconut Panna Cotta
Two years ago: Death by Chocolate
Flaxseed Bread
from Bread: A Baker's Book of Techniques and Recipes by Jeffrey Hamelman
Sourdough
360 g medium rye flour

285 g water

2 heaped Tbsp mature sourdough culture
Soaker
90 g flaxseeds

270 g water
Mix the ingredients for the sourdough and let it ripe for 14 to 16 hours at room temperature (over night). It needs longer in a cold room, shorter in a warm room. Cover with plastic.
At the same time put the flaxseeds in a small bowl and cover with the water. Cover with plastic.
  Final dough
180 g medium rye flour

360 g high gluten flour

120 g water

1 Tbsp sea salt

1, 5 tsp instant dry yeast

soaker ( all of above)

sourdough (all of above minus 2 Tbsp)
On the next day, add all the ingredients to the mixing bowl. Don't forget to remove your part of the sourdough for the next bread!
Mix for 3 minutes on first speed and another 3 minutes on second speed.
Cover with plastic again and let it sit for 45 minutes.
Divide the dough in to two pieces, if you like smaller breads. I made one large loaf. Shape round or oblong. I transfer mine now to a silicone mat on which I will bake the bread later  (I drag it onto the hot baking sheet).
Let it fermentate for another 60 minutes.
In the meantime preheat your oven. The books says to preheat to 235 °C. I only preheated to 200 °C. (because otherwise my breads become too dark). You will only find your way of baking the bread with you oven on your own. But after a few breads and taking a few looks at the bread while baking, you'll know it.
Add a ovenproof dish to the bottom of your oven, while preheating. Also load the oven with you baking sheet, so it heats, too (unless you use a pizza stone).
When the oven has the desired temperature, cook some water in your electric kettle. Pour it into the ovenproof dish in the oven. You so steamed your oven. I also use a spray bottle to steam the oven before and after loading the bread.
Drag the bread with the silicone mat onto the hot baking sheet. Be careful! Or load it with a pizza peel onto the sheet or the pizza stone.
Bake the bread for 40-45 minutes for a large loaf, 30 to 35 minutes for two small loafs.
Let it cool completely on a cooling rack.
PS: I use filtered tap water at room temperature for my bread baking and a Kitchen Aid for kneading, just for whom it may interest.