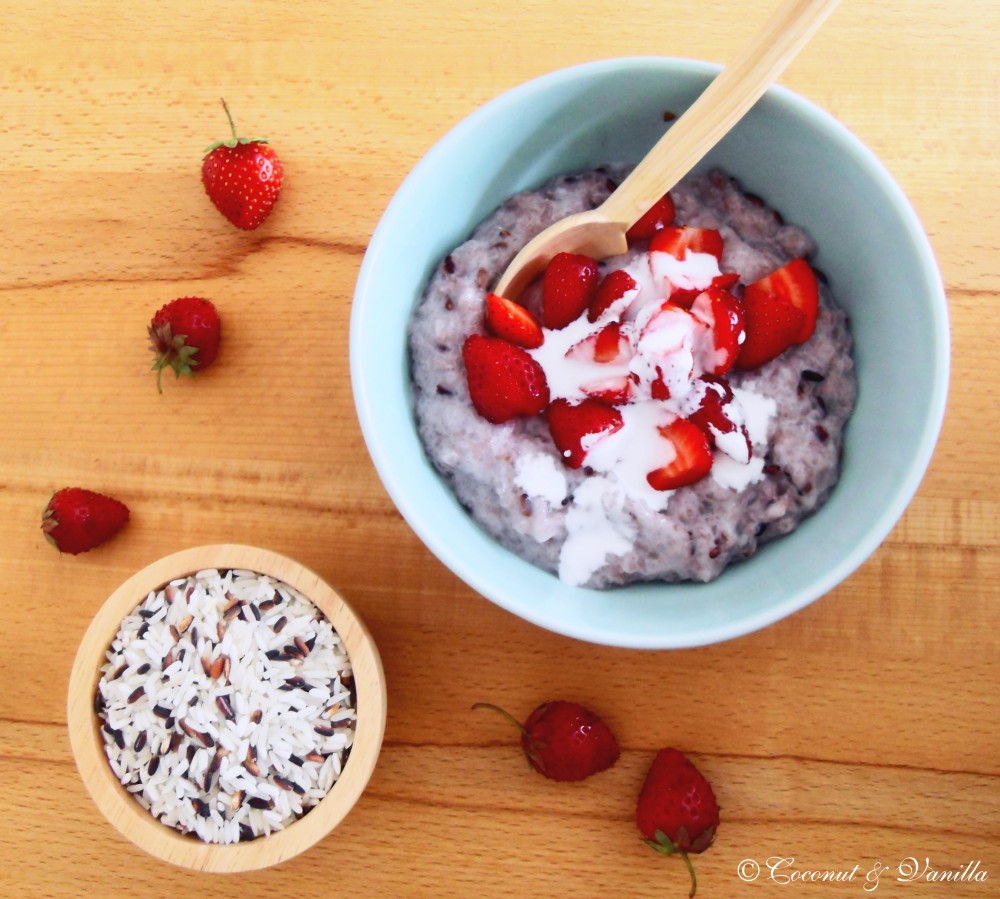 Meinen 2. Bloggeburstag feiere ich mit einem Milchreis. Nicht mit irgendeinem Milchreis – nein mit lila Milchreis! Ich fände auch normalen Milchreis schon einen Grund zum feiern. Denn (natürlich selbstmacht) da kann ich mich einfach reinlegen. Notiz machen: mal wieder Milchreis kochen.
Vor 1,5 Jahren schickte mir meine Mutter ein Päckchen mit lauter Fairtrade-Produkten von der GEPA, darunter war auch eine Reismischung, die lila Reis enthält (klickst du hier). Ich mag zwar außergewöhnliche Zutaten, trotzdem weiß ich nicht mit allem gleich was anzufangen. Deswegen hat es auch 1,5 Jahre gedauert bis ich die Verbindung zu einem Rezept in meinem Lieblings-Thailand-Kochbuch hergestellt hatte. Da aus diesem Kochbuch einfach alles köstlich schmeckt und auch einfach zu kochen ist (es ist wirklich ständig seit Jahren in Benutzung – Empfehlung!), habe ich dann dieses Rezept in Angriff genommen.
Und es ist göttlich! Erst kocht man den Reis in Wasser bis er gar ist und die richtige Milchreiskonsistenz erreicht hat (was bei mir länger gedauert hat, als im Buch angegeben). Und dann rührt man lecker Kokosmilch und Zucker darunter. Und ja die Menge des Zuckers ist gut so, auch wenn es einem viel vor kommt. Getoppt wird das ganze mit leckerem Obst (bei mir Erdbeeren, aber Mango oder Pfirsiche passen sicher auch gut) und dem dicklichen Teil der Kokosmilch – gesalzen. Ja richtig! Und das macht die perfekte Kombination aus in diesem Dessert! Vertraut mir.
Wer beim Original bleiben will nimmt übrigens Jackfruit als Obst. Hatte ich aber keine Lust zu suchen (mal abgesehen davon, dass ich gar nicht weiß wie es schmeckt und Dosenzeugs kam nicht in Frage). Und natürlich kann man das Ganze auch mit weißem Klebreis machen (auch wenn ich es nicht versucht habe bisher).
Im Urlaub vor 3 Jahren auf Bali habe ich ein ähnliches Dessert genossen. Dort auch diese leckere Süß-Salzig-Kombi, nur ohne Reis, sondern ich glaub es war Tapioca. Tja ich kann mich nicht mehr erinnern.
Aber was gibt es besseres als den 2. Blog-Geburtstag mit einem mit Erinnerungen an Urlaub verbundenes Dessert zu feiern?! Danke, dass ihr so fleißig und wiederkehrend (!) meinen Blog besucht! Seit gewiss, es folgen weitere Rezepte).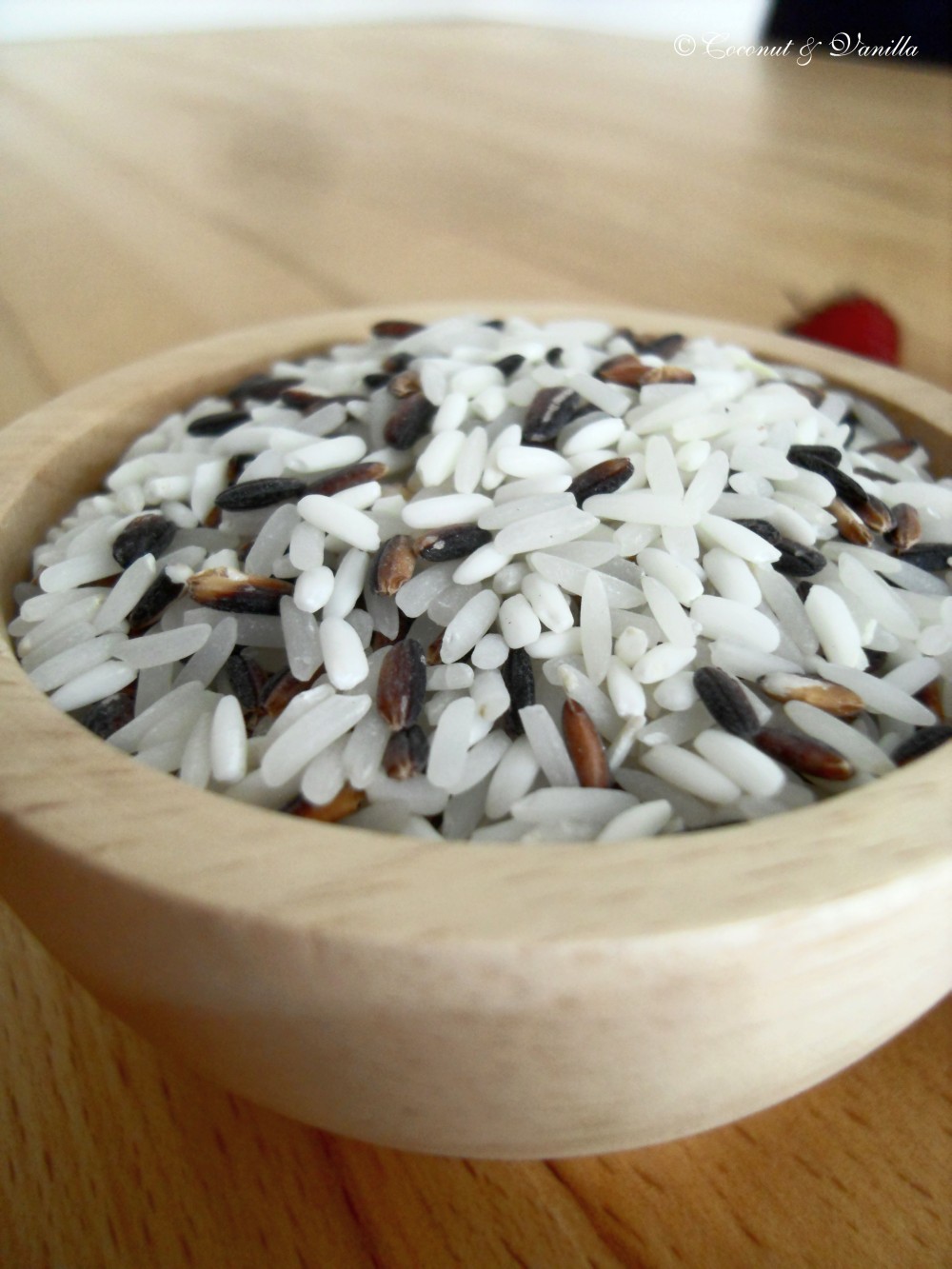 Lila Milchreis mit Erdbeeren
250 g lila Reis Mischung

eine Dose Kokosnussmilch, nicht geschüttelt

2 Prisen Salz

200 g Zucker

250 g Erdbeeren (oder anderes Obst, nach Gusto)
Den Reis waschen und 3 Stunden in kaltes Wasser legen. Den Reis abgießen und mit 300 ml frischem Wasser zum Kochen bringen und bei kleiner Hitze garen. Er sollte Milchreiskonsistenz haben. Eventuell Wasser nachgießen, wenn nötig. Das ganze dauert 20 bis 30 Minuten, je nach Reissorte (echter Milchreis dauert länger).
Die Erdbeeren waschen und in Scheiben schneiden.
Von der Kokosmilch den dickflüssigen Teil abnehmen, etwa 8 Esslöffel. Den Rest mit dem Zucker verrühren. Die dickflüssige Milch mit dem Salz verrühren. Man sollte das Salz herausschmecken. Die gezuckerte Kokosmilch unter den Reis rühren. Auf Dessertschalen verteilen und mit den Erdbeeren und der salzigen Kokosmilch garnieren.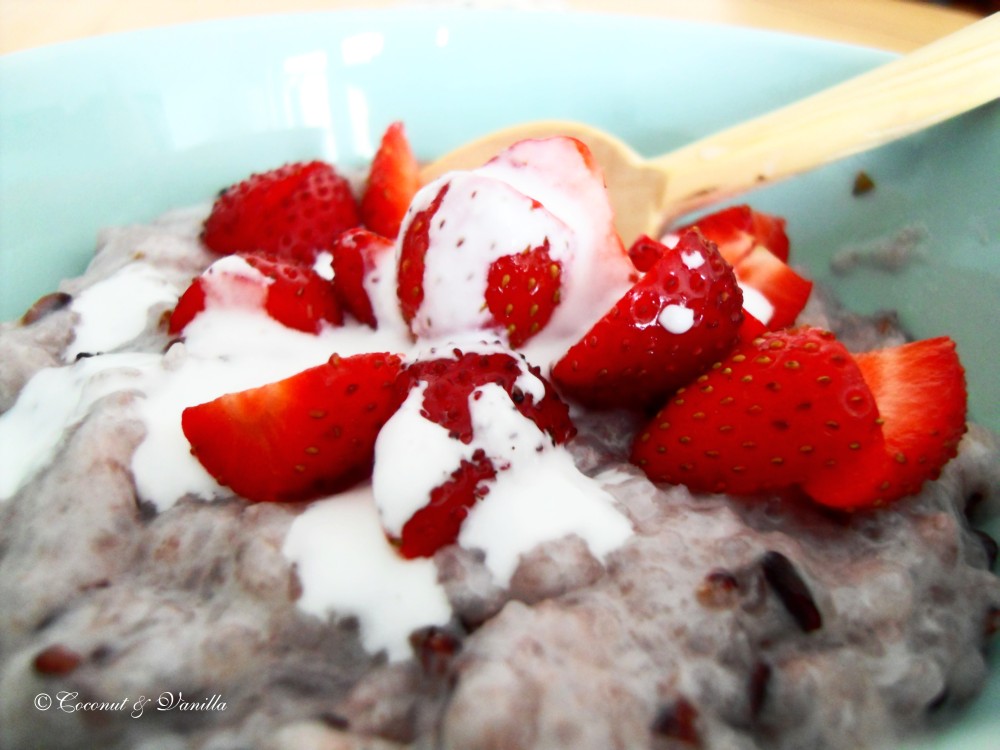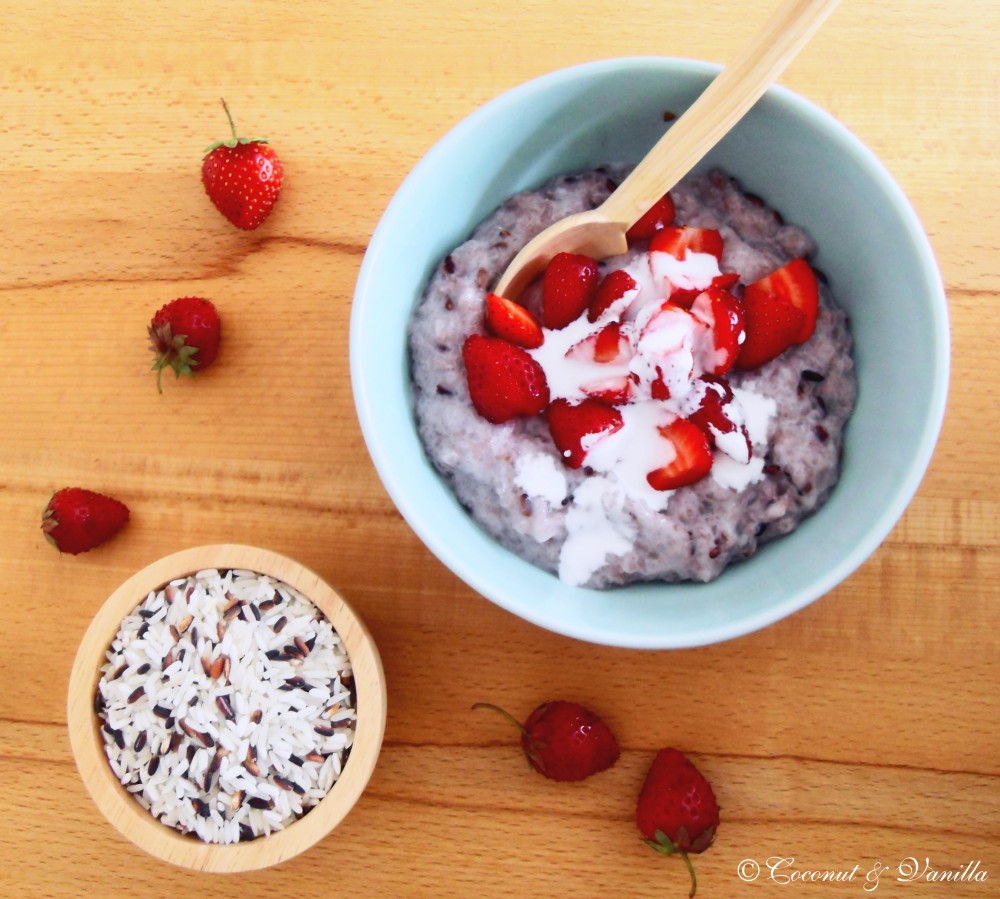 I have a Thai cookbook, that accompanies me already some years and I love it ever since. Everything in there is delicious and easy to cook! It's an all-time favourite.
There I spotted the recipe for the purple rice pudding. Years ago, too, of course. But I've never made it, although it's easy and delicious. Again. Ok, the purple rice may be a drawback. Over 1,5 years ago my mother send me a parcel with fair-trade products, In there was also a package with purple rice, or at least a mixture containing purple rice. It took 1,5 years to draw the connection.
Of course you can also make this rice pudding with some sticky white rice. I truly recommend it, because it's that delicious!
The rice pudding is cooked in water, until it reaches the right texture, which depends on the kind of rice you are using. Afterwards you mix it with coconut milk and sugar  and serve it with some fruit and the salted thick part of the coconut milk. The saltiness pairs perfect with the sweet rice pudding and the fruits. I used strawberries, because they were perfect in season, but feel free to substitute, for instance with peach or mango. The original recipe recommends jackfruit, which was to complicated for me to get and I didn't wanted to use any fruit from cans.
3 years ago on a holiday on Bali, I ate a dessert that was quite similar to this, because of the sweet- and saltiness. Different because it wasn't made of rice. Although I can't remember anymore what was used instead.
A delicate dessert connected with some memories, perfect to celebrate my second blogaversary! Thanks for visiting my blog! I hope you enjoyed the time ever since on my blog and I'm happy to provide you with more upcoming recipes!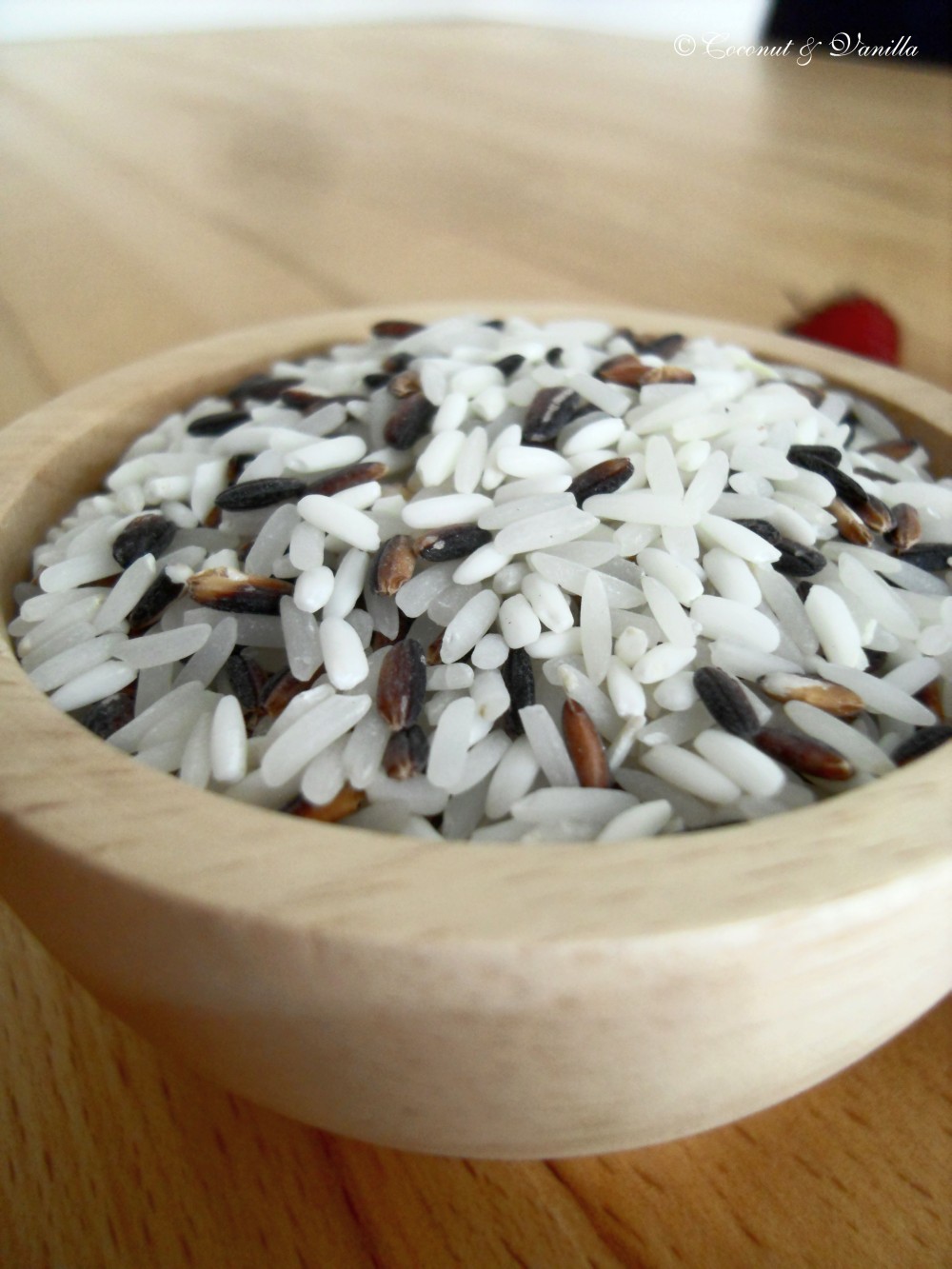 Purple Rice Pudding with Strawberries
Ingredients:
250 g purple rice mixture

400 g coconut milk (one can, not shaken)

2 pinches of salt

200 g sugar

250 g strawberries (or some other fruit you like)
Rinse the purple rice and soak it 3 hours in cold water. Strain off the water, and cook it on low heat with 600 ml of water, until it reaches the perfect texture for rice pudding (soft, but a bit firm to the bite). Add more water if needed. It takes about 20 to 30 minutes, depending on the sort of rice, you are using.
Wash the strawberries and cut them into slices.
Remove the upper thicker part from the coconut milk. About 8 Tbsp. Mix with the salt. You should taste the salt. Stir the sugar in the rest of the coconut milk. Stir in the rice. Arrange on dessert bowls and top with strawberries and the salted coconut milk.