Diese Pasta mit Radicchio und Speck fällt definitiv in die Kategorie "schnelles und einfaches Essen". Ich liebe es besonders, weil es mit dem Radicchio einen anderen Geschmack ins Spiel bringt, und außerdem kann ich Pasta und Speck einfach nicht wiederstehen!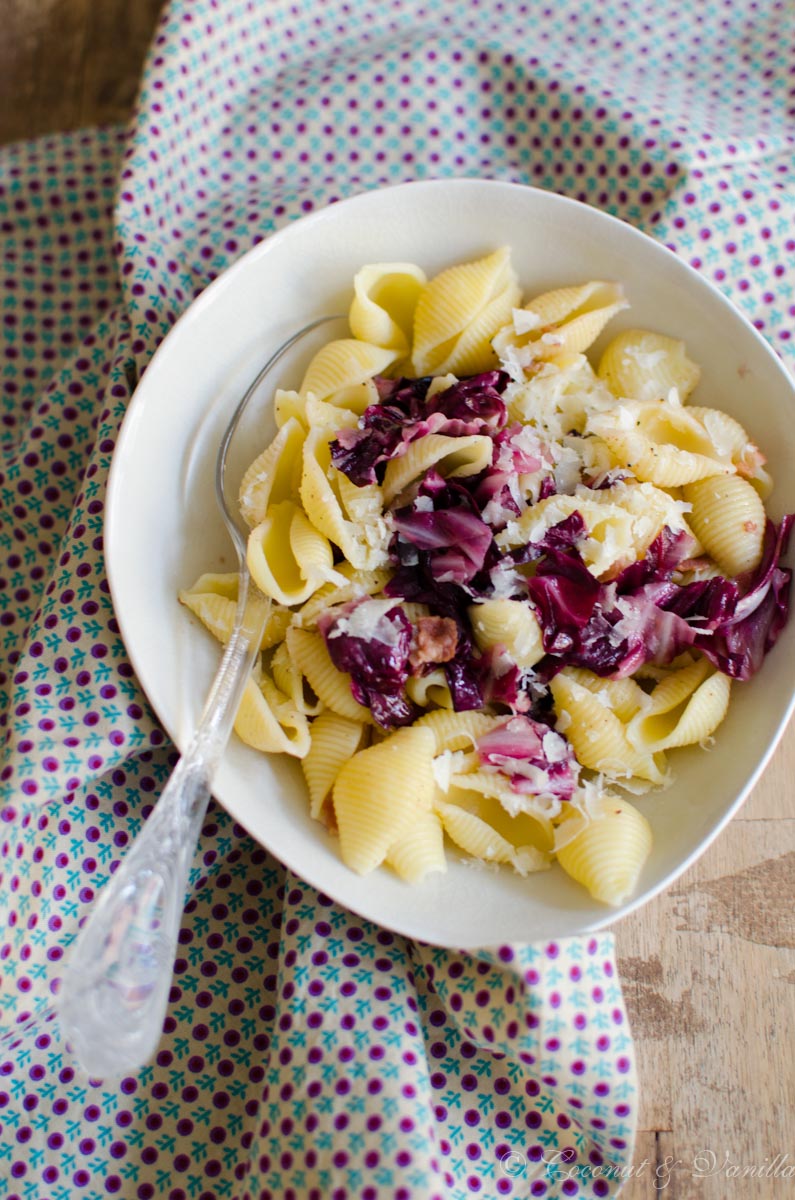 Ich habe dieses Essen schon viele viele Male gekocht, aber wie das bei schnellen Gerichten so ist, hat man normalerweise keine Lust und Zeit noch ein hübsches Foto zu machen. Deshalb gab es die Pasta dieses Mal zum Mittagessen ;).
 Ja, der Radicchio schmeckt leicht bitter, aber wirklich nur leicht hier. Es ist nicht so schlimm wie in diesen gemischten Salaten, die ich auch nicht mag. Es ist einfach ein ganz feines Gericht, dass euch überraschen wird!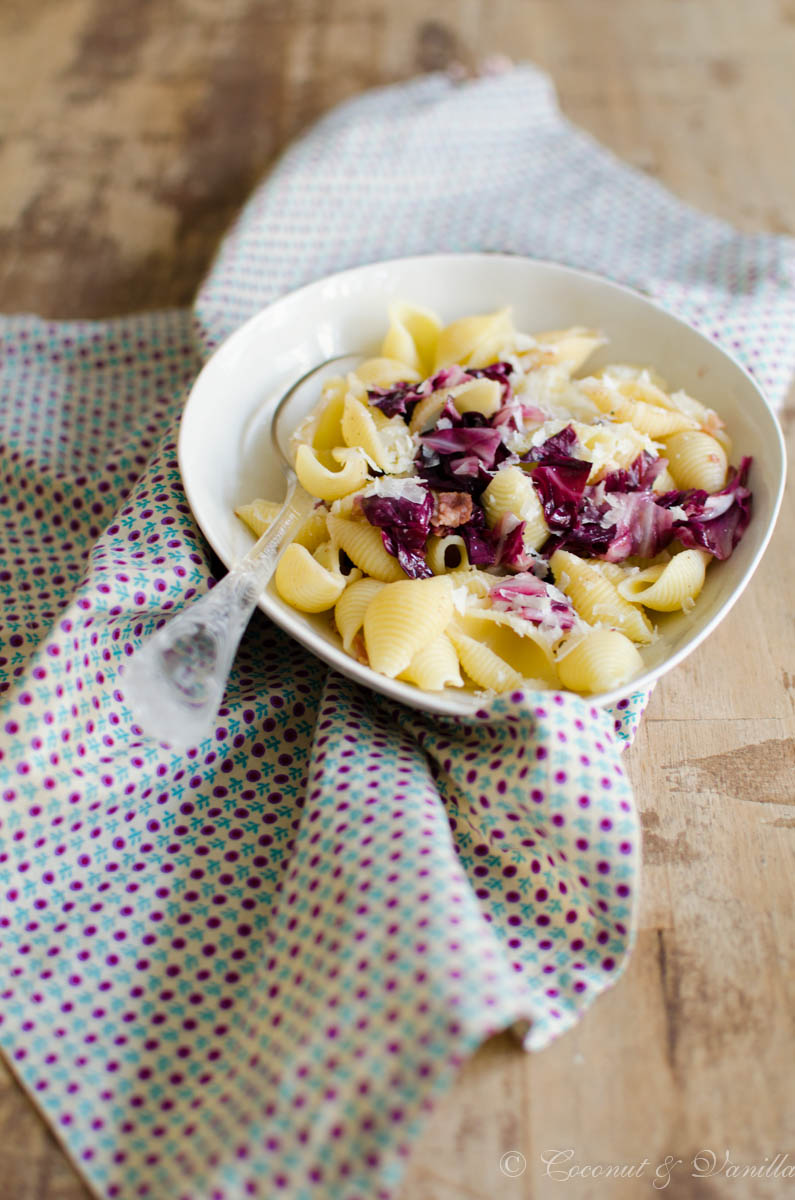 Vor zwei Jahren: rotes Thaicurry
Vor drei Jahren: glutenfreier Orangen-Polenta-Kuchen
Vor vier Jahren: Hackbraten à la Jamie
Vor fünf Jahren: Überbackene Tofunocken mit Tomatensauce
Pasta mit Radicchio und Speck
aus Winterküche* von Tanja Dusy
ergibt: 2 Portionen
Zutaten:
1 Kopf Radicchio
300 g kurze Pasta
Meersalz
1 TL Butterschmalz
100 g Speck in Würfeln
1 Knoblauchzehe, fein geschnitten
schwarzer Pfeffer, aus der Mühle
1 EL Weißweinessig
Parmesan, frisch gerieben
Die äußeren Blätter des Radicchios werwerfen, die restlichen Blätter abzupfen, waschen und trockenschleudern. Die Blätter quer halbieren oder dritteln, je nach Größe und in etwa 2 cm breite Streifen schneiden.
Die Pasta in einem großen Topf mti sprudelndem Salzwasser al dente garen.
Währendessen das Butterschmalz in einer Pfanne schmelzen und den Speck knusprig auslassen. Am Ende den Knoblauch mitandünsten. Den Radicchio zum Speck geben und unter Rühren 2 – 3 Minuten zusammenfallen lassen. Mit dem Weißweinessig ablöschen.
Das Nudelwasser abgießen und etwas Wasser auffangen.
Nach Bedarf etwas Nudelwasser an den Radicchio angießen und mit Salz und Pfeffer würzen.
Die Pasta auf Tellern verteilen, mit dem Gemüse toppen und mit Parmesan servieren!
*Werbung, Affiliatelink (sprich, wenn ihr über diesen Link etwas bei Amazon kauft verdiene ich dabei wieder eine kleine Provision, die ich in den Erhalt des Blogs stecke)
This pasta with radicchio and bacon is definitely made for the category "quick and easy". I love it especially, as the radicchio adds a whole new flavour, also I can't resist pasta and bacon!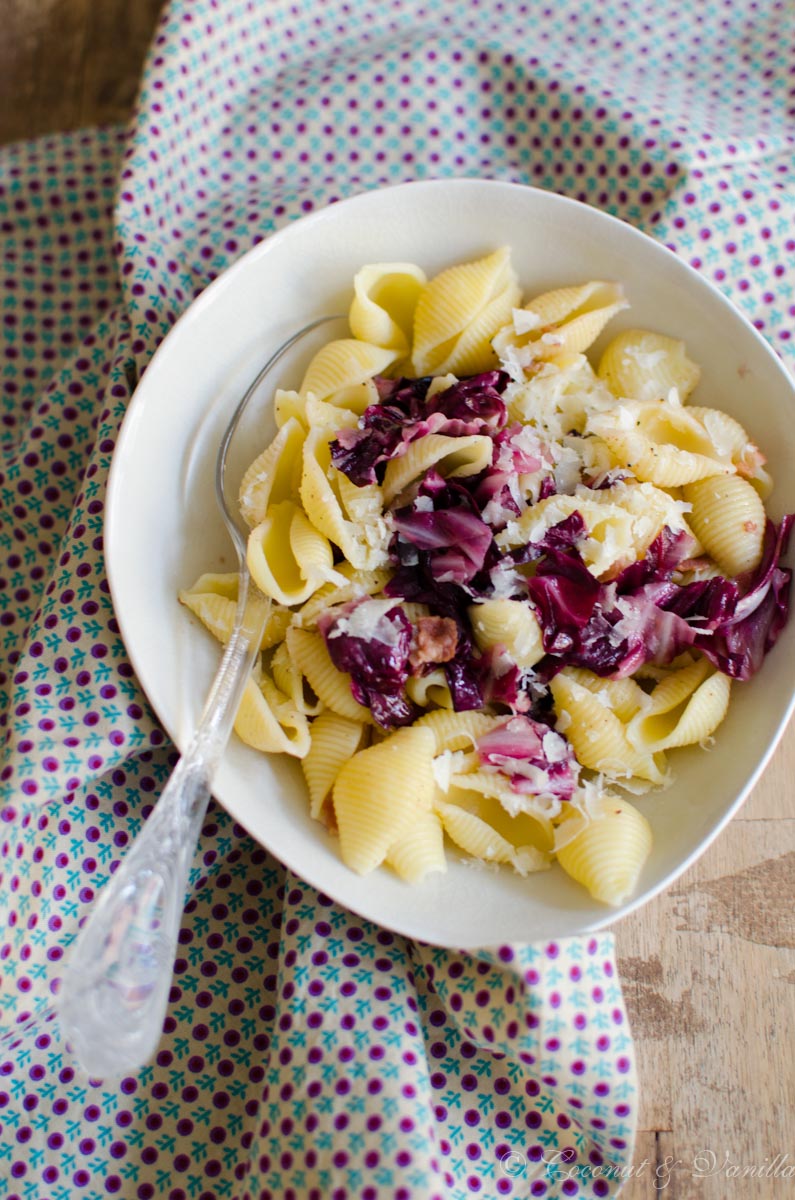 This meal is a favourite of me, but as it is with quick meals, you don't have time and mind to take a pretty picture. So this time forseeing I scheduled it for lunch ;).
Yep, radicchio tastes a bit bitter, but just a tiny bit here. It is not as bad as in those mixed salads you get here and there, which I do not like at all. It's a very subtle dish, which will suprise you!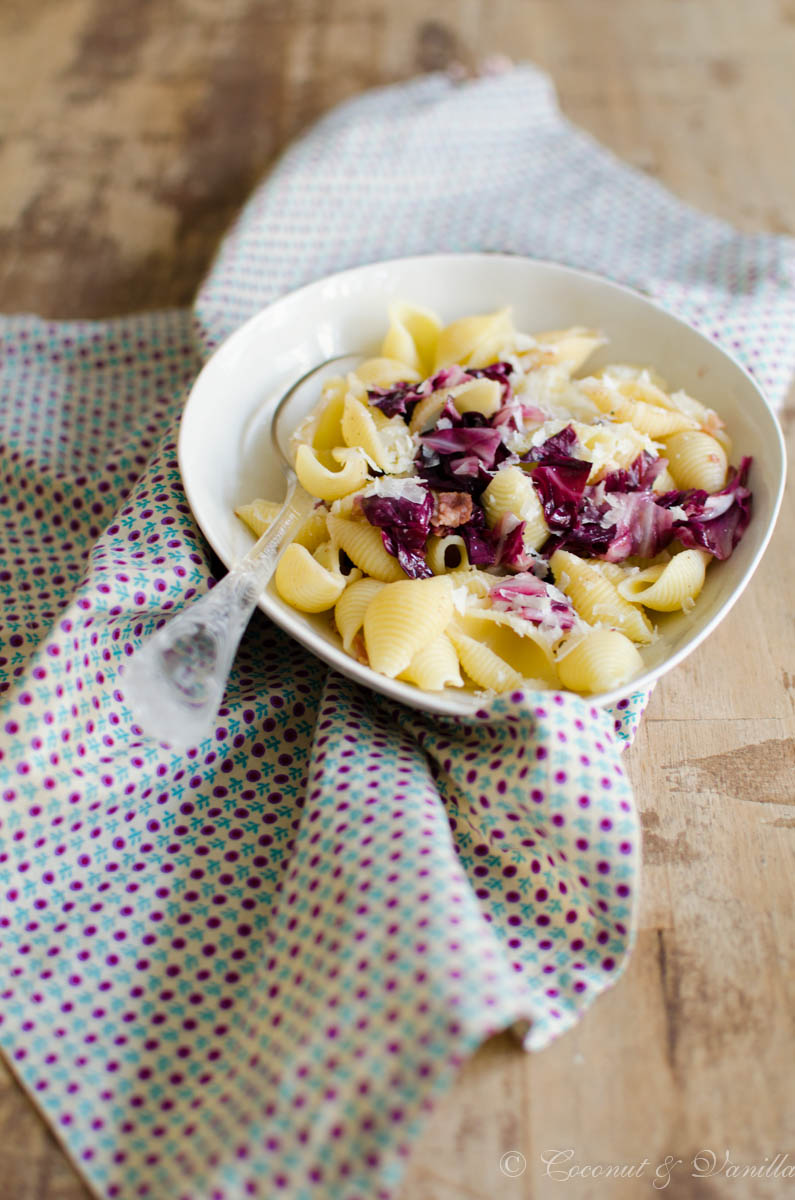 Two years ago: red thai curry
Three years ago: gluten-free orange polenta cale
Four years ago: meat loaf à la Jamie
Five years ago: tofu balls with tomato sauce
Pasta with Radicchio and Bacon
adapted from  Winterküche* by Tanja Dusy
yields: 2 portions:
Ingredients:
1 head radicchio
300 g short pasta
sea salt
1 tsp clarified butter
100 g bacon, diced
1 garlic clove, thinly sliced
black pepper, freshly ground
1 Tbsp white wine vinegar
parmesan, finely grated
Discard the outer leaves of the radicchio. Remove the other leaves, rinse them and spin them dry. Halve or third them broadwise, depending on the size of the leaves and cut them into 2 cm broad stripes.
Cook the pasta in a large pot of boiling salted water until al dente.
In the meantime melt the clarified butter and sauté the bacon until crispy. In the end add the garlic and sauté for another minute. Add the radicchio and sauté until wilted for about 2 – 3 minutes. Add the white wine vinegar.
Strain the pasta and keep some of the cooking water.
If necessary add a bit of pasta water to the radicchio and season with salt and pepper.
Arrange the pasta on the dishes, top with radicchio and serve with parmesan!
*affiliate link