Saturday, 2nd March 2013
This curry is one of my quickest dishes and one of my favourite thai dishes, too! In the summer you can use a lot of fresh vegetables here to make a vegetarian dish, on the other side you can make it using most things from the pantry, the rests from the fridge and some fresh chicken or frozen prawns. I mostly use prawns when I didn't have thawed any chicken, because normally we don't make it to the butchers under the week.
This dish is quick, because it's made in 15 minutes. Cooking the rice takes more time, so it's wise to do this at first. Our favourite rice is Tilda rice. It isn't easy to access in Germany, but luckily our little Asian/Indian shop nearby sells it. Meanwhile we buy the big 10 kg sack, which saves money and in within one year it's used up anyway ;). We got to know this delicious rice in Scotland, by the way and love it ever since. In Great Britain you can (of course) buy more than just the normal basmati rice by Tilda, but much more kinds, especially pre-steamed ones which are really delicious (Germany could take a leaf out of this). For cooking whilst camping they were perfect. And look at the package design! Marvelous! Again, Germany, why is it so difficult for you to design food packages like that? Britain's got talent in that department! Also they can make scrumptious chips (crisps) in great varieties without artificial flavours or flavour enhancers. Sometimes I don't know why people don't take a leaf out of their neighbors book, but only care for their own two square meters.
However, if you have the possibility to try Tilda rice, take a chance, the difference to ordinary basmati rice is like day and night!
And homemade red curry paste would be of course be best in this dish!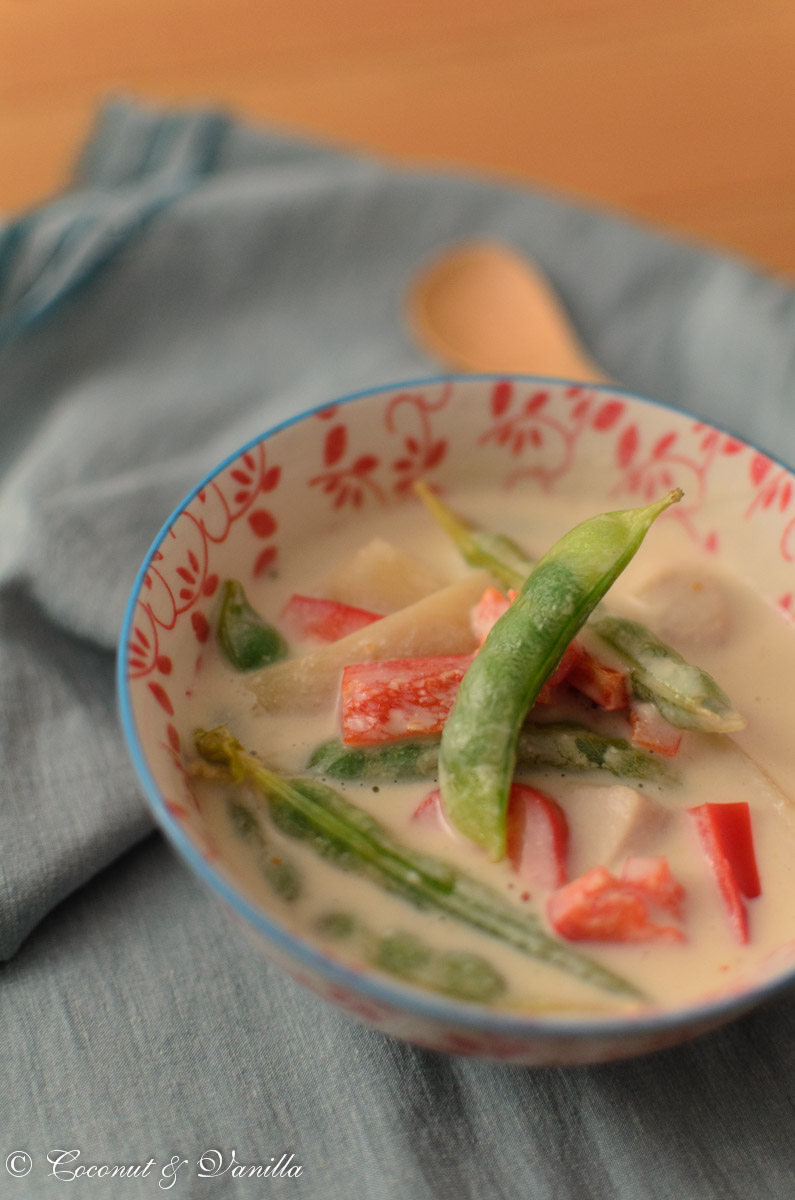 One year ago: gluten-free orange polenta cake
Two years ago: oat florentines
Three years ago: tofu balls with tomato sauce
Red Thai Curry
adapted from Thailand: Kochen und verwöhnen mit Originalrezepten
yields: 2-3 servings
Ingredients:
2 chicken breasts or a handful prawns (frozen)
6 Tbsp fish sauce
100 g sliced bamboo shoots (I used the preserved presliced ones in glasses)
100 g sugar snap peas, otherwise use young green beans
1 red bell pepper
1 can coconut milk (400 g)
1 – 2 tsp red curry paste
1 pinch of sugar
optional: 20 leaves (thai) basil
You can substitute the vegetables above with others like mung bean sprouts, water chestnuts, green asparagus or broccoli.
Instead of chicken you can also use another meat, which is suitable for pan frying. If you like fish, use cod or haddock (not salmon).
Cut the meat into bite sized pieces, place in a bowl and stir in the fish sauce. Marinate for 10 minutes.
Drain the bamboo shoots and rinse.
Rinse, clean and cut the sugar snap peas diagonally into halves.
Clean the bell pepper and dice it (2 x 2 cm pieces).
Cook the thick upper third of the coconut milk in a wok (or a deep frying pan), unil boiling, then stir in the curry paste. Let it simmer for 2 minutes whilst stirring to loosen the curry paste.
Add the rest of the coconut milk and bring to boil. Add the meat and simmer for 2 minutes. Add the bell pepper and sugar snap peas and simmer for 3 minutes. Add the bamboo shots simmer for 1 minute and season with the sugar.
If you have some basil tear it apart coarsely and stir in the curry. Serve immediatley with basmati rice.