Sunday, 21st September 2014
Autumn is here and therefore it's time again to cuddle up, drink warm tea and cook with pumpkins, apples, pears and quinces! In summer I avoid chocolate because of the heat, but now it's time again to make delicious stuff with chocolate. So I recommend you a blanket, a good book, a warm cup of tea and a slice of this scrumptious creamy chocolate tart.
I discovered this recipe in Rachel Khoos book My Little French Kitchen.I really like this book! The book is divided into the regions of France and samples it specialties. Rachel often interprets these dishes new and adds a new twist. Like this chocolate tart, which is refined with crème fraîche and therefore seems fresher than a normal chocolate tart. Apart from that, the book has a good mixture of vegetarian recipes, as well as meat, fish, seafood and sweet dishes. The photos are also done very well, very realistic, but beautiful. A book I can recommend overall!
I used a 24 cm tart tin, which is smaller than a standard tart. This is good, because a chocolate tart is always a bit on the heavy side. The tart keeps very well in the fridge for a few days, so it also manageable for small households.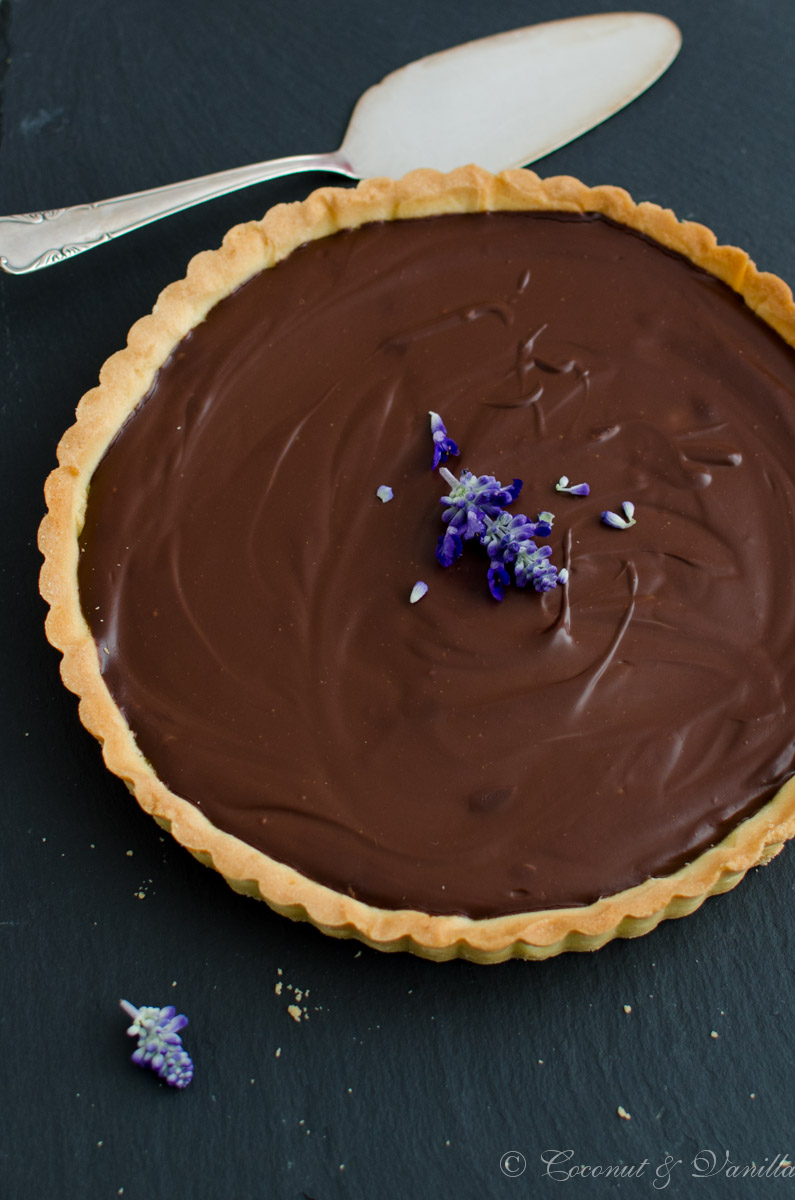 One year ago: raspberry tiramisu
Two years ago: blackberry cake with cinnamon streusel
Three years ago: vanilla pear tart
Four years ago: gluten-free donuts
Five years ago: crispy thin pecan cookies 
Chocolate Tart with Crème fraîche
from My Little French Kitchen by Rachel Khoo
yields: one 24 cm or 23 cm tart
For the short crust:
Ingredients:
120 g butter, at room temperature
60 g powdered sugar
1 pinch of salt
2 egg yolks
180 g wheat flour
Beat the butter, sugar and salt until creamy and white. Add the egg yolks one after the other and beat in. Add the flour and knead until you have a smooth dough.
Make a disk and wrap the dough into plastic foil. Keep for one hour in the refrigerator.
Preheat the oven to 180° C. Roll out the dough so it fits into a 24 cm (or a 23 cm) tart pan including a rim. Line the pan with the dough and cut off excess dough. Prick the bottom with a fork several times. Scrunch a piece of parchment paper which is larger than the pan and place it outstretched on the dough. Place legumes on the paper and bake it blind for 20 minutes. Then remove the legumes and the paper and bake for another 10 minutes. The dough should be baked through and the rim lightly golden brown. Adjust the baking time, if necessary, every oven is different!
Remove the tart shell from the pan and let cool completely.
For the filling:
Ingredients:
150 g dark chocolate, chopped or chips
50 g whole milk chocolate, chopped or chips
200 g crème fraîche
50 ml milk
1 pinch of sea salt
Using a water bath melt the chocolate with the crème fraîche and the milk. You can also melt it in a pot on very low heat if you are using a induction stove. Stir in the salt and fill the cream into the tart shell. Place the tart in the fridge to set completely, best over night. 
Remove the tart 30 minutes before serving. Or cut in small slices and let them stand for 10-15 minutes at room temperature. Enjoy!
The tart keeps well for at least 5 days in the fridge.