Wednesday, 9th July 2014
Summer, sunshine, ice cream! It will be especially refreshing with some goats cheese ice cream with strawberry swirls! Goats cheese in ice cream? Yes, that's possible and taste delicious! The subtle flavour of goats cream cheese harmonizes very well with fruit. Besides strawberry, raspberry or cherry would also be great. According to the season this ice cream can be modified easily.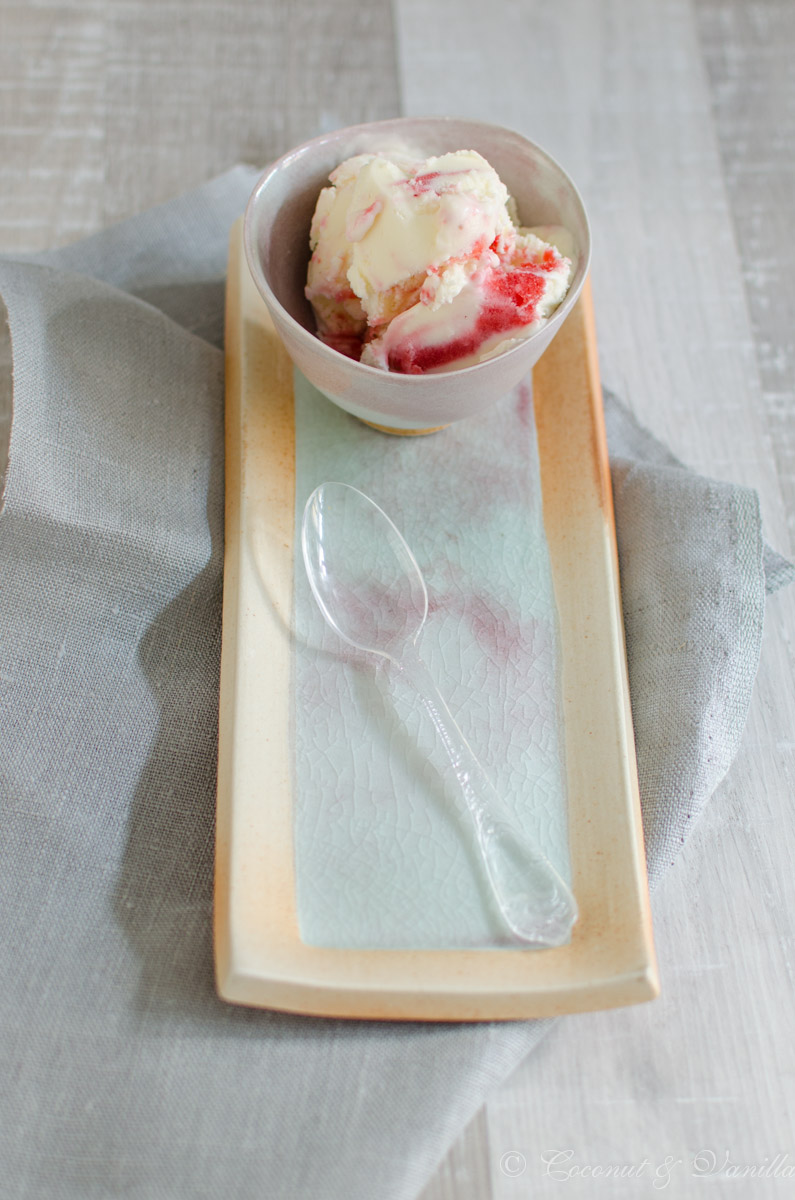 On the photo I used my latest bargain from the potters market in Rothenburg. They had some beautiful handmade pieces and so I needed to buy something! I love such individual pieces, which also look a bit like handmade work, but also radiate delicacy. Moreover I love the colours turquoise and antique pink and therefore I fell in love with those pieces in an instant. I bought two little bowls and a platter. If you are near Rottweil I recommend you to visit the pottery of Holger Hoffmann! Or you visit the next potters market in Rothenburg. Rothenburg is worth a visit anyway!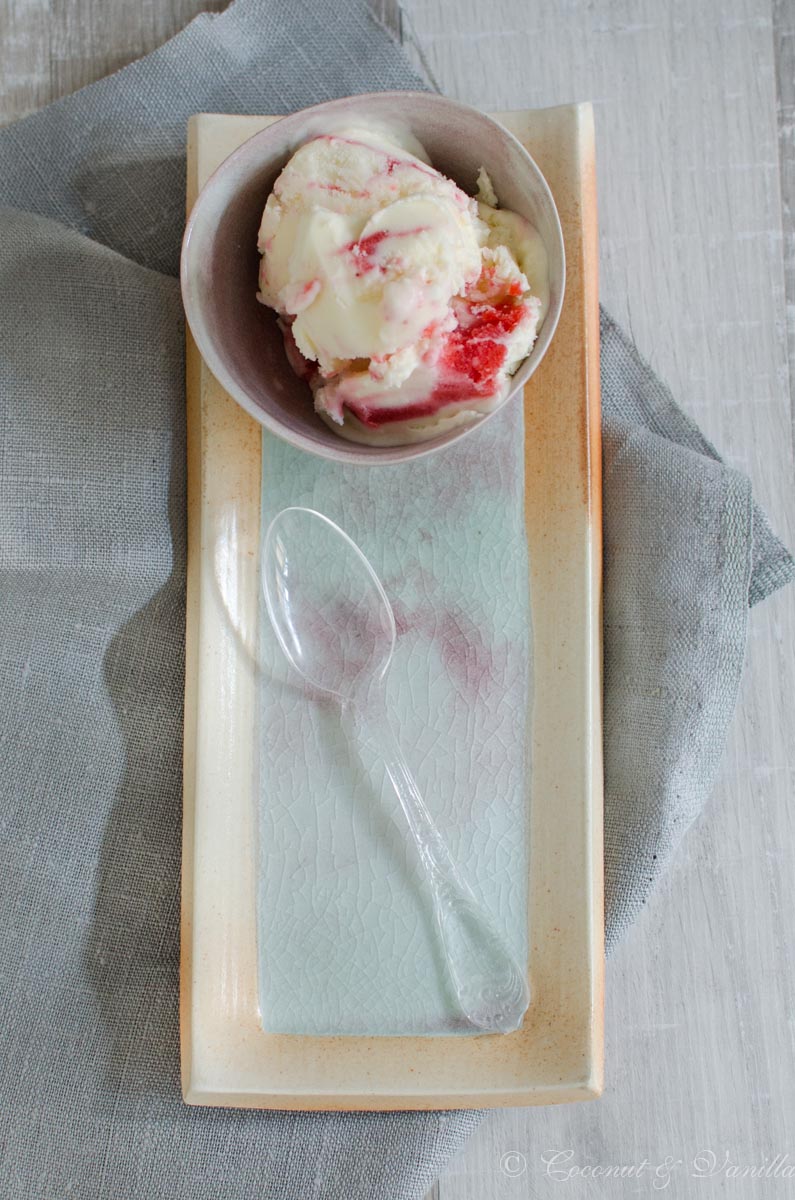 One year ago: honeyed peanut ice cream with dark chocolate chips
Two years ago: iced coffee ice cream
Three years ago: blueberry lemon tart
Four years ago: strawberry melon soup
Goats Cheese Ice Cream with Strawberry Swirls
adapted from Jeni's Splendid Ice Cream at home Jeni Britton Bauer
Ingredients:
100 g plain goats cream cheese
300 g organic cream
500 ml whole milk
150 g sugar
2 tbsp corn starch
40 g plain cream cheese
1 pinch of salt
50 ml glucose syrup
150 g fresh strawberries
1 Tbsp sugar
In a middle sized bowl (best use one which fits in your fridge and can be sealed with a lid) stir together the goats cream cheese, the cream cheese and the salt.
Whisk together 50 ml milk and the corn starch in a small bowl.
 Bring the rest of the milk, cream, sugar and glucose syrup to a boil in a middle sized pot. Let it cook for 4 minutes. Remove the pot from theat and whisk in the corn starch. Reheat again and cook until it thickens, keep on stirring.
Add the milk to the cream cheese and whisk until smooth. Cover the bowl and cool it in the fridge.
Purée the strawberries with 1 Tbsp of sugar. Place in the fridge.
Freeze the ice in your ice cream maker according to the manufacturers instructions.
Place halve the icecream in a shallow container and level it. Spread with strawberry purée and cover with the rest of the icecream. Freeze the icecream in the freezer until everything including the purée is frozen thoroughly. 
Remove the icecream 5-10 minutes from the freezer before serving, so it can be shaped easily.