Tuesday, 1st July 2014
Today I'm presenting a true classic on the blog: an italian lasagne with minced beef!  Lasagne is real soulfood, but you need some time for the preparation. Today I'm showing you my version of a lasagne with minced beef and béchamel sauce.
Basically it is possible to make a lasagne from everything, so you can also make a lot of vegetarian versions and get creative about that! But every now and then I come back to this classic one. How do like your lasagne best?
If you have some time and want to find your inner zen 😉 I recommend you to make the lasagne sheets yourself. That will make truly the perfect lasagne! I only made that once, but these sheets are the fastest kind of pasta to make, if that helps you for motivation ;). The lasagne is even better with homemade sheets and the best is the sheets can be made so they fit perfectly in the pan. That's a huge plus here! You can also use the dough of these ravioli for the lasagne sheets.
By the way, the minced beef sauce is already a great bolognese sauce for pasta! So if you are afraid of the labour for the lasagne, just make the sauce and some pasta and enjoy!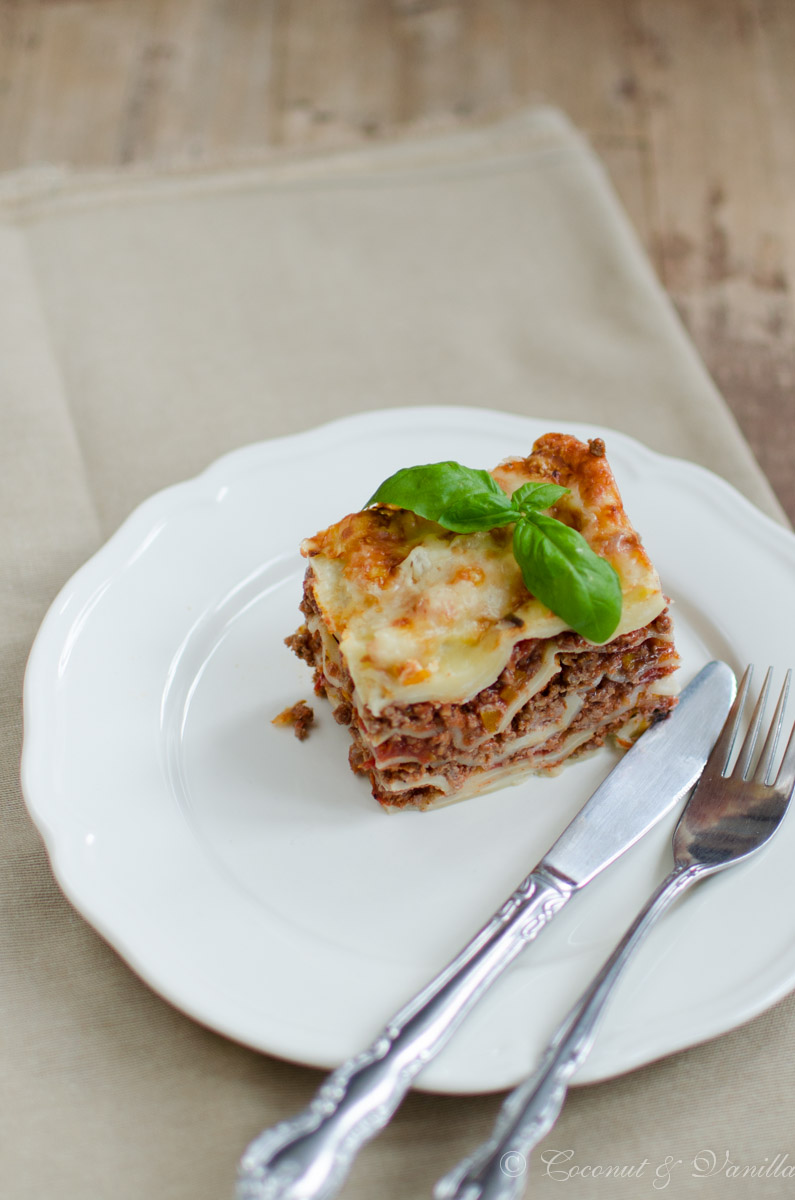 One year ago: yogurt cucumber ice pops with mango
Two years ago: cantucchini with sour cherries and pistachios, white chocolate with strawberries and mint
Four years ago: friandaises with red currants
Lasagne
yields: 4-6 portions
Ingredients:
100 g bacon,diced
1 onion, diced
2 cloves of garlic, finely diced
1 large or 2 small carrots, peeled and finely diced
1 thick slice of celeriac, peeled and finely diced
2 Tbsp concentrated tomato paste
1 kg minced beef
150 ml red wine
1 tin chopped tomatoes
250 ml vegetable broth
250 g tomato purée
salt, pepper
chopped fresh herbs, e.g. thyme, oregano, basil or dried herbs
30 g butter
40 g flour
750 ml milk
1 bay leaf
nutmeg
ca. 250 g lasagne sheets
200 g cheese (e.g. Appenzeller or Gruyère), coarsely grated
Roast the bacon in a deep skillet or a low pot until the fat renders. If necessary add some clarified butter. When the fat has rendered and the bacon is crispy remove it from the skillet. Braise the onion lightly in the remaining fat, if necessary add some clarified butter. Add the garlic and braise shortly. Add carrots and celeriac and braise for another 5 minutes. Add the concentrated tomato purée and roast shortly. Add the minced beef and sear until browned. When the water released from the beef has evaporated add the red wine. Allow to reduce the wine, then add the chopped and puréed tomatoes, as well as the vegetable broth. Cook on middle to low heat until you have a thicker sauce (that takes about 15-30 minutes for me). Then close with a lid and simmer on low heat for another 1,5 to 2 hours.
Season the sauce with herbs and salt and pepper. The sauce bolognese is already done now!
Add the butter in a saucepan for the béchamel sauce and melt on medium heat. Whisk in the flour. Pour in the milk gradually and whisk until smooth. Add the bay leaf and simmer until the sauce begins to thicken. Keep on whisking therewhile, because the sauce burns easily. When the sauce has thickened season it with salt, pepper and nutmeg and remove the bay leaf.
Butter a rectangular baking dish.
First cover the bottom with some bèchamel, then cover with lasagne sheets. Then cover again with bèchamel, following meat sauce, lasagne sheets and so on and so forth. End with lasagne sheets, bèchamel sauce, covered with grated cheese.
Bake at 200° C top/bottom (180° C hot air) on the 2. level from the bottom for 35-40 minutes until golden brown.