[:de]
Knusprige, saftige Brötchen und dazwischen eine Traumfüllung? Geht immer, oder? So wie diese Meatballs-Subs. Meatball-Subs sind einfach Fleischbällchen mit Tomatensauce im Sandwich-Brötchen. Ich hab zur farblichen Abrundung und zur Beruhigung des Gewissens noch ein paar Blätter frischen Spinats reingelegt und ab geht das Fest!
Zur würzigen Abrundung der Fleischbällchen und der Tomatensauce benutze ich Chipotle Chiliflocken, da diese  geräuchert sind. Das schmeckt herrlich! Wer keine Chipotle Chiliflocken (oder gemahlene Chipotle) bekommt kann auch normales Chilipulver nehmen und geräuchertes Meersalz anstatt normales. Auf geräuchertes Salz kann ich inzwischen nicht mehr verzichten, das bringt so eine tolle Würze gerade auf vegetarische Gerichte, einfach genial! Ich benutze gerne das smoked Maldon Sea Salt oder auch dänisches von meinem Gewürzhändler Wurzelsepp.
Wenn man die Brötchen beim guten Handwerksbäcker kauft und nicht wie ich noch selbst backt, sind die Meatball-Subs wirklich eine schnelle Angelegenheit. Obwohl ich Euch nicht davon abraten kann die Brötchen selbst zu backen, denn diese waren auch einfach nur genial! Das Rezept findet ihr hier. Heute gibt es nur rauchig würziges Streetfood!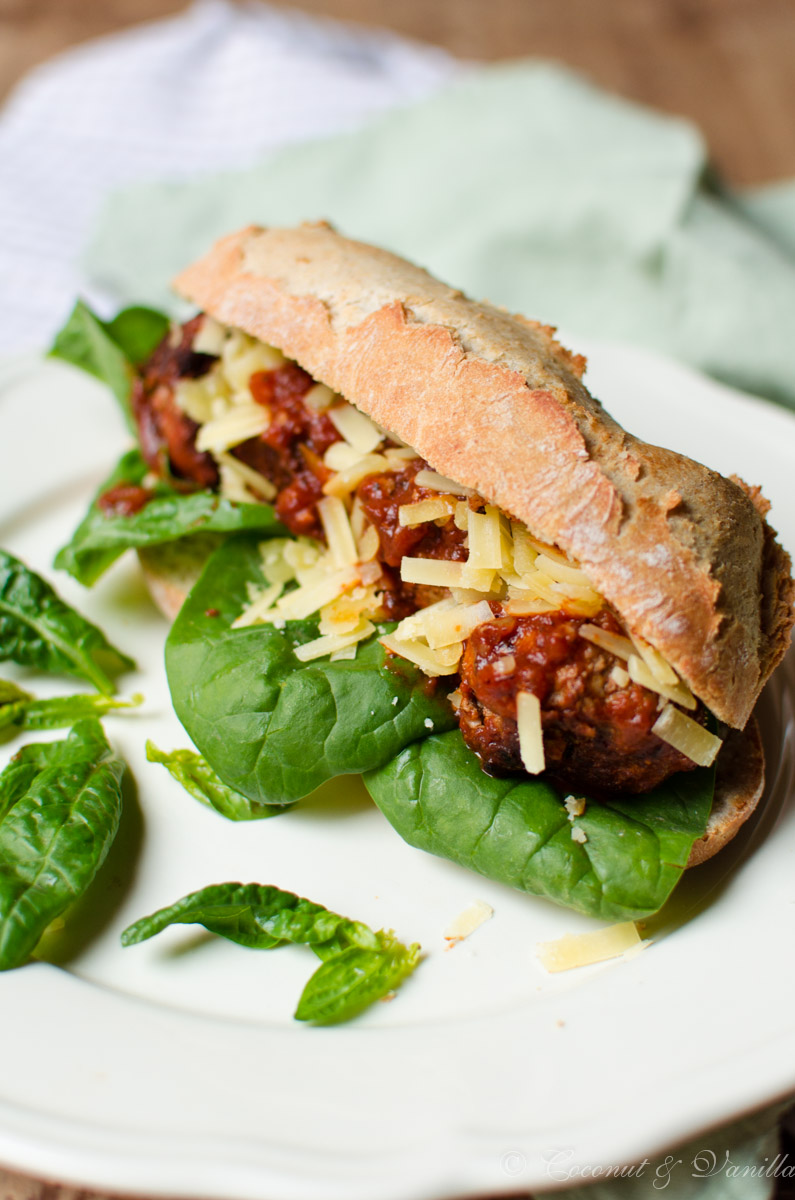 Vor zwei Jahren: Piña Colada Eis
Vor fünf Jahren: Bruschetta
Meatball-Subs mit Alibi-Spinat
ergibt: 4 Meatball-Subs
Zutaten:
650 g Rinderhackfleisch vom Handwerksmetzger eures Vertrauens
1 kleine Zwiebel, fein gehackt
1 TL mittelscharfer Senf
1 Ei
3 EL Semmelbrösel
1 TL getrockneter Majoran (frischer ist natürlich phänomenal, davon braucht man nur die Hälfte)
Meersalz
schwarzer Pfeffer, frisch gemahlen
1/4 TL Chipotle Chilliflocken (oder gemahlen, dann die Hälfte)
300 g Tomatensauce
1/2 TL Chipotle Chilliflocken
4 längliche Brötchen (z.B. selbstgebackene nach diesem Rezept)
100 g Spinatblätter, gewaschen
150 g würziger Cheddar oder Bergkäse, grob gerieben
Das Hackfleisch mit der Zwiebel, Senf, Ei, Gewürzen und Semmelbrösel verkneten und 10 Minuten stehen lassen bis die Semmelbrösel anziehen.
Aus dem Hackfleisch etwa golfballgroße Bällchen formen und in reichlich Butterschmalz in einer beschichteten Pfanne rundherum anbraten.
Die Tomatensauce und die Chiliflocken dazugeben, mit Salz und wenig Pfeffer würzen. Die Bällchen kurz darin bei kleiner Hitze anschmoren.
Die Brötchen auf einer Seite aufschneiden, so dass man sie aufklappen kann, aber keine 2 Teile hat. Etwas von der Brötchenkrume herausholen, damit die Fleischbällchen besser hineinpassen. Den Boden mit einigen Blätter Spinat bedecken. 4 Fleischbällchen nebeneinander platzieren und mit etwas Sauce bedecken. Mit geriebenem Käse bestreuen und das Brötchen zuklappen und etwas zusammendrücken.
Sofort genießen!
[:en]
Crispy, fluffy rolls and in between a luscious filling? Perfect everyday, right? Like these meatballs subs. Meatball subs are meatballs with tomato sauce in a sandwich roll. To round off the colours and for soothing my conscience I added a few leaves of fresh spinach. Done!
To balance the spicyness of the meatballs and the tomato sauce I used chipotle chili flakes, because they are smoked, which tastes divine! If you don't get chipotle chili flakes (or ground chipotle) use normal chili powder and smoked sea salt instead of normal sea salt. I cannot relinquish smoked sea salt, anymore, since it adds a great zest especially to vegetarian dishes. Just awesome! I prefer to use smoked Maldon Sea Salt or a Danish smoked sea salt from my spice dealer Wurzelsepp.
If you buy the rolls from your local bakery and don't bake them yourself these meatball subs are a quick affair. Although I will not hold you back from baking your own, because these rolls are amazing. If you like you find the recipe here. But today it's just about some easy spicy streetfood!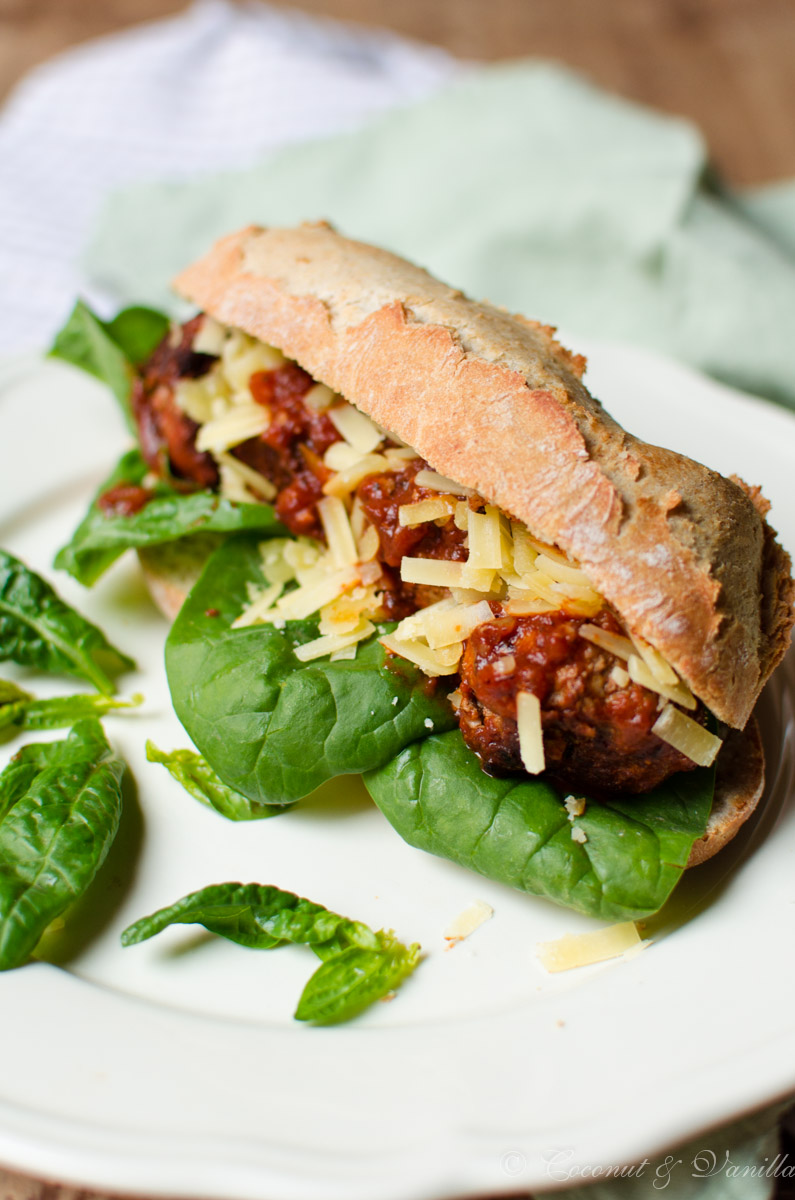 Two yeas ago: piña colada ice cream
Five years ago: bruschetta
Meatball Subs with Alibi Spinach
yields: 4 meatball subs
Ingredients:
650 g minced beef
1 small onion, finely diced
1 tsp medium spicy mustard
1 egg
3 Tbsp bread crumbs
1 tsp dried majoram (fresh would be phenomenal, you only need half the amount)
sea salt
black pepper, freshly ground
1/4 tsp chipotle chilli flakes (or ground, then half the amount)
300 g tomato passata
1/2 tsp chipotle chilli flakes
4 long rolls (bought or baked from this recipe)
100 g leaves of spinach, cleaned rinsed
150 g sharp cheddar, coarsely grated
Knead the minced meat with the onion, mustard, egg, spices and bread crumbs with your hands and let it rest for 10 minutes.
Form golf ball sized meatballs and fry them in clarified butter in a frying pan until they are browned on all sides.
Add the tomato sauce with the chilli flakes and season with salt and pepper. Turn down the heat and braise the meatballs in the sauce shortly.
Cut the rolls open on one long side so you can open it, but it still attached on the other side. Remove some crumb so the meatballs better fit inside the roll. Cover the bottom with spinach leaves and place 4 meatballs next to each other in the roll. Cover with sauce and sprinkle with cheese. Close the roll and squeeze it a bit.
Enjoy!
[:]