Diese Pasta mit grünem Spargel, Ziegenfrischkäse und Zitrone ist derzeit eines meiner liebsten Essen. Es geht alles super fix und ich liebe grünen Spargel und Ziegenkäse! Die Kombination von beidem ist sowieso göttlich! Solange also noch Spargelzeit ist, deckt Euch damit ein, damit ihr immer ein Notfalldinner daheim habt!
Neben grünem Spargel gilt meine zweite große Leidenschaft dem Ziegenkäse. Ziegenkäse ist eine echte Delikatesse, ob fest oder cremig (nur mit Weichkäse im Allgemeinen werde ich nie warm werden) und darf deshalb nie im Kühlschrank fehlen. Mit Ziegenfrischkäse lassen sich zudem so viele leckere Gerichte zaubern, ich bin immer wieder begeistert. Demnächst habe ich noch eine süße Überraschung für Euch, der Post steht schon in der Warteschleife!
Nun möchte ich Euch aber nicht weiter vom Abendessen abhalten, es soll schließlich schnell gehen ;).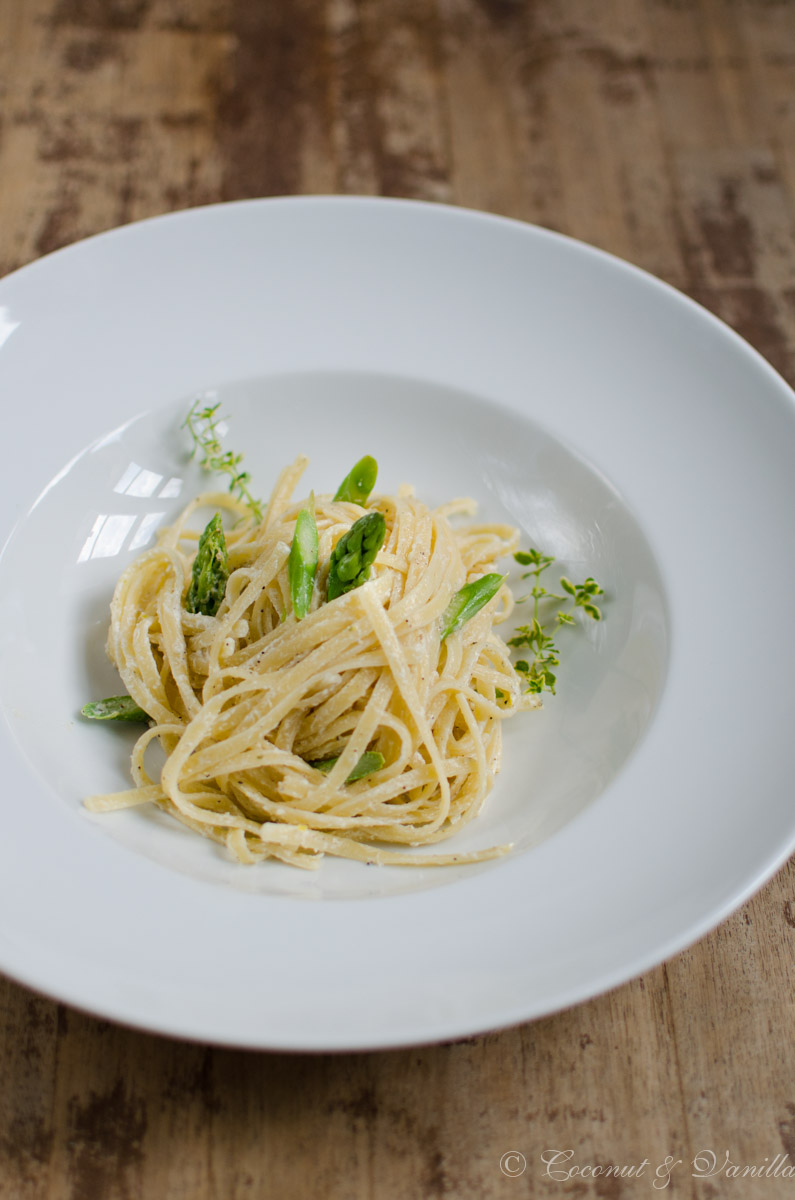 Vor einem Jahr: Rinderfond
Vor zwei Jahren: Holunderblütengelee
Vor drei Jahren: Erdbeerlikör, Basilikumöl, Holunderblütenessig
Vor vier Jahren: Zitronen-Rosmarin-Kekse 
Pasta mit grünem Spargel und Ziegenkäse
nach einem Rezept von Smitten Kitchen
ergibt: 4 Portionen
Zutaten:
500 g grüner Spargel, gewaschen
500 g lange Pasta (am besten Bavette oder Fettuccine)
Salz
100 g Ziegenfrischkäse
50 ml Olivenöl
1 Bio-Zitrone, Saft und fein geriebene Schale
Pfeffer
Die Enden vom grünen Spargel abbrechen (ich hebe sie im Tiefkühler auf und verwende sie für Gemüsebrühe). Den Spargel schräg in dicke Scheiben schneiden.
Die Pasta in kochendem Salzwasser garen. 2 Minuten vor Garzeitende den Spargel dazugeben und mitkochen. Zusammen über einem Sieb abgießen, dabei eine kleine Schale mit Kochwasser auffangen.
Pasta und Spargel zurück in den Topf geben. Den Ziegenfrischkäse darüber zerkrümeln. Olivenöl, Zitronensaft und -schale ebenfalls dazugeben. Alles verrühren und mit dem Kochwasser auf eine cremige Saucenkonsistenz verdünnen. Mit Salz und Pfeffer abschmecken und sofort servieren. 
This pasta with green asparagus, fresh goats cheese and lemon is my favourite dish these days! It's prepared super quick and I'm a sucker for asparagus and goats cheese! The combination of both is divine in any way! Buy asparagus as long as it is still in season, in that case you'll always have an emergency dinner at home!
Besides green asparagus I'm a lover of goats cheese! It's a delicacy no matter if hard or creamy (although I can't stand soft cheese in general) and it should be a staple in my fridge all the time. I am delighted that it is possible to make so many great dishes with fresh goats cheese. I already have another post in queue, which awaits with a sweet surprise!
But I don't want to hold you back from dinner, since the aim was to make it quick ;).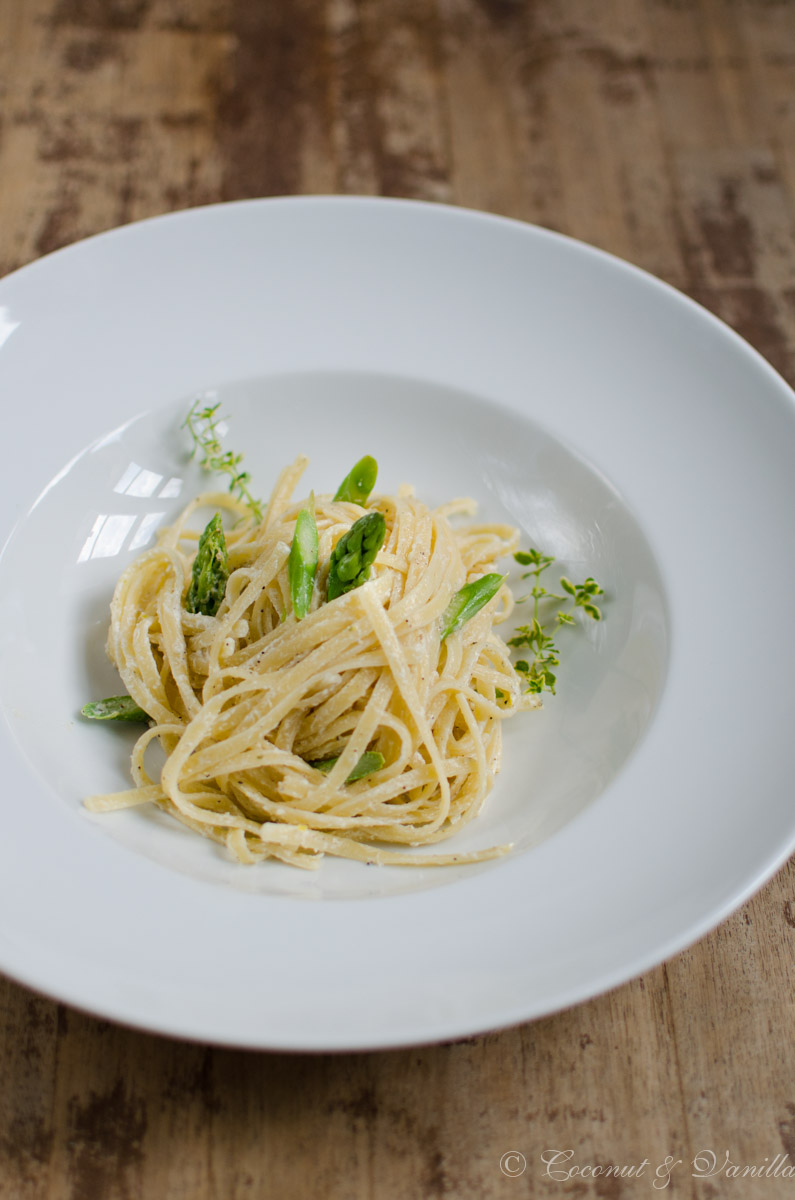 One year ago: beef broth
Twp years ago: elderflower jelly
Three years ago: strawberry liqour, basil olive oil, elderflower vinegar
Four years ago: lemon rosemary cookies 
Pasta with Asparagus and fresh Goats Cheese

adapted from Smitten Kitchen

yields: 4 portions
Ingredients:
500 g green asparagus, rinsed
500 g long pasta (best bavette or fettuccine)
salt
100 g fresh goats cheese
50 ml olive oil
1 organic lemon, juice and zest
pepper
Snap off the asparagus ends (I store them in the freezer and use them later for making vegetable broth). Cut the asparagus in slanted thick slices.
Cook the pasta in boiling salted water. 2 minutes before the pasta is al dente add the asparagus and cook it with the pasta. Drain in a strainer, reserve a small bowl of pasta water.
Put the pasta and asparagus back in the pot and crumble the goats cheese upon it. Add olive oil, lemon juice and lemon zest and stir until combined. Add pasta water until you get a creamy sauce. Season with salt and pepper and serve immediately.