Friday, 23rd May 2014
Rhubarb jelly was a true discovery for me last year and since then I cannot imagine my jam pantry without it. I prefer mostly jams, which feature the main flavour of the fruit and not ones that are mixed with five other fruits and ingredients. I want to taste every ingredients and assign it properly. Therefore I do not favour four-berry-jams and stuff like that. Rarely there is a combination that convinces me truly. 
I couldn't find rhubarb jelly anywhere before last year. Normally I only know rhubarb in combination with other fruits, mostly strawberries. But that's not my thing. I choose the one or the other. But this jelly features the rhubarb flavour really well and so you can enjoy rhubarb all year long!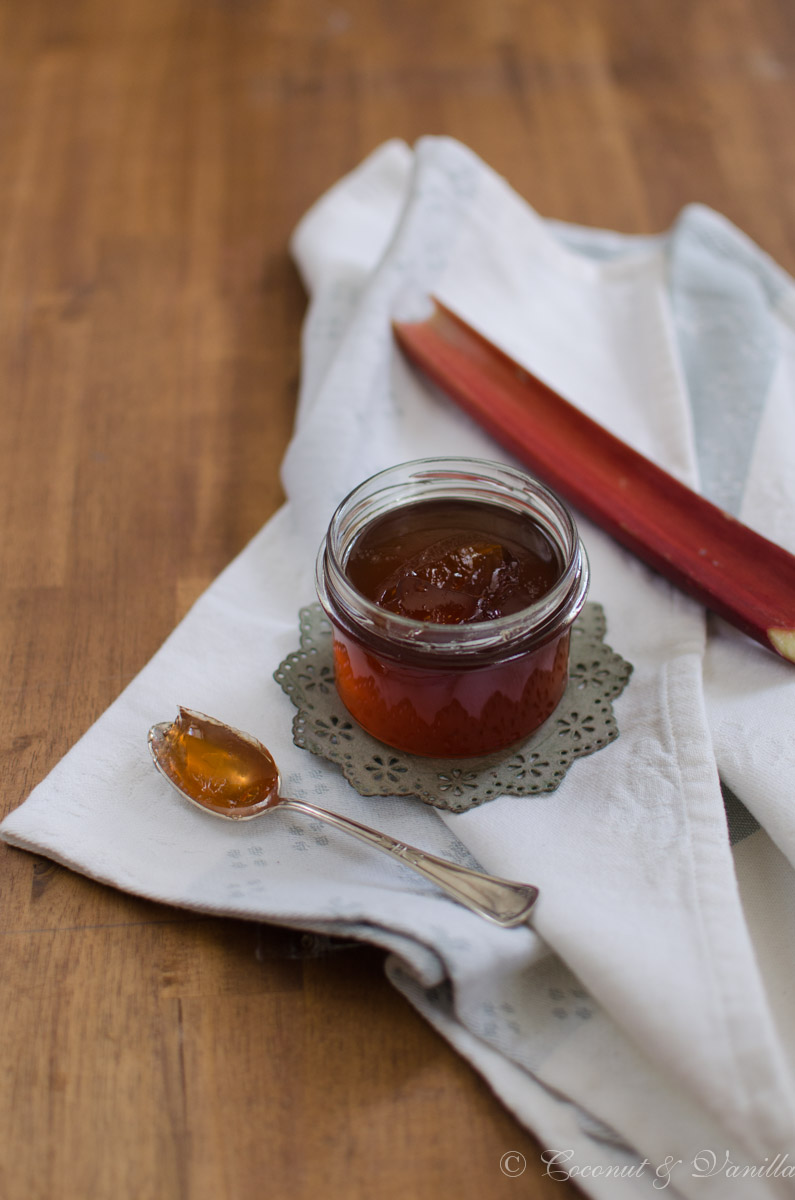 One year ago: luscious yeast waffles

Two years ago: rhubarb syrup
Three years ago: rhubarb steusel tart 
Rhubarb Jelly
adapted from Food in Jars by Marissa McClellan
yields about 1,2-1,5 l
Ingredients:
700 g rhubarb, rinsed and chopped (not peeled!)
700 ml water
500 g jam sugar 2:1 or 500 g sugar and 50 g powdered pectin (if using pectin you may need to cook the jelly longer, for about 20 minutes)
Add rhubarb and water to a large pot and bring to the boil. Let it simmer on low heat for 25 minutes. Place a large mesh strainer over a large bowl and line it with a cheesecloth. Pour in the rhubarb and let it drain for 30 minutes. In the end you can tie the cheesecloth with a string and hang it over the bowl, so more juice can be released from the rhubarb. Do not squeeze the rhubarb, as the jelly will get cloudy!
Weigh the juice. I had about 800 ml rhubarb water. Otherwise adjust the amount of jam sugar according to your amount of juice and the instructions on the packaging. Intentionally I chose to use less jam sugar, since I don't want to have that much gelatinized jelly (sometimes you can slice the jelly 😉 ).
Prepare sterilized jars and lids. Place a small plate in the freezer.
Bring the rhubarb juice with the jam sugar to the boil and cook for 3 minutes. 
Remove the plate from the freezer and test for a set. Therefore add a drop of jelly on the freezed plate and wait for some seconds. If the jelly begings to gelatinize, the test is positive (otherwise cook further until the test works). Remove the pot from the stove and fill the jars with the jelly. A jam funnel is very helpful therefore, because the rim needs to be clean so the jars seal properly. Seal the jars with the lids and let the jelly cool.