Wednesday, 10th July 2013
I love love love this ice cream with peanutbutter and crunchy chocolate chips! And I love the book from which the recipe is, which is Jeni's Splendid Ice Cream at Home by Jeni Britton Bauer.
I already recommended you this book last year and now at the peak of ice cream season I'm recommending it again strongly!
For a more detailed review of the book hop over to the Kuriositätenladen, where I'm guest blogging today!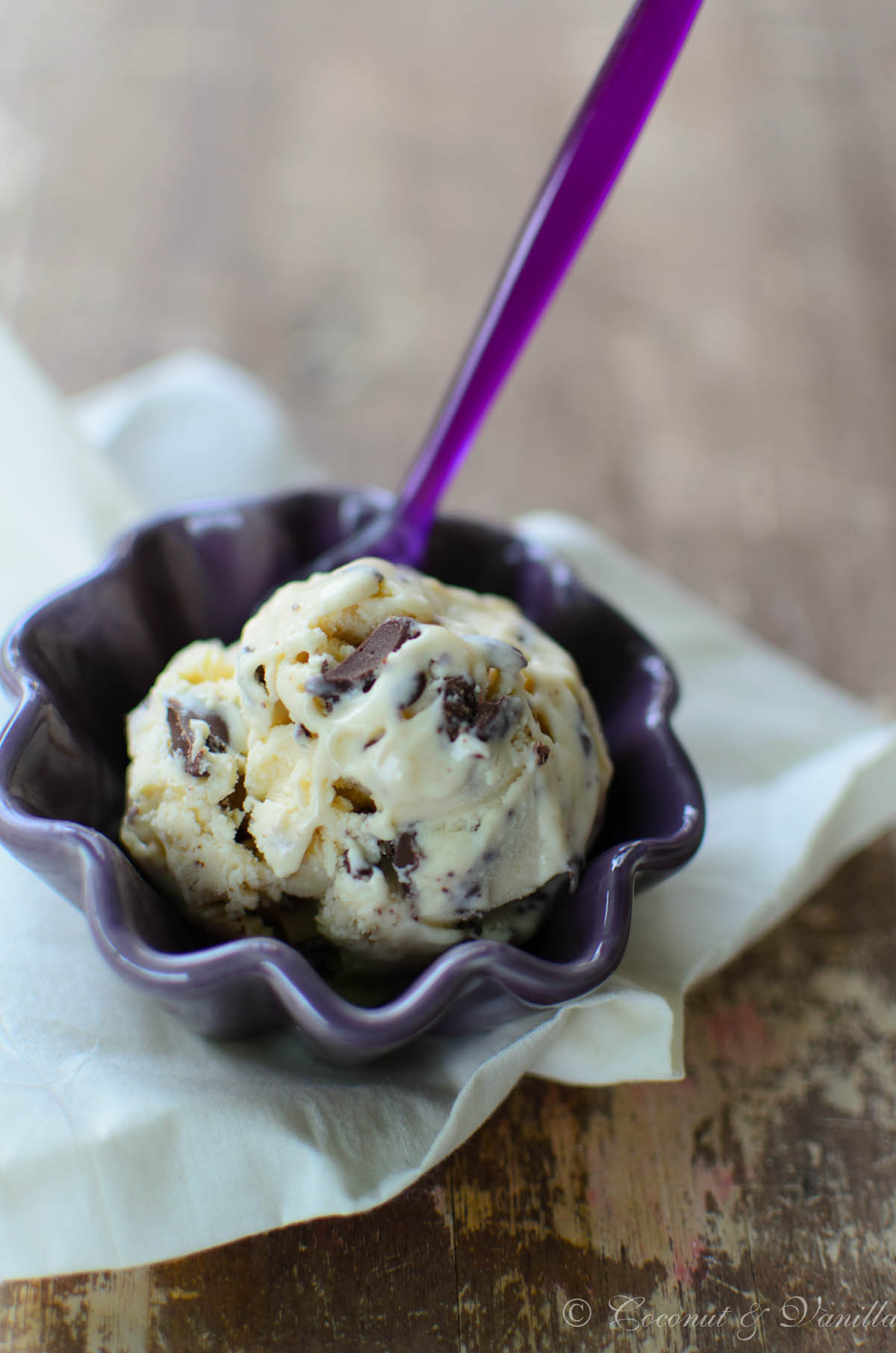 One year ago: iced coffee ice cream
Two years ago: blueberry lemon tart
Three years ago: melon ice cream
Honeyed Peanut Ice Cream with dark Chocolate Chips
from Jeni's Splendid Ice Cream at Home by Jeni Britton Bauer
Ingredients:
450 ml whole milk
2 Tbsp corn starch
40 g cream cheese
180 g creamy peanut butter (without salt, otherwise omit the additionally salt)
1 pinch of sea salt
300 g whipping cream
150 g sugar
2 Tbsp glucose syrup (or corn syrup)
2 Tbsp honey
110 g dark chocolate (at least 55 % cocoa), chopped
In a small bowl mix together a few Tbsp milk and the starch.
In a large bowl stir together the cream cheese with the peanut butter and salt.
In a medium sized saucepan add the rest of the milk, cream, sugar, glucose syrup and honey and bring it to the boil. Let it cook for 4 minutes. Remove from the heat and stir in the starch mixure. Bring again to the boil and cook for another minute, until the mixure thickens.
Slowly pour the milk mixure into the large bowl with the peanut butter and stir until smooth.
Let the mixture cool down in the fridge.
Freeze the ice cream mixure in your ice cream machine according to the manufacturer's instructions. In the meantime melt the chocolate in a waterbath, let cool (the chocolate should still be molten, of course). If the ice cream is already done, add the chocolate in a thin stream. The chocolate hardens in the cold ice cream and breaks into different sized pieces.
Fill the ice cream in a box and keep in the freezer. Remove 5 minutes before you want to eat it.