Sunday, 8th November 2015
Regularly I long for cake, but we don't consume much cake in a 2-person household. Also a freshly baked cake tastes much better, then one that gets stale after days on the counter. So I longed for cake and had some eggnog left, so I decided to give cakes in jars finally a try!
Now I cannot imagine anything more convenient!
Instead of using a large baking pan you use several small jars, that are closed with lids right after baking. Due to the cooling vacuum emerges and the cakes are lasting for a few months. Like this I always have fresh cake to take to work and the cake desire is soothed.
Slowly, but steadily Christmas emerges and these cake in jars would be a great culinary gift! Of course, you can bake every other dry cake in these jars. Chocolate or lemon for example! But eggnog is always so wonderfully moist!
The size of the jars can be adjusted individually just how you prefer it. I chose Weck jars, because of their looks and also some smaller 250 ml jars. Both are super handy, the Weck jars for 2 persons, the 250 ml jars for 1 person.
The only important thing is, that you use so called "Sturzglas", these are jars with white cylindrical mouths, because otherwise you cannot release the cake from the jars. Moreover it is important to filll the jars only half way with batter, otherwise the cake rises that much, that you cannot close them with the lid.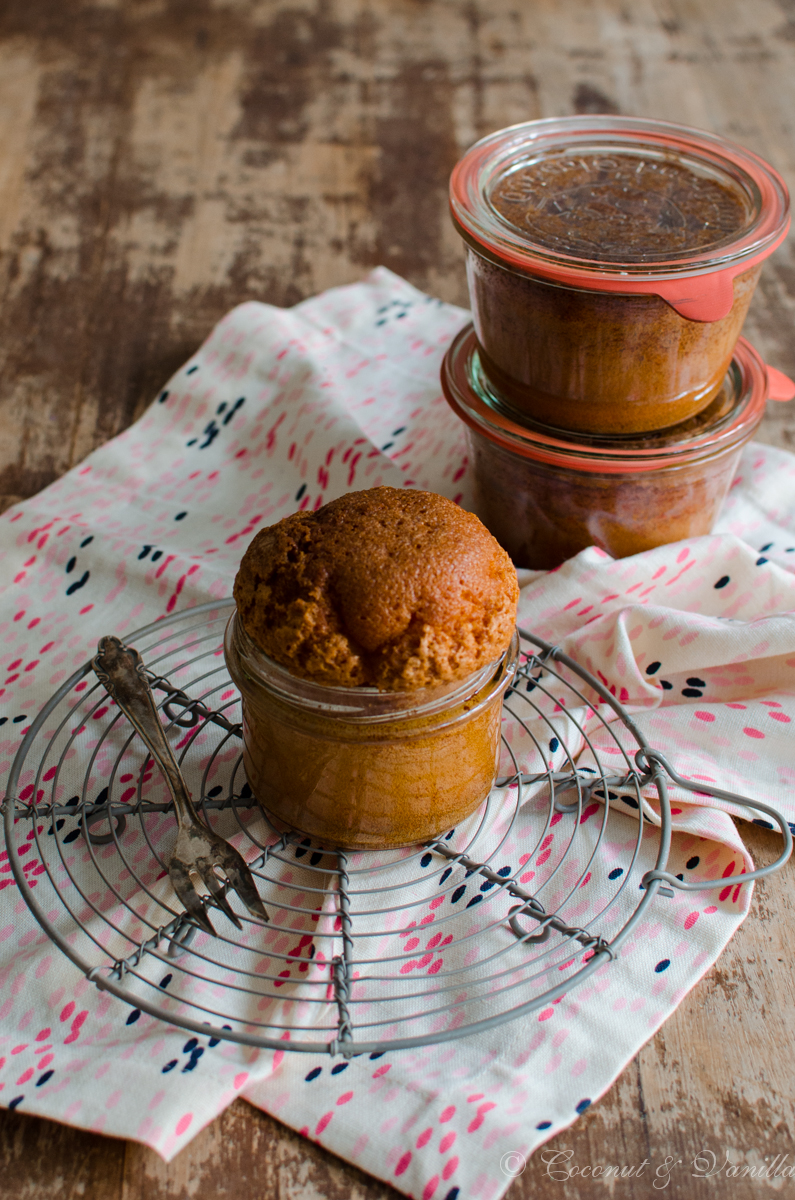 One year ago: oat porridge with carrots, coconut and orange
Three years ago: potato terrine with goats cheese, basil and pine nuts
Four years ago: red cabbage with oranges and gorgonzola
Five years ago: flan tart
Eggnog Cake in Weck Jars

yields: about 8 Weck jars á 370 ml
Ingredients:
180 g powdered sugar
5eggs
250 g eggnog
250 g vegetable oil (sunflower, rapeseed or peanut)
150 g corn starch
100 gwheat flour
4 tsp baking powder
1 pinch of salt
Butter the jars with butter.
Preheat the oven to 180° C top/bottom heat.
Whip the eggs and sugar and fluffy and thick.
While whisking slowly pour in the eggnog, then the oil until mixed evely.
Mix the corn starch, flour, baking powder and salt and stir in the batter.
Fill the batter into the jars, but only half full!
Place the jars into the oven and bake for about 40 – 50 minutes until the cakes are golden brown and the cake is baked completely.
Remove the jars from the oven and close with the lids immediately. Let cool out completely.