Sommerzeit, Einmachzeit! Ach, hab ich schon gesagt, oder? Tja, ich kann es nicht oft genug sagen ;). Das zweite Jahr hab ich jetzt Gewürzgurken selbst eingemacht, denn ich war sooo begeistert von meinen eingemachten Gurken vom letzten Jahr! 
Ehrlich, nach diesen Gewürzgurken wollt ihr keine mehr kaufen! Das einzige Manko: ihr müsst einen Monat warten, bis die Gurken durchgezogen sind. Aber hey, danach könnt ihr ein Jahr lang frönen!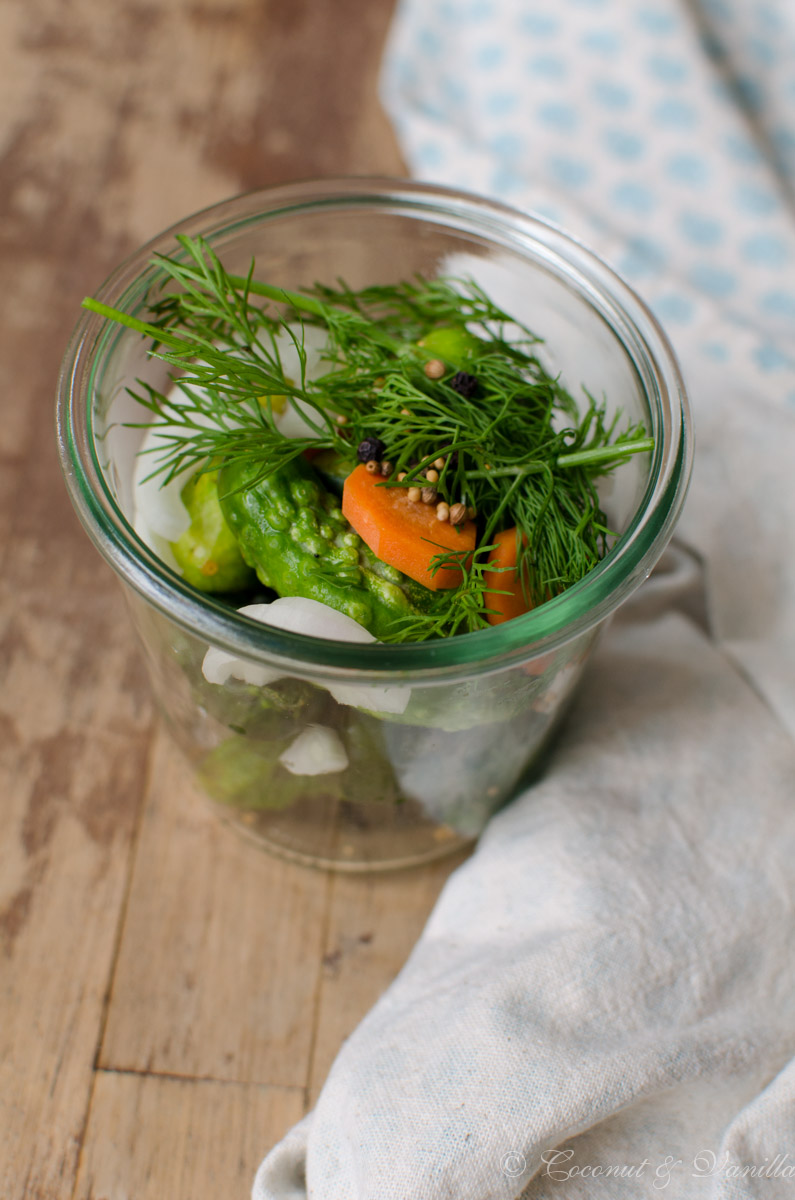 So viele verschiedene Rezepte hab ich gesichtet, am Ende hab ich mir eins zusammengeschustert mit dem ich sehr zufrieden bin.
Ich sortiere die Gürkchen übrigens vorher nach Größe. Dann sortiere ich sie schon mal in verschiedene Gläser um zu schauen welche ich brauche. Sonst bin ich nicht so ein Fan von den Weckgläsern zum Einmachen, aber für Gewürzgurken finde ich sie sehr praktisch. Für größere Gurken habe ich diesmal 1 l Gläser verwendet, für mittlere und kleinere Gurken 500 ml Gläser.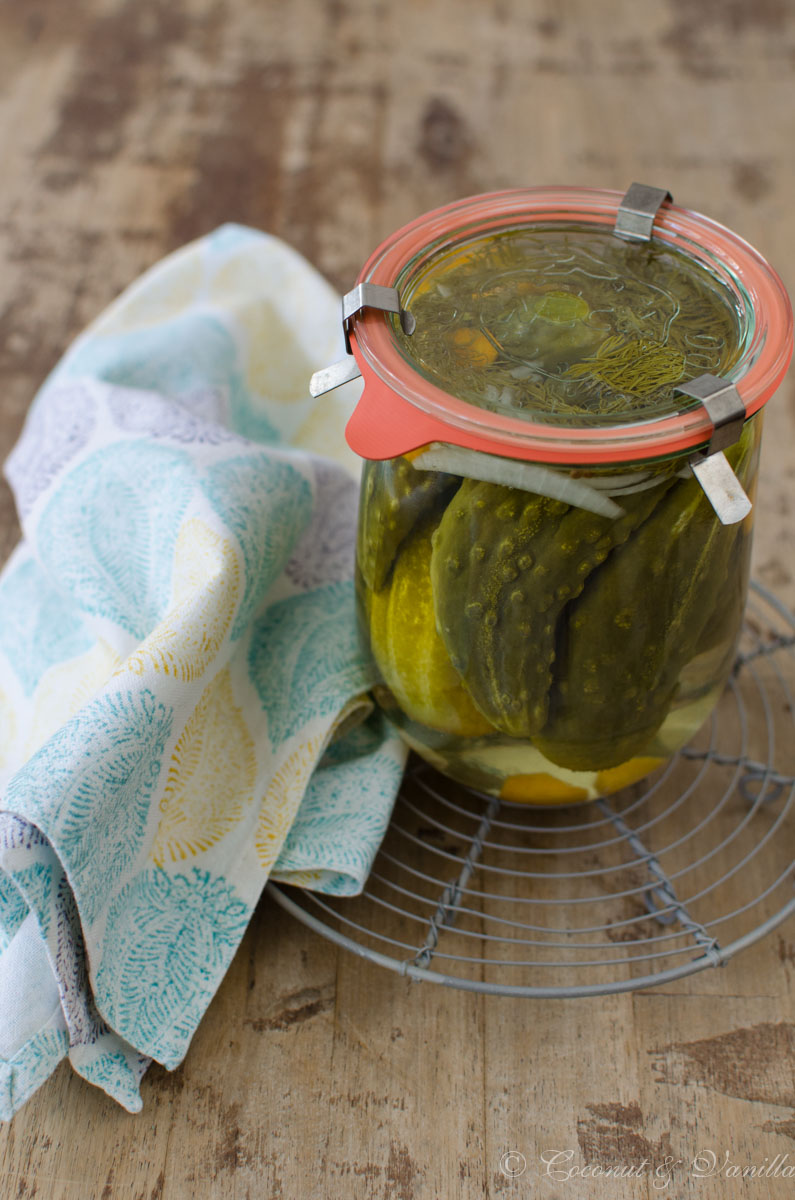 Vor einem Jahr: grüne Bohnen mit Kokos und Mohn
Vor zwei Jahren: selbstgemachtes Tomatenketchup
Vor drei Jahren: Leinsamenbrot
Vor vier Jahren: Kokos Panna Cotta
Vor fünf Jahren: Death by Chocolate 
Gewürzgurken
ergibt: 9 Gläser unterschiedlicher Größe (1 l – 500 ml)
Zutaten:
2,5 kg Einmachgurken
650 ml Weißweinessig
2,6 l Wasser
130 g Zucker
65 g Salz
9 Knoblauchzehen, geschält
1 – 2 Möhren
1 Zwiebel
1 Bund Dill
schwarze Pfefferkörner
Koriandersamen
gelbe Senfkörner
Die Einmachgurken nach Größe sortieren. Ich hab große, mittlere und kleine (Cornichons) getrennt. Die Gurken waschen und mit einem Geschirrtuch die Stacheln abrubbeln.
Essig, Wasser, Zucker und Salz in einen Topf geben und aufkochen. Abkühlen lassen. 
Die Möhren schälen und in Scheiben schneiden. Die Zwiebel schälen, halbieren und in Scheiben schneiden.
Den Dill waschen und die dicken Stiele entfernen.
Die Gläser sterilisieren, ich hab das im Wasserbad gemacht. Anschließend abtropfen lassen.
Die Gurken in die Gläser sortieren. Die Möhren- und Zwiebelstücke auf die Gläser aufteilen, ebenso den Knoblauch. In jedes Glas etwas Dill geben. In ein großes Glas je 5 Pfefferkörner und Koriandersamen geben, in kleinere Gläser je 4. Außerdem jeweils eine Prise Senfsamen. Die Gläser mit dem Sud auffüllen. Die Gurken sollten vom Sud bedeckt sein. Etwas Luft nach oben im Glas lassen (ca. 1 cm). Die Gläser mit Deckeln verschließen. Bei Weckgläsern die Gummis einsetzen und mit Klammern verschießen. Aufpassen, dass der Gummi richtig gleichmäßig sitzt. Ausgeleierte Gummis entsorgen. 
Die Gläser im Wasserbad 30 Minuten einkochen. Die 30 Minuten zählen, wenn das Wasser kocht!
Den Herd ausschalten und noch 10 Minuten im Wasserbad stehen lassen. Anschließend herausnehmen und auf einem Geschirrtuch abtropfen lassen. 
Wenn die Weckgläser komplett abgekühlt sind (am besten 1 Tag warten) können die Klammer entfernt werden und das Vakuum überprüft werden. Die Gläser etwas am Deckel anheben. Ist ein Vakuum entstanden, bleibt das Glas geschlossen. Lässt sich der Deckel entfernen das Glas in den Kühlschrank stellen und dort aufbewahren. 
Die Gewürzgurken müssen jetzt 1 Monat durchziehen, dann sind sie verzehrbereit!
Die Gewürzgurken halten sich mindestens 1 Jahr.
Summer time, pickling time! Well, I already told you so, didn't I? I can't say it often enough ;). The second year I made pickled cucumbers, because the batch of last year was THAT good!
Seriously you won't consider buying pickles again! The only flaw: you have to wait one month until they are infused and are ready to eat. But hey, then you can enjoy them all year long!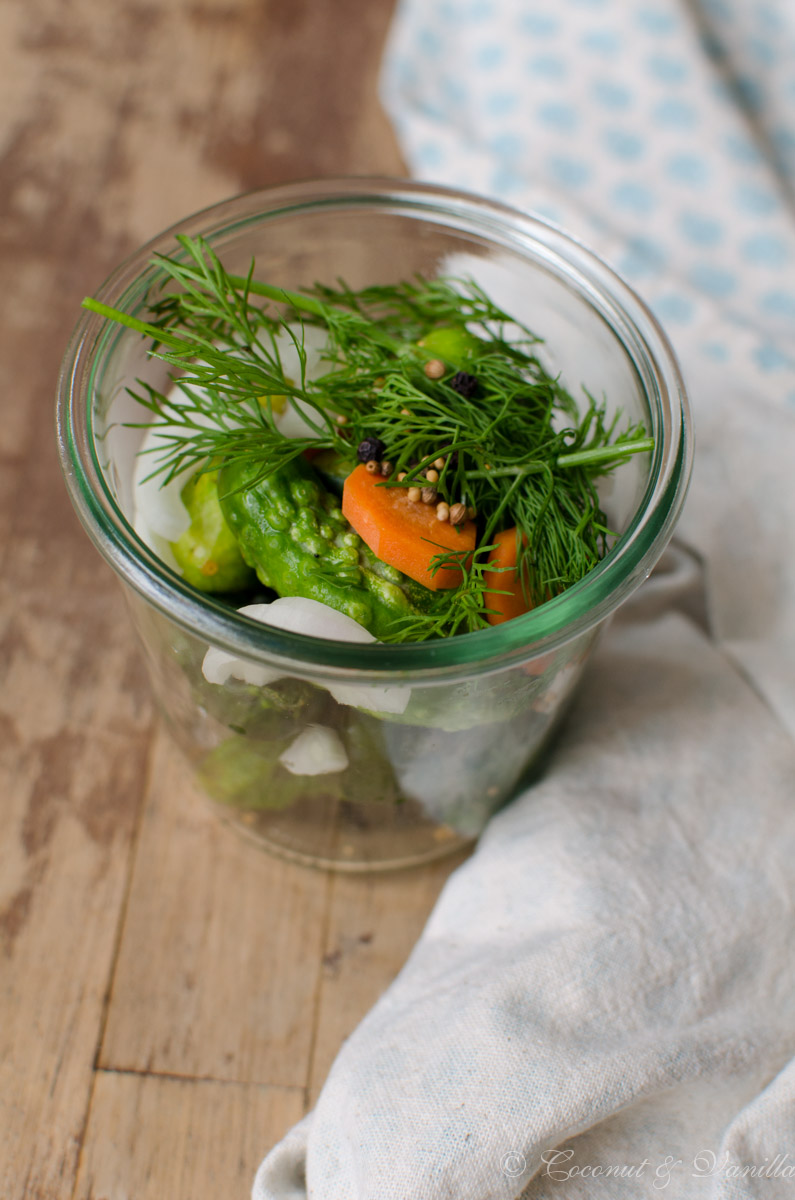 I went through many recipes, but in the end I puzzled my own together, which I'm very satisfied with. 
By the way I'm sorting the cucumbers by size beforehand. And then I pack them into the jars to get an idea which sizes I will need. Although Weck jars are normally not my favourite jars I prefer them for pickling cucumbers, since they are just the right size and shape and they are very pretty, too. I used 1 l jars for larger cucumbers and  500 ml jars for middle sized and smaller ones.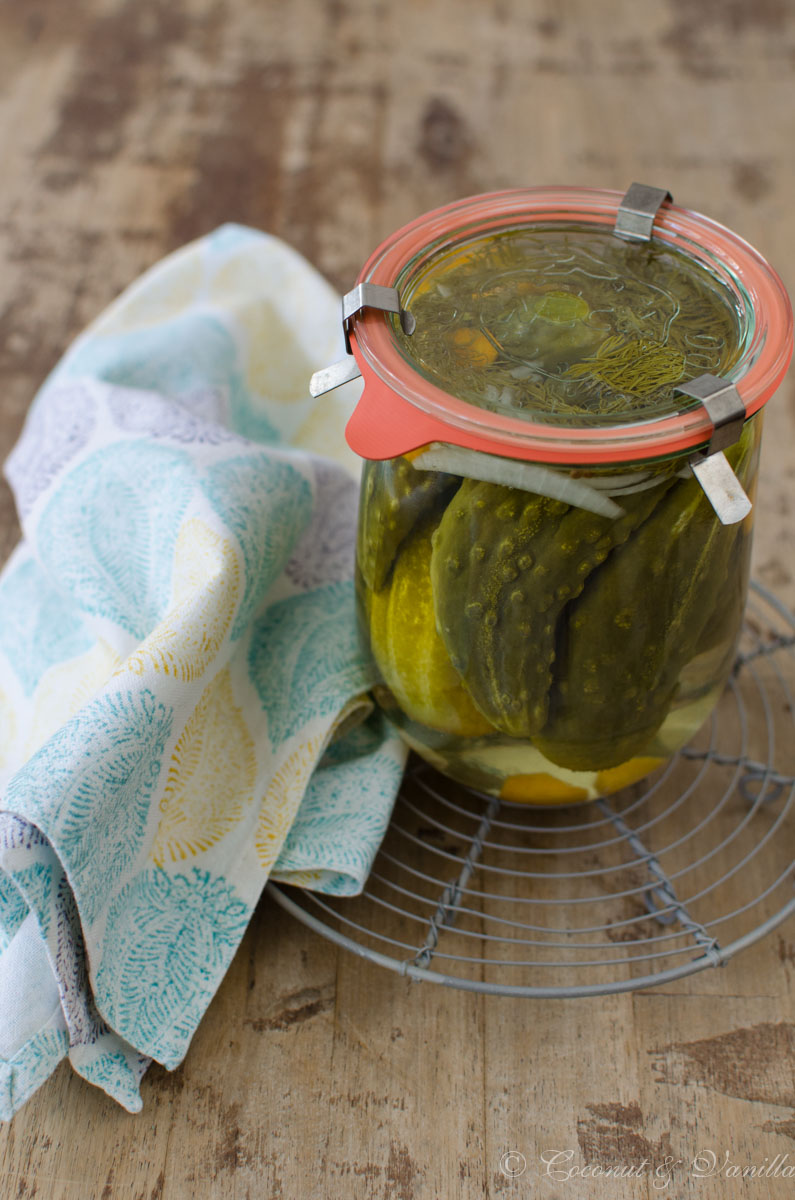 One year ago: green beans with poppy seeds and coconut
Two years ago: homemade tomato ketchup
Three years ago: flaxseed sourdough bread
Four years ago: coconut panna cotta
Five years ago: death by chocolate 
Homemade pickled cucumbers
yields: 6 jars of different size (1 l – 500 ml)
Ingredients:
2,5 kg pickling cucumbers
650 ml white wine vinegar
2,6 l water
130 g sugar
65 g salt
9 garlic cloves, peeled
1 – 2 carrots
1 onion
1 bunch of dill
black peppercorns
coriander seeds
yellow mustard seeds
Sort the cucumbers by size. I sorted larger, middle sized and small ones. Rinse the cucumbers and rub them with a dish cloth to remove the prickles.
Combine vinegar, water, sugar and salt in a saucepan and bring to a boil. Let it cool.
Peel the carrot and slice. Peel the onion, cut in half and slice in half moons. 
Rinse the dill and remove thicker stems.
Sterilize the jars. I used a water bath for that purpose. Let the jars drain.
Pack the cucumbers in the jars. Distribute the carrot and onion slices evenly, as well as the garlic. Add some dill. Add 5 peppercorns and 5 coriander seeds to every large jar, 4 to every small jar. Then add a pinch of the mustard seeds to every jar. Fill up with the brine. The cucumbers should be covered by the brine. Leave some space in the jar (about 1 cm). Close with lids. If you use weck jars place the rubber ring between jar and lid and close with the clips. Pay attention to the right position of the rubber rings, discard worn rubber rings!
Place the jars in a water bath and sterilize for 30 minutes. The 30 minute count as soon as the water boils!
Switch out the stove and keep the jars for an additional 10 minutes in the water. Remove them and let them cool down on a dish cloth.
If the weck jars are completely cooled (best to wait for 1 day) remove the clips and check the vacuum! Lift the jars a bit while holding them on the lid. If there's a vacuum the jars stays closed. If the lid plops off place the jar in the fridge and keep it there until ready to eat.
The pickled cucumbers need to infuse for 1 month, then they are ready to eat!
The pickled cucumbers are at least good to eat for one year!