Tuesday, 2nd June 2015
The perfect book for my me and my blog! In the end it's my greatest wish and my everyday attempt to make the most of my food at home. Gutes Essen – Lebensmittel selber machen* by Stiftung Warentest (book is only available in German) is providing exactly the right recipes for this purpose.
Bettina Snowdon and Martina Lagoda not only provide a lot of recpes, but also basic knowledge about making basic food like yogurt, cheese and sausage at home and giving information about the most important things for producing (hygiene!) and what you can do at home and what not so much.
They don't even stop when it comes to smoking. Unfortunately I don't own a small smoking oven at home, but nevertheless you can make a lot recipes without smoking.
Every chapter starts with a detailed recipe introduction for the basis of the products of each chapter, like sour milk products, whey products or yogurt. After that the stripped-down recipes are attached, for example for soured milk, cream yogurt or ricotta. The recipes are discussing the most important pain points for this product. Fortunately Stiftung Warentest prefers quality instead of text quantity. I hate it when there is too much pointless bla bla in cookbooks. Short and concisely is best!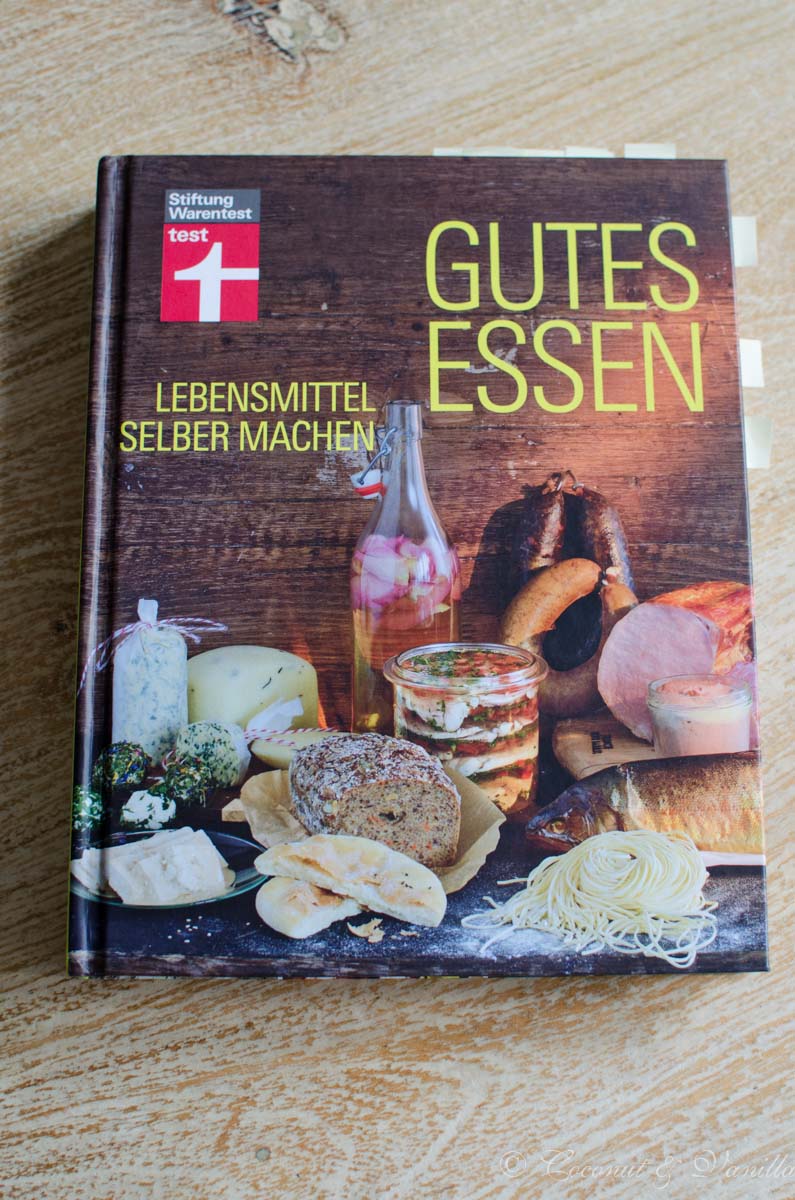 The book is divided into six chapters and cooking jam is none of them. Yay, finally! The book is divided into grains (bread, pasta, seitan), milk (sour milk products, cheese), soy, sausages, fish and vinegar.
My passion for making cheese is set on fire again as I browse through the book. Some years ago I also wanted to start making cheese, but the right books were missing. I instantly ordered rennet at the pharmacy and searched for my cheese mould. But first I tried some recipes without rennet.
I made paneer, soured milk and tried the ricotta, which failed. The paneer and the soured milk are awesome and the soured milk revokes childhood memories.
I also ordered nigari and bought soy beans to make tofu. The first attempt didn't work out well. I expected this almost, since I didn't know how much nigari to use. Apparently I used too much and the milk curdles to early. In the meantime I found out the right amount for nigari and I'm looking forward to the next attempt!
The next experiment will be a soft cheese. As this will take some time (because of the maturing), I will already present you this book today! Because I love this book so much! On the other hand I will share the recipe for the paneer with you, so stay tuned!
I'm very much looking forward to many experiments and especially making sausages! I already picked out a small smoking oven, but this will stay a dream for some time nonetheless ;).
Don't get put off because of the cover picture, which looks a bit old school. The photos in the book are modern, but timeless and sober.
I recommend this book to everyone who likes to make basics at home, because it is fun, because you know what ingredients are in the food or because some special products are just not available where you are living!
Bettina Snowdon and Martin Lagoda wrote a gem! Gutes Essen – Lebensmittel selber machen*is perfect for DIY people and fills me with enthusiasm every time! 5 of 5 points!
* Amazon affiliate link (If you buy something after clicking on this link on amazon, I earn a small amount of money, which I reinvest in this blog. Thank you!)