Tuesday, 31st March 2015
The cold season is the time of citrus fruit. Although citrus are not growing here, the moderate climate in this time is just perfect for them in south Italy, Spain or Mallorca. The body is longing for vitamines, colour and fruits and the wonderful world of citrus can only sooth it. We like to order our fruit from Fet a Soller from Mallorca. The juice oranges are dreamy! The juice is so delicious and makes you fit at once! I especially adore the avocados! I love avocados and there were only very few occations that I had some that exceptional good than those from Fet a Soller! And the lemons are made for lemon jelly!
There was a time when I ate a bought lemon jelly by Mövenpick which I liked. But there's nothing better to make things you like yourself! I'm not buying any jam at all since years, the production is too easy. And so is lemon jelly!
It's a bit easier when you owe an electric juicer of an attachement for your food processor (or maybe someone of your friends owes an electric juicer which you can borrow for a day?). But if you are addicted to oranges from Fet a Soller you will need an electric juicer, because juicing that much by hand is no fun ;). But for lemon jelly one time a year a simple juicer is enough.
I also like to add some finely grated lemon peel to the jelly, but you can also omit that, if you are not a fan. Please use the same amount of sugar as juice and the adequate amount of pectin! I tried with less, but as lemons are that acid, you couldn't almost eat it.
Soon I will also reveal what you can do with the leftover lemon peels!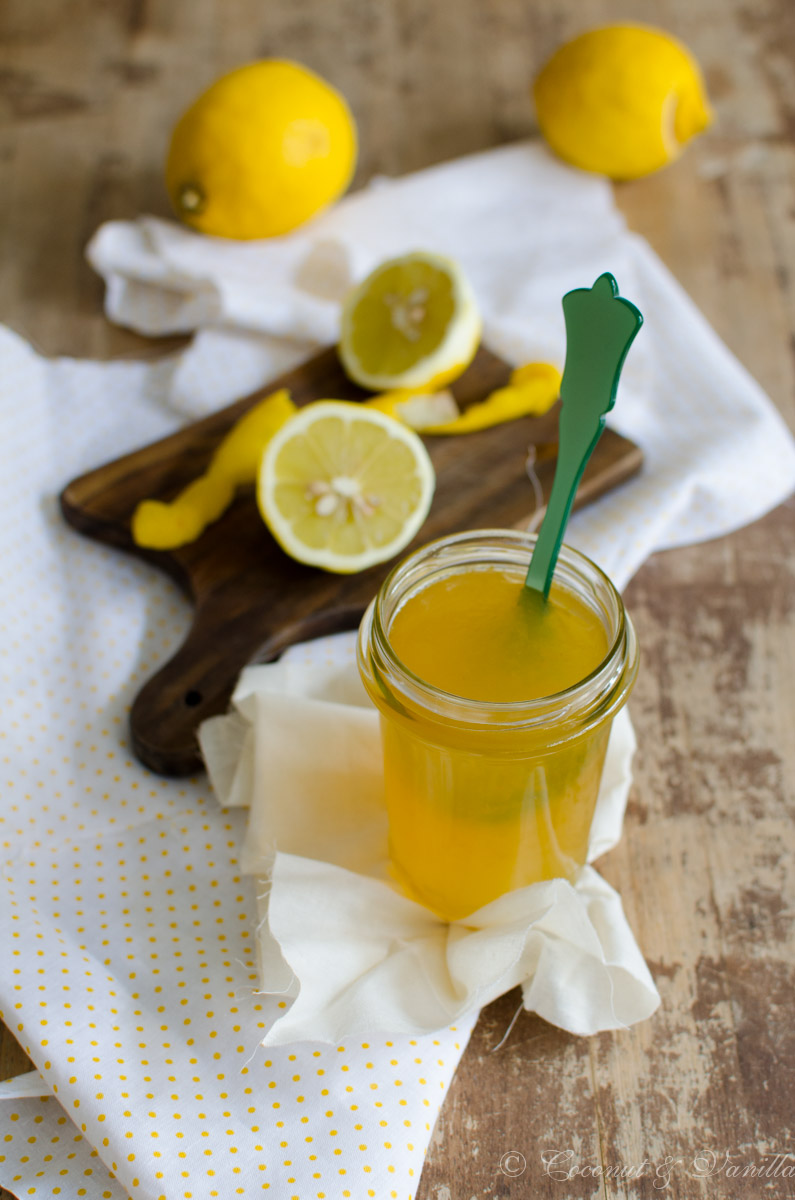 One year ago: wild garlic pesto
Two years ago: watercress soup
Three years ago: donauwellen cupcakes
Four years ago: yeasted meringue coffee cake
Lemon Jelly

yields: 6 small jars
Ingredients:
1 l lemon juice from approximately 3 – 4 kg lemons 
optional: finely grated lemon peel from about 6 lemons
1 kg jelly sugar (means that there's already pectin included), or 1 kg sugar and the adequate amount of pectin, depending what the manufacturer instructions say
Sterilize the jars and lids. Place a small plate in the freezer.
Add lemon juice, peel and sugar (and pectin, if using) into a large pot. Bring to a boil and let it boil for 3 minutes, while stirring. Add a drop of liquid on the frozen plate. If the liquid becomes jelly in a very short time (under 1 minute), it gelatinzes and the jelly is done. If it doesn't gelatinize, cook a bit more and repeat the gelatinization test.
Use a wide funnel and a ladle to fill the jars with jelly and close them tight. Pay attention that the rims are clean! Let the jelly cool completely. A vacuum will build up and the lids will pull inwards. If that doesn't work place those jars into the fridge and use them first. Next time change the lids, probably they are not closing thightly anymore.
There is no need to turn the jars to conceive a vacuum.
The jelly is at least good for one year, in my experience a lot longer.
 This post is not sponsored by fet a soller! I'm just totally convinced by their products, so I can wholeheartly recommend them to you!