Ich mag das Elsass sehr gerne. Es hat eine tolle Landschaft und es gibt viel zu sehen. Außerdem ist der Wein genau nach meinem Geschmack! Der Norden ist allerdings mehr eine Biergegend (um Straßbourg), bei Colmar ist dann wieder Wein angesagt. Es empfiehlt sich also sich im Süden an einen schönen Fleck zu setzen und ein Gläschen Crèmant zu trinken. In Straßbourg greift man zu einem lokalen Bier oder einem Panaché (ein Radler). Übrigens ist es gut zu wissen, dass man überall einfach ein "eau" bestellen kann, sprich Leitungswasser das nichts kostet. Da schmeckt der Wein doch gleich besser ;).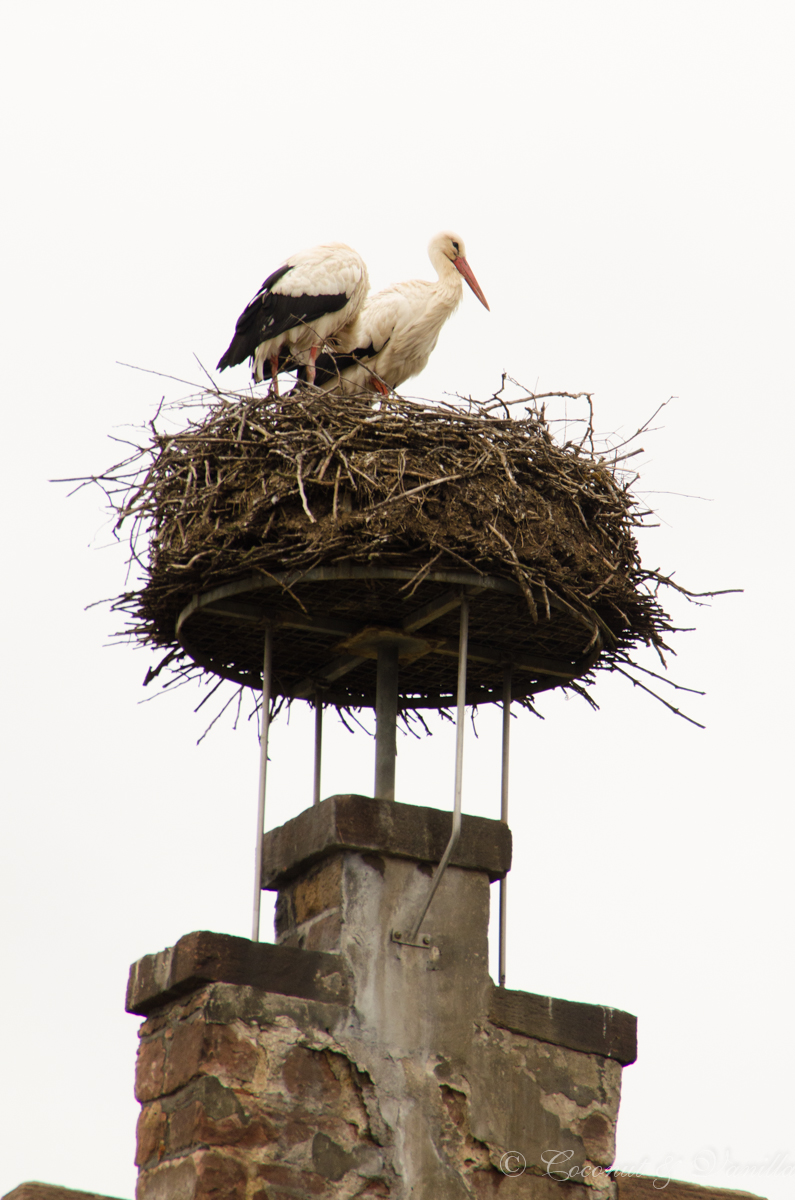 Straßbourg
Ein Hotel kann ich in Straßbourg nicht empfehlen. Allerdings hat Julia von German Abendbrot eine Empfehlung, der wir gefolgt wären, wenn sie nicht schon ausgebucht gewesen wäre. Von außen sah die Unterkunft sehr nett aus und auch die Lage ist top! Vom Ibis kann ich nur abraten. Bitte lasst die Finger davon auch wenn es zentral ist (in unserem Fall Ibis Petit France, aber ich glaube die nehmen sich nichts). Hellhörig, laut (innen und außen) und sehr klein und stickig.
La Cloche à Fromage: 27, Rue de Tonneliers, Straßbourg
Für ein Abendessen empfehle ich Euch ganz klar die la Cloche à Fromage! Das ist ein Käserestaurant (auf der gegenüberliegenden Seite ist das Käsegeschäft) und es gibt dort nur Gerichte mit Käse. Man sollte hier zum Käsefondue greifen, das ist exzellent! Es gibt verschiedene Sorten von Käsefondue mit Roquefort, Münster, Ziegenkäse etc. Sehr sehr gut! Und zu zweit kann man zwei verschiedene bestellen! Man kann auch Raclette bestellen, aber ich bin kein Freund davon und es ist sehr mächtig! Dazu gibt es eine lustige Prozedur, die man sich aber schon an den anderen Tischen anschauen kann. Sehr cool ist auch die "größte Käseglocke der Welt"! Wer mag kann also auch einen Käseteller genießen, mit Käsesorten die man sich selbst aussuchen darf.
Das Ambiente und der Service ist freundlich und nett. Es gibt auch viele Gruppen (auch kleinere Reisegruppen) dort, aber die findet man in Straßbourg fast überall, da muss man durch ;).
Art Café: 1, place Hans Jean Arp, Straßbourg
Auf einer "Dachterrasse" des Kunstmuseums gibt es ein nettes Resataurant mit leichter Küche (eine Seltenheit dort) und einem schönen Blick über Straßbourg. Sie bezeichnen sich selbst als schönste Dachterrasse Straßbourgs, was wir belächelt haben, aber wahrscheinlich ist es einfach die einzige in Straßbourg! Mit schöner Szenerie beim Essen haben es die Franzosen nicht unbedingt, da wird auch gerne an der vielbefahrenen Straße gegessen… Der Service ist hier übrigens nett, aber langsam und unaufmerksam. Im Zweifelsfall zum Zahlen hineingehen.
Au Petit Bois Vert: 2 Quai de la Bruche, Straßbourg
Am Fluss gibt es ein paar nette Bistros und Restaurants. Im Au Petit Bois Vert haben wir nur etwas getrunken, aber auch das Essen und besonders der Nachtisch sahen sehr gut aus!
Salon de Thé Grand Rue: 80, Grand Rue, Straßbourg
Hier kann man sich ein nettes Frühstück genehmigen mit sehr leckerer selbstgemachter Marmelade. Der Laden hat hinten an einem Platz noch mehr Tische, die hübscher gelegen sind.
Ansonsten ist Straßbourg sehr touristisch Ich finde es nicht so einfach ein gutes Restaurant zu finden, wenn man nicht so viel Fleisch und Wurst essen möchte. Zum Shoppen ist es sehr gut geeignet, da es sehr viele Läden gibt. Ab Ende Juni ist auch immer Schlussverkauf und in Frankreich wird noch wirklich viel reduziert und man findet richtig tolle Schnäppchen! In Straßbourg muss man aber viel Geduld haben, denn es ist einiges los!
Es gibt auch viele kleine Lebensmittelläden, allerdings lag Straßbourg am Anfang unserer Reise und deshalb habe ich hier keine Lebensmittel gekauft. Matze hat aber auf seinem Blog eine tolle Sammlung erstellt.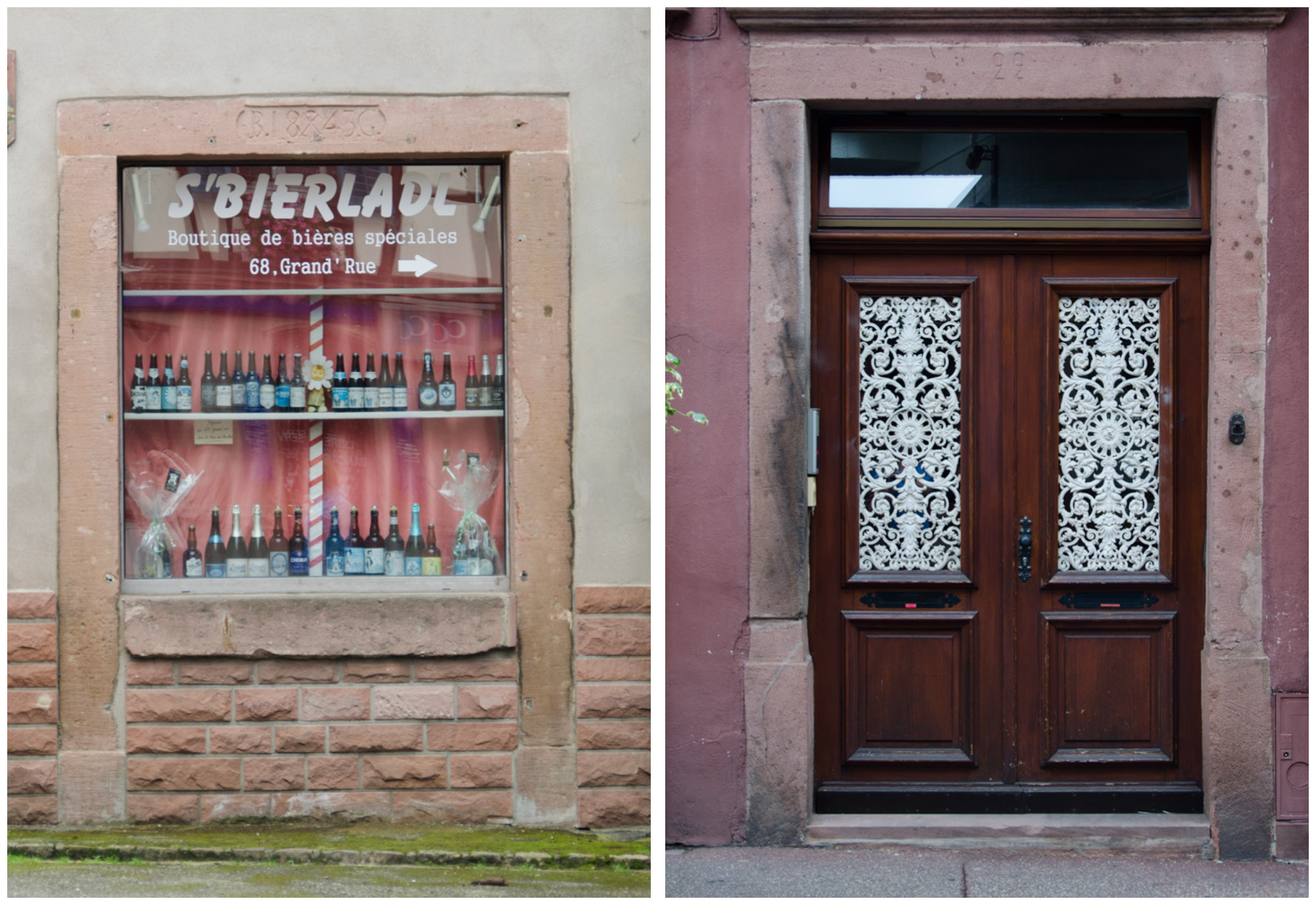 Auf dem Weg nach Colmar befinden sich nun viele gute Stellen um anzuhalten. Ich stelle euch vier vor: ein Öko-Winzer, ein nettes Städtchen mit guter Patisserie und einem Hauch von Öko, eine spektakuläre Burg, sowie tolles Essen in wunderbarem Ambiente!
Domaine Vincent Stoeffler: 1, rue des Lièvres, Barr
Ein Besuch im Elsass sollte auch dazu da sein Wein zu kaufen und zwar nicht zu knapp ;)! Nun ist die Auswahl nicht gerade klein und man fühlt sich schnell verloren angesichts der großen Masse an Winzern. Natürlich kann man auch wirklich guten Wein im Supermarkt kaufen, doch ist das ja immer russisches Roulette. Man weiß nie was man bekommt und ob es gut ist. Und die Auswahl im Supermarkt ist sehr groß, wie will man denn unter 20 Pinot Gris den Richtigen auswählen?
Sabine empfahl mir Vincent Stoeffler, einen Ökowinzer. Wir hatte eine schöne private Weinprobe ohne Voranmeldung. Dabei wurde uns viel zu den Weinen erzählt und das sogar auf deutsch! Der Wein ist der Hammer, ebenso wie der Crèmant, den wir auch probieren durften! Ich bin sehr begeistert und kann das Weingut uneingeschränkt weiterempfehlen. Nächstes Mal muss ich dort übernachten, damit ich mehr Wein probieren kann ;).
Sélestat liegt auf halber Strecke zwischen Straßbourg und Colmar und erscheint beim Einfahren ganz schön groß. Die Innenstadt ist aber überschaubar und lässt sich in kurzer Zeit erlaufen. So findet man beim Gässchen erkunden ein Bio-Bistro und ein kleines Lädchen mit Delikatessen. Hier und bei der örtlichen Apotheke/Drogerie? wird mit Bio-Lebensmitteln und Öko-Kosmetik geworben. Das war für mich in Frankreich bisher einzigartig. Ein lustiger Zufall?
Sélestat ist ruhig und beschaulich und überhaupt nicht überlaufen mit Touristen. Das ist entspannend nach Straßbourg. In der Fußgängerzone der Rue de Clefs ist die Patisserie und Confiserie Kamm, hier kann man ein leckeres Törtchen genießen.
Auberge Frankenbourg: 13, Rue de Général de Gaulle, La Vancelle
In den Bergen bei Sélestat befindet sich die Auberge Frankenbourg. Hier sollte man für eine Nacht einkehren und sich einen Platz im Restaurant reservieren (die besten Plätze sind am Ende an der großen Fensterfront). Das Restaurant ist mit einem Michelin-Stern ausgezeichnet und bietet exquisite Küche. Experimentell ohne zu abgehoben zu sein. Nichts für jeden Tag, aber eine besondere Freude im Urlaub.
Trotzdem muss man hier (und das passiert einem häufiger in Frankreich) kein Vermögen hinlegen. Die Preise sind vollkommen in Ordnung und man kann sich das mal leisten. Der Service ist sehr gut und total freundlich. Zudem gibt es immer jemand der deutsch spricht und einem so auch mal die Gerichte übersetzt, denn das ist dann doch etwas schwierig zu verstehen. Es freut einen dann auch, wenn man wiedererkannt wird, wenn man nach einem Jahr nochmal kommt. Oder war's nur Zufall? Da die ausgewählten Weine zu den jeweiligen Menüs wirklich großartig und passend sind empfehle ich auf jeden Fall die Weinbegleitung! Deshalb ist auch die Übernachtung sinnvoll ;). Ich hatte hier einen wirklich genialen Pinot Gris!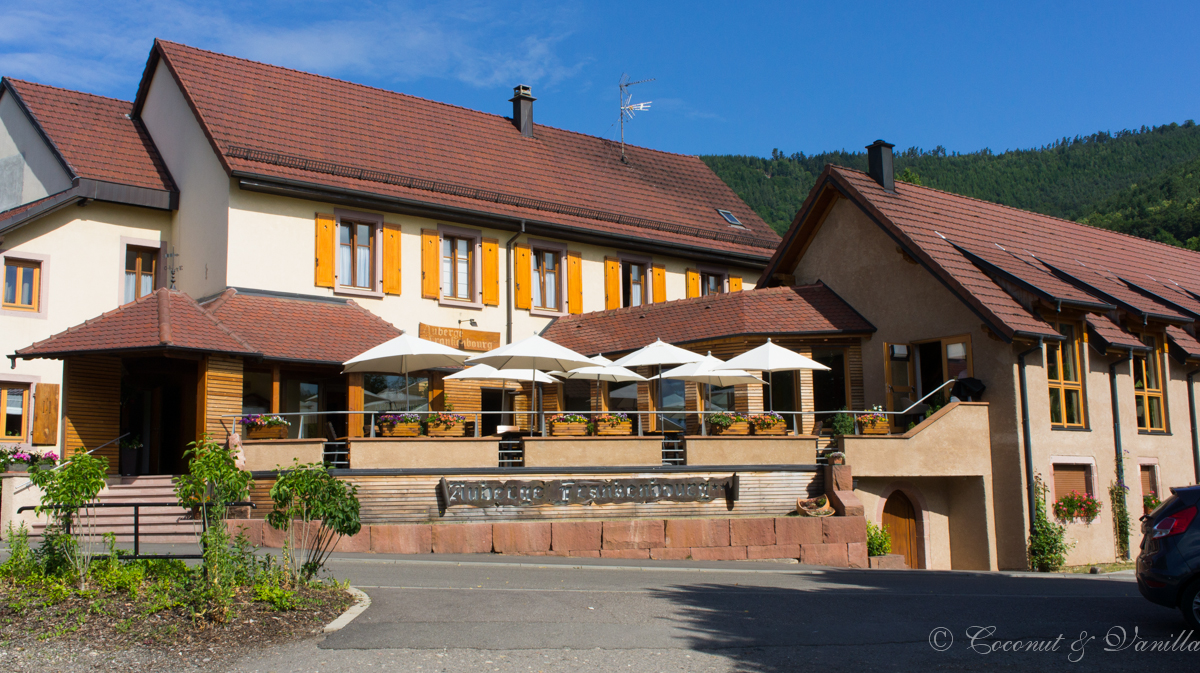 Das Frühstück morgens ist vernachlässigbar. Man ist sowieso noch voll vom Abend davor und was ich gesehen habe hat mich nicht vom Hocker gehauen. Für französische Verhältnisse sicher gut, aber als Deutscher ist man doch schon sehr frühstücksverwöhnt und ich erwarte da auch einiges. Ansonsten kann ich mir auch einfach beim Bäcker ein Teilchen holen und spare mir das Geld.
Haut Königsburg: Orschwiller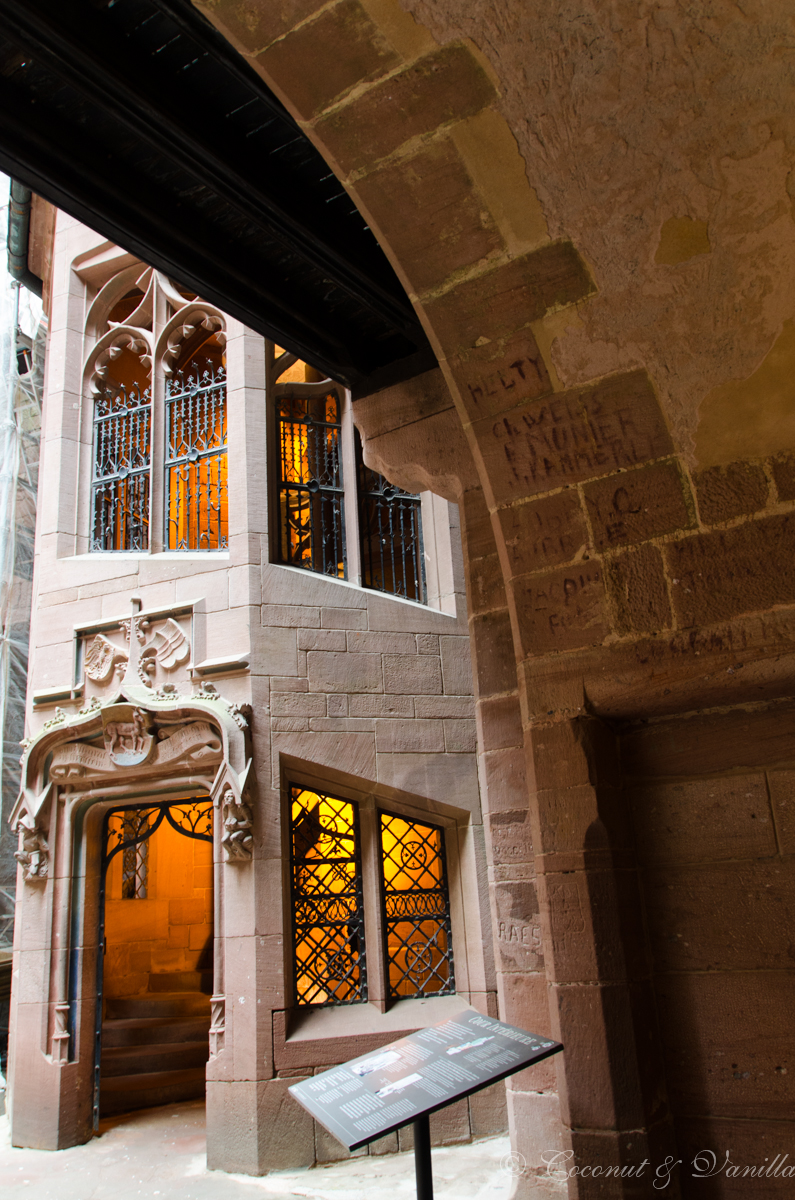 Die Haut Königsburg ist eine sehenswerte monumentale Burg! Die Burg ist schon über 900 Jahre alt und wurde 1901-1908 von den Deutschen wieder rekonstruiert und aufgebaut. Die Geschichte der Burg durch die Jahrhunderte ist äußerst interessant und der faszinierende Wiederaufbau wurde damals mit Fotografien belegt. Das alles kann man sich in einer Ausstellung in der Haut Königsburg anschauen. Der Ausblick ins Elsass ist natürlich auch atemberaubend schön! Auf alle Fälle einen Besuch wert!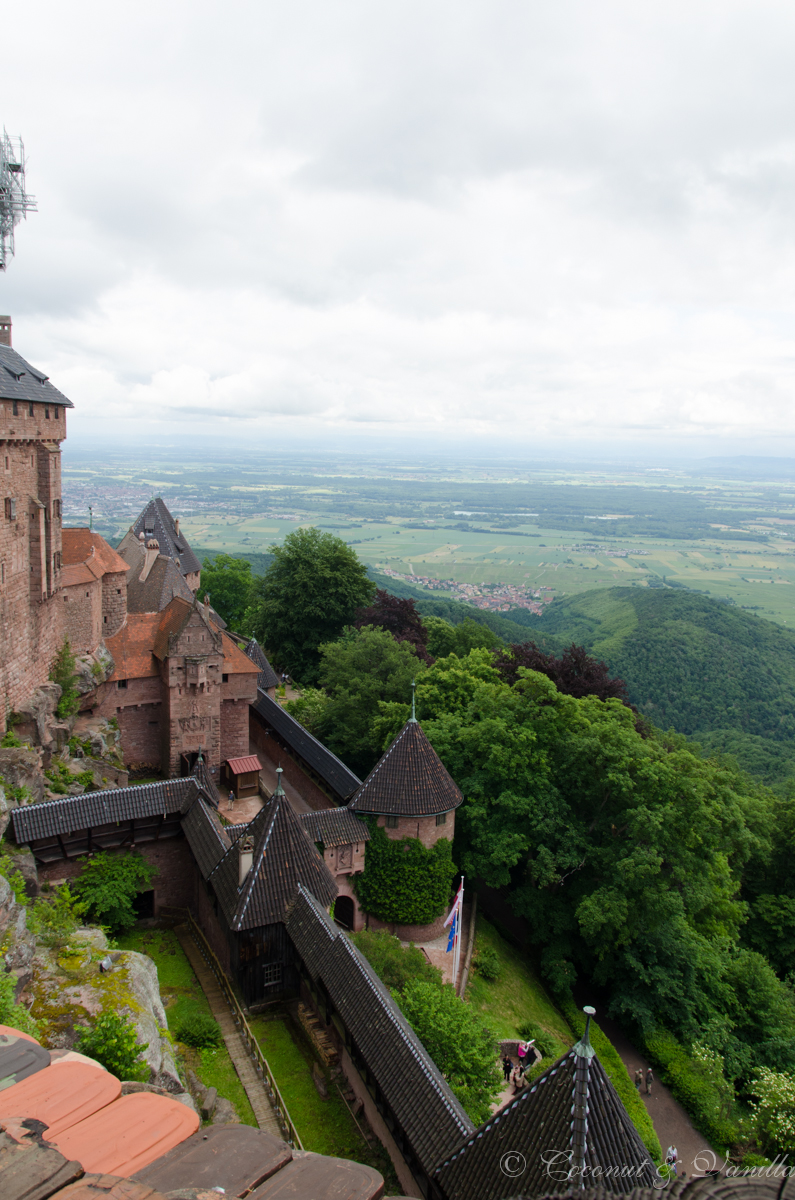 Wer mag kann von Colmar aus zur "Marmeladentante" Christine Ferber fahren und auf dem Weg noch ins Staub Outlet gehen. Allerdings ist beides nicht wirklich nötig. Der vollständigkeithalber möchte ich es Euch aber vorstellen.
Maison Ferber: 18, rue des Trois Epis, Niedermohrschwihr (außen steht nicht Maison Ferber dran und es sieht aus wie ein Gemischtwarenladen)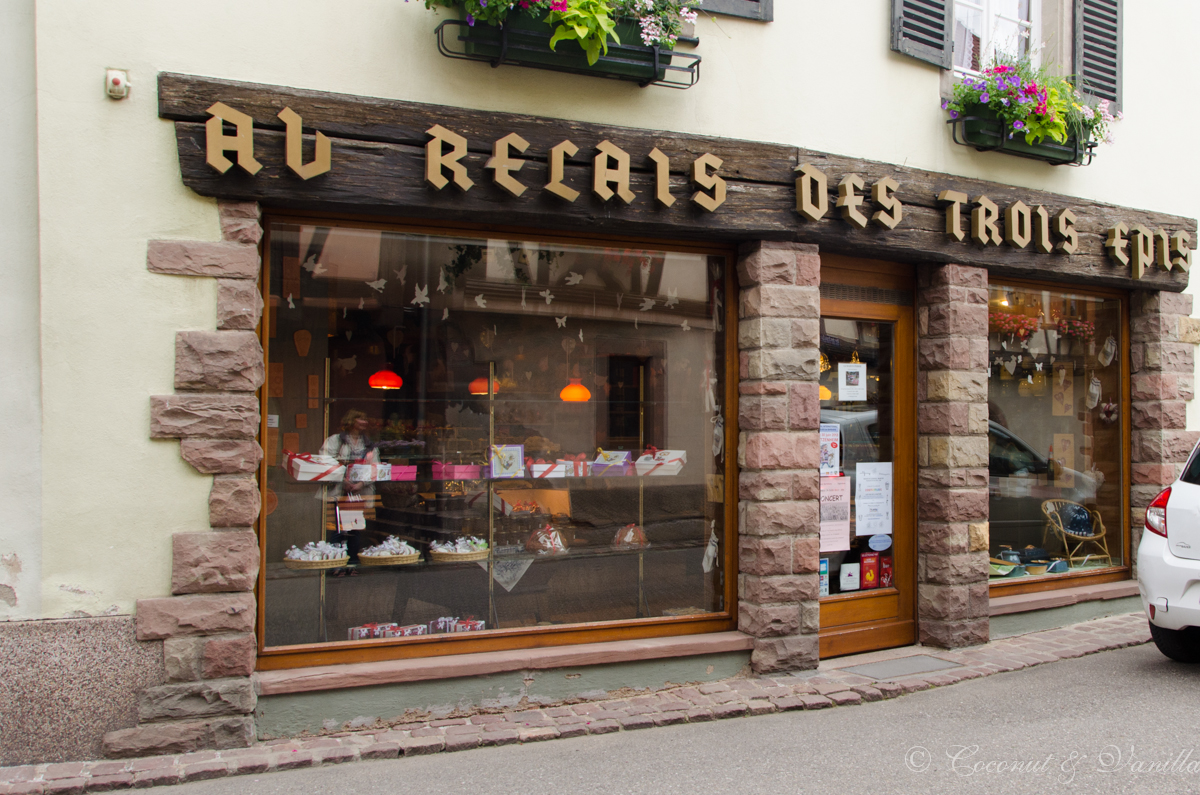 Christine Ferber stellt hausgemachte Marmelade auf einem Dorf bei Colmar her. Sie hat auch schon einiges an Kochbüchern geschrieben. Ich besitze selbst Die Marmeladen-Bibel. Nun sind die Marmeladen wirklich sehr teuer (um die 7 Euro für ein kleines Gläschen) und mich haben sie nicht vom Hocker gerissen. Da bekomme ich in Deutschland wirklich besseres für kleineres Geld. Der Laden ist sehr klein und es steht auch nicht groß "Confitures" drauf, man läuft da schon gerne dran vorbei. Im Endeffekt ist es aber der Einzige der offen hat ;).
Staub Outlet: 2 rue St Gilles, Turckheim
Das Staub Outlet hat einiges von Staub und einiges ist auch wirklich günstig. Leider finde ich die Farben doch sehr langweilig. Wenn man hier keine Ansprüche hat und noch nach einem Bräter sucht wird man hier eventuell fündig (die Auswahl an Brätern und Töpfen ist groß, die Preisunterschiede aber auch!). Ich habe mich für 2 Auflaufformen und eine große Keramiktarteform entschieden und habe dafür weniger als 40 Euro bezahlt. Das war ein Schnäppchen. Wer allerdings schon fast alles hat, braucht hier auch nicht mehr hin.
Colmar:
In Colmar haben wir uns treiben lassen. Man sitzt am schönsten an dem kleinen Kanal.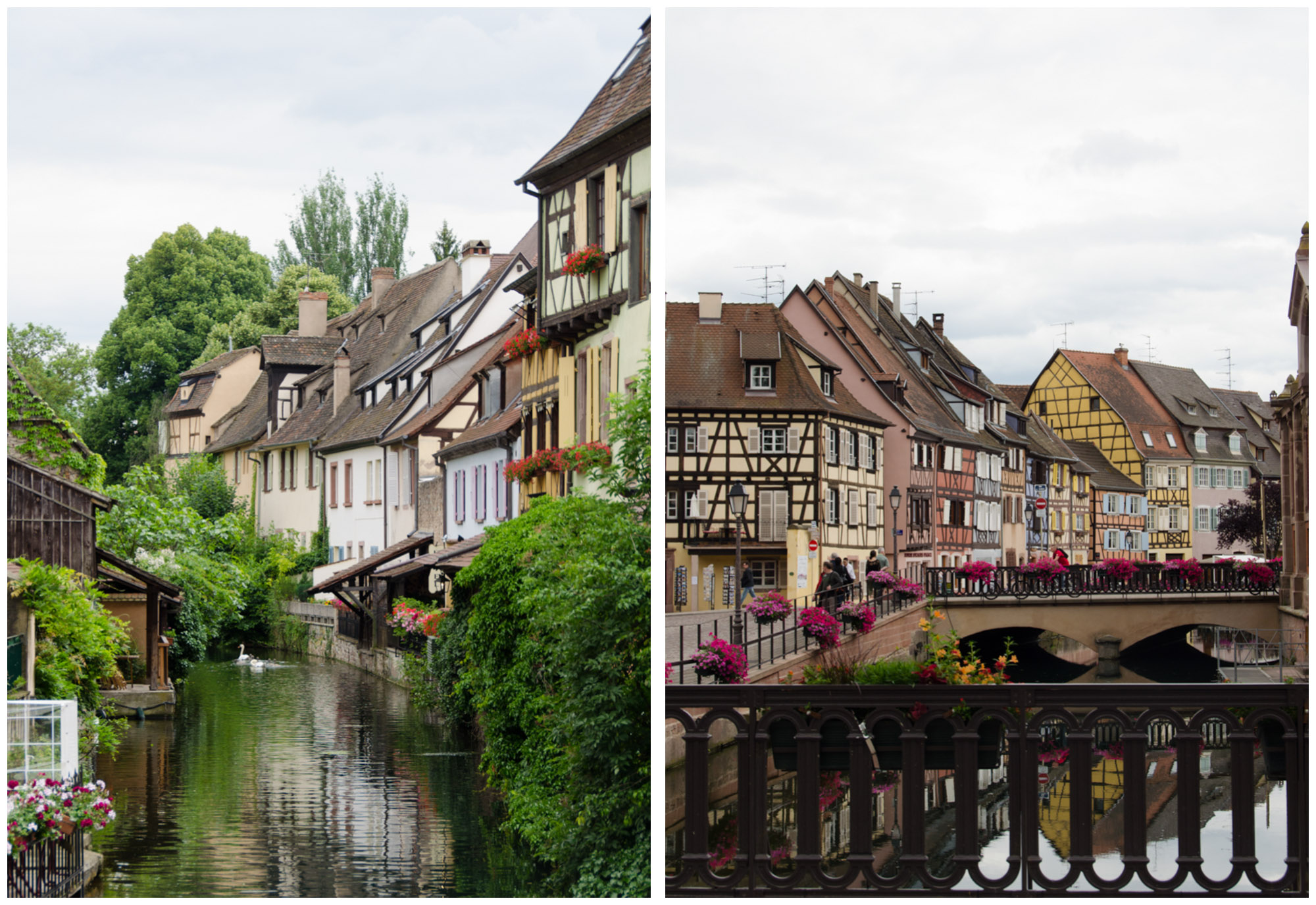 Le Koifhus: 2, place de l'Ancienne Douane
Weil es uns am Kanal so gut gefiel und auch das Essen (Flammkuchen!) und der Wein/Crèmant sehr gut war sind wir meistens ins Koifhus gegangen. Am schönsten sitzt man draußen, innen ist es auch gemütlich, aber meistens auch laut.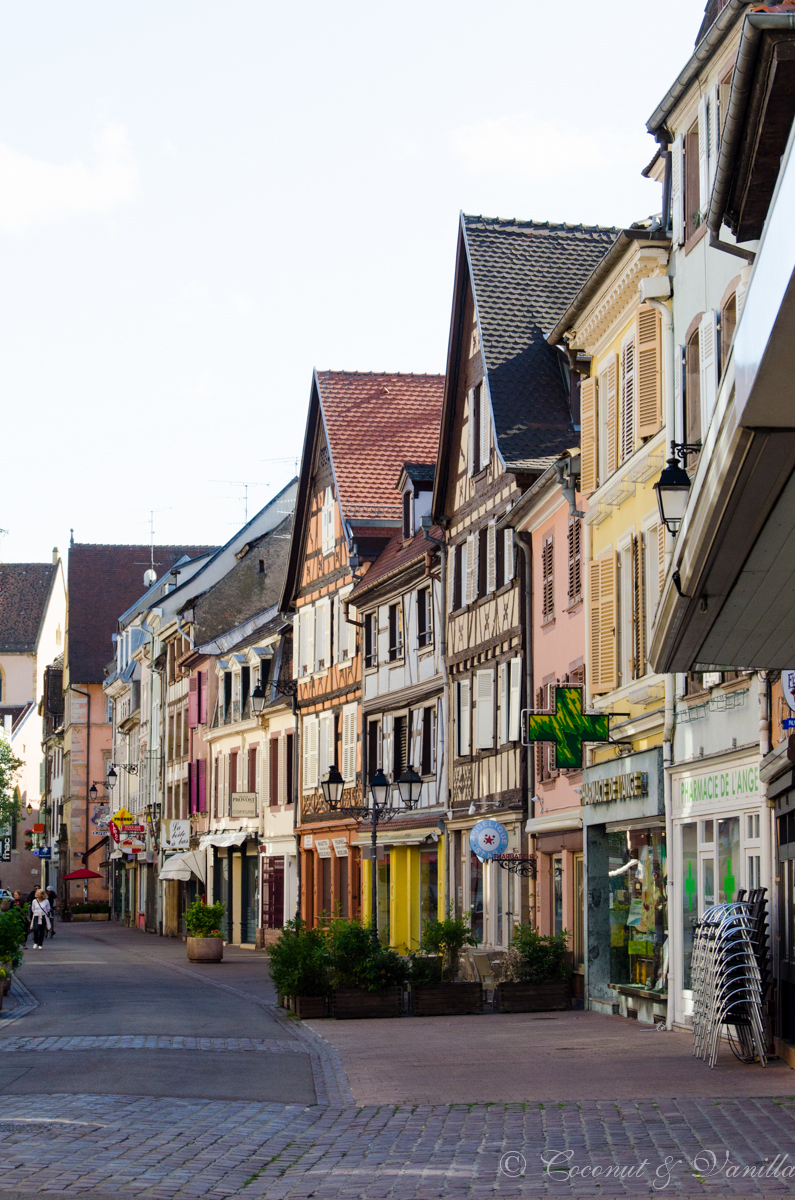 Unser Hotel in Colmar war in Ordnung, auch ruhig und sauber. Aber empfehlen würde ich es jetzt nicht unbedingt, da fehlt mir doch was. Sandy von Confiture de Vivre hat aber einen Tipp!
Avenue d'Alsace: 41, Grand Rue
In diesem kleinen süßen Lädchen gibt es wunderschöne Textilwaren, die selbstgenäht sind von der Besitzerin. Ich habe mir dort ein niedliches Täschchen und ein Geschirrtuch gekauft. Außerdem hat sie auch ein paar hübsche handgemachte Keramikwaren, eine Schale musste also auch noch mit. Die Waren fallen aus dem sonstigen Sortiment in Colmar aus dem Rahmen, denn hier findet man wirklich schöne Sachen, die außergewöhnlich sind und keinen Kitsch.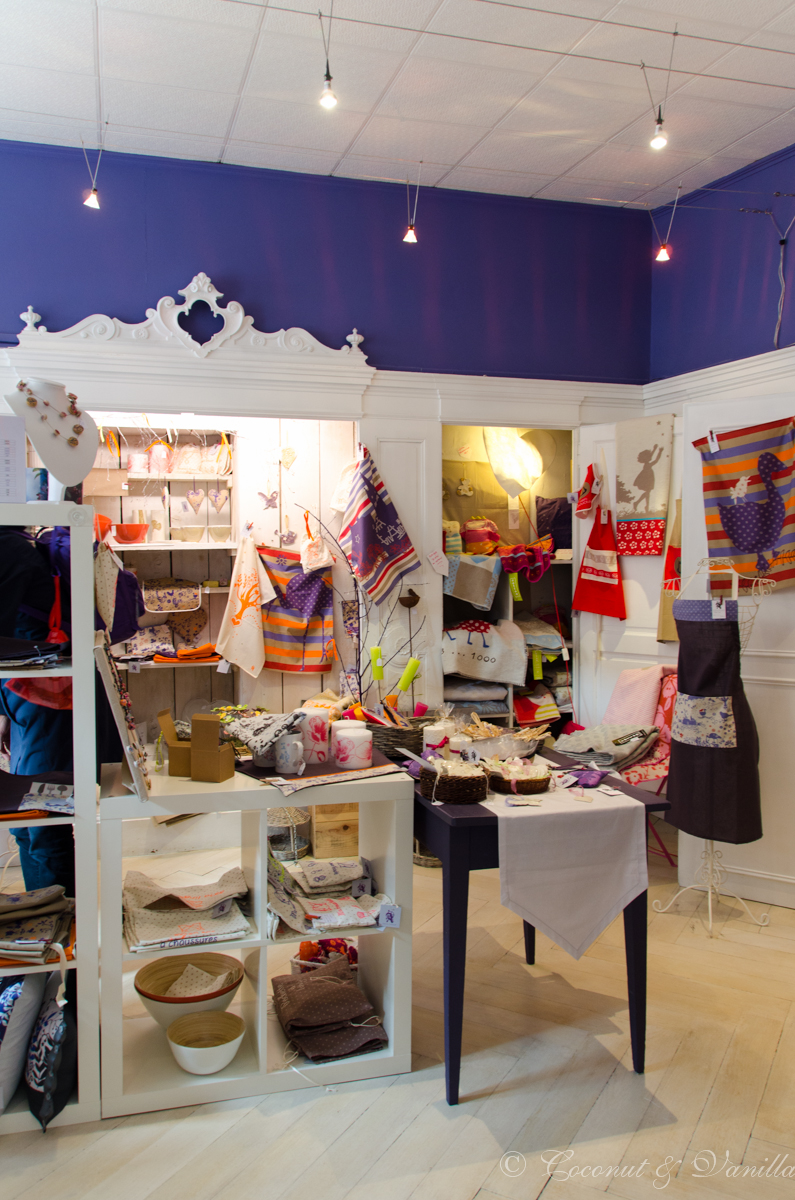 Im Norden von Colmar, an der Autobahn Richtung Straßbourg gibt es einen großen, gut ausgestatteten und schönen Cora Supermarkt, falls ihr von dort zurückfahrt und noch ein paar Sachen besorgen möchtet.
Übrigens hat Matze einen sehr informativen Beitrag über französische Supermärkte geschrieben, den ihr Euch vor einem Frankreichbesuch unbedingt durchlesen solltet! Meiner Erfahrung nach ist der Cora wirklich gut (sauber, gute und große Auswahl). Schlecht fand ich hingegen Carrefour (ungepflegt, schlechte Auswahl und die frischen Lebensmittel sahen auch nicht gut aus). Bringt auch Zeit für die Kasse mit! Auch wenn nichts los ist, dauert es ewig und wenn viel los ist dauert es eine Ewigkeit. Die Kassiererinnen sind nicht so flott wie bei uns und da wird auch beim größten Betrieb noch rumgedödelt und geschnackt bis der Arzt kommt. Ruhig Blut!
Man bekommt im gut sortierten Supermarkt in Frankreich natürlich alles! Mein Tipp: Butterkekse mit Haselnussschokolade (oder weißer Schokolade, aber mein Favorit ist Nuss, der Hammer!), Butter mit Salz aus der Guerande, günstigen Cidre aus der Bretagne, offener Twiningstee in hübschen Dosen (ja nicht aus Frankreich, aber trotzdem toll 😉 ). Interessant können auch die Marmeladeecke sein und wer gerne die belgischen Speculooskekse mag, bekommt nicht nur die, sondern auch die Kekse als Brotaufstrich! Wer es nicht zum Weinhändler/Winzer schafft, der kann auch guten Wein im Supermarkt kaufen. Ich habe hier bisher nur gute Erfahrungen gemacht. Im Elsass kann man natürlich auch regionales Bier kaufen. Beim Obst und Gemüse vorbeischauen: hier kann man runde Zucchini, bunte Tomaten und Ochsenherztomaten zu Sonderpreisen erwerben. Viele Supermärkte haben auch eine Regionaltheke (wie bei uns), was auch interessant sein kann.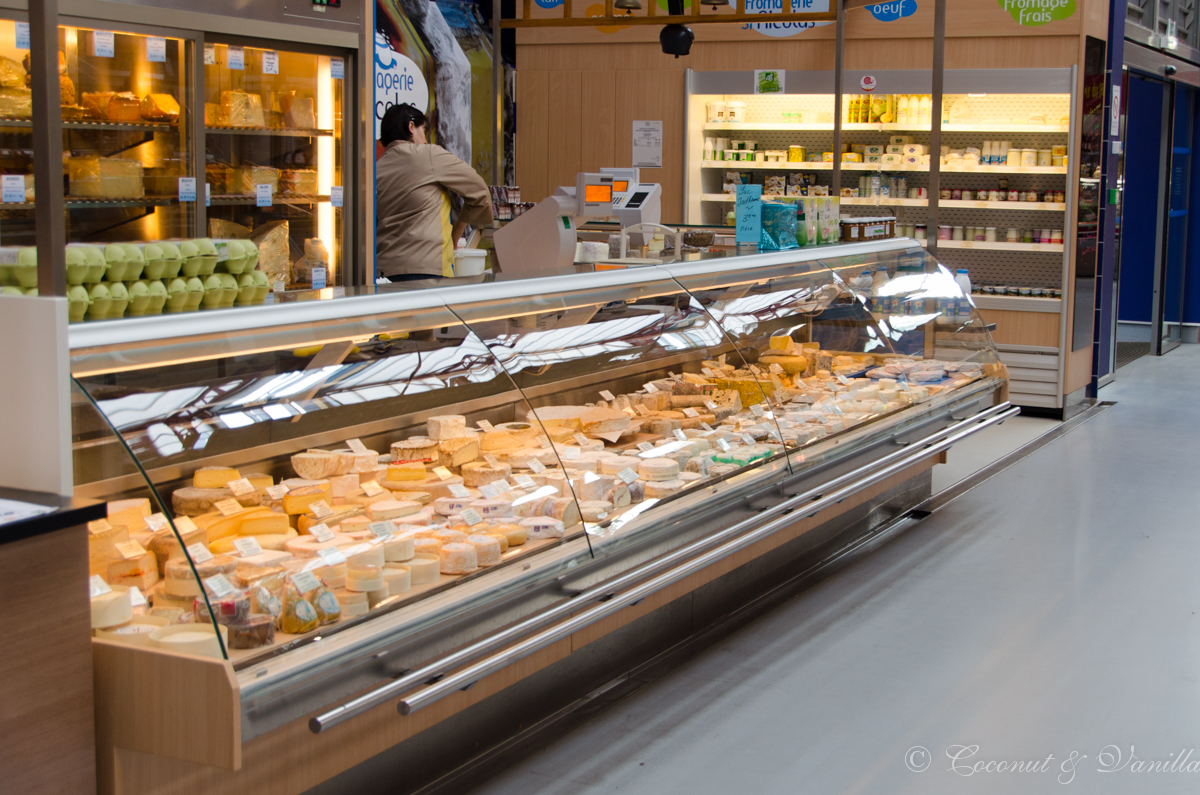 Bei Käse sollte man auf jeden Fall die Markthalle oder ein ausgewiesenes Käsefachgeschäft aufsuchen! Es gibt auch Supermärkte mit großen Theken, aber hier fehlt der Flair und kleine Käsehandlungen veredeln auch den Käse selbst.
Ebenso sollte man die Augen nach einer Bäckerei aufhalten, die noch selber bäckt! Das ist nicht so einfach, denn die Ketten gibt es in Frankreich genauso wie bei uns und das aufbacken wird genauso schön verschleiert. "Artisan Boulangerie" heißt z.B. nicht unbedingt, dass hier noch selbst gebacken wird. Ketten fallen ja schon auf, weil man sie in jedem Ort sieht. Ansonsten in den Laden schauen und auf sein Bauchgefühl hören. Hat man einen Laden gefunden, kann man sich einfach das ganze Sortiment einpacken lassen ;). Diverse Baguettes, pain d'epi, Croissants, Pain au chocolat nehme ich immer mit! Gerne auch mehr und dann friere ich die Sachen ein. Vor dem Verzehr auftauen lassen und evtl nochmal kurz (!) aufbacken, dann schmeckt's wie frisch gekauft.
Wer auf Eclairs, Tartelettes und Törtchen steht sollte eine Patisserie aufsuchen. Hier kann es große Unterschiede geben. Manche arbeiten mehr natürlich, bei den anderen gehts eher bunt zu. Ich hatte auch das Gefühl, das ist von Stadt zu Stadt (oder Region) unterschiedlich. Auch hier bekommt man Croissants und Pain au chocolat.
Markthallen sind natürlich immer gut zum Einkaufen und auch manchmal für ein kleines Frühstück.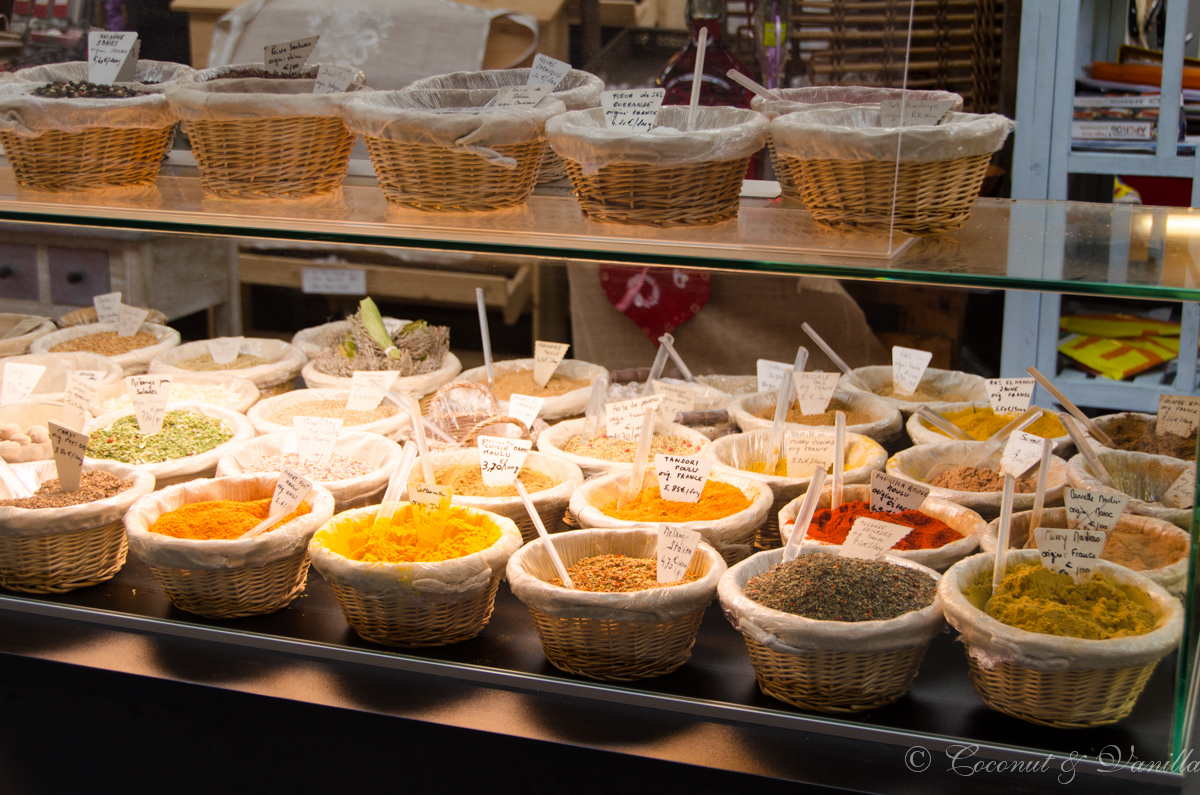 Vielen Dank an Sabine von Bonjour Alsace  und Matze von Chez Matze für ihre super Tipps!
I love alsace! It offers a great landscape and a lot to see. Also the wine is just my taste! The north around Straßbourg is more a beer area, near Colmar it's again wine. I recommend to take a seat at a nice spot and sip a glass of Crèmant. In Straßbourg you'll order a beer from a local brewery or a Panaché (beer and lemonade). It' good to know, by the way, that you can always order some "eau", which is tap water and doesn't cost a cent.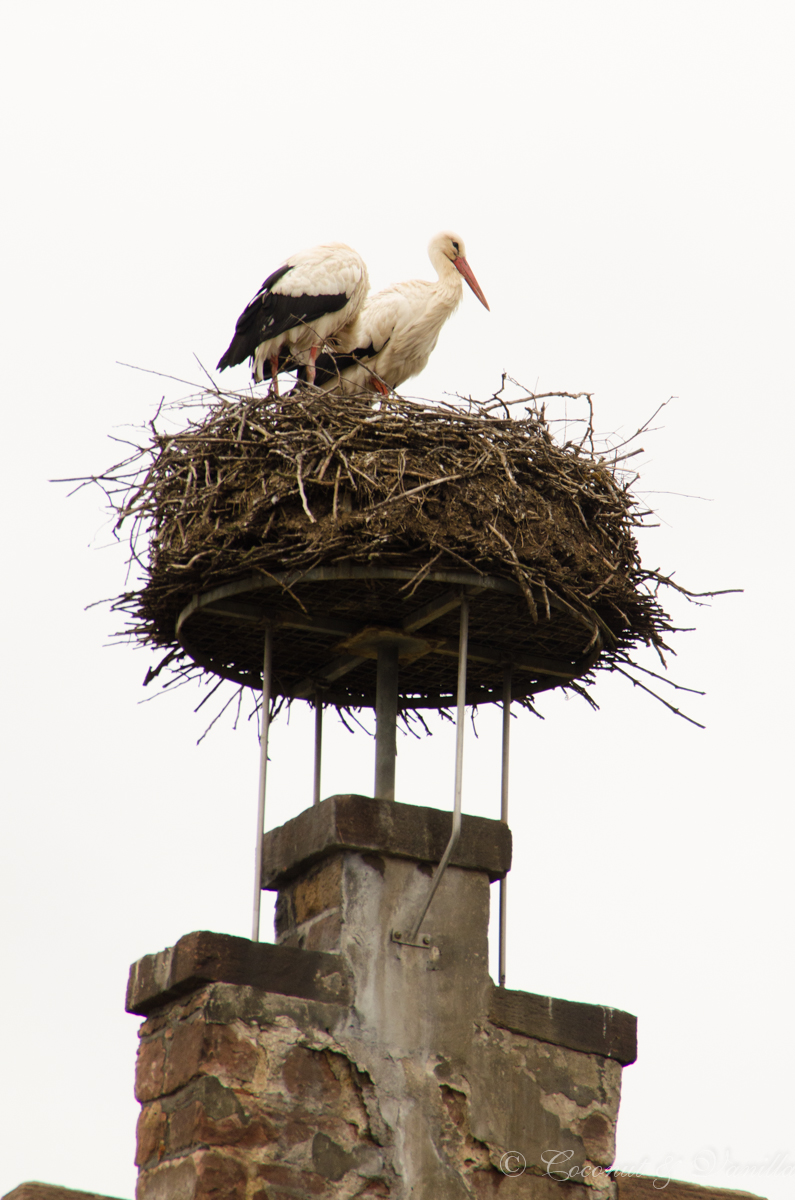 Straßbourg
I can't recommend a hotel in Straßbourg. But Julia of German Abendbrot has a recommendation, which we had chosen, too, but it was already booked out. But it looked nice from the outside and the location is also perfect! I just can advise against any Ibis! Do gon't there, even if they are central (in our case Ibis Petit France, but I do think they are all similar there). It was loud (inside and outside), not soundproof, very small rooms and stifting.
La Cloche à Fromage: 27, Rue de Tonneliers, Straßbourg
For dinner I hugely recommend la Cloche à Fromage! A cheese restaurant with all kinds of cheese dishes (their cheese shop is across the street). Choose the cheese fondue, it's excellent! They offer different fondues for example with Roquefort, Münster, goats cheese and more. Very delicious! And if you are two people you can order two different ones! You can also order raclette, but I fancy fondue and Raclette is even more heavy than fondue. For raclette they have a funny procedure, but you can see that on some other tables for sure. Totally awsome is also the "greatest cheese dome of the world"! You can also enjoy a cheese platter with cheeses you chose yourself.
The atmosphere and the service is friendly and nice. Groups (also small touristic groups) might also be there, but they are everywhere in Straßbourg. Hey it's a touristic town ;).
Art Café: 1, place Hans Jean Arp, Straßbourg
A nice restaurant with light dishes (rare!) is located on the "roof terrace" of the art museum and has a nice view over Straßbourg. They call themselves the most beautiful roof terrace of Straßbourg, which we only could smile about, but probably it is the only roof terrace in Straßbourg! The french don't see that a nice scenerie is also nice for eating, they also eat at a busy road. The service is friendly, but very slow and unmindful. Don't hesitate to go in for paying the check at the bar.
Au Petit Bois Vert: 2 Quai de la Bruche, Straßbourg
At the river are some sweet little bistros and restaurants. We only drank something at the Au Petit Bois Vert, but the food and especially the dessert looked very good!
Salon de Thé Grand Rue: 80, Grand Rue, Straßbourg
You can enjoy a small breakfast with very good  homemade jams here. On the other side of the bistro there's a little square where they have more seats and it's more beautiful to sit.
Apart from that Straßbourg is very touristic. It wasn't easy finding good restaurants, if you don't want to eat a lot of meat or sausages. It's great for shopping, because they have a lot of shops. In the end of June summer sale begins and they reduce a lot more in France than in Germany and you find some really good stuff for little money! You need to bring some patience in Straßbourg, because there a lot of people shopping!
They also have a lot of small delicatessen stores, but Straßbourg was the start of the trip so we didn't buy any food there. But Matze has put together a great collection of deli stores.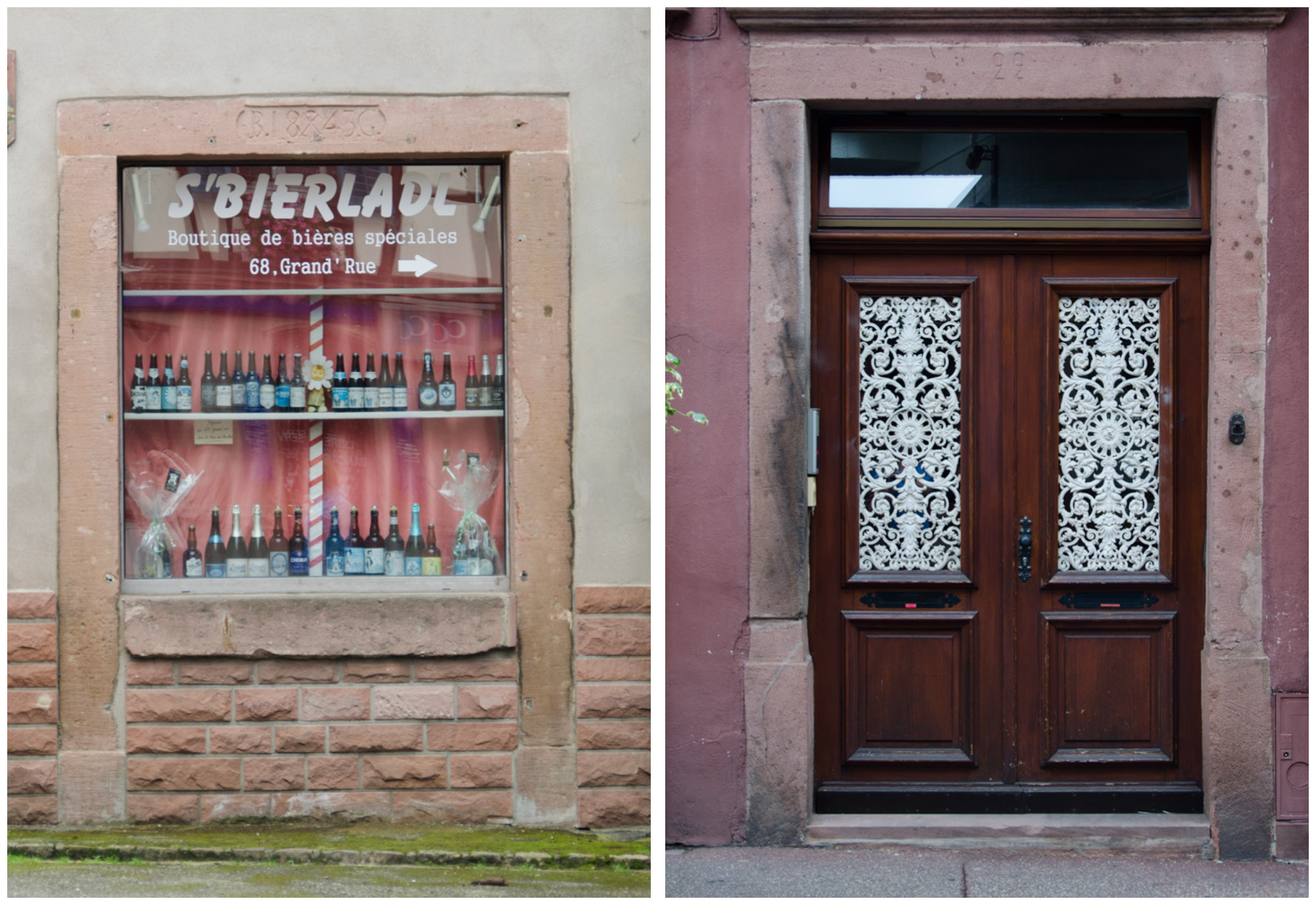 On the way to Colmar are a lot of great places to stop. I will present you four: an ecological wine grower, a lovely town with a good patisserie and an ecological touch, a spectacular castle and excellent food with wonderful atmosphere!
Domaine Vincent Stoeffler: 1, rue des Lièvres, Barr
You should use a trip to Alsace to buy wine and not short ;)! Well, there's a lot of wine to choose from and you might feel lost when faced with the mass of wine growers. Of course you can also buy good wine in supermarkets, but it's always a bit of russian roulette. You never know what you get and if it's good. Also there's a huge choice in the supermarket, so how to choose of 20 pinot gris the right one?
Sabine recommended Vincent Stoeffler, an organic wine grower. We had a lovely private wine tasting without advance reservation. They did tell a lot about the wines and even in German! The wine is spectacular, as well as the crémant, which we also got to try! I'm delighted and I'm recommending this vineyard from the heart. Next time I need to book a room in Barr so I can try more wine ;).
Sélestat is located between Straßbourg and Colmar and looks big when driving in town. But the old town is manageable and can be explored by foot in a short time. While walking through the small alleys I found an eco bistro and a small deli shop. Here and at the local pharmacy /drugstore? they advertise eco cosmetics and food. This was unique for me in France. A funny coincidence?
Sélestat is quiet and not overcrowded with tourists at all. This is relaxing after Straßbourg. In the pedestrian zone the Rue de Clefs you'll find the Patisserie and Confiserie Kamm where you can enjoy small and delicious pastries.
Auberge Frankenbourg: 13, Rue de Général de Gaulle, La Vancelle
In the mountains near Sélestat the Auberge Frankenbourg is located. Book a night here and make a reservation for dinner (best seats are near the large windows)! The restaurant is marked with one star Michelin and offers exquisite cuisine. It's experimental without being off touch with the reality. Not for everyday dinners, but a special treatment on vacation. Still it's not necessary to spend a fortune here (which happens more often in France than in Germany). The prices are very reasonable, the service very good and friendly.
There is always someone speaking German who can explain the dishes, which can be sometimes a bit difficult in French. They also recognized us from last year, which of couse is flattering. Or was it just coincidence?
The accompanying wines for the menus are really exceptional and I recommend to choose them with the menu! Therefore booking a room there makes sense ;). I had a really really good pinot gris there!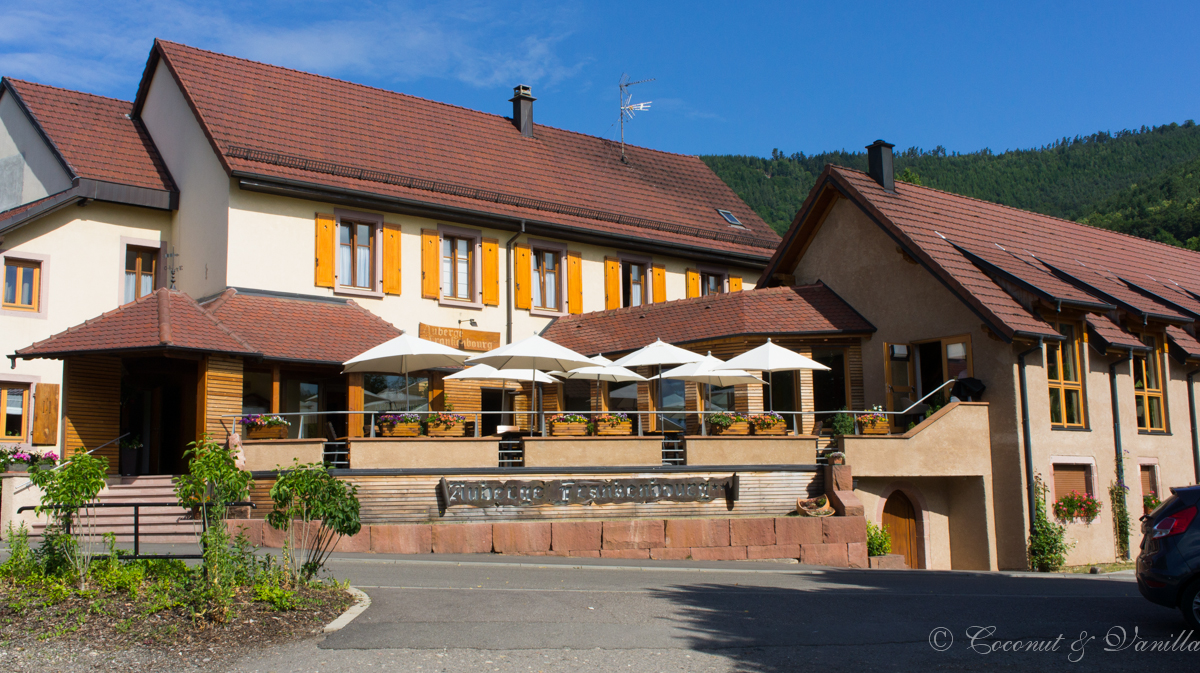 The breakfast is not worth mentioning from what I've seen and you might be still full from the night before. For french circumstances the breakfast might be good, but as a German I'm really breakfast spoiled and my expectations are high! In cases like these I rather skip a (expensive) middle-classed or bad breakfast and buy something from the bakery.
Haut Königsburg: Orschwiller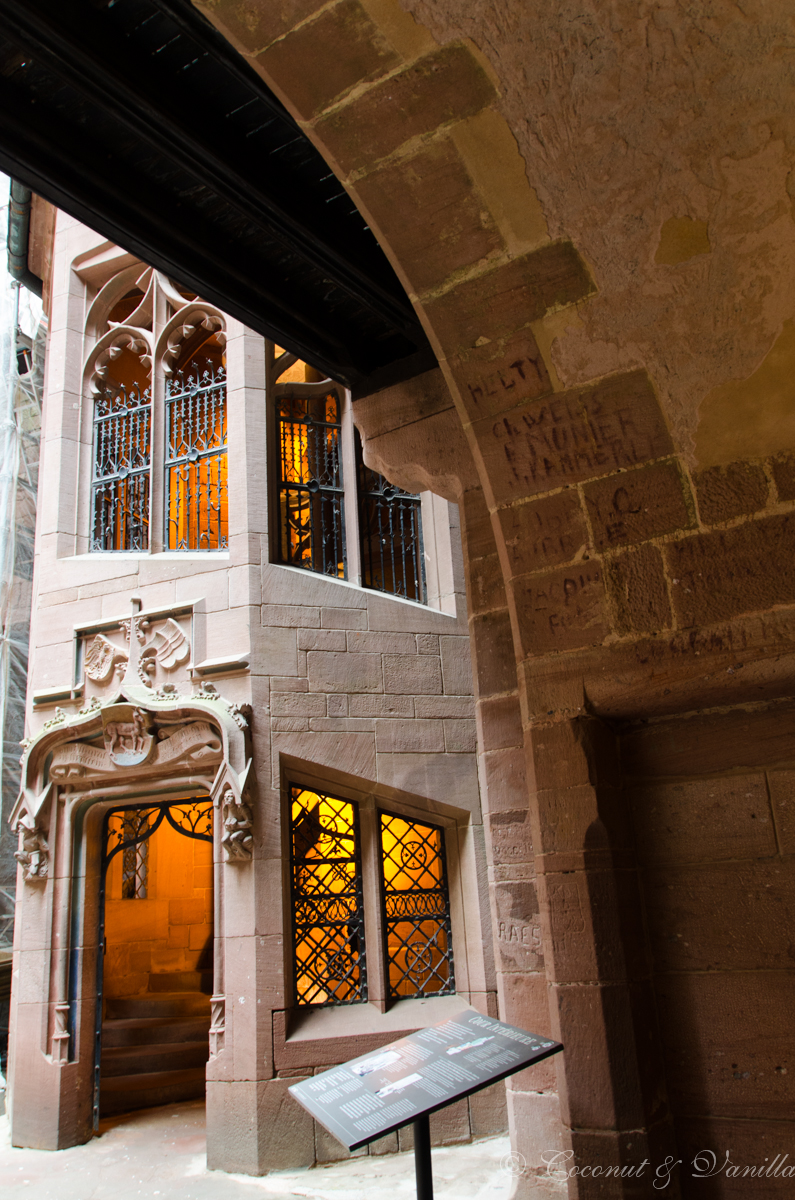 Haut Königsburg is a monumental worth seeing castle! The castle is over 900 years old and was rebuilt by the Germans from 1901 to 1908. The history through the centuries is very interesting and the fascinating reconstruction is documented with a lot of large photographies, which are presented in the castle. The view from Haut Königsburg is also breathtaking beautiful! Very worth a visit!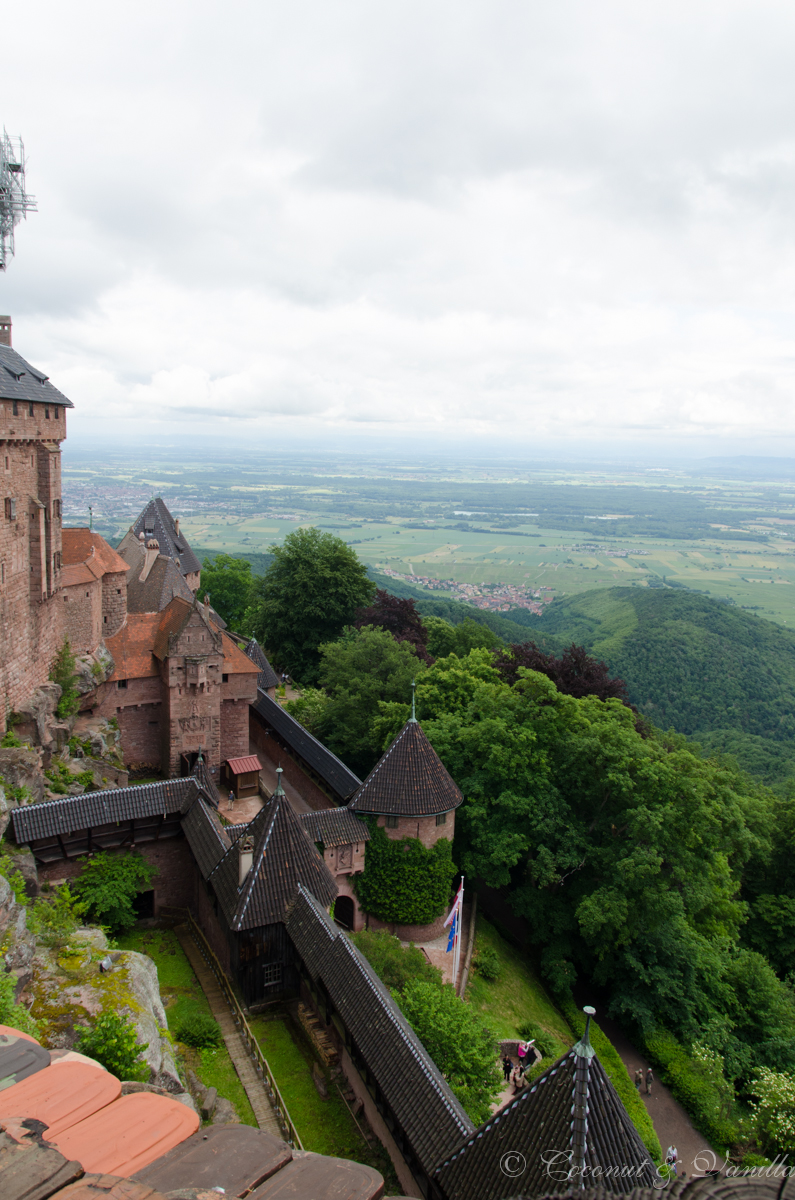 If you are interested in Christine Ferber you can visit her jam empire near Colmar and also visit a Staub outlet. Both is not really necessary. But for the sake of completeness I mention it here.
Maison Ferber: 18, rue des Trois Epis, Niedermohrschwihr (Maison Ferber isn't displayed on the outside and it does look more like some general store)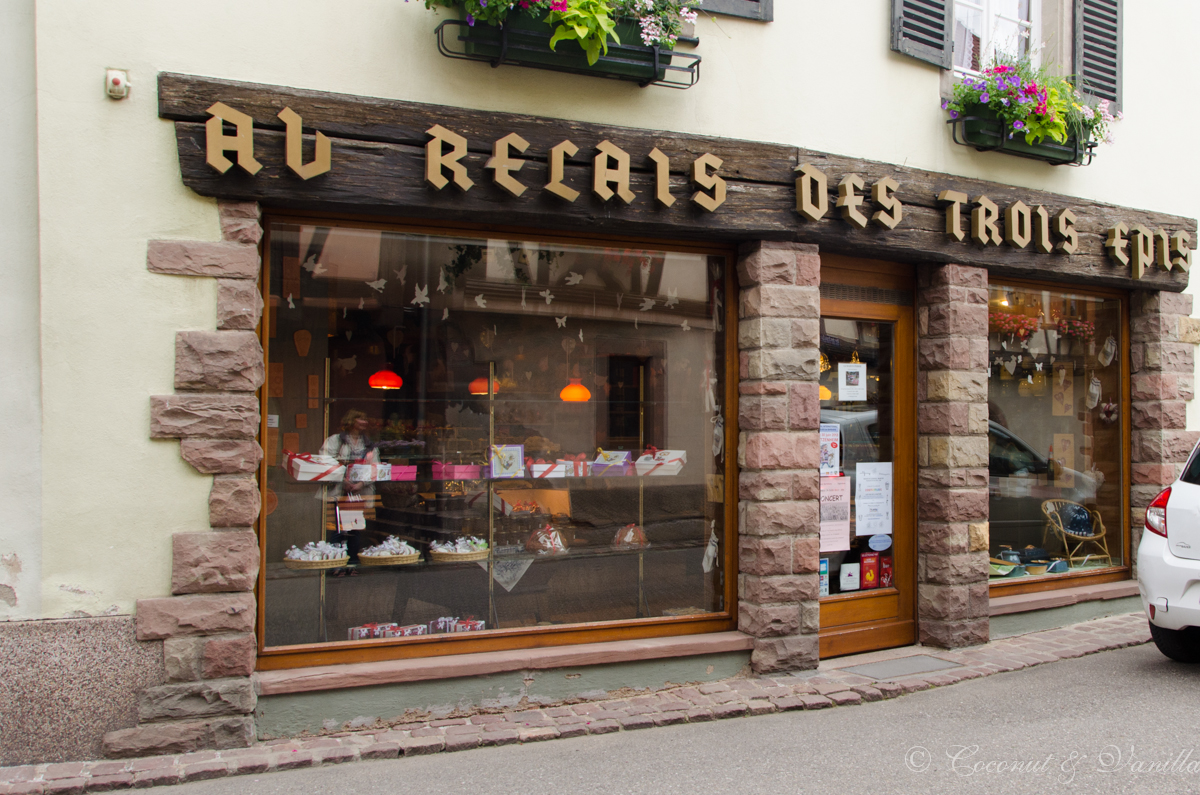 Christine Ferber produces a lot of homemade jam in a village near Colmar. She also wrote some cookbooks, I also own one. She is quite popular in France. Her jams are quite pricey (around 7 euro for a small jar) and they didn't were that great (not for 7 euro). I can purchase better jams in Germany for less money. The shop is very small and isn't labeled with "confitures", so you could get easiliy lost. But in the end it's the only one that is open ;).
Staub Outlet: 2 rue St Gilles, Turckheim
This outlet has a lot of Staub stuff and is mostly very cheap. But I don't favour the colours. If you don't have any expectations and you are looking for a roasting pan, you might find one here (large choice of roasting dishes and pots, but also a large range of prices!). I chose three different baking dishes and paid less than 40 euros. Very cheap! But if you have already everything, skip the outlet.
Colmar:
We just drifted through Colmar. Most beautiful scenery to sit is near the small canal.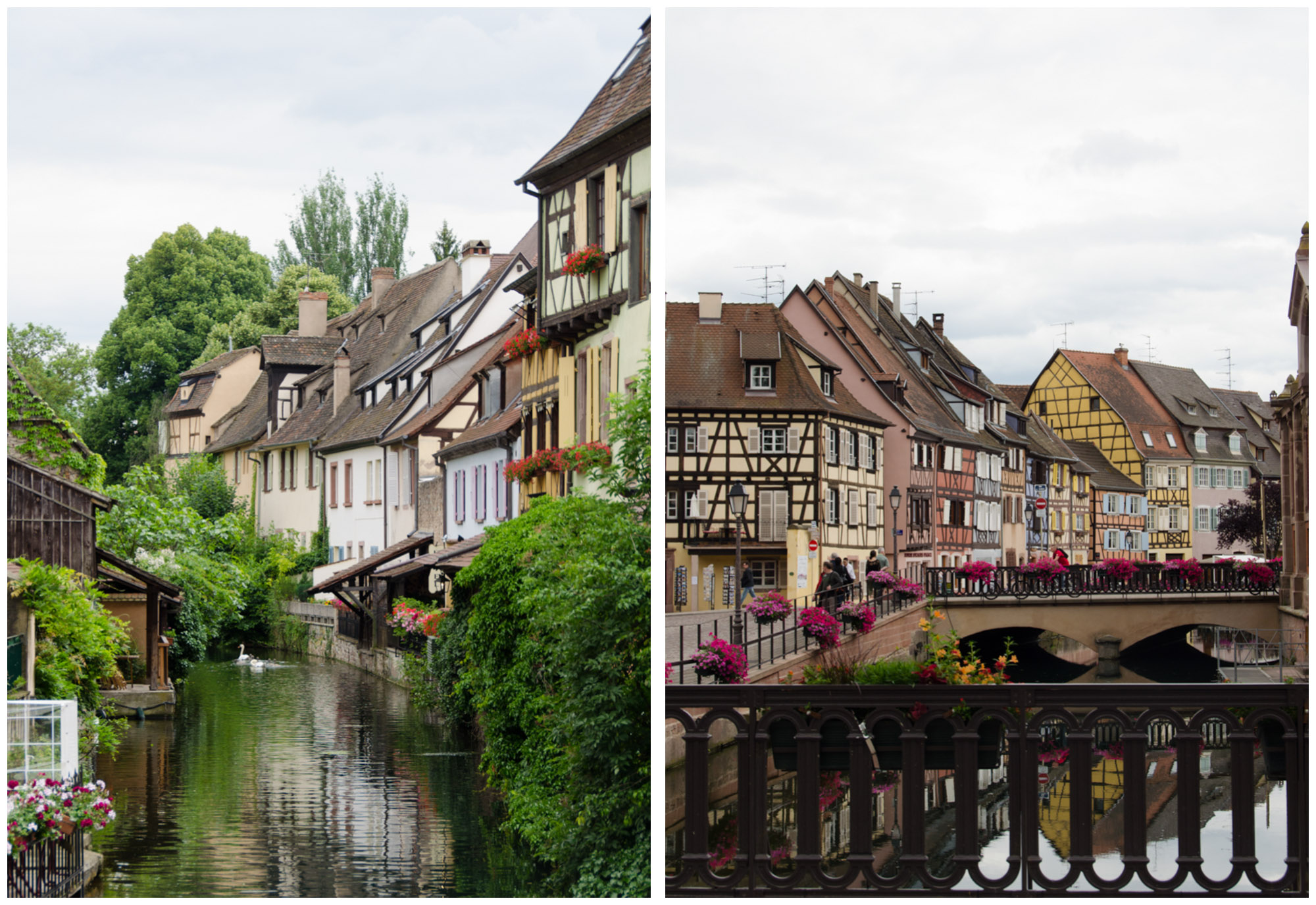 Le Koifhus: 2, place de l'Ancienne Douane
Because we like the places at the canal so much and we also loved the food (tart flambée!) and the wine/crèmant, we mostly went to the Koifhus. Best to sit outside. It's also cosy inside, but also very loud most of the time.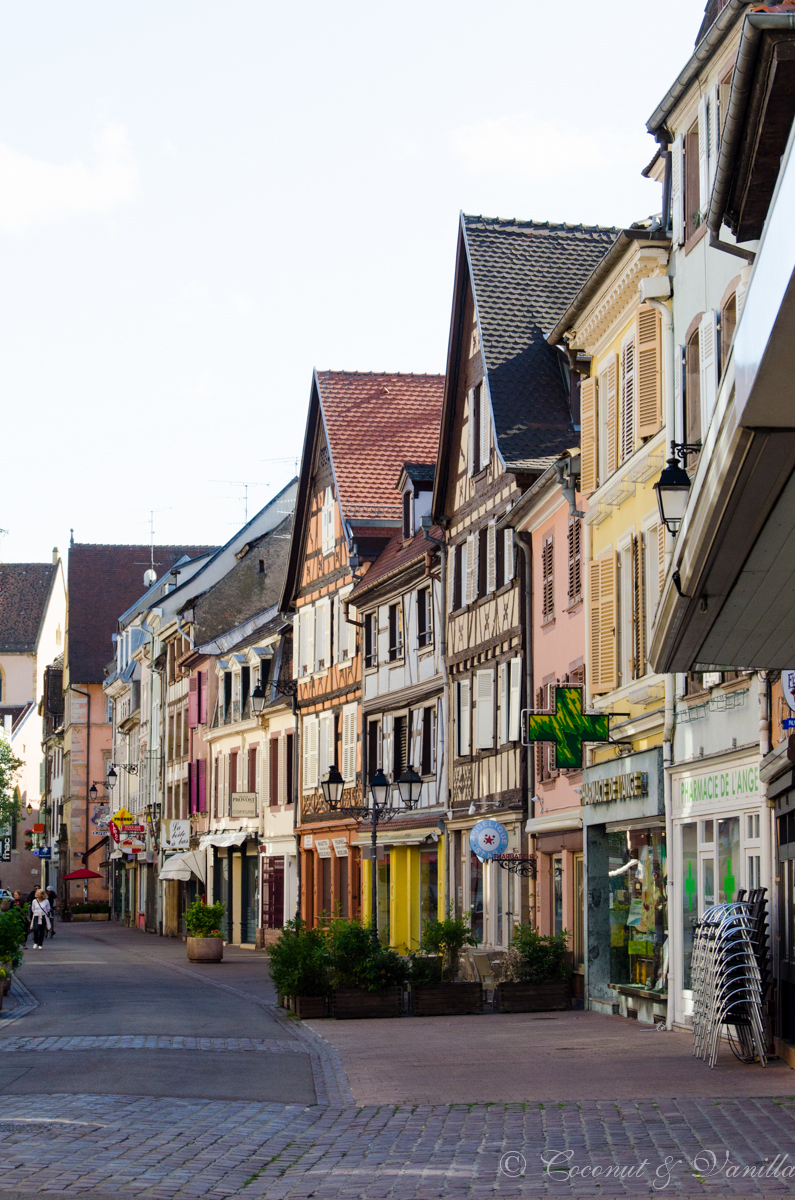 Our hotel was quite and clean, but I wouldn't recommend it exactly, because I missed the personal touch. But Sandy of Confiture de Vivre has a good tip!
Avenue d'Alsace: 41, Grand Rue
This sweet little shop has beautiful textiles, which are handmade of the owner. I bought a neat bag and a dish towel. Also they sell wonderful handmade ceramics, so I also had to buy a bowl. They really have some exceptional things, which you don't find else where and are no kitsch.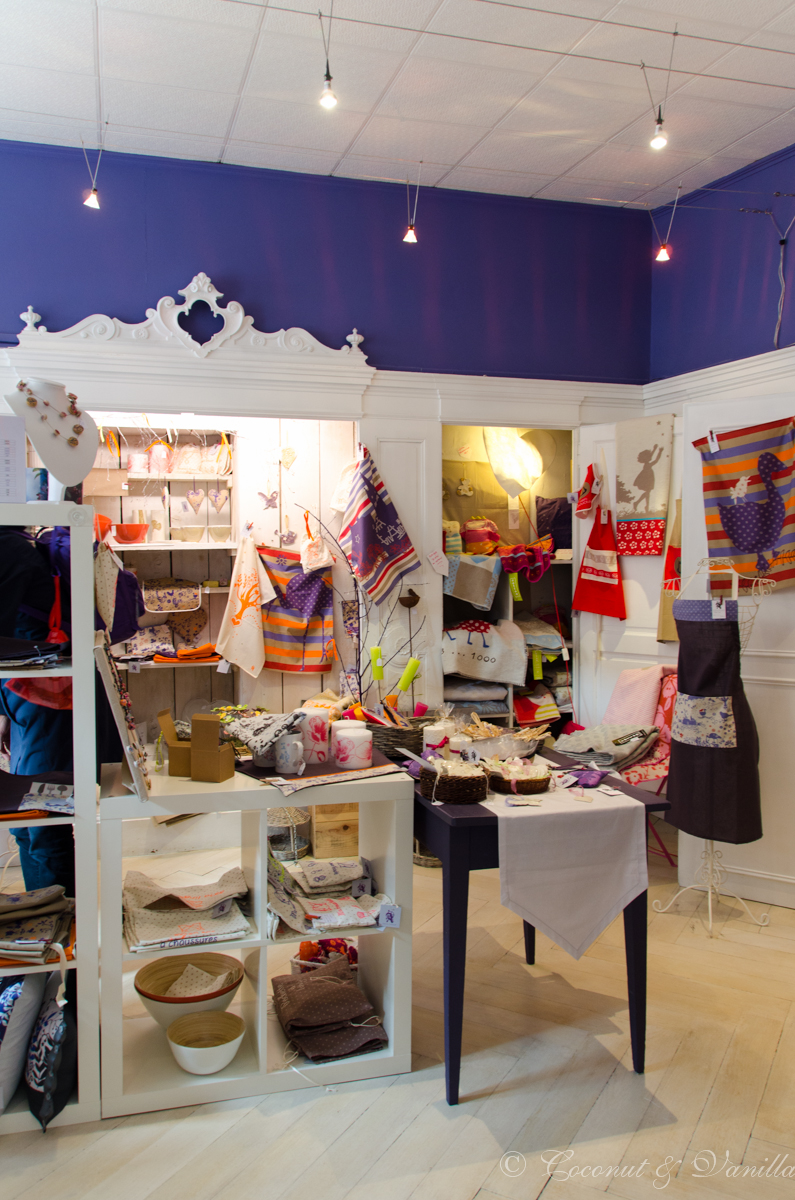 North of Colmar on the motorway to Straßbourg is a very large, well equipped Cora supermarket. If you are driving there by and want to buy some stuff.
Matze wrote a very informative post about french supermarkets (in German), which I recommend you to read, if you are visiting France! In my experience the Cora was really good (clean with a good and large choice of groceries). I very disliked Carrefour (unclean, poor choice of groceries and the fresh grocieries looked really worse). Bring a lot of time for the ceckout! Although there might be almost no people in the super market it takes very long. Cashiers are not as fast as here in Germany (or elsewhere!) and although there might be a long queue at the register, they chat and chill a lot! Just relax, it's vacation after all!
Of course everything is available in a well assorted supermarket in France! My personal tip: butter cookies with hazelnut chocolate (or white chocolate, but my favorite is nut, sooo good!), salted butter from the Guerande, cheap Cidre from the Bretagne, open tea from Twinings (yeah not from France, but great nonetheless 😉 ). You might also enjoy the jam section and if you like the Belgian speculoos cookies you will not only get them here, but also as a spread for a slice of bread! If you are not able to go to a vineyard or wine seller you could also buy wine in the supermarket. I only had good experiences with that. In Alsace you can also buy regional beer. Also look for the fresh vegetables and fruit: ball zucchini, colourful tomatoes and ox heart tomatoes are available for cheaper prices that in Germany. A lot of supermarkets also have a section with regional food, take a look there, too!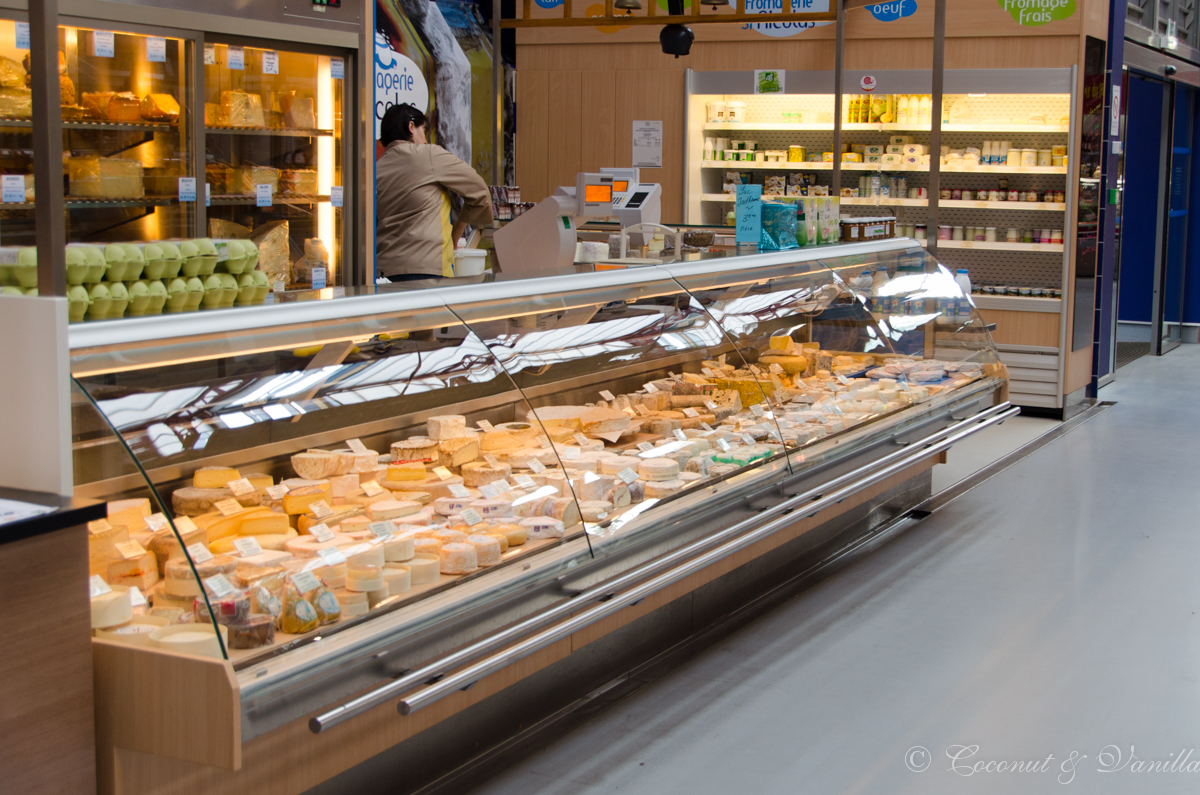 If you want to buy cheese (hello, who doesn't?!) look for a market hall or a specialised cheesemonger! Supermarkets normally also have large cheese counters, but they have no flair and small cheesemongers refine cheese themselvers, too!
Also keep a lookout for bakeries who are really still baking! This is not so easy, as in France they have a lot of chains like in Germany and the warming up of baked goods are as well disguised. "Artisan boulangerie" doesn't mean necessarily that they still bake. Chains can be noticed, because they are present everywhere. Also look into the bakery and go with your guts. Did you find a bakery? Then go buy everything they offer, nothing can go wrong here ;). I always buy different baguettes, pain d'epi, croissants and pain au chocolat! I tend to buy more on the last day and freeze it as soon as I am at home. Defrost it before eating, eventually warm it up for a short period of time. It taste as fresh as just bought!
If you prefer eclairs, tartelettes and small cakes lookout for a patisserie! Differences can be big, some are producing more natural, others more colourful. In my experience this can differ from city to city (or region). They also have croissants and pain au chocolat.
Market halls are always good for food shopping and sometimes for a small breakfast.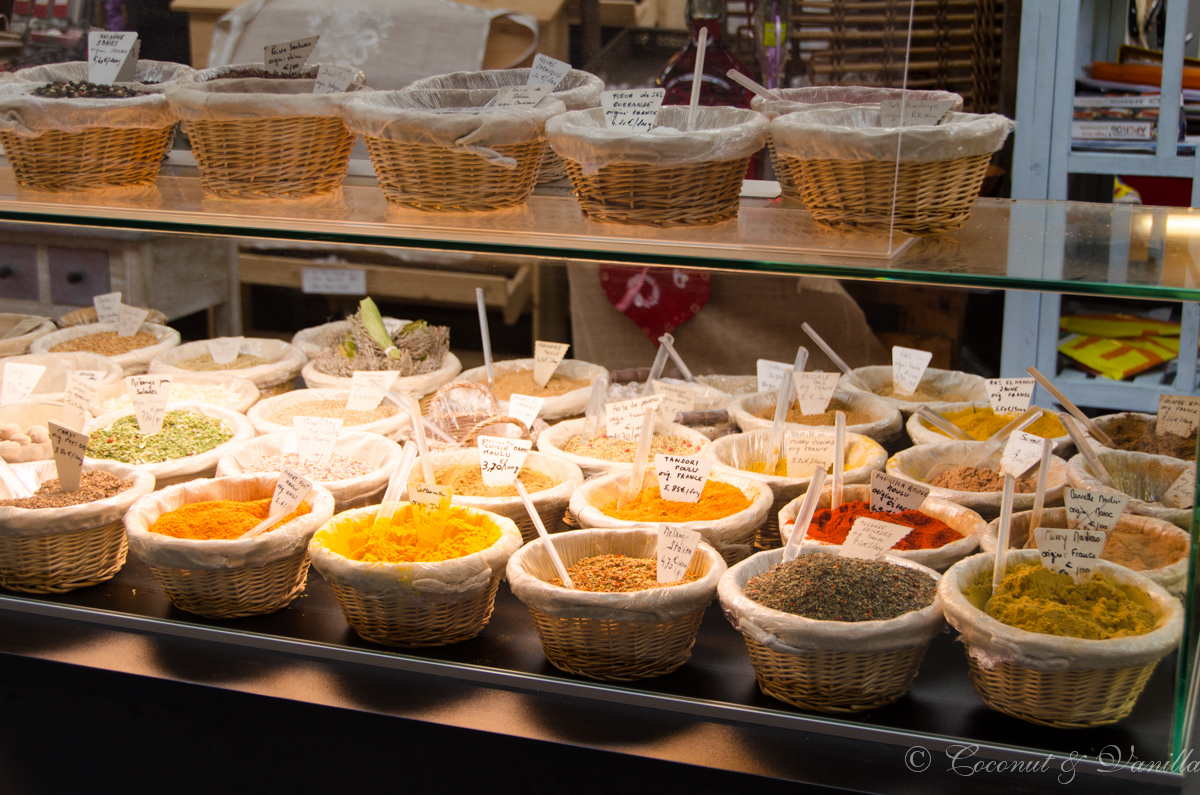 Huge thank you to Sabine of Bonjour Alsace  and Matze of Chez Matze for their superb tips!