Thursday, 19th March 2015
Slowly it looks like spring is coming, actually! I removed the fake fur from my coat and that means ice cream is in season again! Not that you can't eat ice cream also in winter, but I just can't, when it is that cold outside.
I start ice cream season with creamy velvety chocolate ice pops coated with a crunchy chocolate layer and garnished with roasted hazelnuts!
They taste that amazing as it sounds and you won't notice how fast they are gone!
I recommend you to place a garden chair in the sun, face to the sun and inhale a lot of vitamin D! Like this, summer can come!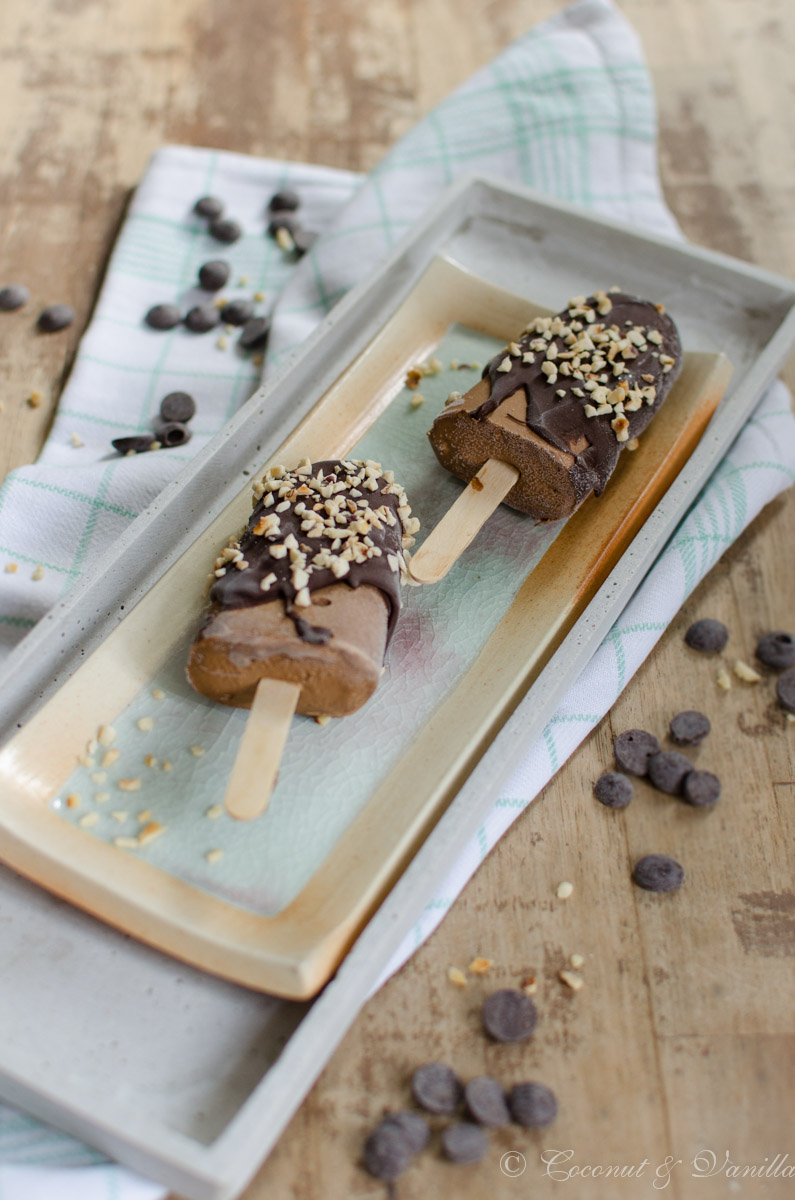 One year ago: amaranth porridge with caramelized banans and pecans
Two years ago: brokkoli avocado salad
Four years ago: potato fennel gratin with poached eggs
Five years ago: chocolate macarons with raspberry filling
Chocolate Ice Pops with Chocolate Shell and roasted Hazelnuts
adapted from Eis – Eiscreme, Sorbet, Granité, Eis am Stiel, Eistorten und Parfaits hausgemacht* by Elisabeth Johannson / AT Verlag

yields: about 6 ice pops
Ingredients:
200 ml whole milk
150 ml organic whipping cream
3 egg yolks
60 g sugar
75 g + 150 g dark chocolate, chopped
50 g chopped hazelnuts
Boil milk and cream, remove from the heat. Whip egg yolks and sugar until light and fluffy. Pour the milk in in a thin stream into the yolks while whisking. Pour everything back into the saucepan and heat on middle heat until 85° C are reached. Keep on whisking until the mixture thickens. Stir in 75 g chocolate until melted.
Let the mixture cool, then freeze in your ice cream maker according to the manufacturers instructions. Fill the ice cream into the ice pop molds. Tap them on the table to loosen any air bubbles.
Insert ice pop sticks and place in the freezer, best overnight.
Melt the rest of the chocolate. Roast the hazelnut in a pan until they are fragrant.
Dip the moulds shortly into hot water and remove the ice pops. Dip the ice pops into the molten chocolate and sprinkle with hazelnuts instantly.
Keep the ice pops on a platter or a tupperware in the freezer.
*amazon affiliate link