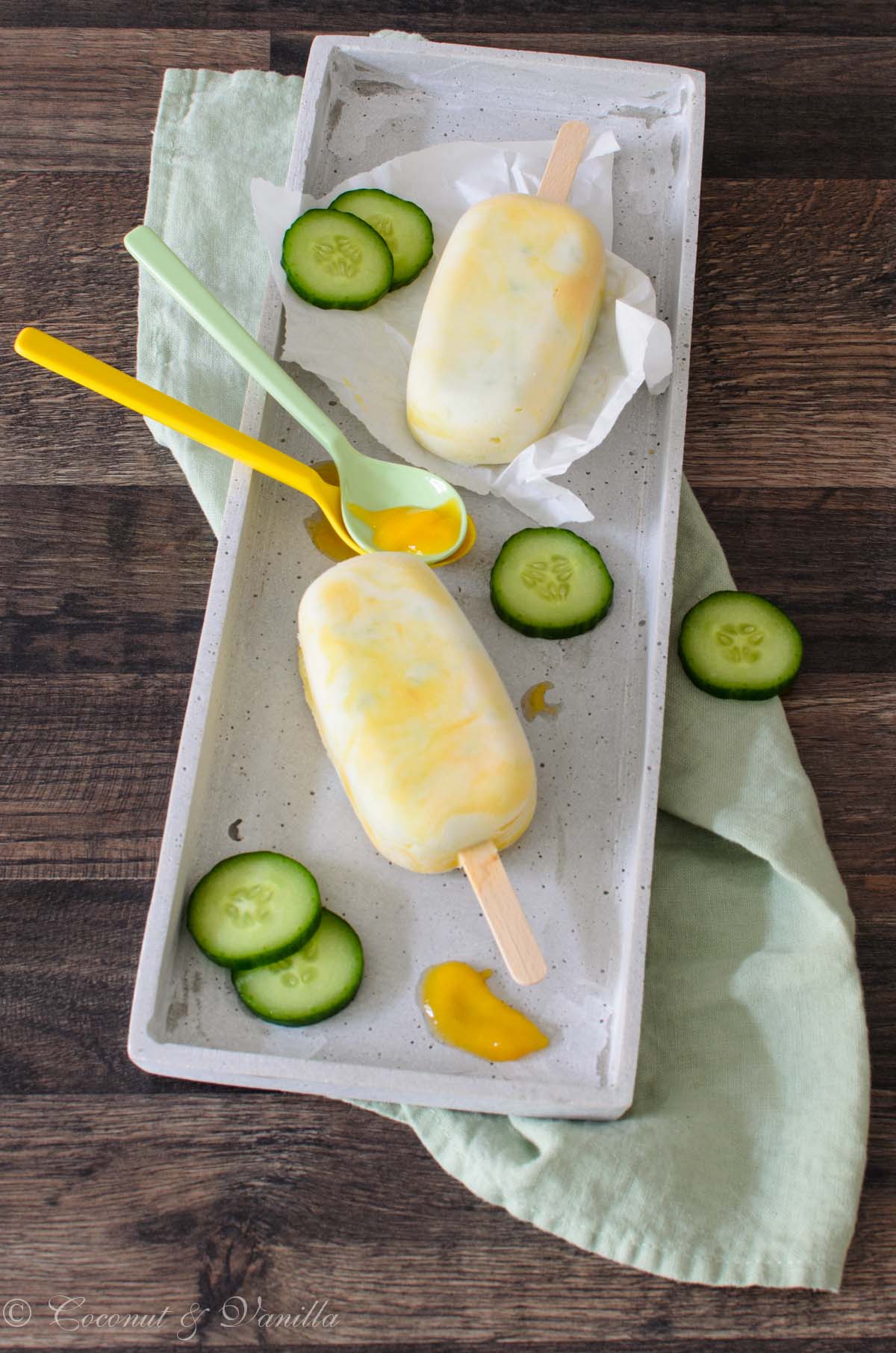 Auch wenn der Sommer uns ein Schnippchen schlagen will, gibt es keinen Grund nicht trotzdem genug Eis zu vertilgen! Ich kann Euch daher auch schon verraten, dass es diesen Monat hier ganz viel Eisrezepte geben wird!
Den Anfang machen diese hübschen Joghurt-Gurken Eis am Stiel mit Mango. Die Basis ist ein Frozen Yogurt durchzogen mit erfrischenden Gurkenraspeln und einem exotischen Mangoswirl! Dieses köstliche Eis kann man in Ice Pops Förmchen machen und man benötigt somit keine Eismaschine zum Herstellen.
Tchibo hat einige Foodblogger zur Eisparade eingeladen und dabei Produkte zum Zubereiten zur Verfügung gestellt. Ich bin diesmal auch mit von der Partie!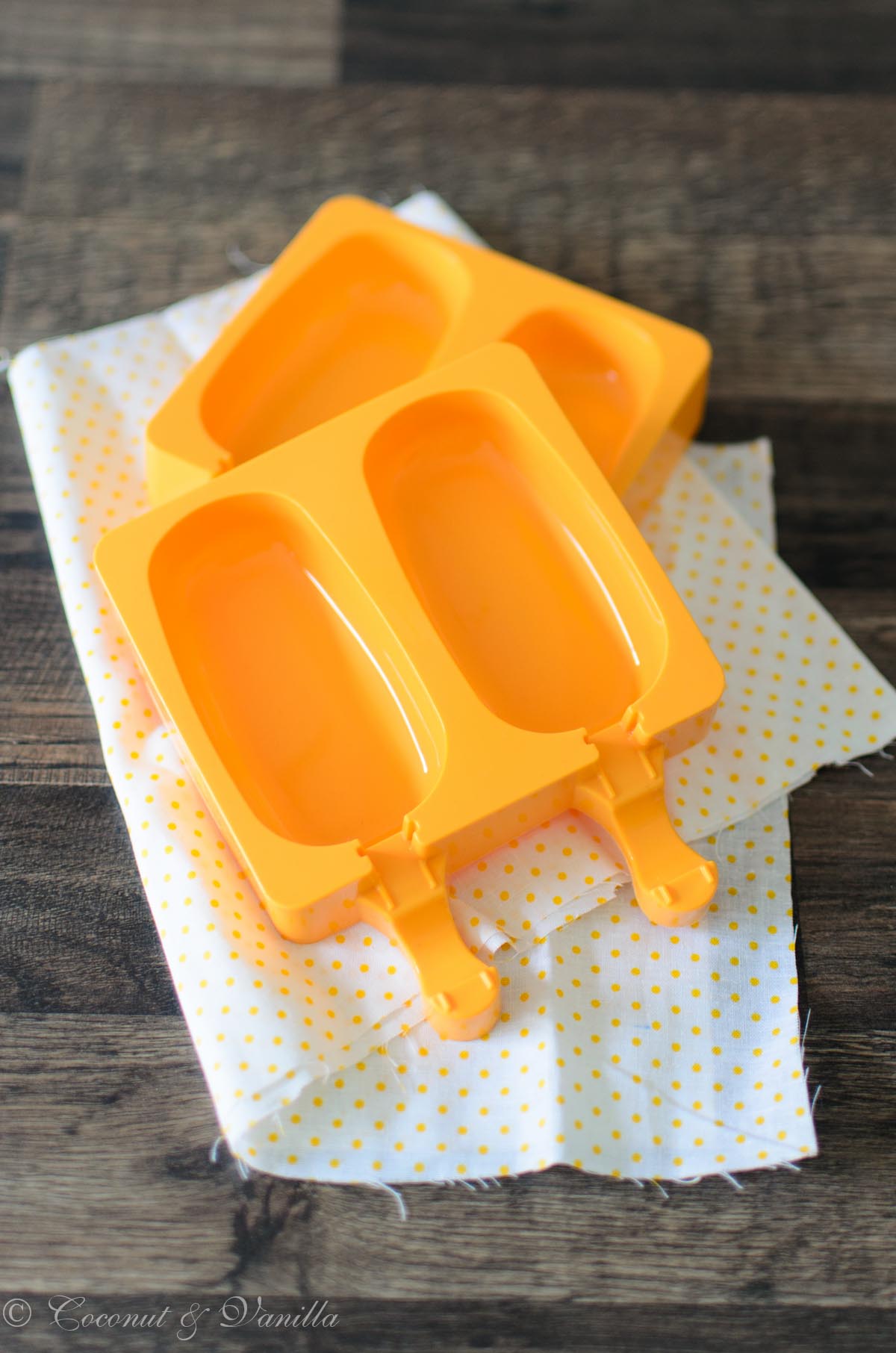 Gefreut habe ich mich über die Eis-am-Stiel-Bereiter, die weniger für Ice Pops gedacht sind, als mehr für größeres Eis am Stiel wie z.B. Solero. Etwas umständlich ist die Händelung, da die Formen plan liegen müssen und die Masse dicklich sein muss, sonst fließt sie wieder aus der Form. Vor dem Kauf sollte man also darüber nachdenken, ob man genügend Platz im Gefrierschrank für die Förmchen hat.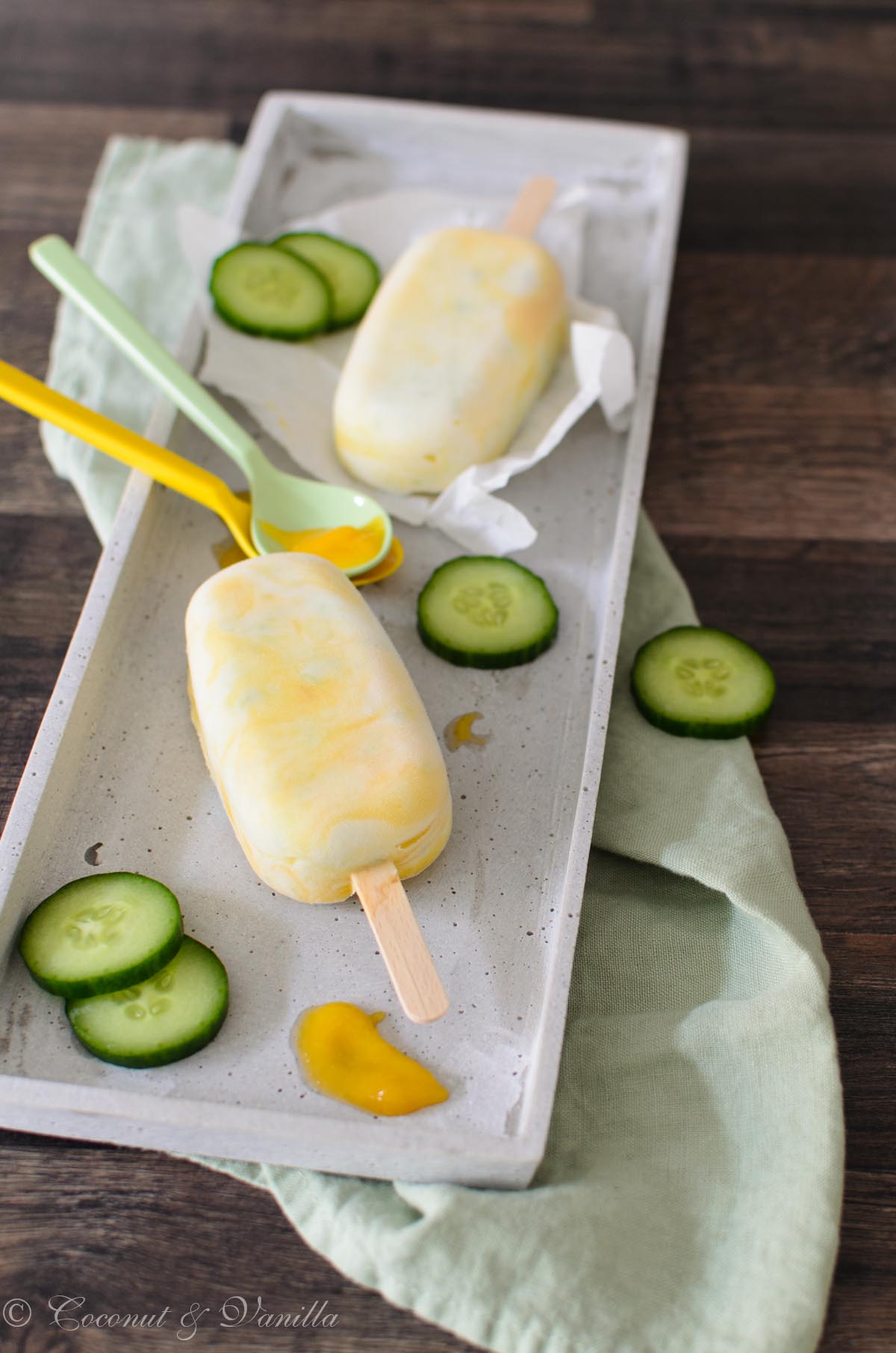 Vor einem Jahr: Cantucchini mit Pistazien & Sauerkirschen, weiße Erdbeerschokolade mit Minze
Vor zwei Jahren: Heidelbeer-Zitronen-Tarte
Vor drei Jahren: Friandaises mit roten Johannisbeeren
Joghurt-Gurken Ice Pops mit Mango
ergibt: je nach Größe der Formen 6-8 Stück
Zutaten:
300 g griechischer/türkischer Joghurt (alternativ kann man auch 600 g Naturjoghurt mit einer Prise Salz in einem Mulltuch und Sieb über Nacht im Kühlschrank abtropfen lassen)
40 ml Milch
70 g Sahne
80 g Zucker
1 kleine Gurke (oder eine halbe Salatgurke)
1 Mango
Joghurt, Milch, Sahne und Zucker verrühren.
Die Gurke schälen, der Länge nach vierteln und die Kerne herausschneiden. Das Fruchtfleisch fein raspeln und unter den Joghurt rühren.
Die Mango halbieren, den Kern entfernen und das Fruchtfleisch rauslöffeln. Mit dem Stabmixer pürieren.
Das Mangopüree in Klecksen auf dem Joghurt verteilen und grob mit einer Gabel unterheben, so dass die Swirls entstehen.
Die Eismasse in die Formen füllen und mit Holzstäbchen bestücken.
Die Ice Pops am besten über Nacht gefrieren.
Die Produkte wurden mir von Tchibo kostenlos zur Verfügung gestellt. Der Post spiegelt meine Meinung zu den Produkten wider.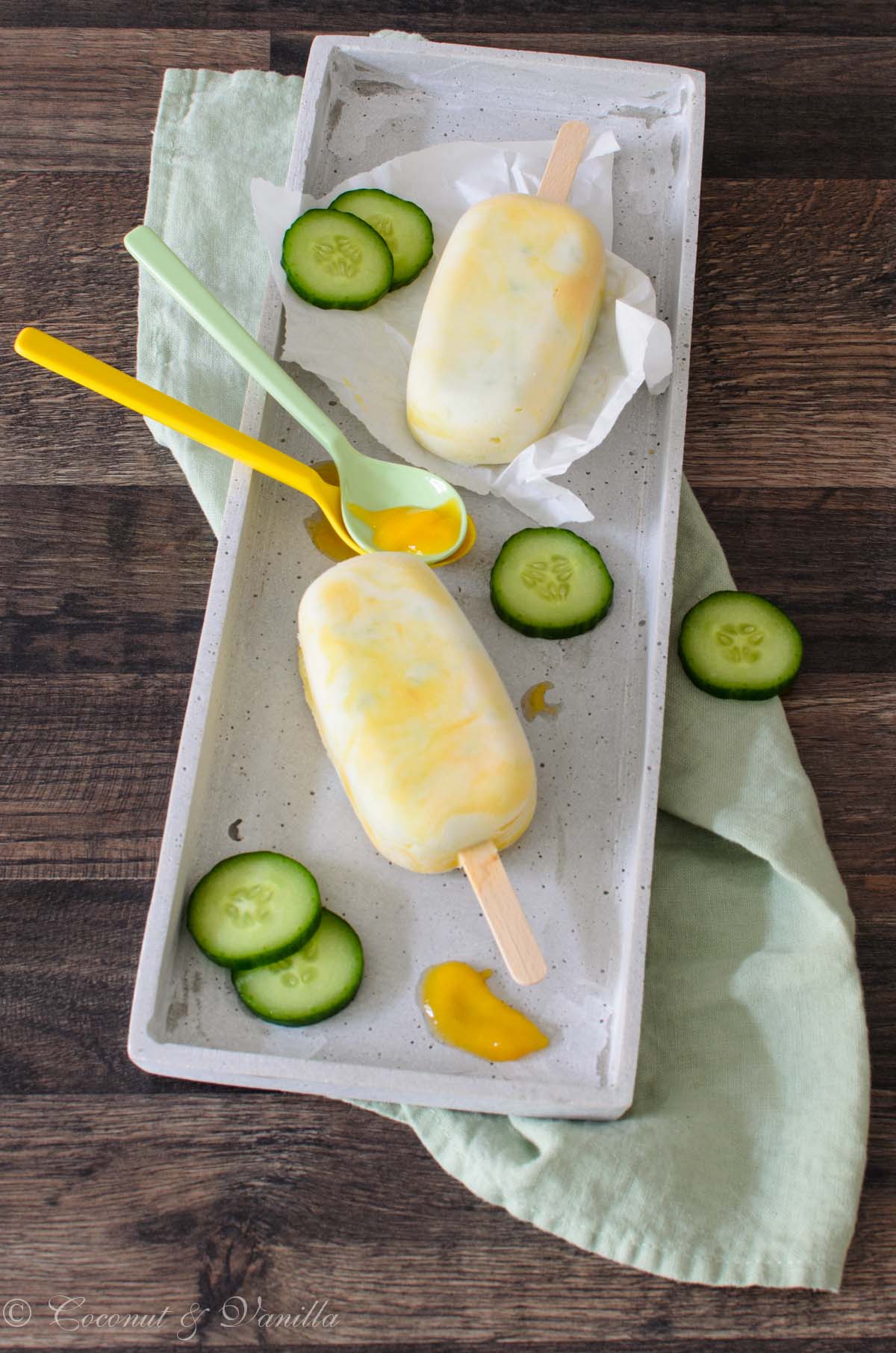 Even if the summer wants to fool with us, there is no reason not to gobble down a lot of ice cream! I can tell, that this month I will be featuring a lot of ice cream recipes!
Beginning with these lovely yogurt-cucumber ice pops with mango. The basis is a frozen yogurt streaked with grated cucumber and an exotic mango swirl! This creamy deliciousness can be made in ice pop moulds and doesn't need an ice cream machine.
Tchibo invited some food bloggers to its ice parade and provided some products and I am one of the party!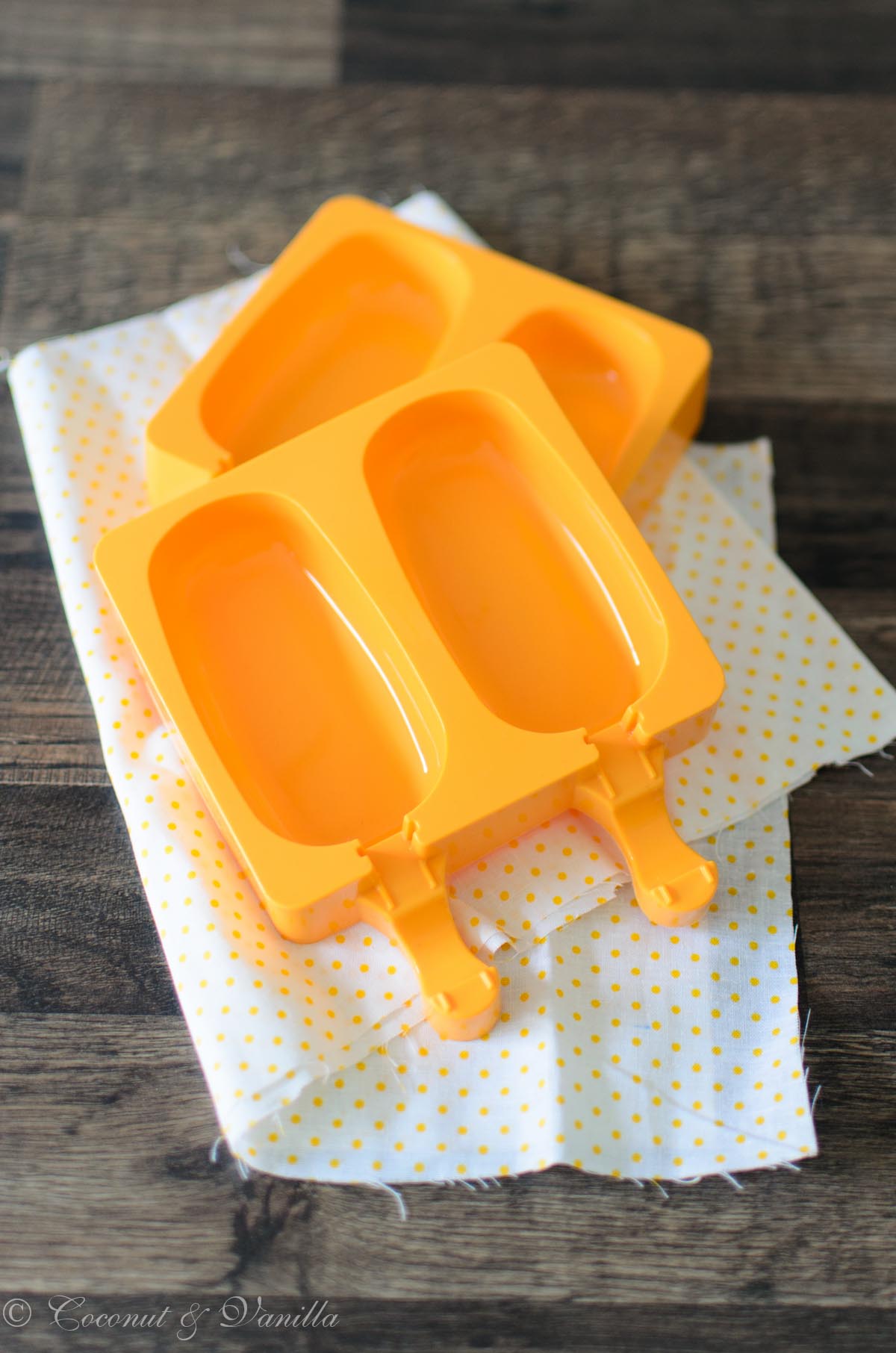 I was pleased about the ice lolly moulds, which are not the classic ice pop moulds, but more for larger ice on the stick, like the solero kind. It's a bit intricatuly to handle, since the moulds have to lie flat and the ice mixture has to be thick, otherwise it will be dripping out of the mould. So before buying the moulds, ponder if you have enough space in the freezer.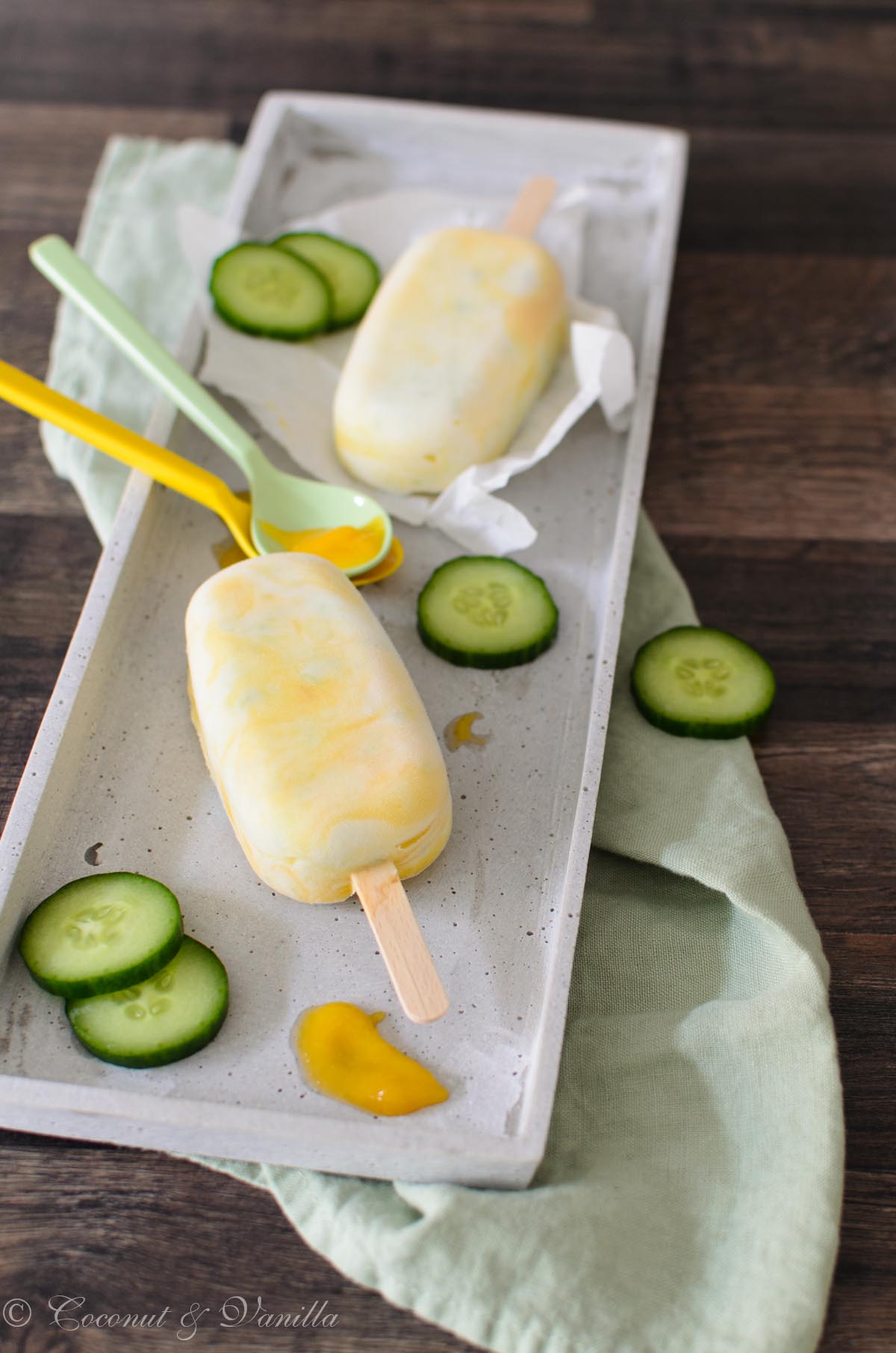 One year ago: cantucchini with pistachios and sour cherries, white strawberry-chocolate with mint
Two years ago: blueberry lemon tart
Three years ago: red currant friandaises
Yogurt-Cucumber Ice Pops with Mango
yields: 6-8 ice pops, depending on the size of your moulds
Ingredients:
300 g greek / turkish yogurt
40 ml milk
70 g whipping cream
80 g sugar
1 small cucumber
1 mango
Stir together yogurt, milk, cream and sugar.
Peel the cucumber and halve it lenghtwise. Remove the seeds. Grate the cucumber finely.
Halve the mango, remove the pit and spoon out the flesh. Purée with an immersion blender.
Place the mango pureé in dots on the yogurt and swirl it roughly in the yogurt with a fork.
Fill the moulds with the ice cream batter and place some wooden sticks in it.
Freeze them best over night.
Tchibo provided me with its products for this post. All the opinions are my own.