Tuesday, 13th December 2011
This is my entry to the wonderful
kulinarischen Adventskalender
(culinary advent calendar), which Zorra organizes again. It's the first participation for me and I'm very happy about it. I'm proud to be part of this calendar, especially when I look at the entries made so far.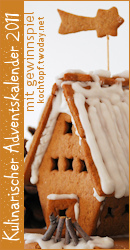 Already two years ago I bought a little book including a chocolate bar mould. First it was meant to be a gift, but then I gifted it to myself. I don't even know who would appreciate it. But after I read that you have to temper the chocolate with a thermometer, it ended up with the other kitchen stuff. But the tempering is important, as it yields the beautiful matt surface und obtains the right melting.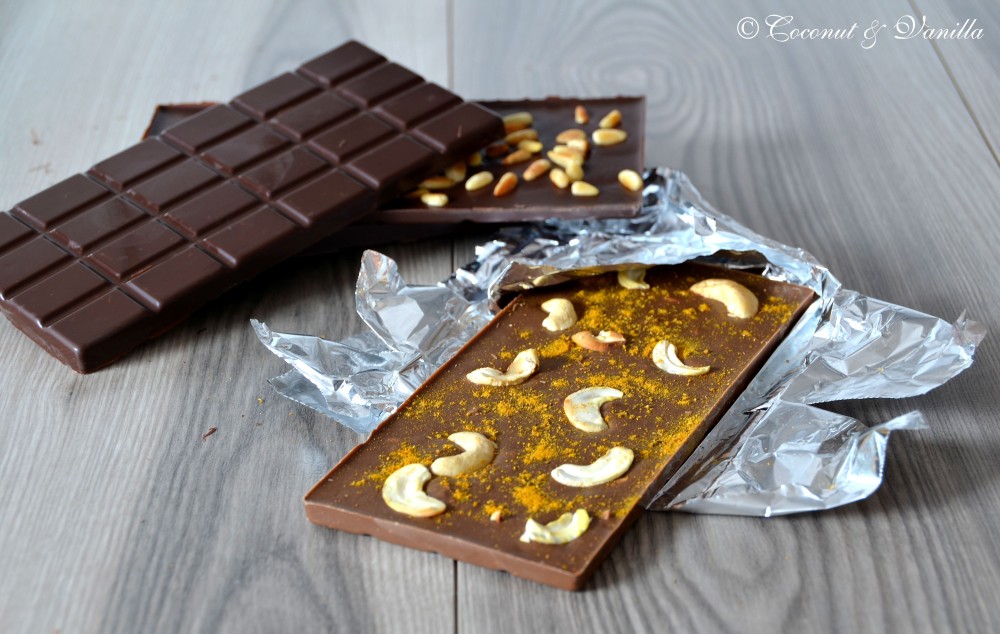 So this year I gave it a try and it wasn't to my disadvantage! Au contraire. It's such a delight, when turning out the first bars from the mould. And they are so pretty, you don't want to give them away as a gift no more. A perfect gift, that's what they are. You can fulfil everyone's wishes and spare the dislikes. And if you are using gluten free chocolate, you can also make gluten free chocolate bars!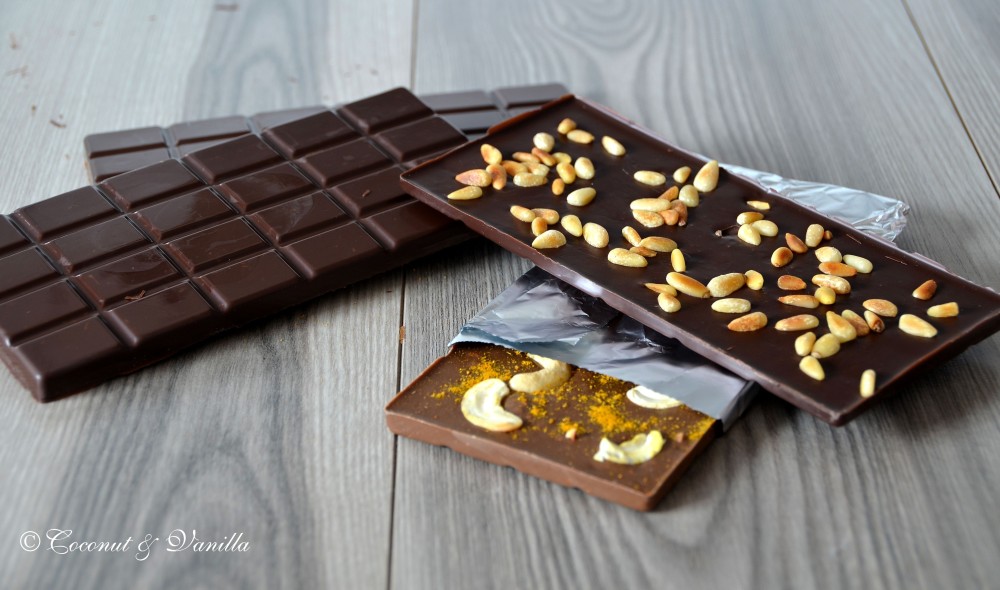 You have fancy ideas? No problem, just put them in the chocolate. Everyone can do ordinary. But not cashew with curry powder or pine nuts with rosemary! That were my first bars, which you also see on the photos. But do not use chili in your bars! Really that's an old obsolete trend, which was trendy ten years ago. Honestly, it's over.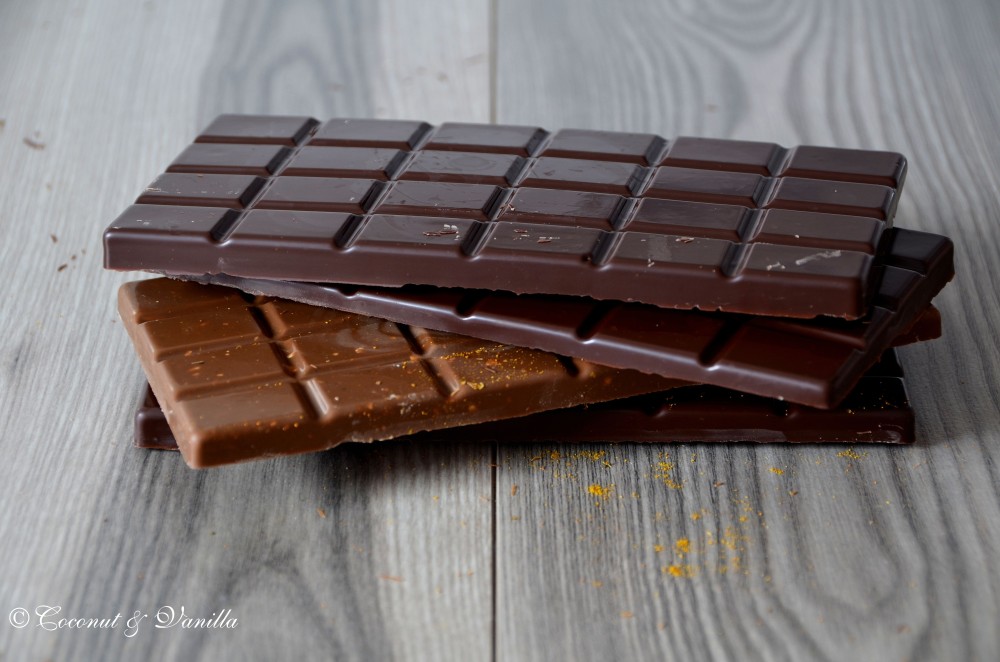 Back to the production. Besides some time you need one thing: a thermometer. A digital one, that has a short response time is recommended (costs just a few bucks). Don't use a clinical thermometer! Well the bars mould is a must, too. And a silicon spatula is very helpful, too. I red recently that in Austria silicon spatula is called "Gummihund", which can be translated as "rubber dog". It's my new favourite word for that tool.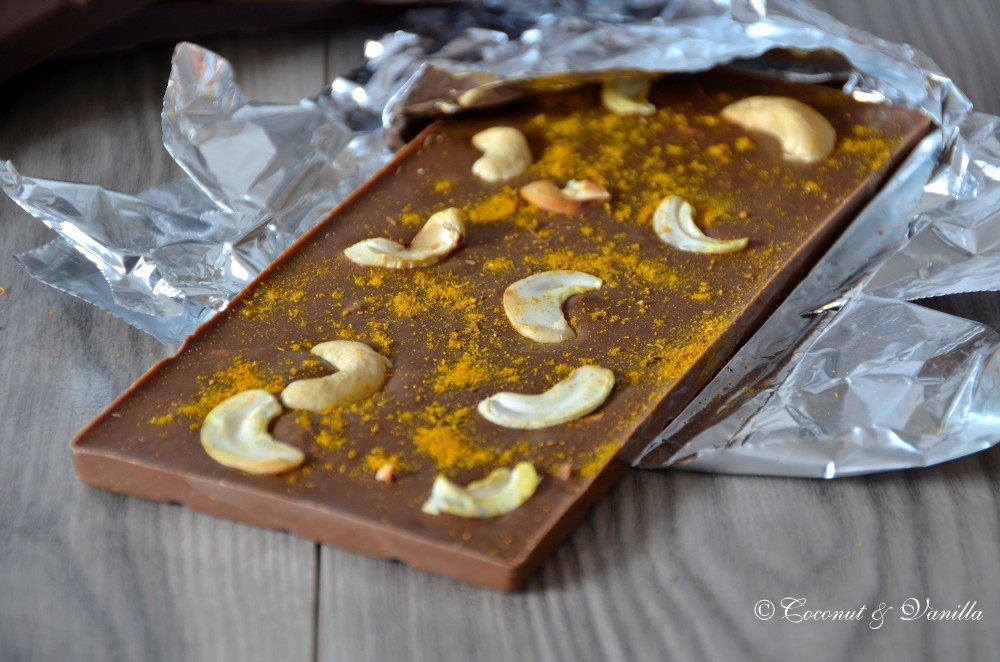 One year ago: Eggnog and Gingerbread
Homemade Chocolate Bars
from Schokoladentafeln selbst gemacht
yields 3 bars á 100 g
Ingredients:
 300 g high quality chocolate
nuts, spices, cookies, herbs, everything you ever wanted to add to chocolate
 Chop the chocolate finely. All the more finer the chocolate is chopped, all the more faster and evenly it will melt. Prepare a double boiler, the water should have 55° C. Melt the chocolate in the double boiler until it has 40 – 45° C. Stir with the spatula and scrape down the chocolate from the sides. Don't forget to measure the temperature and to remove the chocolate from the thermometer after every measurement. Ground spices and finely chopped herbs are already added in this step.
On the side prepare a cold bain-marie. I use cold water with 3 or 4 ice cubes, but essentially it shouldn't have over 25° C. While stirring, cool down the chocolate. Dark chocolate to 28 – 30°C, milk chocolate to 27 – 28° C and white chocolate to 26 – 27° C.
In the meantime cool down the water in the double to 35° C by adding some cold water. Reheat the chocolate, whilst stirring and measuring the temperature. The temperature should be 2° C warmer than the cooling temperature. Finely shopped nuts or cookies can now be added.
Add the tempered chocolate to the moulds and try to share it between the moulds equally. Work quickly to prevent forming grease rims. Now jiggle and joggle up and down to spread the chocolate evenly. Tap the mould on the countertop to prevent air pockets. Now lay the large ingredients on the chocolate and press them in a little bit, eventually. Sprinkle with some ground spices if you like.
If you have some free space in the fridge, lay your mould on a cutting board and let it rest for 5 minutes in the fridge. Never lay the mould directly on the shelves and do not let them touch the rear cover of the fridge, as it is too cold there. As I have never that much space in the fridge, I spare this step.
The bars have to dry at least for 2 hours. Then cover them with a kitchen towel and turn the mould around. Voilá, the most gorgeous chocolate bars in the world!
PS: If you are mixing two different kinds of chocolates for tempering, take the lower temperature advices for it.